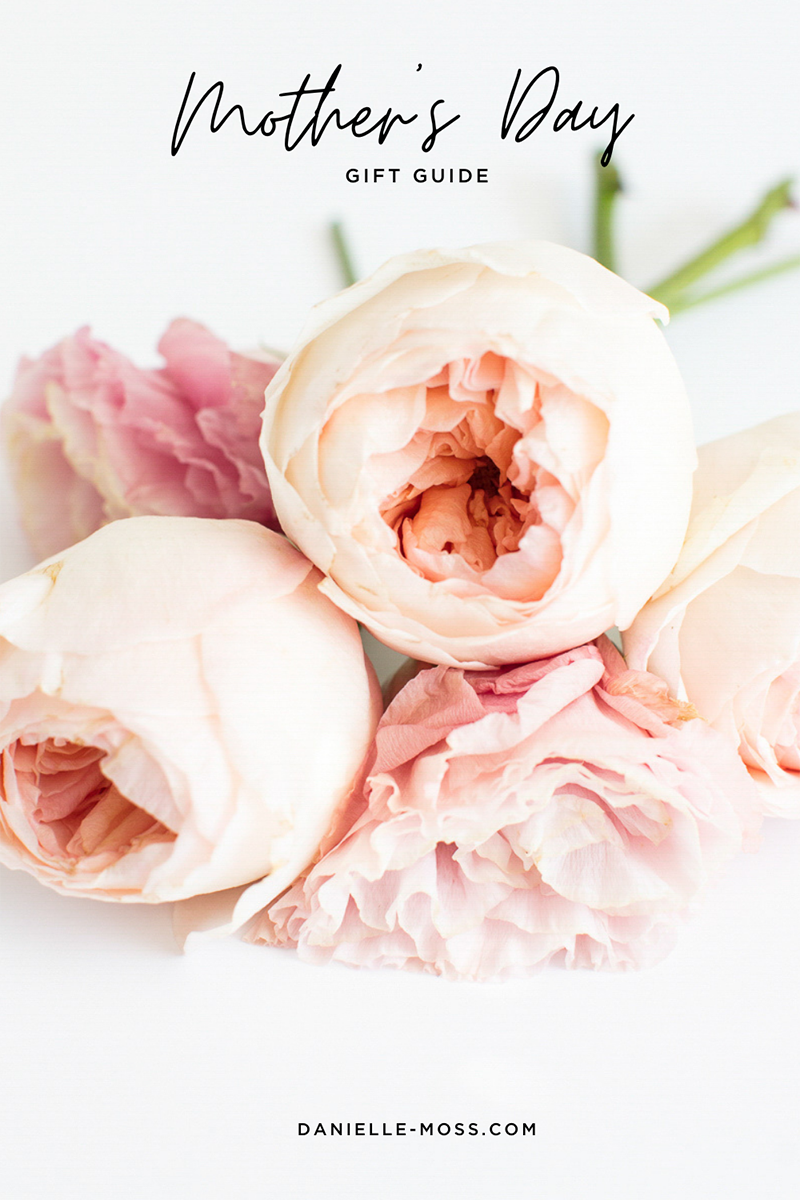 It wasn't until I became a mom that this day became a happy one for me. I didn't have that mother-daughter relationship I dreamed of, but I now get to have it with my girls. Good moms (and those who fill those roles for us ) are amazing and deserve to be celebrated. My husband asked what I wanted and I said…"umm, a night at a hotel alone?" Time alone or a massage sounds wonderful. But – if you're looking for a gift for Mother's Day, I put together what I think is an especially beautiful roundup this year. Here are my favorite Mother's Day gift ideas for the moms in your life.
Mother's Day Gift Ideas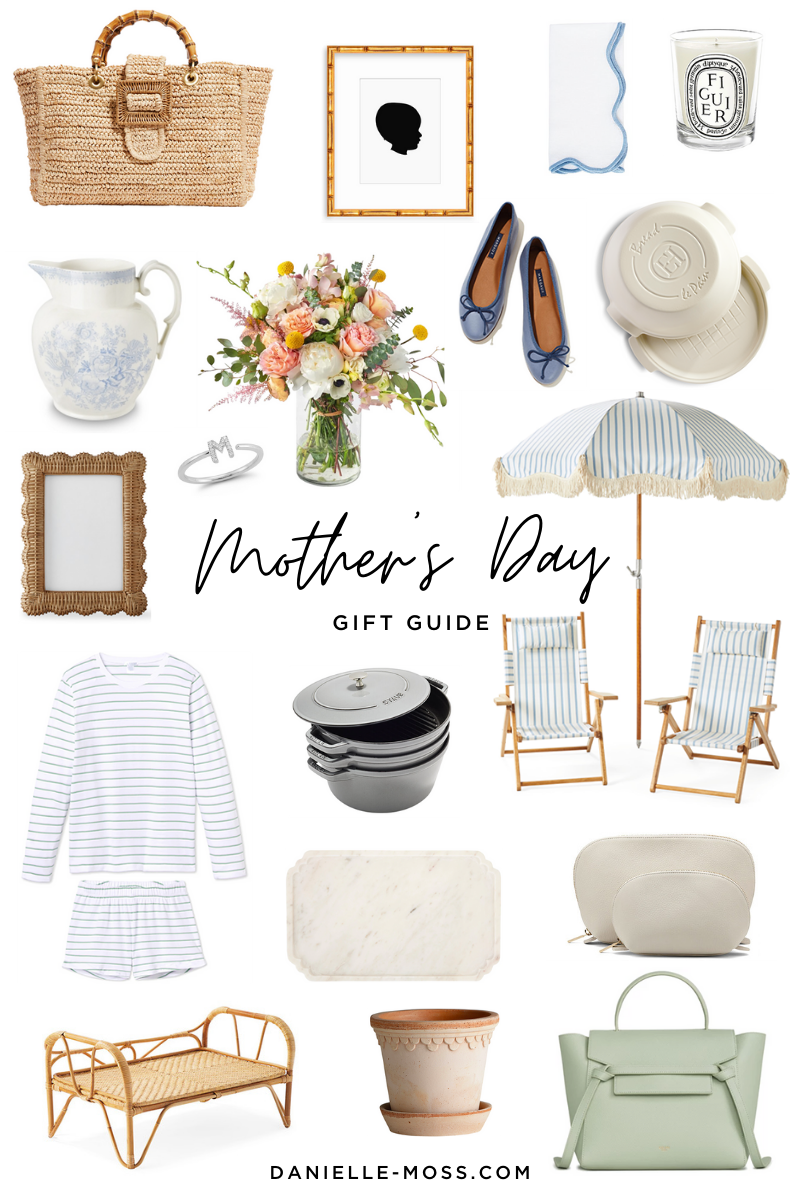 My first Mother's Day gift was really special. We were in the playroom, and Conor asked me to get something out of the play kitchen. I opened the refrigerator and inside was an orange box with the Oran sandals (linked below). They are a splurge item, but I've had them 3 years and live in them each summer. If you're looking for gifts for a mom figure in your life, or even ideas for mom's birthday, here is my 2022 Mother's Day gift guide.
Mother's Day Gift Ideas
Raffia Bag
I love Pamela Munson bags for spring and summer.
Fresh Flowers
Fresh flowers are always a hit. My favorites include peonies, ranunculus, tulips, hydrangea, anemone, and roses. This mix is the perfect mom gift.
Beach Set
For the beach loving mom.
Scalloped Frame
A picture frame with a favorite photo is always a beautiful gift. I love this scalloped frame from Williams Sonoma.
Floral Pitcher
I love Burleigh and have slowly started collecting pieces from the Asiatic Pheasant collection. This pitcher is stunning, isn't it?
Breakfast in Bed (Tray)
Make mom breakfast in bed and serve it on this gorgeous tray.
Diptyque Figuier Candle
This is a one of my favorite candles – the branding is beautiful and the scents are amazing. I recommend the fig, vanilla, and gardenia.
Belt Bag
A gift for mom who has everything. Conor bought this for me in black a few years ago and it's perfect for holding my wallet, phone, and keys when I want to be hands-free since it's a crossbody.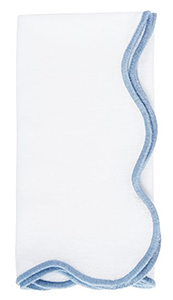 Scalloped Napkins
Clean Perfume
Artifact Uprising Photo Album
I took on the huge task of making family albums for 2017-2019, and 1 year baby albums for the girls. And bonus: everything's 20% of for Mother's Day.
Stackable 4 Piece Set
I love Staub, and this set is both beautiful and practical.
More Beautiful
This is a great gift for a mom who loves design – Mark D. Sikes is one of my favorite designers.
Leather Makeup Bag
Looking for personalized Mother's Day gifts? This leather makeup bag is always a go-to when I need a personalized gift. I've had mine for years, and it's held up so well.
Ballet Flats
I have these in the saddle color but love this shade of blue. They were gifted from the brand but are so comfortable, and I'm thinking I need a second pair.
Coconut Body Scrub
I'm just finishing up yet another jar of this scrub. The branding is beautiful, it's clean, and it smells heavenly.
Pot and Saucer
This would be a sweet gift from daughter to mother. Add a trip to the nursery and time gardening together. I can't wait to garden with my girls this spring.
Pajamas
I love Lake pajamas and a classic stripe. This style comes in a few colors and patterns and is such a good gift!
Custom Silhouette
I have silhouettes of Buddy, Margot, and Kate, and they're one of my favorite things in our home. Capture her babies or little ones who mean the world to her in a moment in time for her to treasure forever.
French Ceramic Bread Pot
I don't make bread but this makes me want to try.
Towels
Weezie towels are beautiful, can be monogrammed, and bonus: they have a little loop to hang them on a hook to dry.
Diamond Letter Ring
I have one for each of my babies, and love that I can wear them now, but maybe pass them on to the girls when they are older. These are beautiful and really stand out, and are easy to stack and wear.
Oran Sandals
My first (and maybe favorite?) luxury Mother's Day gift. These were such a surprise since I had wanted them for a while but didn't want to spend that much on sandals. And let me tell you – they were worth every penny.
Marble Tray
This would be beautiful on a dresser (for frames, jewelry, and a candle) or for entertaining.
Laptop Case
This might seem like a random gift but I think it's beautiful and always appreciate something that can be monogrammed.
Facial Serum
This serum is my #1 clean beauty product. I swear my skin looks better than it ever has because of this serum.
Vegan Woven Bag
I've been carrying this woven bag (with these pouches to organize everything inside) for the last month or so and I love it. It's light, looks great with everything, and feels very springy/summery.
The Softest Kimono Robe
I have a few of these of these since it has to hang dry and Kate uses me as a human napkin. It's super-soft and when I wear it, i feel cozy but surprisingly put together. The Kimono style is 😍
This post contains affiliate links. If you purchase something using my links, I may earn a commission at no cost to you.