What's On My Mind This Week: Houseguests and Traveling to Europe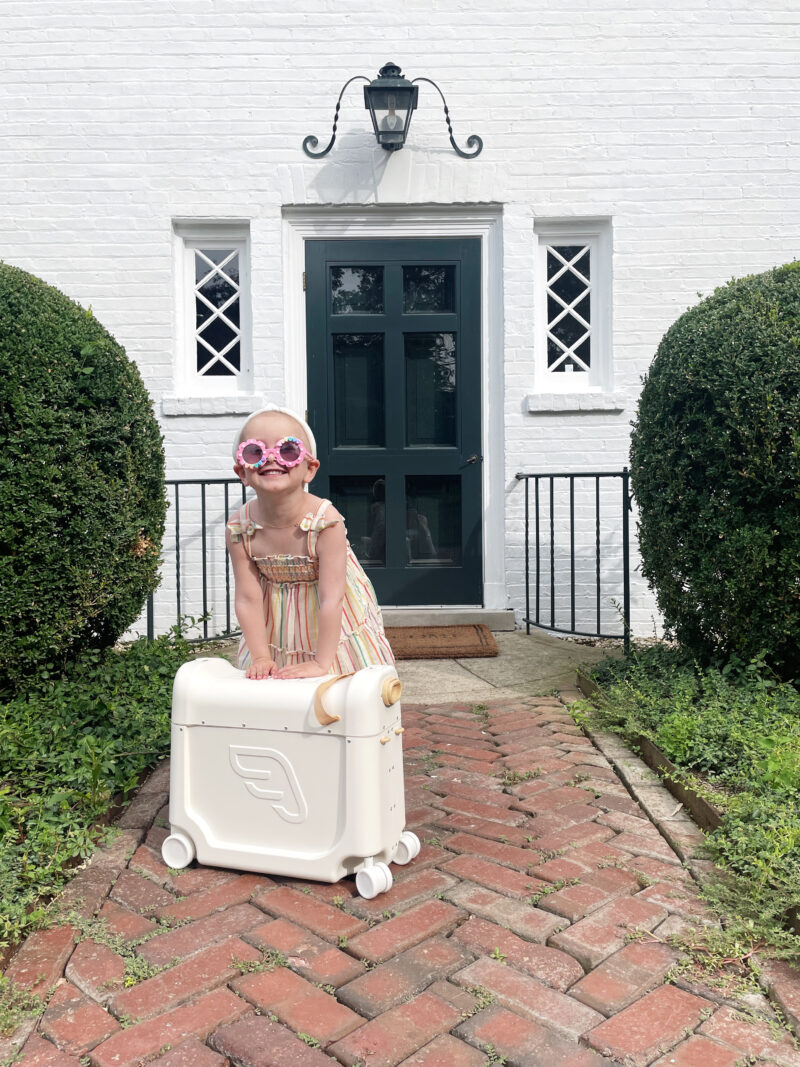 I feel like all my posts as of late have been about how we're in a good little summer groove. We're living life. It's just that our lives feel so unbelievably different than they did for the longest time, and I'm really enjoying every moment. I am happier than I thought I'd be. We are seeing old friends, making new friends, and going out with the girls, and solo, too. One of my best friends is coming to town next week, my sister comes in 2 days after she leaves, and 2 days after that, we're traveling to Europe! Things are good and crazy (as they are with a 2 and 4 year old). Here's what's on my mind this week.
On My Mind This Week: Houseguests and Traveling to Europe
I am happier and more relaxed than I ever could have imagined I'd be. I thought that I'd find myself processing all she went through and working through the grief. It is inevitable – those moments will come – but I'm just so grateful to be where we are right now. I've probably said this a few times, so I suppose I am in fact, processing everything. But our lives are unrecognizable. When Margot was diagnosed, we were in a different home in a different town. I had a different job and owned half of one company and 1/3 of another. We had one child, and another on the way. It's just a little surreal at times, and the joy I feel when I watch my daughter make a new friend at the pool and ask for a playdate…it's just incredible. Watching the girlss laugh hysterically while running with Henri. Watching the girls splash in the pool – things we weren't doing a year ago or even months ago. Things that back in May 2020, I feared she would never get to do again. These perfectly ordinary are everything.
Where we're traveling
After the way we lived for two years, Europe might seem like a bit of a shock. It's still a shock to my system, so I get it. This is actually a trip we've known about for over a year but I was undecided on. I talked (at length) with Margot's oncology team I delayed booking flights until the last possible minute. Long story short, her doctor and nurse encouraged us to live our lives. I went from super-anxious to a little anxious which is a big step for me. I'm a worrier. We'll mask in crowded areas and while traveling (as much as we are able) and do our best to stay healthy.
We're traveling to (ok, this won't shock you)…Italy. To Tuscany, with family. After barely leaving the house for years, we're leaving the country! And we're staying at a house so that feels extra-safe, too. To be honest, I've been a little back and forth and tried to get out of the trip a few times because it's lower risk to stay home. But that's no way to live, and my therapist and Margot's team have helped. My girls deserve this. We all (meaning all of us, not just my family) deserve to live. So we're living. And we leave in less than 3 weeks. I've been organizing travel toys and
Traveling with a 2 and 4 year old
Well, I can't speak to this yet, but 8+ hours on a plane with a toddler is scary. I'll just say it. I would feel less worried traveling alone with Margot than with Kate and another adult. To be clear: Kate is a dream but she is 2. She still naps and has toddler moments. Margot is also a dream. But she's 4, doesn't nap, and would stay up all night if we let her. She is chill and will just play with toys and watch movies. I've been stocking up on travel toys and will share my essentials as we get ready. I am trying to remember everything about this trip and just hope I've still got it. I'm hoping the Stokke Bedbox (gifted by the brand, but I was planning on getting them) is everything I hope it will be, and have read about. We're using that in conjunction with this to keep the girls safe and comfortable. Here's the white one with a backpack and green without.
My first Houseguests
My friend Jess is flying in from Santa Barbara next week! I actually saw her outside distanced last summer right after diagnosis (I was still pregnant with Kate) and we didn't even hug. That was sad. But this time, she's staying in our home and spending almost a week with us. She's a mom of 3 so I'm excited for an extra set of hands 😂 but in all seriousness, we talk a few times a week about anything and everything, and we'll have a week of that. Then my sister flies in 3 days later to spend 2 days with us, and is staying with Buddy while we're away. Yes, I flew my sister in to watch my delicate flower of a dog. Buddy has some health issues and can't be boarded, and she adores him, and we'll get to see her before and after our trip. Win-win for all. The girls are going to freak out when fun aunt Jess arrives. It's going to be a surprise.
Plans this week
We had a playdate with new friends from the pool today, I'm going to 2 Pilates classes and am playing pickleball twice this week. Then there's my much-needed manicure, pool days with the girls, and some plans with friends. We have another playdate with a little girl from the pool on Thursday. The girls were so cute together last week! I'm still working, but during Kate's nap (Margot plays independently) and after bedtime, and am sometimes able to squeeze in an hour in the morning like I did today. So I'm working around 4-6 ish hours a day right now and really need some childcare eventually, but this is working right now. I'm a little tired, but we're in a good groove for the first time in a very, very long time.
Craving order
First, perspective. This is a "forever home" and we are so happy here. It is also a project so things will happen over time. I went into this knowing that, but I'm feeling a little antsy and just want to make our house feel like home going into fall and winter. These are good problems to have. Perspective, but I'm also a type-A virgo who likes a clean and organized home. I like order. I like when vents, outlets, and light switches have covers. This is a lesson in patience. Half the house is pretty torn up. Not being dramatic. Rooms that you cannot walk in without hard soled shoes. None of these things actually matter but they do a tiny bit.The girls' rooms look really nice. Their closets look so good! Organizing what I can. Our room is pretty empty but looks fine and we have the sitting room off of the kitchen. I'm just so ready for the house to be done.
Recent purchases
I bought this tank in white a few weeks ago and just purchased it in black since it's on sale.
Margot is wearing this dress. It isn't available online but is in Target stores (and on sale). Her best friend Colette had it and she loved it, so when I saw it, I didn't really have much of a choice and bought it.
I can't believe it but I ordered bike shorts. They're for under my tennis dress but still, it's been a while since I've worn bike shorts.