The Best Gluten-Free Snacks To Keep in Your Pantry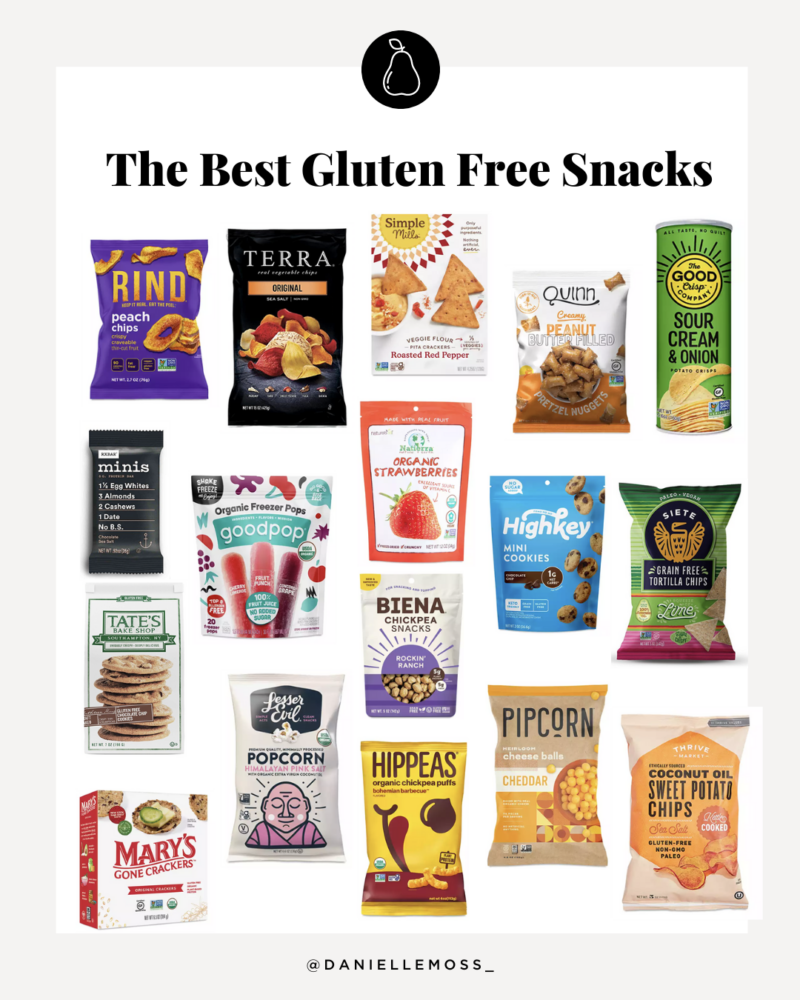 Let's start this one out with a backstory. Years and years ago, my good friend Gina somehow convinced me to try CrossFit. And – pause for shock – I loved it. Not only did I do 4-5 CrossFit workouts a week, but I started following a Paleo diet. Even though I've never loved a workout the way I love CrossFit, it was a little too intense for my sensitive back, so I shifted toward pilates, spinning, and other options. And I'm not strict Paleo like I used to be, but feel best when I stay closer to. Paleo. This is where gluten free snacks come in. Many are not Paleo but quite a few are, or come close. From gluten-free granola bars to gluten-free oats, the options are endless, but finding delicious gluten-free options isn't always easy. Here are my favorite gluten-free snacks for the whole family.
The Best Gluten-Free Snacks To Keep in Your Pantry
There are endless snack options for those following a gluten-free diet, but you can do better than rice cakes and hard-boiled eggs. Whether you have a gluten intolerance like celiac disease or are just looking for a clean, healthy snack, you've definitely eaten a gluten free snack at one point or another. And they're not hard to make, prep, and now, they're easy to find in stores, too. I'm sharing my favorite gluten-free crackers, sweet snacks, and delicious snacks with simple ingredients that you'll love. If you have trouble finding any of these snacks at your local grocery store, try Amazon, Whole Foods, or Thrive Market.
Gluten-Free snacks that you can prepare at home
Before I get into my favorite store-bought snacks, I want so share some of my go-to snacks that you can prepare at home. There's the obvious fresh fruit, freeze-dried fruit (apple chips are always good), and a favorite, celery sticks and almond butter. Healthy, homemade snacks are always great, and I love simple snacks like plantain chips and jicama slices. For the longest time, I'd sub tortilla chips with cucumber or carrots and guacamole. It's good, but it's also not the same, so that's where this post comes in.
Freeze dried fruit
Fruit and almond butter
Vegetables and guacamole
Vegetables and hummus
Nuts (almonds, cashews, pistachios etc)
String cheese
Popcorn
Plain yogurt with berries or gluten-free granola
Acai bowls with gluten-free granola
Edamame
Hard boiled egg with everything but the bagel seasoning
Homemade french fries
Simple Mills Rosemary Crackers
I love Simple Mills! These crackers are made with wholesome ingredients and are great snack on their own, or delightful paired with cheese and dips. They're made with a wholesome blend of almond flour, sunflower seeds & flax seeds, and have 3g of protein per serving. And they're a good source of Vitamin E, Made with High-Oleic, Cold-pressed, Organic Sunflower oil.
Hu Kitchen Cashews + Vanilla Bean Hunks
These are incredible and are sweetened with unrefined coconut sugar. The hint of vanilla tastes like heaven and will satisfy your sweet tooth. So if you're trying to eat "healthier" food but still want something indulgent, this is it. Hu Kitchen vanilla bean hunks feature organic nuts covered in 70% dark chocolate made from organic cacao with no unrefined sugars, dairy, or soy. Also missing is the artificial shiny glaze that you find on most chocolate-covered snacks. Vegan and Paleo-friendly. The Hu Kitchen chocolate chips (I suppose they're more like chocolate chunks) are really good, too.
Simple Mills Veggie Pita Crackers
This brand is a favorite in our house – both adults and kids love them. Simple Mills took its classic pita crackers and added the sweetness of roasted red peppers to the mix, and these are hands-down one of my favorite snacks. This box is Certified Gluten-Free, kosher, and Non-GMO Project Verified.
Siete Lime Tortilla Chips
If you're trying to follow a "clean" or paleo diet or are considering it, but are too afraid to give up anything indulgent, you need these tortilla chips. The lime flavor is so good, and when paired with guacamole or salsa, you won't feel like you're missing out on anything.
Terra Vegetable Chips
Chips are always a good gluten-free option. Sweet potato chips, corn chips, and every type of vegetable chip – these are the salty, savory snacks we all need but are certified gluten-free.
Goodpop Organic Freezer Pops
If you love ice pops and frozen treats but are trying to avoid added sugars, Goodpop organic freezer pops are it. They have zero added sugars and (aside from the grape which I save for my husband 😂) are a delicious frozen treat.
Biena Chickpea Snacks
Do you remember corn nuts? These aren't the same, but they're pretty close. Crunchy, crispy chickpeas seasoned with ranch – the perfect savory snack. They come in everything but the bagel seasoning, too.
Pipcorn Cheese Puffs
Pipcorn started out with popcorn with a smaller hull, which is the harder-to-digest part of popcorn. And then they came out with a healthier, puff, these cheese balls are clean and so good.
Honey Cinnamon Sweet Thins
Graham cracker fan? You have to try these honey cinnamon grahams.
Whole Grain Pretzels
These pretzels are made with whole grains and are excellent for road trips and school snacks. They taste just like the real thing.
Siete Grain Free Cinnamon Tortilla Chips
I love all things Siete. From their almond flour tortillas to all of their tortilla chips, they are just so good. The lime tortilla chips are excellent with salsa or guacamole, and these sweet, cinnamon sugar chips are a delicious paleo chip that the entire family will love.
Hippeas Organic Chickpea Puffs
Ok, so these do not taste like cheetos. Not even close. But they're really good, and the BBQ is the perfect puffy BBQ snack.
Mary's Gone Crackers Original Crackers
Ok, so these taste very healthy, but there's something about them. I love them with cheese or a seed butter.
Lesser Evil Organic Popcorn
Popcorn is gluten-free, and popcorn (with salt) is one of my favorite salty snacks. I really like lesser evil and pipcorn popcorn.
Tate's Gluten-Free Cookies
If you love Tate's crispy chocolate chip cookies (or haven't had them but love a thin, crispy cookie) the gluten-free version is as good as the original. They don't contain any wheat flour, making then safe for those who can't or prefer not to eat gluten.
HighKey Mini Cookies
HighKey's mini cookies are sweetened with monk fruit and stevia (for 0g of added sugar) and have just 1g net carbs per serving. They are keto-friendly and so, so good.
Natierra Organic Freeze Dried Strawberries
My 2 year old calls these strawberry chips (or slawbobby chips). They're healthy, crunchy, and one of those zero-guilt snacks that you feel good giving to your kids. We love freeze-dried pineapple and banana, too. And I love Natierra because unlike (some) other brands, there's zero added sugar.
The Good Crisp Company Sour Cream and Onion Chips
If you love Pringles, you will love these chips from The Good Crisp Company.
Rind Peach Chips
I had never had peach chips until I tried this brand. They're so good! Rind Snacks keeps the fruit peel on to maximize taste and minimize waste. And even better, they feature upcycled dried peaches that are big on flavor and thinly cut for the perfect, crunchy, healthy snack.
Thrive Market Sweet Potato Chips
Thrive Market's Sweet Potato Chips are made from only three ingredients—non-GMO sweet potatoes, organic coconut oil, and sea salt. And they contain zero preservatives or added sugar.* Each batch is kettle-cooked in organic coconut oil and sprinkled with sea salt. The perfect paleo-friendly, gluten free snack.
Quinn Peanut Butter Filled Pretzel Nuggets
Quinn Snacks perfected the gluten-free pretzel, and then filled it with peanut butter, replacing an old favorite. These aren't school-friendly since they contain peanuts, but they're a great at-home snack. Grab this bag for anytime snack sessions featuring 3g of protein and the ideal PB to pretzel ratio. "Farm to bag" is the ethos behind Quinn Snacks. The transparent brand always shares supplier names and sourcing locations, like grass-fed clarified butter from Florida or maple sugar from Vermont.
RX Bars
Fun fact: I was one of the first people to try RX Bars. The founder went to my CrossFit gym, and I loved them from day 1. They're so clean, healthy, perfect for travel and school, and they're Paleo-friendly, too. The mini bars are the perfect snack option for kids or post-workout, or when you're running around but need a little boost. RX Bar makes my favorite almond butter, and bars for kids, too.
This post contains affiliate links. If you purchase something using my links, I may earn a small affiliate commission at no cost to you.