An Honest Review of the Toniebox and A Code for 20% off Tonies
Chances are that this is not the first time you've heard of (or seen) the Toniebox screen-free digital audio player. It's one of my favorite toys for young children – my kids have used it consistently for years. My younger daughter started playing with it when she was around a …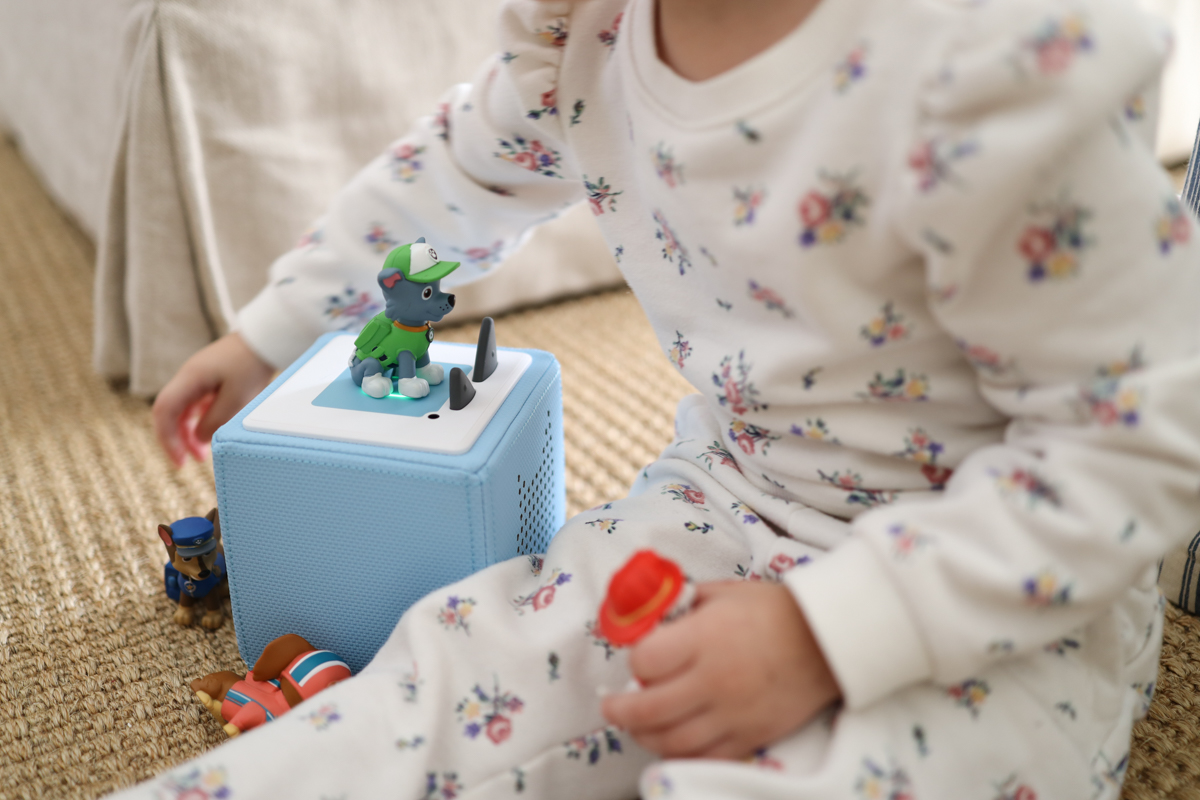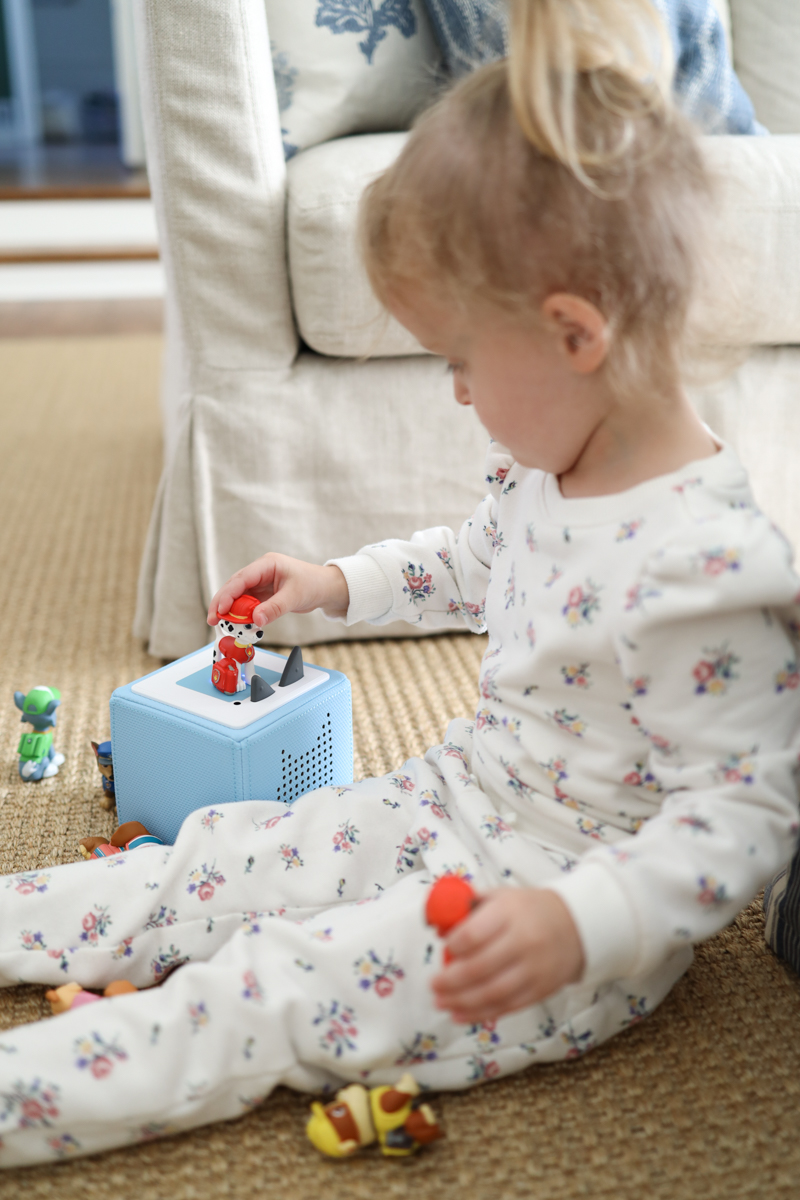 Chances are that this is not the first time you've heard of (or seen) the Toniebox screen-free digital audio player. It's one of my favorite toys for young children – my kids have used it consistently for years. My younger daughter started playing with it when she was around a year old, and my older daughter still loves it at age 5. They will sit and listen to stories, or have stories and music playing in the background while they play. We even use it to play music for our 4 month old. This post was not written in partnership with Tonies, but I am about to partner with them on a social media campaign, and have a code for 20% off Tonies! Use 20MOSS for 20% off purchases of $99 off including Starter Set bundles!
An Honest Review of the Toniebox and the Best Tonies to Buy
I can't say enough good things about the Toniebox. It is a screen-free way to keep my kids busy, and has really helped promote independent play for my children. And while I do let my kids have (some) screen time I love that they can listen to their favorite stories and music without a screen. It's really great for all ages. While your younger baby might be too young to switch out the Tonies, they will enjoy music and stories. Older love playing with the hand-painted figurines, and will probably focus more on stories and less on nursery rhymes. It's portable enough to come along on long car rides or trips, and gets more use than I ever could have imagined.
What is a Toniebox?
A Toniebox is a screen-free audio player. The Toniebox experience is really easy – little listeners switch out Tonie characters on the top of the box to listen to stories and music. Go on an audio adventure with your favorite Disney and Pixar characters, Peppa Pig, Paw Patrol, and children's songs. There are so many types of Tonies to choose from, and my kids love playing with those little hand-painted characters as much as they love the stories. Listen to stories and songs from your favorite Disney princesses and classic books like Brown Bear, The Very Hungry Caterpillar, and Roald Dahl.
Use 20MOSS for 20% off purchases of $99 off including Starter Set bundles!
How to use the Toniebox
Initial setup was pretty easy. When setting up a new Tonie for the first time, you will need to be connected to wifi via the MyTonies app. The Tonie's content is downloaded once from the cloud via WiFi and stored digitally, so you will only need to do that once for each Tonie. Each Tonie contains a chip, so the Toniebox knows which tonie is on top of the Toniebox and starts playing immediately. You will not need to be connected to WiFi to use the Toniebox after the initial install.
When you remove a Tonie from the top of the Toniebox, the audio content stops. I should mention that the audio will start where you left off, which is really great. And switching forward and backward a track (which is a song or story) is as easy as tapping on the side of the box.
The "ears" function as volume controls and there's a headphone jack if you need some peace and quiet. Any headphones can be used with the Toniebox, but Tonies does sell coordinating, child-friendly headphones that fold up, so they are especially portable. It's very easy for older kids to use and each enough for younger children too.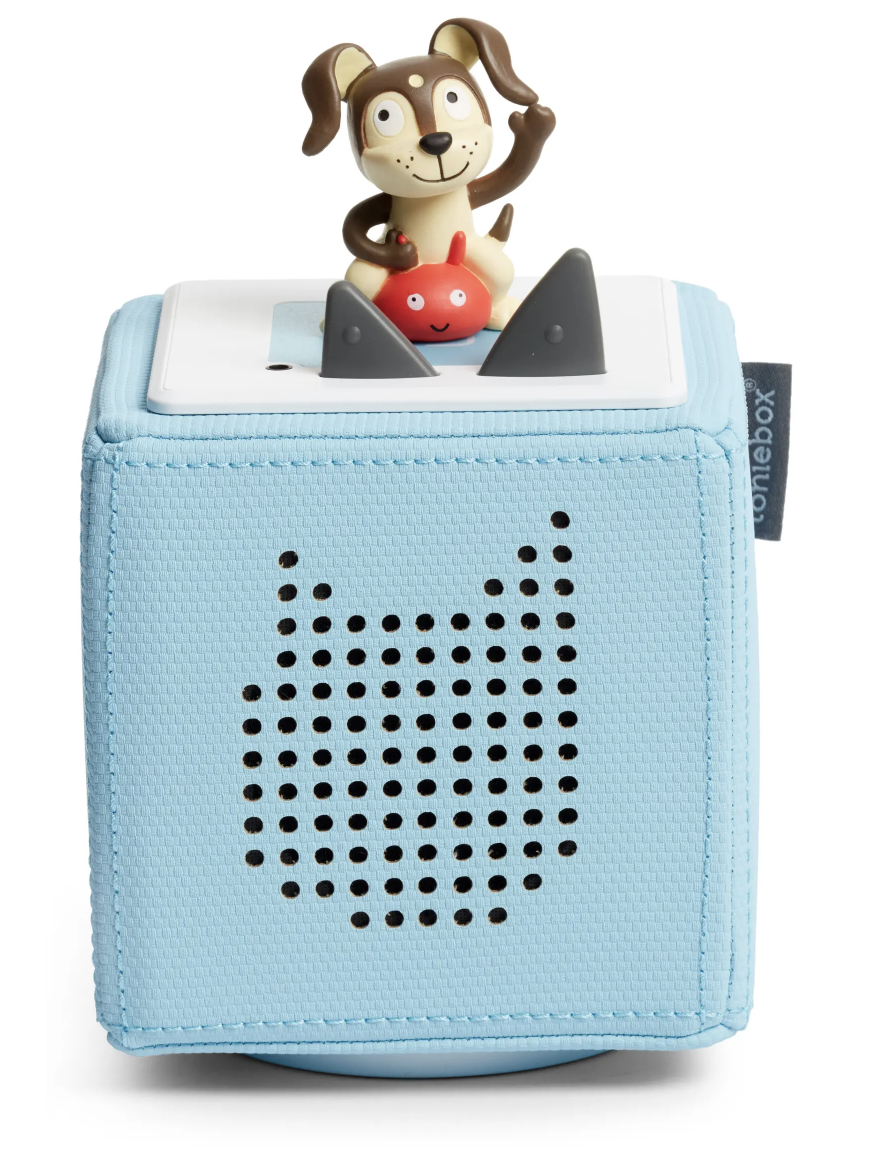 Tonies
The Toniebox starter set comes with one tonie and a charging station.
Shop now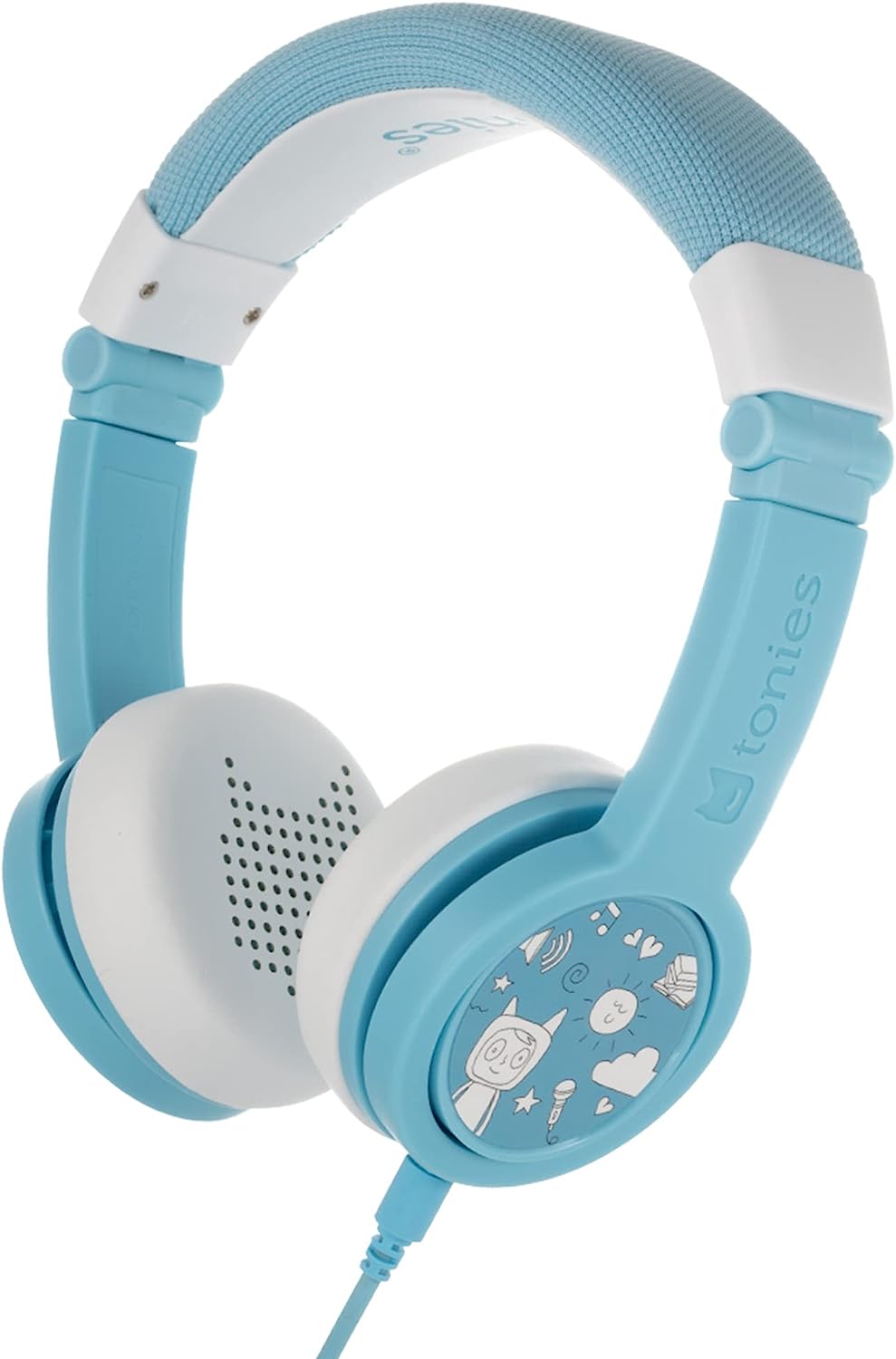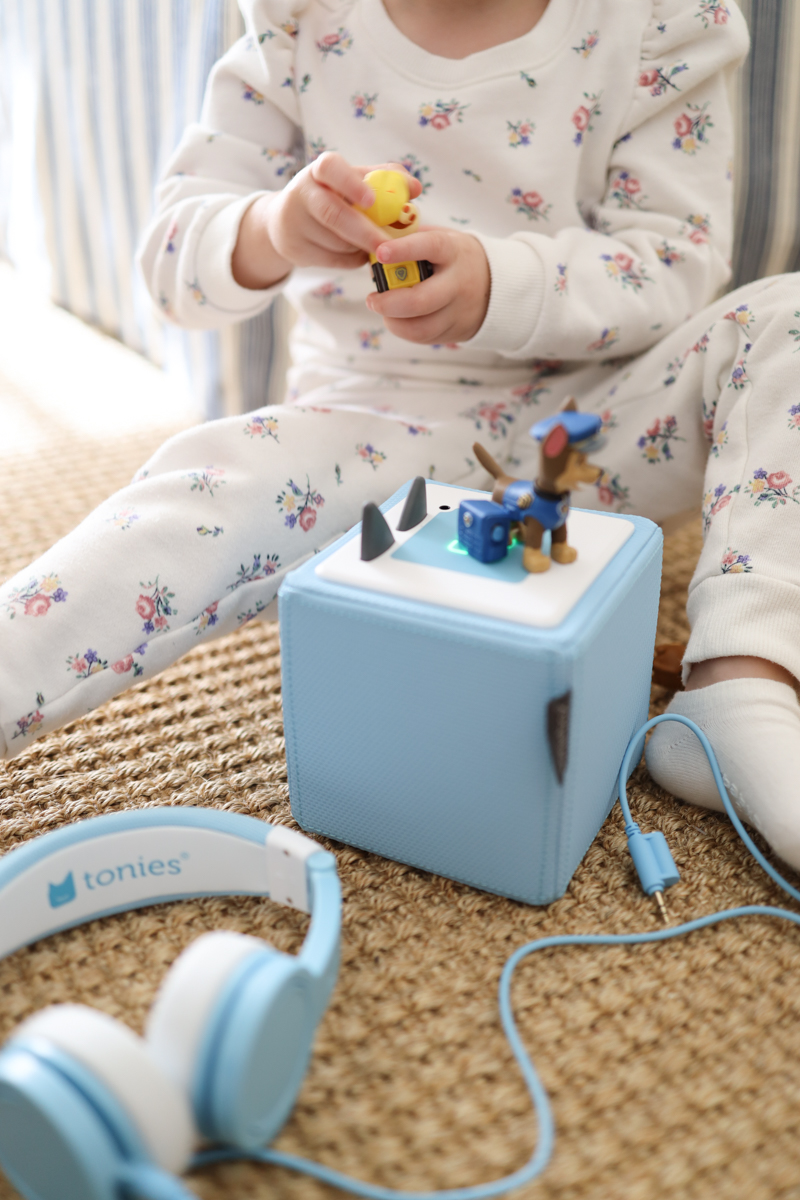 How long does the Toniebox battery last?
The Toniebox sits on the charging dock and can be used while it's charging. The battery life is great – it lasts about 7 hours.
Can my baby use a Toniebox?
Tonies website says that it is "not suitable for children under 36 months. Choking hazard. Small parts." I am someone who is typically very nervous around small toys, and would never suggest going against a brand's suggestion. That said, while supervising my young toddler, I felt safe having her switch Tonies out on her own. I wouldn't have left her alone with any toy at age 1, and she never really tried to eat the Tonies. The pieces are easy for little hands to grasp, and she was even able to figure out how to bang on the side of the box to skip to the next story or song.
Is the Toniebox worth the price tag?
We all have to decide what's worth it to us, but here's why I think it's worth the price tag. How many times have you purchased a toy that your child or children have grown tired of? Given that the Toniebox grows with your child, and how much use ours has gotten, it feels very worth it to me. It is the one toy that they use very consistently, and have for years. And for less than $15-$18, you can invest in a new Tonie that they'll love, and its almost like a new toy as they enjoy new content.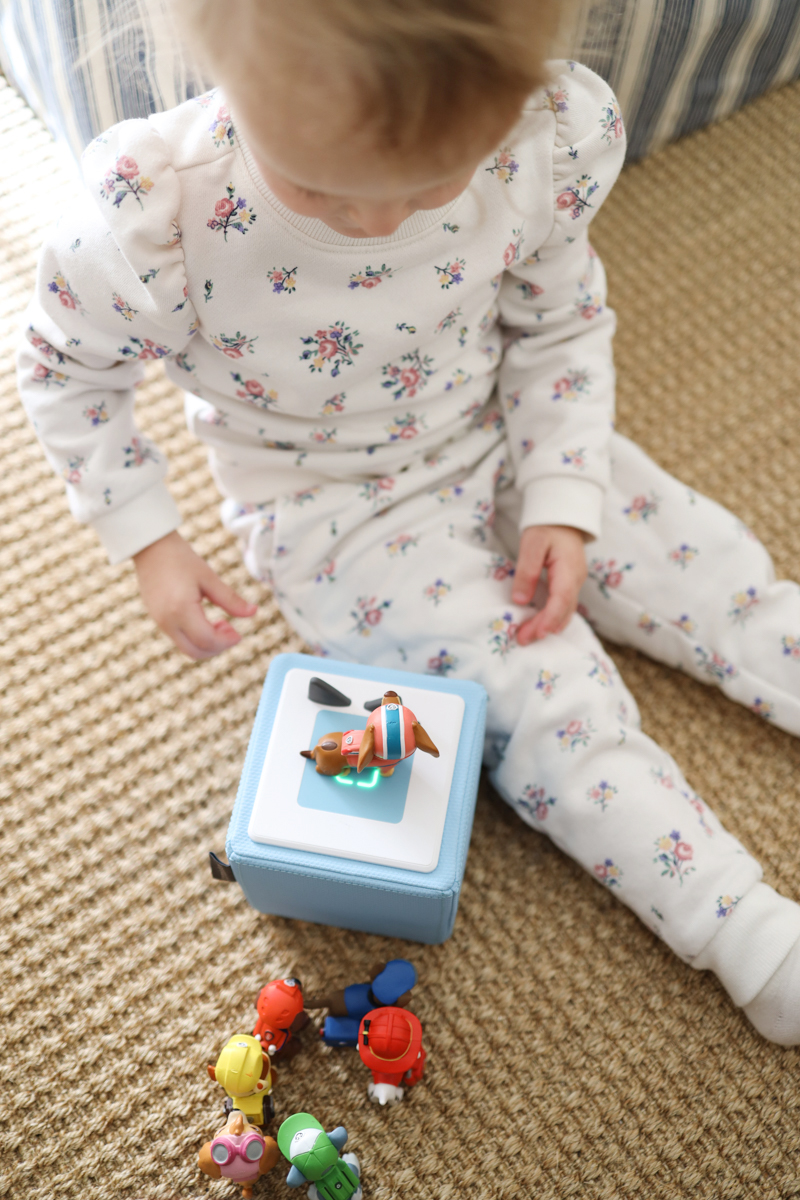 Our favorite Tonie Characters
There are two types of Tonies. First, there are Content Tonies which are pre-loaded with different songs and stories. Creative Tonies can be filled with your own recordings. Record your own stories and songs from songs (you have up to 90 minutes of recording time). A Creative Tonie is especially wonderful if you have family out of town, as they can easily upload stories or songs for your kids to listen to.
Keep in mind that we have had our Toniebox for almost 3 years, so we've been collecting Tonies for a while. I always include them in Easter Baskets and Christmas stockings, and for Birthdays, too.
Our favorite story time Tonies:
Mickey Mouse, Minnie Mouse, Lion King, Little Mermaid, and pretty much every single Disney Tonie ever made.
Playtime Puppy (great for preschoolers – included with the starter set)
Sleepy Friends Bedtime Stories
ALL the Paw Patrol Tonies (love that they can listen to Paw Patrol instead of watching TV)
Disney Babies Lullaby Tonies (for my 4 month old)
Doc McStuffins
Gabby's Dollhouse
Peppa Pig
Trolls Poppy Tonie
Daniel Tiger
Curious George
Favorite Children's Songs
Counting Songs (Squirrel)
Animal Songs (Pig)
Sesame Street Tonies
LLama Llama
Bedtime Story Tonie
The Toniebox vs. the Yoto Player.
We actually have both audio players and I like the smaller, travel Yoto players for trips, but my kids (strongly) prefer their Tonies. I prefer the original Tonies vs original audio for Yoto. Again, both are great, and the mini Yoto is easier to travel with, but the way we use them, Tonies wins hands-down.
This post was not written in partnership with Tonies, but does contain affiliate links, and they did give me a 20% off code after the post was published. If you purchase something using my links, I may earn a small commission at no cost to you.