How to Purge and Organize Toys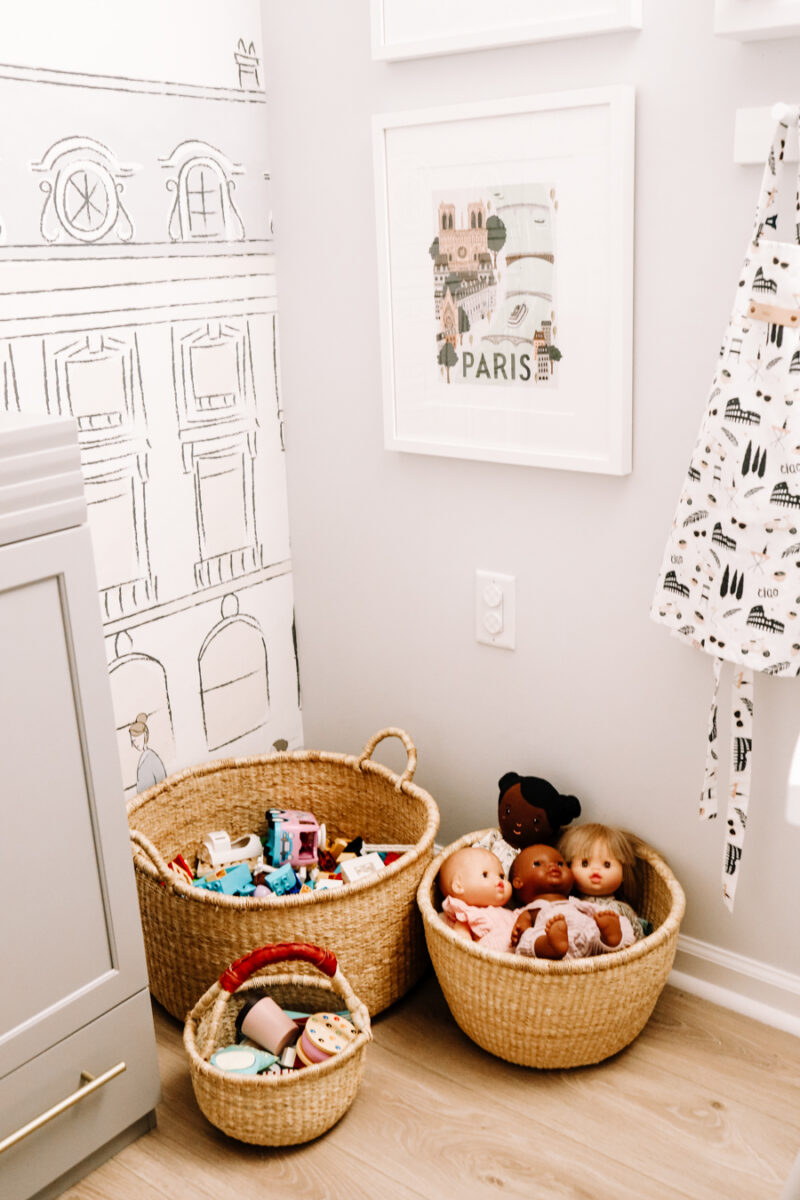 I'm always surprised at the content that resonates, and today, I'm going to talk about how to purge and organize toys. I hope this helps some of you learn more about the toys that are worth investing in. All kids are different – they play differently and will each have their "thing" – but somehow, many of us end up with big plastic versions of whatever it is that they love. From trains and blocks to dolls and play food, I wanted my girls to have a good mix of toys that spark creativity.
How to Purge and Organize Toys
Going into motherhood, I felt committed to avoiding the big plastic play sets but once your little ones start to show interest in characters and you realize how fun it is to make their little dreams come true, you become the proud owner of a Peppa tree house and Frozen castle. Then there's winter, gifts, isolating at home, and in our case, OT, PT, and long days and stays at the hospital. That's not to say all large items are bad – we have plenty of good ones. But, there were more purchases than there would have been because I was desperate to help my daughter and make a winter at home a little more fun.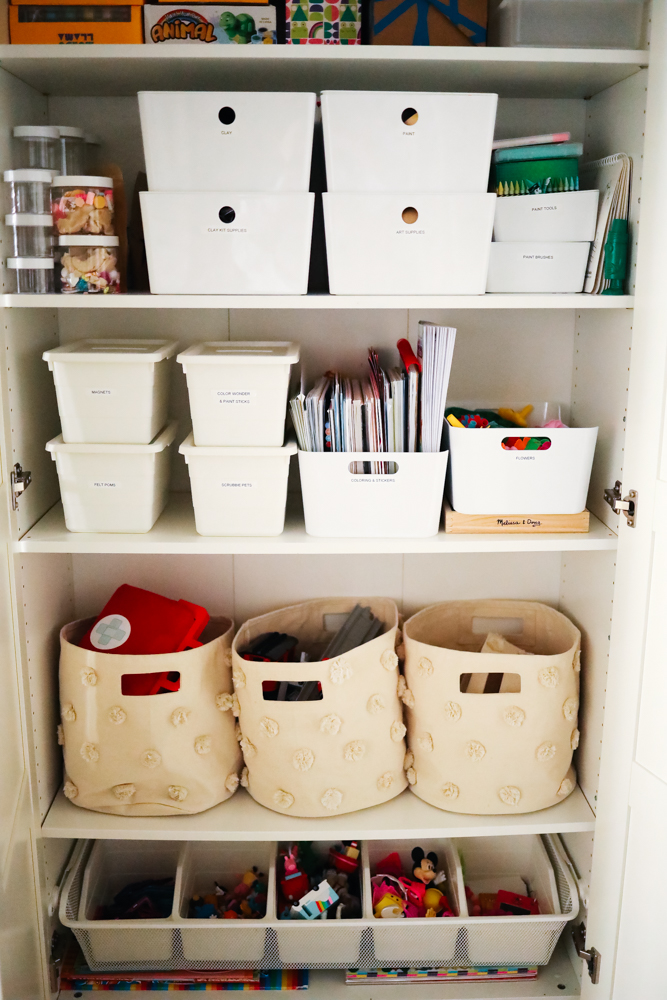 Start slowly
I started slow during nap or quiet time, and started giving away the larger pieces. There were a few times I put a few things aside in front of Margot and she asked a few questions but didn't seem too bothered by them and didn't notice. If you think your child might get upset, don't do this in front of them. I've talked about donating toys since Margot was two, so I suppose she's used to it, and I'd never give away the toys she plays with most.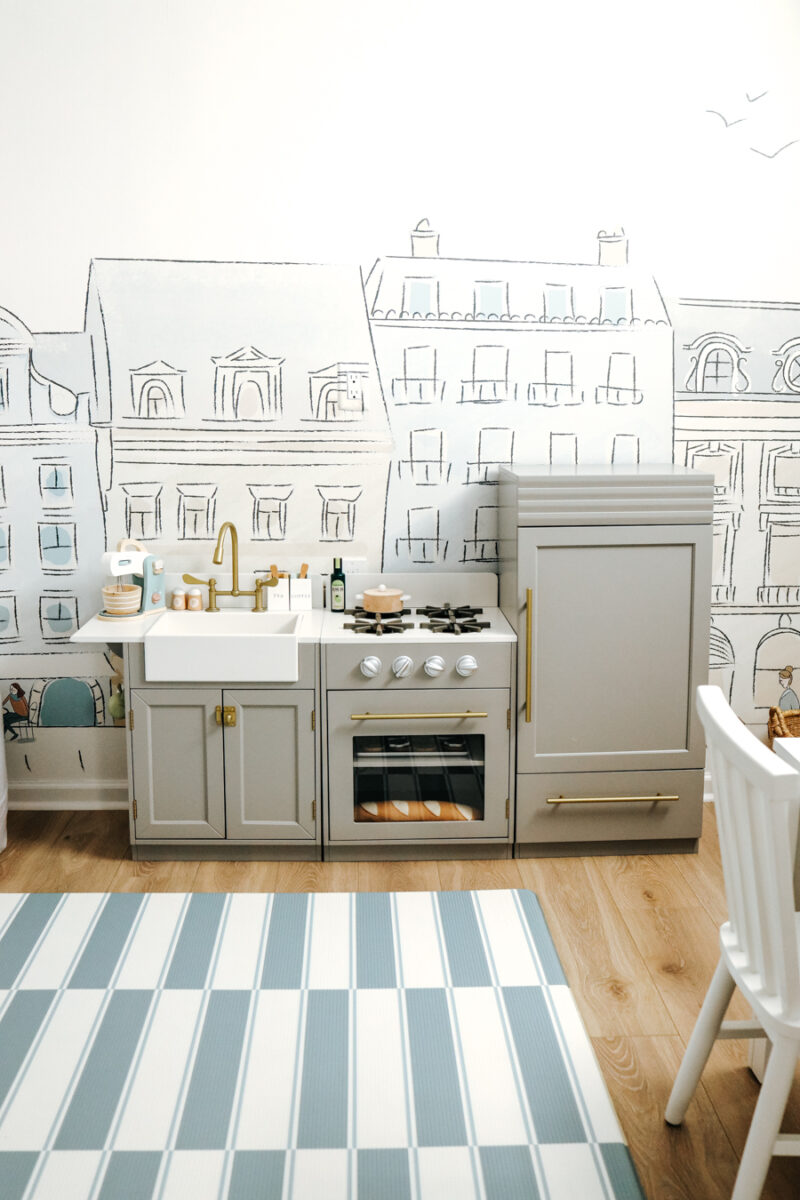 Here's what I kept:
Play kitchen.
I've gotten a few questions about this. We have the larger Pottery Barn Kids kitchen and love it. If you're short on space or want to save some money, I would buy the smaller version skip the fridge since it's really just a shelf anyway.
Play food.
My 3-year-old loves play food so we have a lot of it.
Fisher Price Little People.
I kept all the Little People figurines since the girls both love them, and they really do play with them in the same way, without a big, loud, musical contraption that I then need to store.
Chunky wood puzzles.
These are my favorite puzzles for the girls. We have a handful and keep all the pieces in a small basket. The best part is that the pieces actually stand up, so the girls play with the pieces as wooden figurines.
Magna Tiles:
Both girls love these.
Duplo Blocks:
These are a favorite for both girls. I'd say Margot started to get into them around age 2.
Wooden Toys:
Grimms wooden toys are a splurge but I love the quality and the girls use them all the time. The perfect toys for open ended play.
Art supplies:
Glitter glue, clay kits, markers, crayons, chalk, and paint. We do lots of crafts and you can have too much, so get the basics and stop there.
Figurines:
I didn't keep most of the big, plastic, play sets. They can be used just one way and are bulky – steer clear of them if you are able to do so. But their most-loved characters in figurine form? Toy gold.
Here's what I gave away:
Memory games: 2/4. These are the things that pile up – you don't need more than 1 or 2.
Sensory rocker: OT/PT purchase. It served it's purpose for us and I passed it along to another family.
Wooden push cart: we have a stroller but didn't need the cart, too.
Linkimals: Donated 2/3 – I just kept Kate's favorite.
Stuffed animals: This was, in part, an impulsive decision when Margot was in treatment because I wanted toys that were easy to clean, but I really like keeping stuffed animals to a minimum, and just held on to their special, most-loved ones.
Larger plastic toys: Donated a few play sets and cars – a Peppa tree house, Daniel Tiger trolley, and a few others. but kept the figurines. One car is enough – kids can then use it with all of their figurines.
Extra food toys – felt food, velcro food (so annoying), and any duplicates
Little People Frozen castle and baby nursery: (kept the figurines but gave away the big play sets). I did keep the farm because it's pretty great and both girls love it. We now have the figurines in a basket and the girls use them far more than they did when they were in their respective sets.
Art supplies: Donated some extra supplies we didn't need.
There's no way to avoid giving toys away because you never know what your baby or toddler will love, and they'll outgrow toys, too. I hope this will help you think about what purchases to make – I'm a lot more mindful than I was even a year ago. It's also so nice that I can post toys for free on Facebook, and that they can get passed on to another family who can enjoy them.