Things I Bought and Liked This Month
Chicago is covered in snow and it's still falling. We're all cozied up inside this weekend, as we have been for months, and there's something about the snow that feels especially magical. Margot and I did a lap around the block with her sled and built a snowman! It felt …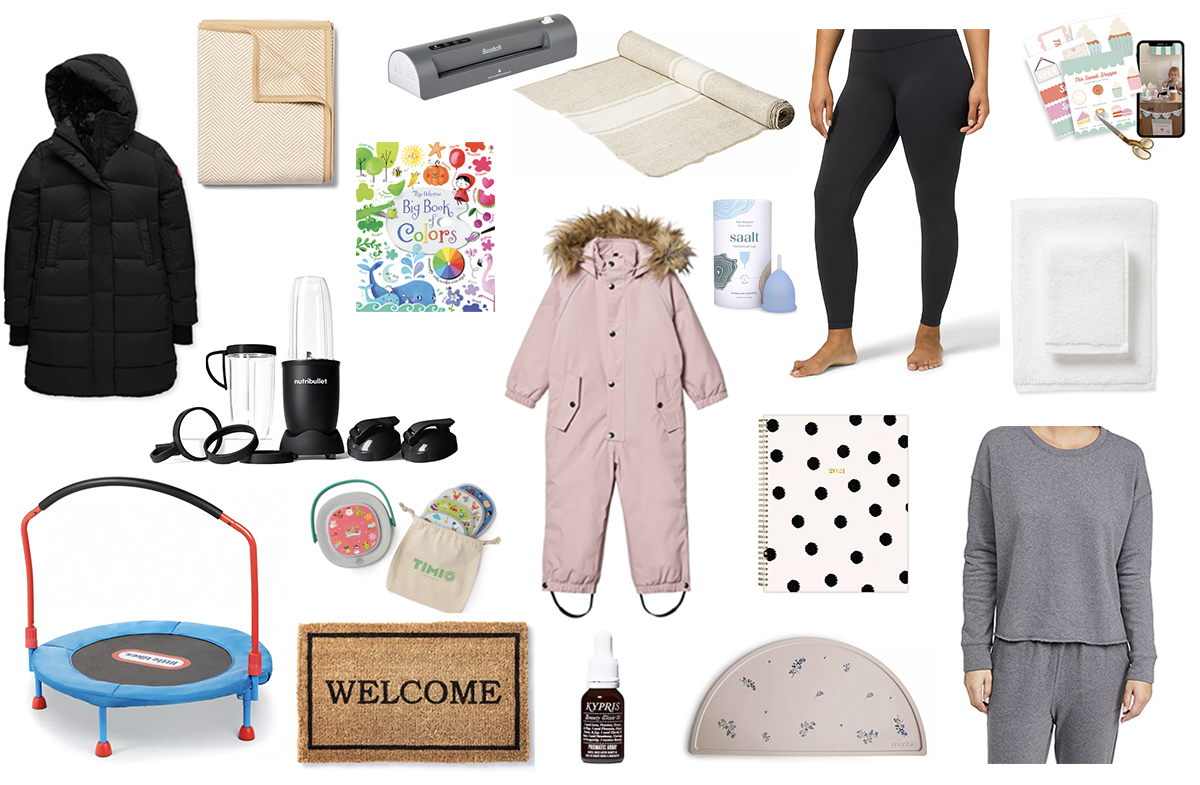 Chicago is covered in snow and it's still falling. We're all cozied up inside this weekend, as we have been for months, and there's something about the snow that feels especially magical. Margot and I did a lap around the block with her sled and built a snowman! It felt good to get outside – something we haven't been great about. We've been home for almost a year and we're doing our best. I've made more online purchases than normal. There were a lot of sweatsuits but we're also the proud owners of a bounce house and trampoline.
Things I Bought and Liked This Month
Mini Blender
We have daily harvest smoothies almost every day and this blender is so much easier to use (and works better) than our vitamix.
Align Pants
After wearing my Align pants on repeat for years, it was time for a fresh pair. They are so comfortable and flattering!
The Coziest Sweats
My favorite sweatpants are finally on sale so I just picked them up in 2 more colors since they're all I wear.
Sweatshirt
Had to buy the matching sweatshirt.
Puffer
It was time for a new puffer and this was a splurge, but I can honestly say it's worth it. So warm, looks good, and it's comfortable.
Beauty Elixir
This is actually my second time purchasing this and I understand why my friend wouldn't stop raving about it. I swear my skin looks better after a few months.
Table Runner
When setting the table for Christmas morning, I realized there were a few things I'd like to slowly acquire for future special events and I ordered this.
Bath Towels
These are so plush! I bought one set a few months ago but found myself only wanting to use these, so I ordered a second set.
EcoKnit Fleece
This sweatshirt is so soft and cozy. Loved it so much I bought it in 3 colors.
Monthly Planner
It's not too late to organize your life. I'm not doing much but love having a planner.
Menstrual Cup
I used one of these a while ago and decided to buy this one after having Kate. I LOVE it.
Doormat
Not a groundbreaking purchase but it was time to retire our Christmas doormat, so I replaced it with this one. Simple & classic.
Blanket
We're loving our chappywrap blankets. I have this one in the living room and the girls each have one, too. They're really soft and warm!
The Big Book of Colors
I buy a lot of books, but this quickly became a favorite. We point out all the different colors and it's always good for a game of I spy.
Placemat
It started with a placemat. Then a bowl, plates, and flatware. And then bibs. I love this brand for the girls.
Snowsuit
I've gotten a few Qs about Margot's snowsuit. It's so well-made and it's cute, too. I sized up with the hope it will fit her next year. And bonus: it's on sale!
Educational Audio Music Player
An instagram ad got me with this one but we love this thing. Margot is allowed very limited iPad time, and when I saw this, I hoped it would keep her busy without a screen, and it does!
Monthly Printable Subscription
I was really feeling stuck with activities for Margot and this has been a game changer. It's less than $10 a month and had me feeling so inspired to make her days more fun.
Laminator
I can't believe this purchase but here we are, and honestly, I love it. I'm making an effort to make things more fun for Margot and it's been awesome.
Trampoline
The bounce house wasn't initially a hit. Margot needed to work on jumping so I thought it would help, and it did! She loves it.