Newborn Essentials: What I Relied on the First Two Months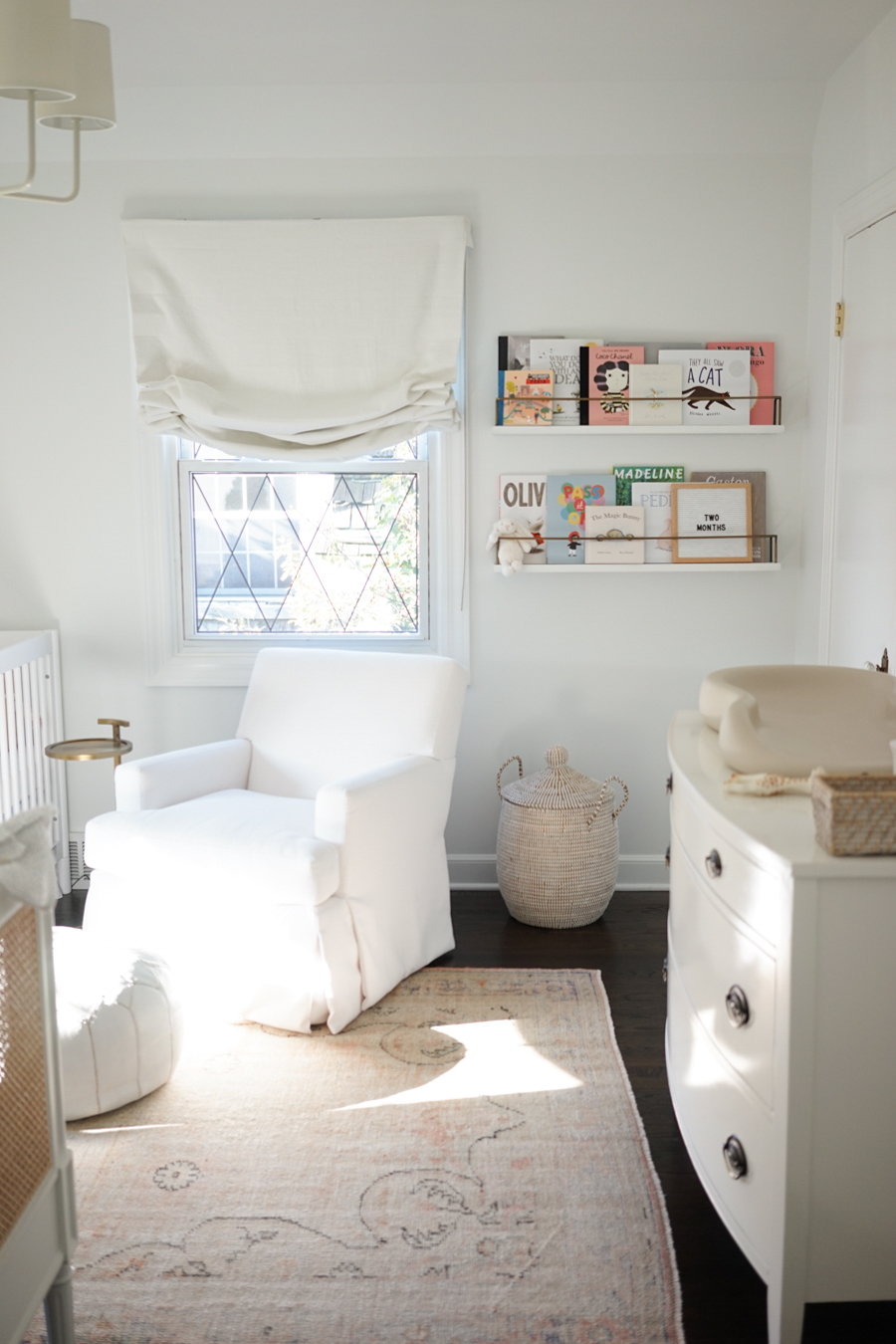 Now that Margot is two months old, I feel like I have a good sense of what does and doesn't work for us. I definitely have a less is more attitude when it comes to all that baby stuff. Or at least I think I do. There was a point where I was hesitant to register for a bottle drying rack because it felt "gimmicky" but turns out we use it every single day.
I shared my baby registry a few months ago and for the most part, love everything I registered for.
So here it is. My list of newborn essentials.
Our Must-Have Items
SNOO: I have gotten a lot of questions about whether or not the SNOO is worth and after just one month, I can't imagine not having this gem of a bassinet. It was given to me by Happiest Baby but I would buy it in a second – it's worth it's weight in gold. Margot has slept in the SNOO every night since she came home from the hospital, and as of the last 2 weeks or so, has been taking most of her naps in there, too. At first, she had to be completely out before being put down in there, but as of 5 weeks, she can be drowsy and it will help her get to sleep.
Babies learn to link their sleep cycles, and the SNOO very regularly helps Margot get back to sleep. It has bought us up to 2 hours of additional sleep time at night! I also love that we're able to track how often she naps during the day (via the app) and how long she sleeps. And there's a feature to wean her once she's ready to transition to her crib. So yes, it's amazing.
Nanit Sleep System: In an effort to not have to carry a monitor around the house, it came down to something that would feed to my phone, and I decided to splurge on the Nanit. It's as great as I thought it would be. I get notifications any time there is noise or movement near the crib or in this case, her bassinet. I am then able to see what's going on in there. It also has a great little nightlight that I can control with the Nanit app, so I'm able
Portable Sound Machine: We take this everywhere and it almost always helps us get Margot to sleep. I've used it when she naps at home or when we're at friends houses and everyone's being loud. It's a must-have for any new parent.
MESA: Every parent needs a car seat, and I'm so glad we went with the UPPABABY MESA. I haven't used another car seat so I can't compare it to anything else, but this came highly recommended by most of my friends with babies. Everyone who has it loves it, and it works seamlessly with the VISTA, so choosing it was easy.
Car Seat Mirror: Great for checking in on your little one when they're in the back seat.
VISTA: I love our stroller. It's beautiful, easy to open and close, the basket is huge (so great for groceries, errands, or just running around), and it's so easy to attach/detach the bassinet, car seat, and toddler seat. I was really torn between the CRUZ and the VISTA, and really think you can't go wrong with either one. My friends have a mix of both and I wanted the smaller stroller in my head, but ultimately, I went with the VISTA because we knew we'd probably have more than one baby, and it can become a double stroller.
The VISTA doesn't feel too big and I like knowing that it can grow with our family. It also has larger wheels for a smoother ride and I am especially glad we have that now knowing how much Margot dislikes being pushed over cracks in the sidewalk. I will say that she didn't care for the bassinet on walks, but it's nice to have inside or when you're traveling or at a friend's house. It's so easy to get the MESA car seat on and off, and she loves the toddler seat with the infant snug seat insert. That's been great for her after eating since I can have her a bit more upright.
Snug Seat: I can't recommend this enough. Margot really likes feeling all snuggly and sitting a bit more upright on walks, so this has been great for us. We use it any time we go on walks and aren't out in the city with our car seat.
Nursing/Car Seat Cover: I love this thing. It's great for covering baby when it's sunny or when I'm out and don't want people breathing all over her.
Leather Diaper Bag: I looked everywhere for a diaper bag I'd actually want to carry around and the Josefina is by far the prettiest one that I've seen to date. Most look like weird totes or coolers, and this is a beautiful leather bag. It fits all of our essentials perfectly, but I can't really see having enough space for lots of snacks or toys, so I'll need to stay organized if/when we start taking more "stuff" out with us. It's gorgeous and works really well for us. And I'd also prefer to really pare down what I need when I'm out with Margot.
Double Sided Mat: This is THE baby toy that everyone should have once baby is 1-2 months old. It is so versatile! The magnets turn it from a flat toy to a triangle, so you can wrap it around a stroller bar or lay it on the floor, and it ties to almost anything. I am so glad I decided to buy this a few weeks ago! We use it every day.
Portable Changing Station: Ok, so this thing is kind of big and bulky but I love it. I have a Gathre mat that I keep in our diaper bag, but that doesn't work well for back seat changes. The mat with this (which you can detach from the other pieces) is a lot more padded for baby. There's also a pocket for diapers and there's even a wipes container, but I use a different one.
Boppy Soft Carrier: We used the Solly the first two weeks, but it takes more time to put on and Margot isn't strong enough to hold her head up on her own and doesn't like having it pinned down by the wrap, so the Boppy carrier has worked really well for us. It's structured and easier to put on, but also soft like a wrap. The two long pieces of fabric hold her in, but the structure of the carrier is  a lot sturdier. If she's being fussy, I'll put her sound machine in one of the outer pieces of fabric! Works like a charm. I take this carrier everywhere with us since it's easier on-the-go. I've put her in there when I'm at the grocery store or out in the city and she wants to be held. My husband uses this one, too. We both love it.
Babybjorn Bouncer: Margot started using this just before turning one month old and it probably works better than anything for her right now. She loves this toy bar and will sit in there staring at it for a while.
Mamaroo: We relied on this a lot the first few weeks, but once we got to that fussy 5-6 week period, Margot didn't spend as much time in here. Once she can hold a toy in her hands, I think she'll enjoy it a lot more. She needs something right in front of her to keep her attention right now.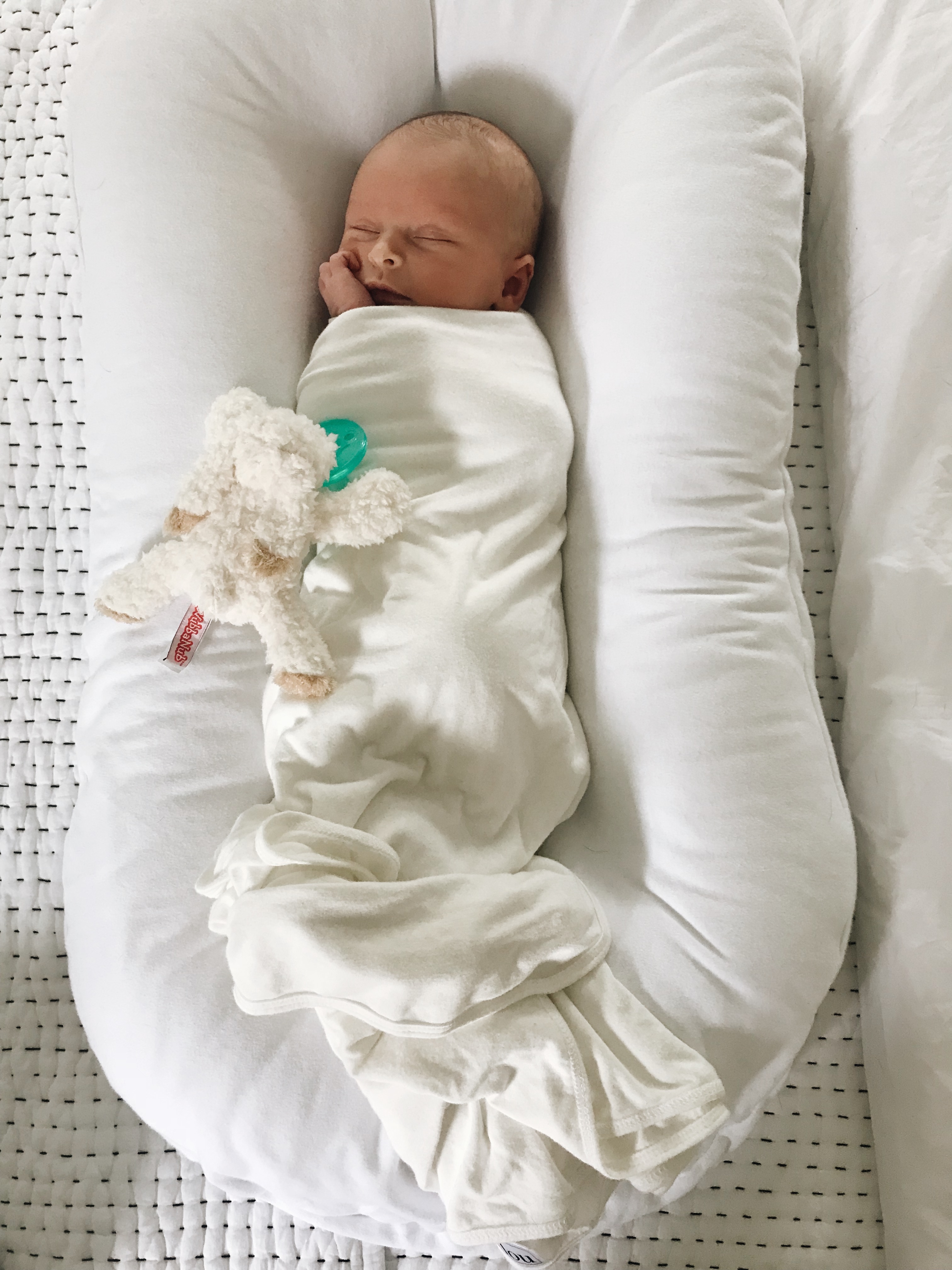 Pacifiers: I bought some of the cuter ones but these are Margot's favorite, so I don't bother with the others anymore.
Baby Care Kit: I can't say enough good things about the nosefrida, baby nail clippers, or the peri bottle (you will need this post delivery!). I was so scared of cutting Margot's nails but these clippers work. We haven't had to use the thermometer or windi, but I'm glad we'll have them when we'll need them.
The Softest Swaddle: This is one of my favorite items and I'll probably give one to all my friends who have babies in the future. My friend Katie gave me one as a gift and I ended up buying 3 more because we use them so often and our baby spits up a lot. The only downside is that you can't dry it, but I don't mind hang drying. These are so soft and stretchy – great for swaddling. I would recommend having 3-4 of these.
The Softest Muslin Swaddle: I wish I only had Pehr swaddles since they're so soft and lightweight – perfect for summer.
Muslin Bibs: You can't have too many bibs, so these are great to have on hand for feedings. If you don't want to do laundry every two days, get at least 2 packs.
Milk Bib: These are so soft and cute – great for feeding or post-feeding in case baby spits up a little bit. And they'll be great when she starts teething/drooling.
Jersey Burp Cloths: I have 3 different types of burp cloths and these are by far my favorite. Super soft, big enough for messes but not too big, and they absorb messes. I just ordered a second pack.
Formula: I would recommend having formula on hand in case you need it. I started with Holle which I don't think worked well for Margot, so I switched her to Happy Baby, but she kept spitting up and seemed fussy. Hipp has been great for her! Just don't forget that it takes at least 2 weeks to notice a difference on a new formula.
Formula Pro: This made making bottles 1000x easier (can be done one handed while holding the baby), and it's especially helpful at 2AM. Select how many oz. the bottle should be, push a button, and voila – a bottle comes out at the perfect temp.
Drying Rack: The thing I thought was gimmicky is actually something we use every single day, multiple times a day. Makes bottle cleaning so much easier.
Bottle Brush: Also necessary for cleaning the inside of bottles.
Gas Drops: I feel like these work for her, and I do rely on them when she's feeling fussy, so I'd say to have them on hand. According to the moms who messaged me on instagram, gas drops, mylicon, and the windi are a must.
Formula/Snack Dispenser: If you're using formula, this makes pre-measuring and making bottles while you're out a lot easier. I pre-fill the bottle with nursery water and add formula. There's also the option to make the bottles in advance and carry a cooler but that sounds like a pain.
Bottles: I've tried a few and like Comotomo and BabyBrezza the most. Dr. Browns worked well but they're a pain to clean.
Laundry Stain Remover: My baby spits up on everything she wears (and a few things we wear, too) and this stuff works like a charm.
Detergent: I have been using this natural detergent for a few years, and it's safe for baby, so I'm continuing to use it.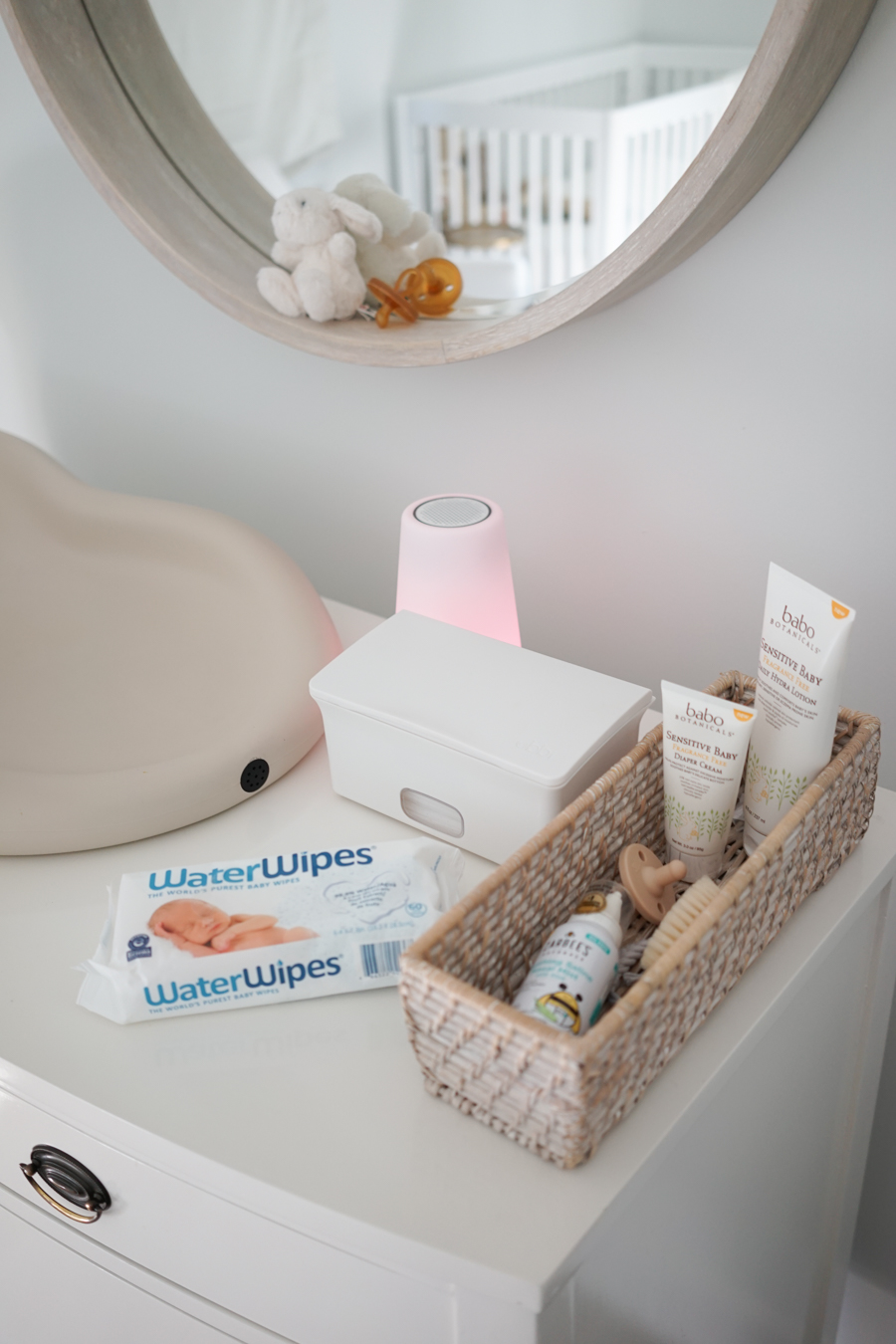 Pure Diapers: These diapers worked very, very well for us the first month, but it was only my intention to use them during the newborn stage since they're not eco-friendly. Now that Margot is big enough, I've started doing a mix of Babyganics disposables (all natural and much better for the environment – would recommend trying newborn ones if you're expecting!) and Bumgenius all-in-one cloth diapers. I am really liking both so far.
Diaper Cream: My friend Katie recommended this cream and I'm liking it so far. Keep in mind I have very little experience with diaper cream, but it's working for us.
Peanut Changer: I like that this is easy to wipe clean (something you'll end up doing a lot) but don't like that it's on the colder side, which Margot was very sensitive to those first few weeks. Now that she's older she is a bit more adaptable and doesn't seem to mind the fact that it's not warm and cozy.
Baby Wipes: There's only so much you can say about baby wipes, but these work well and are free of chemicals.
Baby Bath: Margot loves baths! We fill the bathtub with a little water and this sits right in there. It's probably the place Margot is happiest when she's awake and not being held, so if she's ever really fussy and not ready for bed, I stick her in there and she calms down.
Body Wash: I'm all for any products that are natural and safe for baby's skin. This one works well for us.
The Softest towel: These are so soft and cozy! We love them.
Washcloths: I randomly found this brand on amazon and love their towels and washcloths.
Zipper Onesies: These instantly became my go-to. We have 2 in newborn size which Margot still barely fits into, so you'll be able to use them for a while. I didn't want too many newborn pieces since babies grow out of those so quickly, so we just had less and did more laundry. These are so soft and perfect for days at home and as PJs. Boody onesies zip from the bottom which makes diaper changes so easy. I love them so much that I bought a few extras in larger sizes.
Gowns: When Margot wasn't wearing zipper onesies at night, she was wearing one of these. I had one pack of Moon and Back gowns and about gowns total, and I'd say you need about that many.
Nice to Have
Snuggle Me Organic and Basket: I'm looping these two together since I used them together. You definitely don't HAVE to have either one but I really liked having them in our living room. Margot didn't use them much beyond two months though since she naps in her SNOO and is usually in one of her seats or in our arms when we're downstairs. I did choose the basket without the little hood so it would work later on for storage since it looks less like a bassinet.
Wipes Case: I'm sure you could get along just fine without this but I like having it.
Night Light: The portable sound machine (scroll up) is really all you need but I like being able to touch the light and turn it on for late-night changes. Although we just installed a dimmer in Margot's room so that would work just fine. My main reason for getting this is you can program it to turn a certain color at a certain time (this feature is for when your child is over) and they know they have to stay in bed until the light turns that color.
Pacifier Clip: Pacifiers are tiny and get lost easily, so I use these any time we go anywhere. Clip it to baby's outfit or car seat strap.
Loveevery Play Gym: Margot wasn't into this until recently (she's almost 10 weeks), and while I'm sure you don't "need" it, we love it. I love that it works through various stages of babyhood and comes with a cover to turn it into a play tent – perfect for a toddler. It's cute, versatile, and teaches baby colors, textures, etc.