My Top-Selling Items of 2021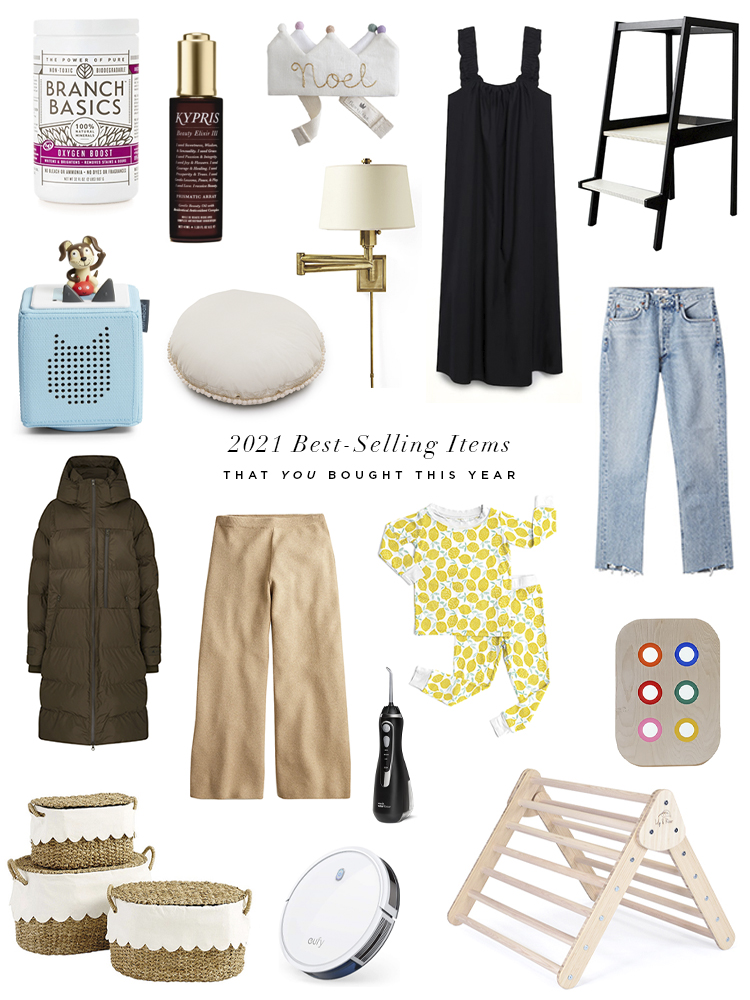 2021 was a strange year, so I'm not going to question how popular bats and jute were. We were all just trying to get by. Lots of cleaning, organizing, decorating, and decor. Here are the items I featured that seemed to resonate this year. Happy New Year, everyone!
My Top-Selling Items of 2021
Little Sleepies Pajamas and Coupon Code
The food truck print was my most-sold style, but sold out. We have so many pairs of these PJs. They're soft, stretchy, and last forever. Use this link and code MOSS15 for 15% off.
My Jute Rug
This is the jute rug we have in our living room and is my favorite of any jute I've owned. It's so soft and has held up really well for us.
Summer Hours Perfume
I raved about this perfume and sold 130 sample sets overnight! (a record!) It's so light and fresh (and it's clean!) Use code DANIELLE15 for 15% off!
World Market Jute Rug
This rug is hands-down my top-seller. It is featured in one of my most read posts and is a very budget-friendly jute rug.
Branch Basics Oxygen Boost
I can believe this one since i showed you how amazing Branch Basics cleaning products are. Use code MOSS for 15% off starter sets!
My Favorite Elixir
I have raved about this elixir that I use every single day morning and night. My skin and never looked or felt better. It's a splurge but worth every penny.
Toniebox Audio Player
You know we love our Tonies, so this isn't a surprise at all. It's seriously the best toy we own and keeps the girls busy and entertained (without a screen!)
Eufy Robot Vacuum
I thought robot vacuums were so stupid until a friend insisted that I get one and here I am ordering a second for our top floor. It's the best!
Serena and Lily Plug In Sconces
We had these in our bedroom before our curtains went up. They're easy to install (plug in!) and so pretty.
AGOLDE Jeans
These are stiff which goes against how cozy i like to be but I love them.
Felt Bats
Monogrammed Crowns
Sweater Pants
The loft ones were a top-seller but they're sold out. These were a close second and are selling out! I have both and love both. They're so cozy.
Cotton Midi Dress
I can't believe it but this is still in stock and $30. I wore it every single week last summer. It's so light and easy to wear.
Pikler Climber
This is a winter essential. It folds up for easy storage and is a great way to get the kids climbing when you're stuck indoors.
Serena and Lily Diamond Jute Rug
Also in my post on jute rugs – it's an updated take on a classic jute.
Scalloped Baskets
These are in Kate's room and are currently on sale.
Sensory Bin Lid
This feels pretty random but it was a weird year and this sensory bin lid was a top seller.
Puffer
I don't own this puffer but included it in a roundup and it's now on sale.
Convertible Tower Table
This sold like crazy. It's one of the cooler toddler items we own and easily converts from a learning tower to a table for two.
Bat Doormat
Apparently bats performed really well for me this year.
Half Zip
This sweatshirt is under $80, so cozy, and is something cute to wear around the house.
Floor Pillow
I shared this floor pillow that I bought for Margot's room and it sold like crazy. It has since been relocated to our indoor playhouse and is the perfect spot to cozy up with a book.
Water Flosser
We had an interesting debate about flossing and then everyone ran to buy one of these.