Life Lately, 5.4.23: Life with a New Baby and House Projects
I am sitting in our family room with my sleeping 3 week old baby boy on my chest. These new baby snuggles are the best – I'm really cherishing them this time around. This post took a full day to complete. Because there were baby snuggles and bottles. I read …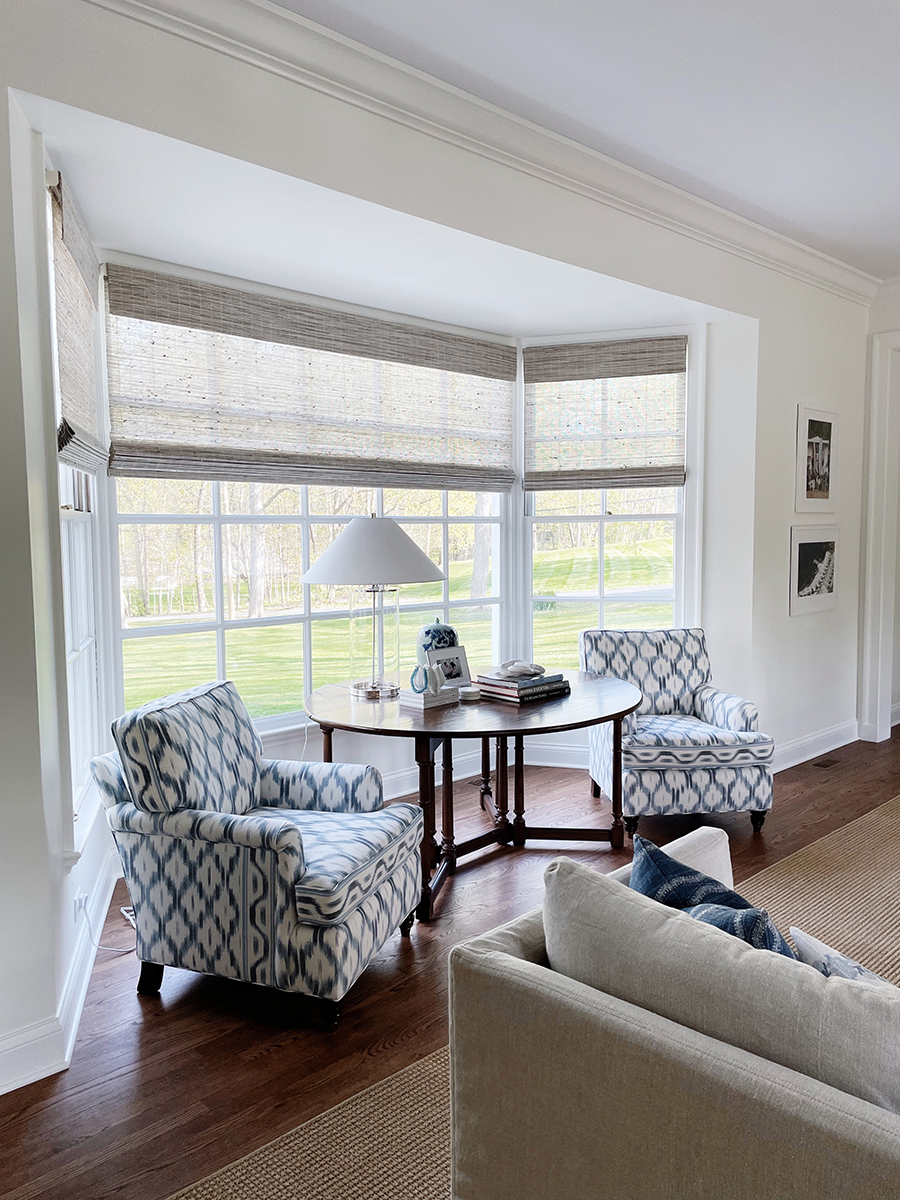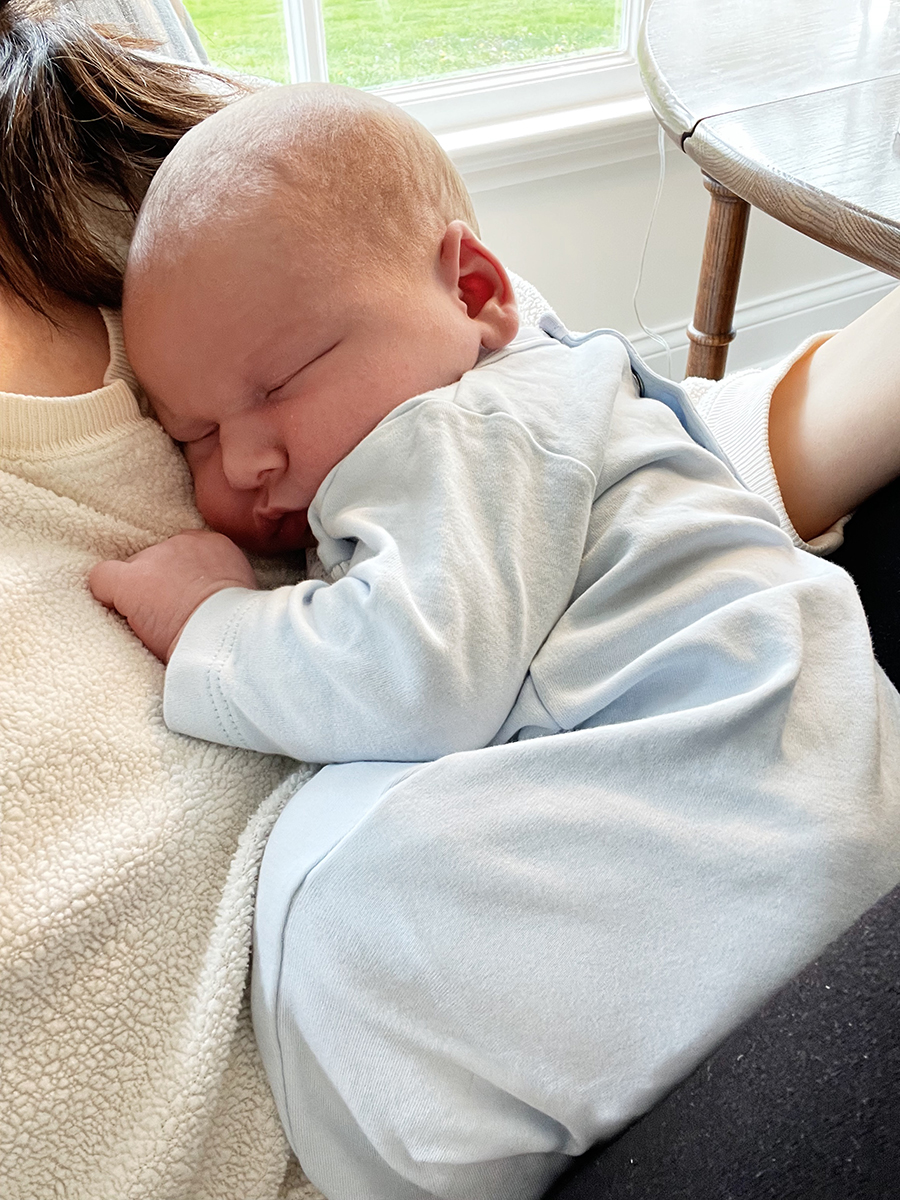 I am sitting in our family room with my sleeping 3 week old baby boy on my chest. These new baby snuggles are the best – I'm really cherishing them this time around. This post took a full day to complete. Because there were baby snuggles and bottles. I read a book to Margot's class today! And then I took Jack to the doctor. The day ended with dinner and spritzes on our patio. And more baby snuggles. Aside from not being able to work out yet and my clothes not fitting, I am feeling really good. Like a more settled version of myself. I guess it all changes when you have a third because you've done it twice before and learn not to sweat the small stuff. You know these moments are fleeting – even the fussiness feels different.
Life Lately, 5.4.23: Life with a New Baby and House Projects
Things have been slow yet hectic, and this has felt like a good maternity leave so far. Through getting older and going through the newborn stage twice, I've become a lot more accepting. Better at going with it. At slowing down. Multiple house projects, a new baby, finalizing my site refresh, and quite a few doctor appointments. Fortunately, everything's ok. We have a fun weekend coming up. I'm taking Margot to one of her best friend's birthday parties, we're having friends (and their kids) over Saturday, and then seeing friends Sunday morning, too. The girls started swim lessons again, and we ordered a new car today. But I also spend the morning snuggling with Jack, wear him in a carrier every chance I get, and have really enjoyed slowing down (while it seems, nothing slows down around me). Here's what's new this week.
Life with a new baby
During my pregnancy with Jack, I was so worried about going back to the baby stage. To naps and diapers and exhaustion. And then I met him, and it's just been such a sweet, special experience, to "get" to do this – especially at 40. I don't know what it is about a third, but this has been the easiest transition for me. It's nonstop, but I'm used to nonstop. And we're no longer isolated, Margot is healthy, and it just feels so wildly different. I'm less stressed (still a worrier – it's me) but it all feels so different. If you're on the fence on having a third, I'm team go for it.
Getting some rest
Hiring a night nurse has been the most incredible experience. This is the first time we've had help postpartum, and feeling rested is a gift. Conor wasn't really "for" it, but he was just like "ok, do what you're going to do." After one night of good sleep and seeing a log of Jack's schedule he was a convert. I believe his exact words were."Ok I'm convinced – night nurse is worth every penny." Don't get me wrong – it is an "investment" and one neither of us were excited about, but it's for a short time and is well worth it. I am not a morning person and wake up feeling refreshed at 6AM now. She's here 4x a week, and we are different people after the next morning.
I decided against hiring a doula
I had initially shared about my plans to hire a postpartum doula, but decided against it. She came once and was very nice and helpful, but the hourly rate was higher than our night nurse and it just didn't feel worth it. Our nanny also said she might be able to help out on weekends occasionally, and there's no one quite like her. She is part of the family, and I love having her here.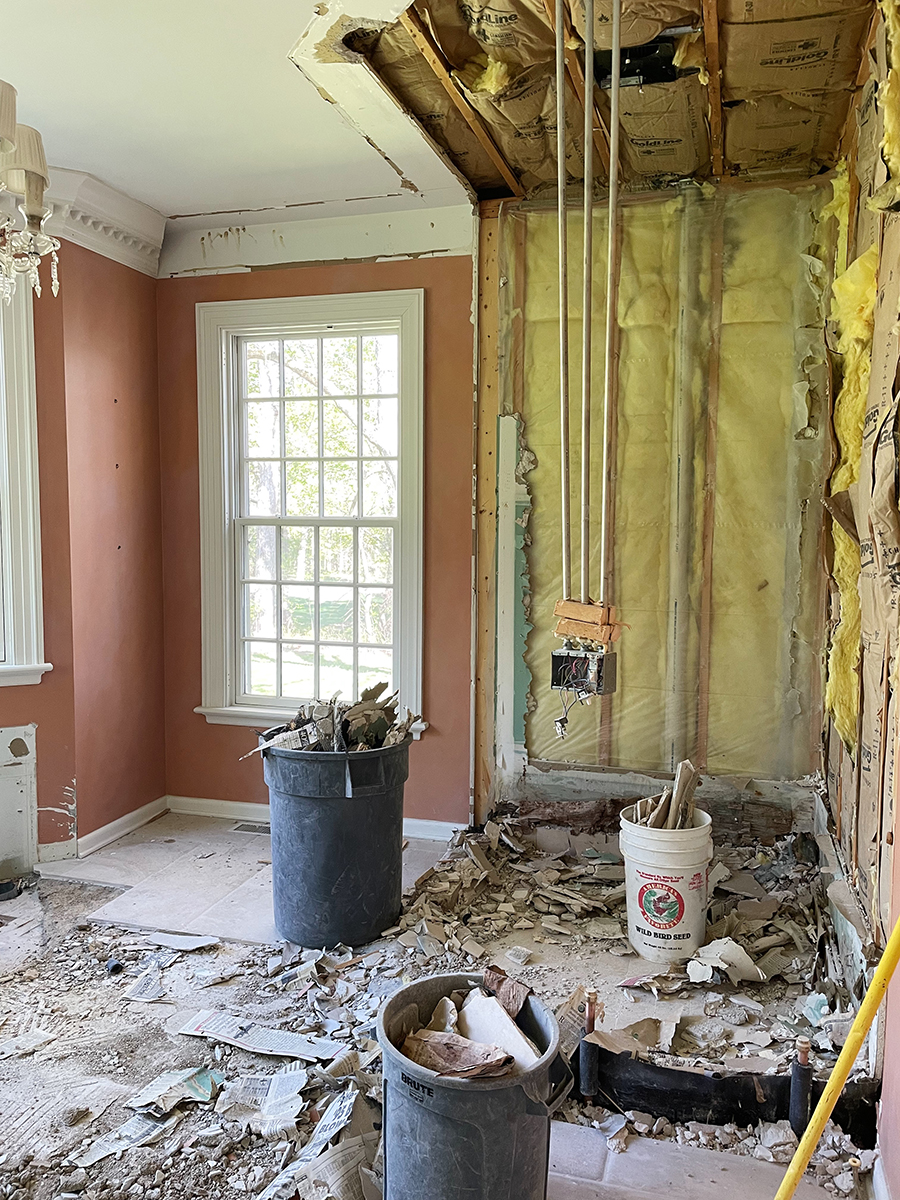 House projects
We had our primary bathroom demoed exactly three weeks after our newborn arrived because…of course we did. 🙃 And I'm not sure how it happened so quickly, but we have a "summer kitchen" off our family room – it's an unfinished space without real windows that is prone to flooding. We were back and forth on finishing it since that room was how 80 gallons of water ended up in our basement. So, in an effort to protect our home, we removed the grill and are in the process of raising the foundation, the foundation, adding real windows, and adding brick and drywall.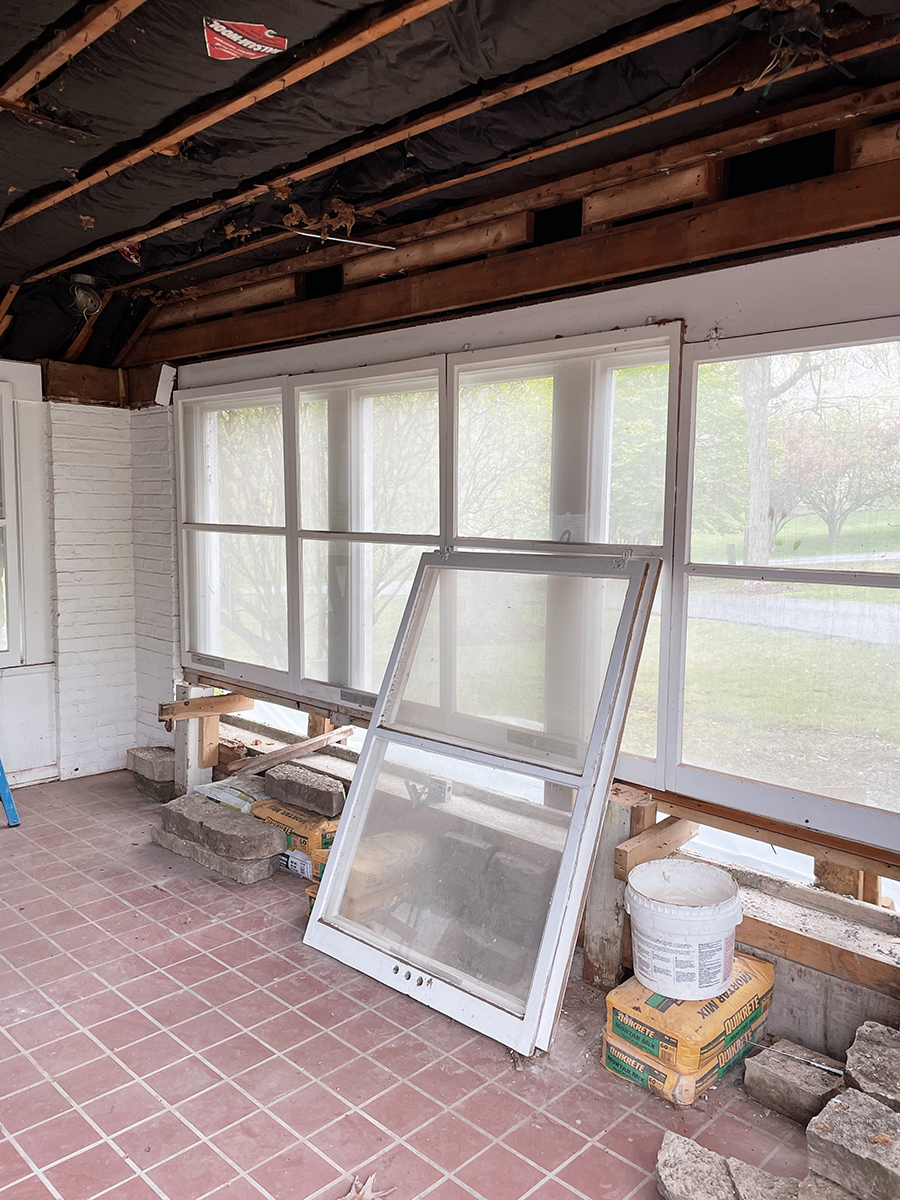 The summer kitchen, which will be my new office? Or that's the plan. I just want a place for my under-desk treadmill.
The basement floors are in and the girls' wallpaper will be installed Monday. Jack's wallpaper just arrived so that should be installed soon, too. And in the next month, we'll start landscaping and painting the exterior of our home. It's a lot at once but feels good to make progress. The way our house is laid out, the kids are still able to nap, and their rooms aren't a mess, so it's been ok. After this, we'll hit pause for a while. In the next 2-5 years we'll hopefully do the other bathrooms and eventually, the kitchen.
I am starting to think about the playroom since we need a new rug and play table, and am hoping to get the space set up for the kids this month.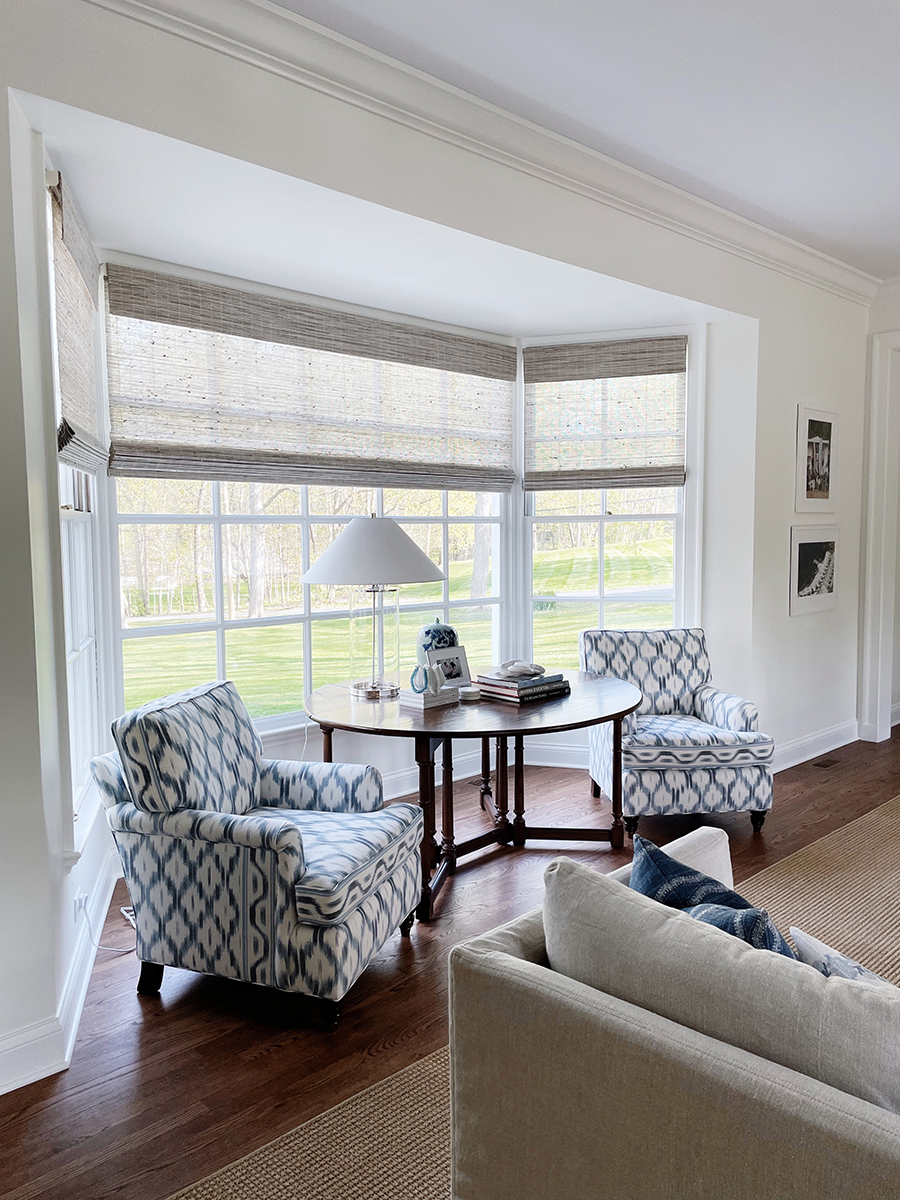 Our new window treatments are up in our family room. You can see them in action (yes, that is a thing) here.
Something parents of newborns should know
This is something I debated sharing – I touched on it on IG and then deleted it. But if there's any chance it will help another parent of a newborn, I have to share it. I won't go too into detail, but Jack had (has) an umbilical granuloma. After two silver nitrate treatments, things still didn't look "normal", so our pediatrician suggested an ultrasound and consultation with a surgeon. The surgeon said surgery is unlikely, and that it really doesn't look bad at all.
I wish I had known that most cases weren't surgical, because I assumed surgery was inevitable once we were referred to the surgeon. Let this also be another reminder to follow your instincts. I called the pediatrician and was told they didn't have anything that day, but politely explained that something felt off, and I was worried about my newborn. We were in the office 30 minutes later.