On My Mind This Week: Birthdays, Surgery, and Choosing a Floor Stain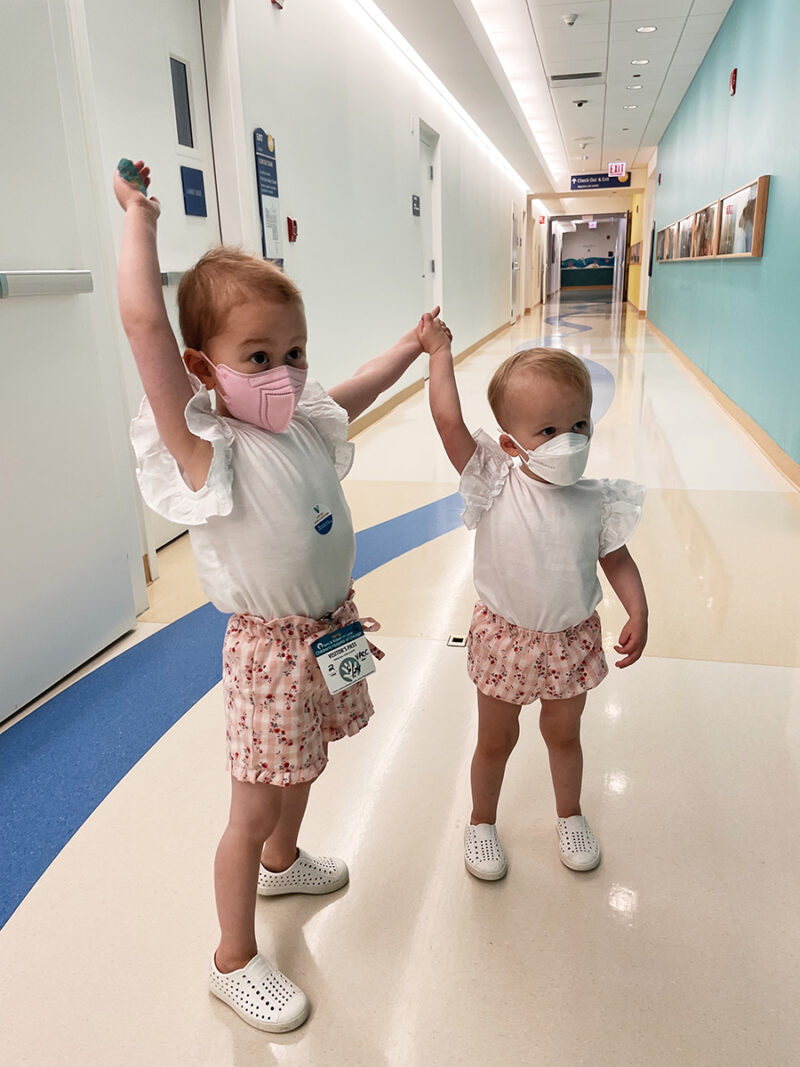 This week is going to be crazy. We're celebrating Kate's birthday tomorrow and Margot has surgery (and a week of steroids) later this week. There's a lot happening at the new house, too. We're meeting our kitchen designer, wallpaper installer, and I'm working on window treatments with Hunter Douglas. Choosing a floor stain was probably the most thought out and analyzed decision, but we did it, and they start staining tomorrow. Kira ordered the fabric for Margot's window treatments and I'm hoping to talk to her this week since we need to finalize a few things. Here's some weekend reading: what's on my mind this week.
On My Mind This Week: Birthdays, Surgery, and Choosing a Floor Stain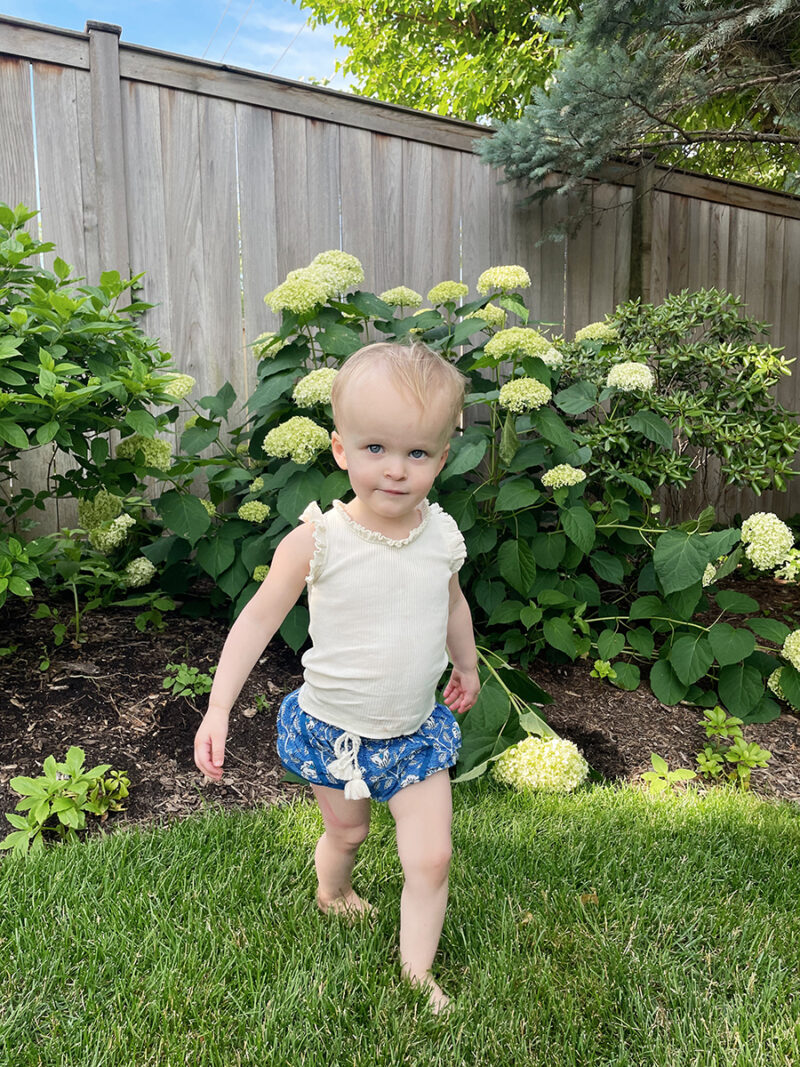 Kate turns 2 tomorrow
Katertot will wake up a 2 year old in the morning! I can't believe my baby is two! She's such a little lovebug and is such a mama's girl (maybe even more than Margot which I didn't know was possible). Girlfriend is talking up a storm, speaking in sentences, loves pink like her sister, lives for her baby dolls, and loves a snuggle. She has requested "pink and purple presents" so I hope her new doll is a hit, and she wants a pink donut. She's also insisting that tomorrow is Margot's birthday.
This is the first time I'm celebrating a 2 year old who isn't in treatment, and I'm not sure what the word is, but i know what a gift it is to have this healthy toddler, and to watch her grow up. And what a gift it is to watch this little girl grow up, too.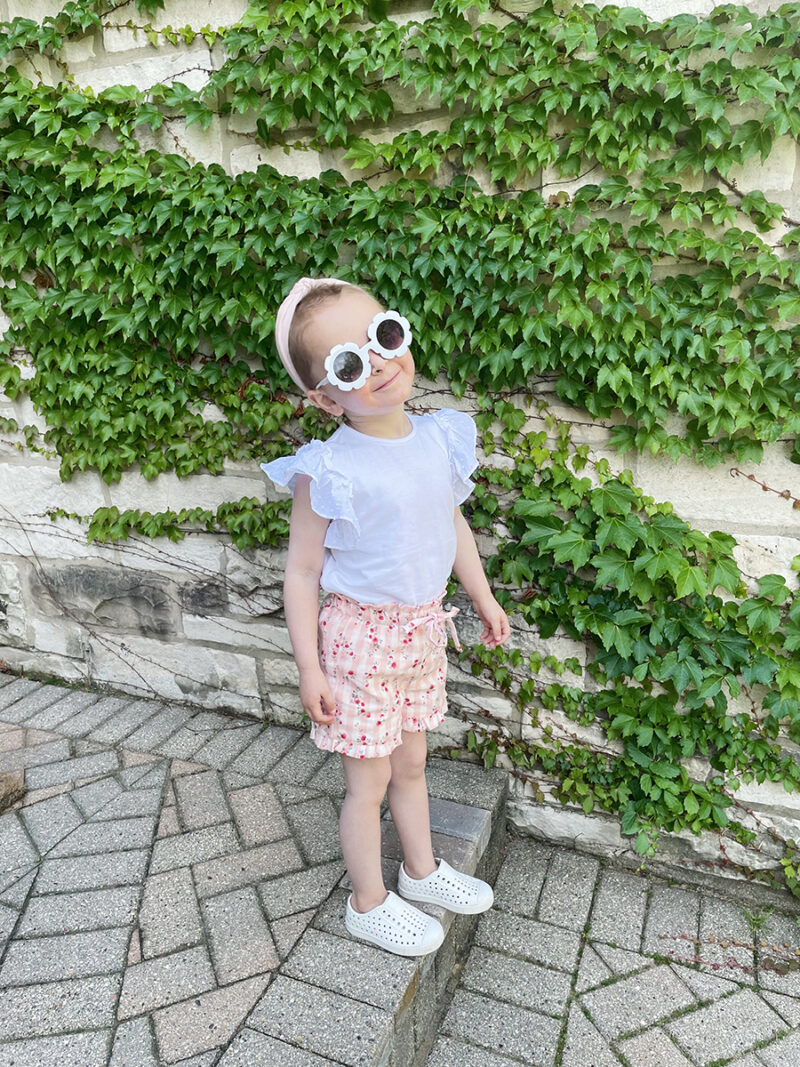 Shorts and top were gifted from La Coqueta
Margot's surgery is coming up this week
I cannot believe we're here! It's just a few days away. Last week, I was on such a high thinking about it, and I'm still so happy we're so close, but it's a little strange. It's like cancer came in and picked us up in a tornado, completely taking over our lives for months and months. Then we almost had this spell over us – life felt better since February 2021, but our daughter has been on chemo so we've had to live a pretty isolated life. We missed out on so much.
And in less than a month, the whole thing will be "over" or as over as it can be.And the chemo will be over, but it's all hitting me that it will be done, and we'll be starting this new life. It's a good thing, but I'm feeling the things we lost. I know how fortunate we are, but it sucks. The friend stuff will really hit you when you least expect it, but at the same time, I'm grateful for the friends I've made along the way, and if this makes any sense, I like this version of myself a lot more. Would have loved to take another path to get here, but I'm here. And Margot is here. We get to be normal, and I'm not sure what that looks like. But I'm grateful for that.
Things are moving along at the house
The new house is sort of a mess, but it's all coming together. The floors are getting stained tomorrow (we went with water popped special walnut – top right), interior walls are getting painted, and we have a bunch of meetings this week. I'm ordering rugs and lighting this week! I've started packing since we move in exactly two weeks, and am keeping things as organized and normal for myself and the girls. I don't know how people work and manage projects like this. We're there every single day and have so many decisions to make. I'm still working, but have been back to late nights since I've had so much to do during the day. I'm just so excited to finally move, and for all the big changes coming over the next month.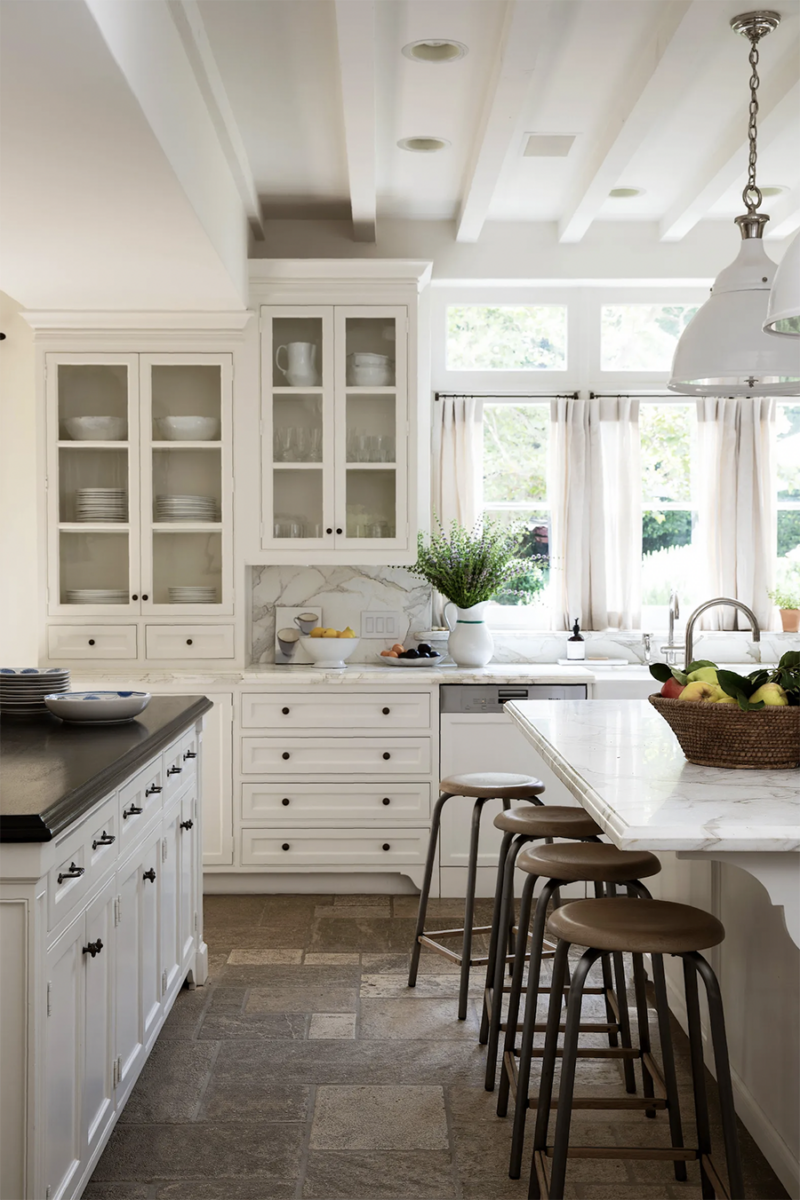 This house is truly the exact vibe I'm going for, and of course it was done by Mark Sikes. This is probably my favorite of his projects to date. We have been talking about what we want for our kitchen and how we don't want another beige kitchen. Yes, they are beautiful, but they're everywhere right now and I wonder how we'd feel about it in 15 years. I know you could say the same about another white kitchen but they are timeless. And this kitchen is…perfect.
As a mom to two girls, I have to say something
I have been fixated on current events lately, to the point that it's probably not healthy. I'm sure that's the case for many of you, too. The things is, becoming a mom has made me more pro-choice than ever. I planned for both of my girls and conceived when I wanted to. And I cannot imagine being forced into this role. How do you force someone to carry a baby that they cannot provide for or aren't ready for? What happens when the resources aren't there and a child has special needs or is diagnosed with cancer? How do you force someone into that?
This is not about life.
If it were about life, things would look so unbelievably different. If this were about babies, we would care about babies. We would have laws in place to keep us safe. We would care about and protect women. Healthcare, paid leave for both parents, better education, and better access to birth control. We wouldn't put guns over the lives of our children. And we would not put such a high value on an embryo but then completely abandon that embryo the moment it takes its first breath.
So the reality is that this is what is on my mind when I'm not distracting myself with my girls (the best distraction) or packing, or doing a swimsuit try-on because I'm so lost and nothing makes sense anymore. I'm not even sure what the point of this is because based on what I've shared on social media and your responses, you feel the same way. I suppose I just had to get it out.