Weekend Reading: How I Found The Viral Home Depot Skeleton and Other Updates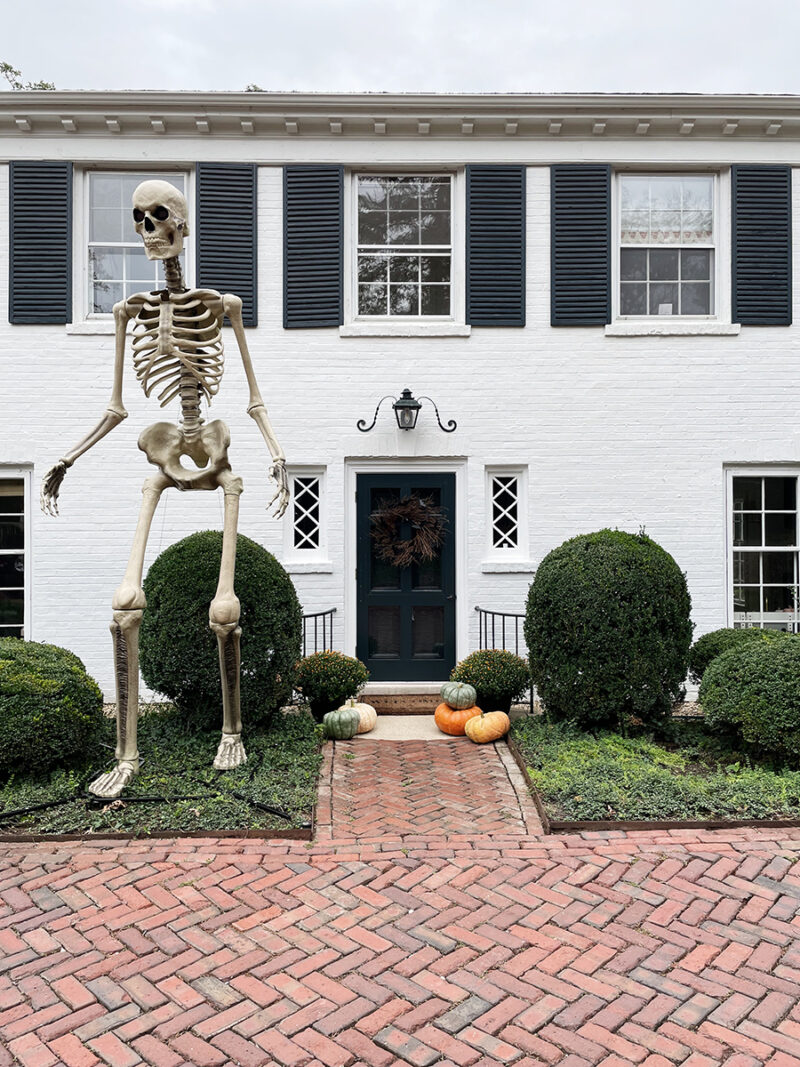 Well it took a minute to get back into my work groove but I am officially back. It feels like fall and halloween is in full swing at our house. And we've got some very spooky vibes happening at our front door. I really don't know how to hold back when it comes to making things festive for my kids, and we're now proud owners of a 12-foot giant-sized skeleton. 💀 I've got a new weekend reading post for you. I'm going to share some updates and recent finds, too.
Weekend Reading: What's New This Week How I Found a Home Depot Skeleton
It feels so good to be back to work and life. The house is sort of a mess right now (so am I – looking real scrappy today). But least I'm working again. Our new bed arrived, curtain hardware is up, and we should have curtains in our bedroom in the next week or two. Progress!
I know everyone's all omg fall right now. But here's the thing. I didn't have the happiest childhood and we spent years pretty isolated, so I just want to make things as fun and magical for my kids as I possibly can. They love the new skeleton and were so excited to see our mums and pumpkins. Kate kept saying "I love it!" but she's also in that I love everything phase (it's the best). It just keeps getting more and more fun as a mom.
Spooky Season and fall stuff
I'll post more of our Halloween decor next week. My bat doormat is missing and I just remembered that I bought a giant spider for the exterior of our home 🕷 so I'll be back with more updates. I ran to the nursery for mums and pumpkins today, and might return to do some fall planters, so if I do, I'll share those, too. I also ordered this apple cinnamon cereal. We love magic spoon! Yeah yeah, I'm basic. Whatever. It's good.
The Home Depot Skeleton
The holiday season has always been my favorite, but Halloween was never my thing. Although now that I'm a mom, I guess I like Halloween decorations (and apparently, giant decorations) and this thing is the real deal. Spooky season is upon us, and nothing will turn your home into a haunted house like a 12′ skeleton with lcd eyes. Sadly, it's sold out, but I'll tell you how I found it. If you happened to see that massive skeleton from Home Depot stores that went viral last year…well, my friend posted a similar one this year and the search began. It's impossible to find them in store. Apparently Kortney Kardashian posted it on social media (I am terrible at following celeb stuff) but I came across the giant home depot skeleton this year and started to look for it online.
How I found home depot's 12-foot-tall skeleton
I called all our local stores and they did restock but sold out so fast. The 12-foot giant skeleton did restock but inventory levels were so low, and it vanished as quickly as it arrived. So I looked at some local facebook groups and found one. So there's now a 12 ft giant-sized skeleton in our front yard (didn't see it coming) and…it's pretty awesome. I get the hype behind this coveted Halloween decoration. The retail price is $299 and they're going for as much as $700 on eBay which is insane. I hate to admit this but I found it for $450 on Facebook marketplace and am a sucker. So I bought it. It's one of the greatest Halloween items of all time and I have zero regrets. It's like a great bag – an investment piece that we'll use year-after-year. We just need to get to a pumpkin patch and pick up some mums, and we're in business.
If you'd like something similar, there are smaller skeletons available. The one my friend picked up is 8-10 feet (also sold out) and it's pretty great, too.
Our Halloween Costumes
I'm actually working on a post on family Halloween costumes so I'll put that together next week, but wanted to share a peek at this year's costumes. And how about a Buddy update? He's actually doing really, really well and seemed a lot like his old self. Maybe even a little more active? Love him so much. You can get his costume here. He's wearing a small.
We officially (officially!) have a nanny
This was our new nanny's first official (full-time) week with us. I was so back and forth on part-time vs. full-time and we ended up with full-time because we met someone amazing who was only looking for full-time work. We both work and in a former life, I never had any time to do anything, so having the help has been great. I have some issues asking for help, so I'm working on that, but she'll ask if laundry needs to be folded and just takes charge in that area. That makes it less awkward for me. I really, really like her energy – she's lovely and so wonderful with the girls. That said, I also really miss our old nanny Jessica. She was (is) part of the family, but we text every week and are planning to get together again soon.
The plan is that I'll be able to really focus on work, and there are some other projects I want to do, too. I need to prioritize living a little bit after not living for so long, and there's so much we need to do for the house. And, I really want time with both of the girls. I'll be the one to do Margot's preschool drop-off and pickup, and will be taking 2 classes with Kate every week. We just signed up for music and I'm looking for dance or gymnastics.
Back to work
I know I talk a lot about SEO but that is what I'm working on right now. To explain a little bit, if you optimize a post (using specific words, making it long enough, and using the right title/key phrase) your post might be one of the top links to come up for a particular search. When that happens, your traffic goes up. I had someone working on my SEO before but they weren't really doing all of it, and I started to learn more and more from the few things they did do, and went back and fixed everything. My on-site SEO score is now 99/100, too. I recommend starting with Ubersuggest.
A new collaboration
I'll be sharing a sneak peek at a new collaboration in the next few days. Sign up for my newsletter to see what I've been working on! If you are signed up, I do plan on getting back to posting. It's just been a crazy month or two so I had to step back from that (not that anyone noticed) 😂
What I'm watching
We watched the first 2 episodes of House of the Dragon so need to catch up there. I also really liked uncoupled with NPH. Highly recommend it.
And ICYMI, I shared our favorite travel toys here.