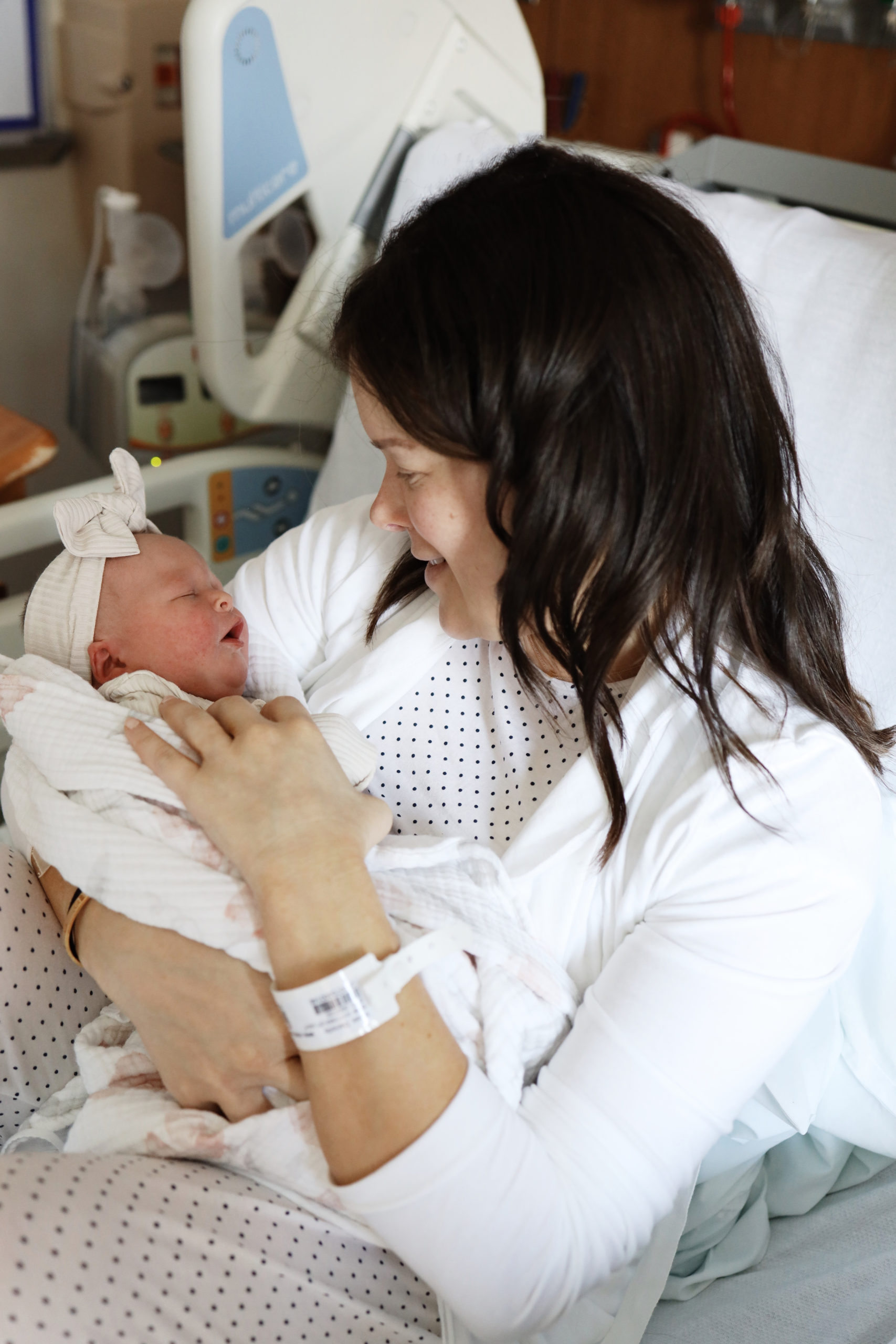 Our second baby girl, Kate Elizabeth, arrived on June 27th at 12:59PM weighing in at 7 lbs 15 oz. She came quickly and looks so much like Margot with the squishiest little cheeks. We're so in love. This pregnancy was planned before worlds were turned upside down. We made the difficult decision to hit pause on having a nanny toward the middle/end of March. We still our nanny but keeping our family safe and staying safe during my pregnancy was our number one priority. The thought of having a baby when no one could hold her or even come over, no help, and isolating felt like a lot. Here's Kate's birth story.
Kate's Birth Story
When I was 33 weeks pregnant, our almost two year old daughter Margot was diagnosed with Leukemia. We were crushed. Devastated. Broken. Feelings of joy and excitement turned to fear and uncertainty. Could we do this? Would we even be able to enjoy this new baby? How would this impact Margot during treatment and how were we going to give both girls what they needed? There's never a good time to go through something like this, but the timing felt especially cruel. A cancer diagnosis and a newborn during a pandemic without any help, family, or friends around.
Childcare and delivery during COVID
The last few weeks of my pregnancy, the anxiety over when and how to have this baby consumed me. After spending two weeks in the hospital with Margot after her diagnosis and going in for treatment once a week, I wasn't worried about going to the hospital. I was so worried about going into labor on one of Margot's treatment days or worse – while she was in the hospital.
Making plans for childcare
If Margot wasn't doing well, the plan was for Conor to stay home with her, and for one of my close friends to be there for the birth. Fortunately, she's been doing very well and my mother in law isolated and took a COVID test so she could be with her and help out for almost two weeks after Kate's arrival. Margot loves her grandma, so we didn't have to worry about how she'd do if she woke up in the middle of the night and we weren't home. She was also was now only on two doses of medication per day compared to the twelve doses (yes, in one day) she had been on just a few weeks prior. The timing ended up being perfect for us.
And a plan to induce
After a few conversations with my OB, Dr. Venkatachalam (can't recommend her enough!), we decided that if Margot was doing well, we would induce at 39 weeks on a weekend to avoid labor/delivery overlapping with one of Margot's treatment days. I love my OB. She couldn't have been more kind or empathetic, and said she'd do whatever she could to make the process easier for our family. And she did. My induction with Margot happened at exactly 40 weeks and couldn't have gone better, so we were confident that this was the right decision for our family.
Conor was not tested and was given the ok to come and go after delivery. He was able to pick up food and was also able to go home to help with Margot. I was allowed to have a second visitor once we were all settled in our room, so my mother in law came by after Conor went home to Margot on day two. The hospital felt safe, but we're also used to being there pretty regularly with Margot's treatment.
We're having a baby
On June 27, Conor and I headed to Prentice at 1:30AM. It was a busy night at the hospital, so we didn't check in to our room until 3AM. Much like labor and delivery with Margot,
We were surprised to learn that I was having contractions (according to the nurse, they were strong) every three minutes. I do not have a high pain tolerance so I was shocked, because it felt like light cramping. The nurse started my IV but struggled to find a vein, another nurse had to come do it again. The second nurse was a real talent. I didn't feel a thing!
The doctor broke my water just before I got my epidural which I do not recommend for those of you who want pain relief. I got through it but it didn't feel great. It was broken after my epidural with Margot– a lovely and painless experience. The anesthesiologist came in 5 minutes later (at 5AM) to administer the epidural which was (once again) a total breeze. Didn't feel a thing!
Starting pitocin
At 5:30AM, the nurses (finally) started pitocin, and I closed my eyes since I had slept a total of zero minutes all night.
Thirty minutes later (so much for sleep), 8-10 doctors (and the anesthesiologist) and nurses flooded the room. My nurse told me the baby's heart rate had dropped, so they had me move to my other side and adjusted the monitors. I was told not to worry and somehow managed to stay calm. She was fine, so I finally got some rest and things started to move along. I stopped taking notes after that, but just like my labor and delivery with Margot, I knew when it was time to push. The nurses said to give it some time but I felt a lot of pressure (no pain, just pressure) and progressed quickly, just like I did with Margot. They checked me at around 12:30/40PM and it was time. The doctor came in, got things set up, and I pushed for maybe five minutes.
Three sets of three pushes and our girl was out.
And there she was. All the worry melted away the moment I saw her. Our baby. Margot's little sister. I was so much more present and aware this time. It happened so fast with Margot that I barely remember anything. I held her for a while while I was cleaned up, got two stitches (didn't feel those go in, either and they haven't really bothered me since). I was able to get myself into the wheelchair and walking afterward was easy, just like it was with Margot. We also elected to save Kate's cord blood and tissue, and planned that a few weeks in advance, so that was done immediately after delivery, too.
Choosing her name
It took about 30 hours to name Margot, but I confirmed Kate's name almost immediately. Conor would have committed but (shocker) I needed to wait. I chose Margot's middle name (Rose) after my great aunt and Conor passed on Elizabeth as a middle name after both of his grandmothers, and we liked the idea of something short with a longer middle name. Margot Rose and Kate Elizabeth. Our girls.
I can't believe there was a chance he would have had to miss this.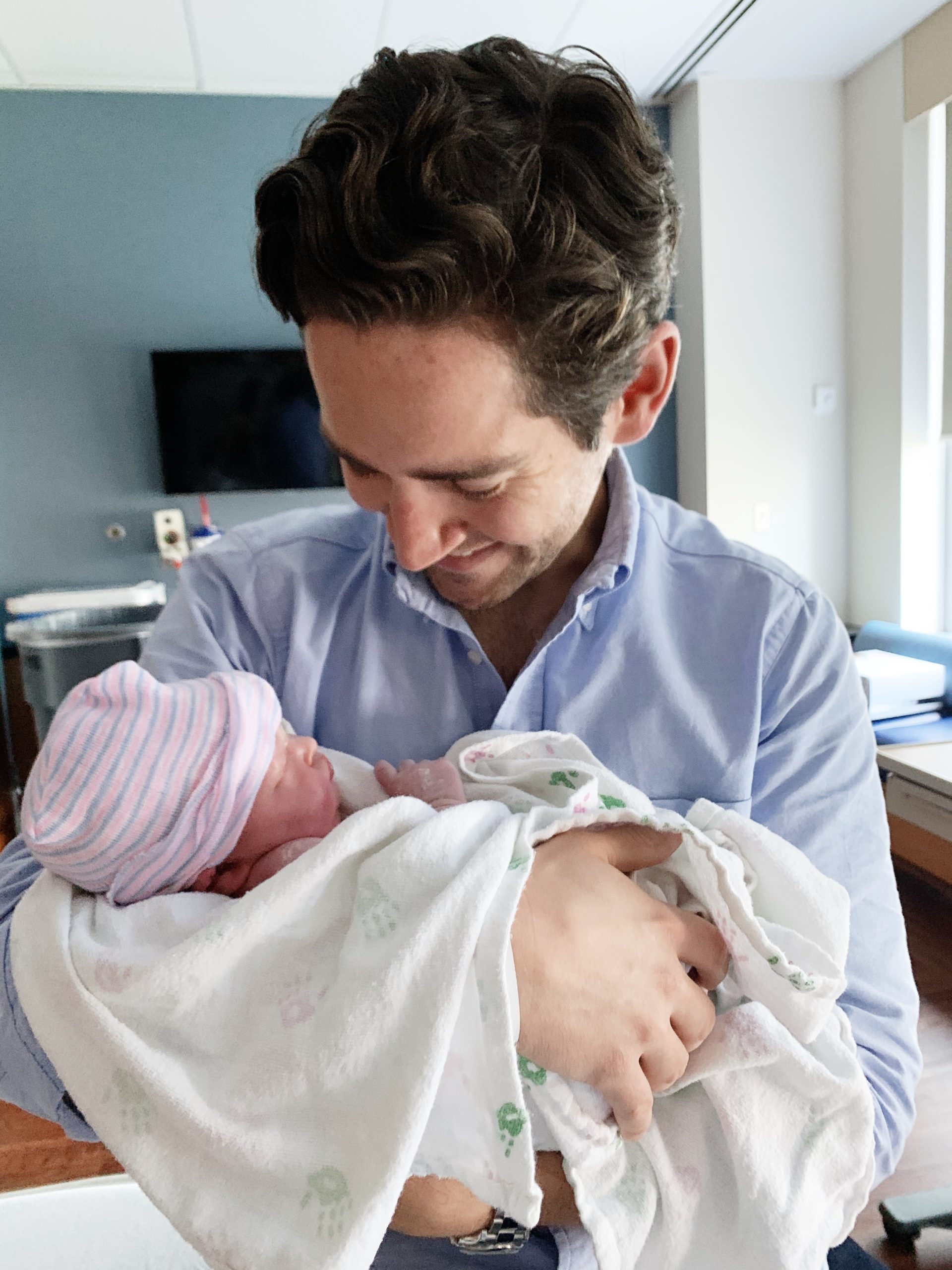 Conor was able to stay with us until about 4PM. At that point, he went home to give Margot her meds and to put her to bed. He came back to stay with us after Margot went to sleep and went home in time for morning meds. And we were approved for discharged 24 hours after Kate's birth. It was fast, but we were find and I needed to get home to Margot. We stayed an extra 4 hours since she failed two hearing tests but she's fine. Surprisingly, I wasn't too worried about it, which, if you know me, is truly shocking. Everything we've gone through with Margot has really shifted my perspective.
We headed downstairs where Conor and Margot were waiting for us.
The entirety of my pregnancy, the moment I was most excited for was when Margot met her baby sister. We talked about her a lot and she kept saying she wanted to hold her on the couch. The whole experience was really sad and emotional – the opposite of what I expected, but looking back, it makes sense. Margot and I hadn't been apart after over 100 days together, and we spent weeks snuggling in a hospital bed and then my bed, so the second she saw me, she started sobbing. I somehow wedged myself in the back seat between the two girls so I could sit next to Margot and comfort her.
She wanted nothing to do with Kate the first week, but now likes to be the "best tiger helper" (she's having a big Daniel Tiger moment right now) and is the sweetest big sister.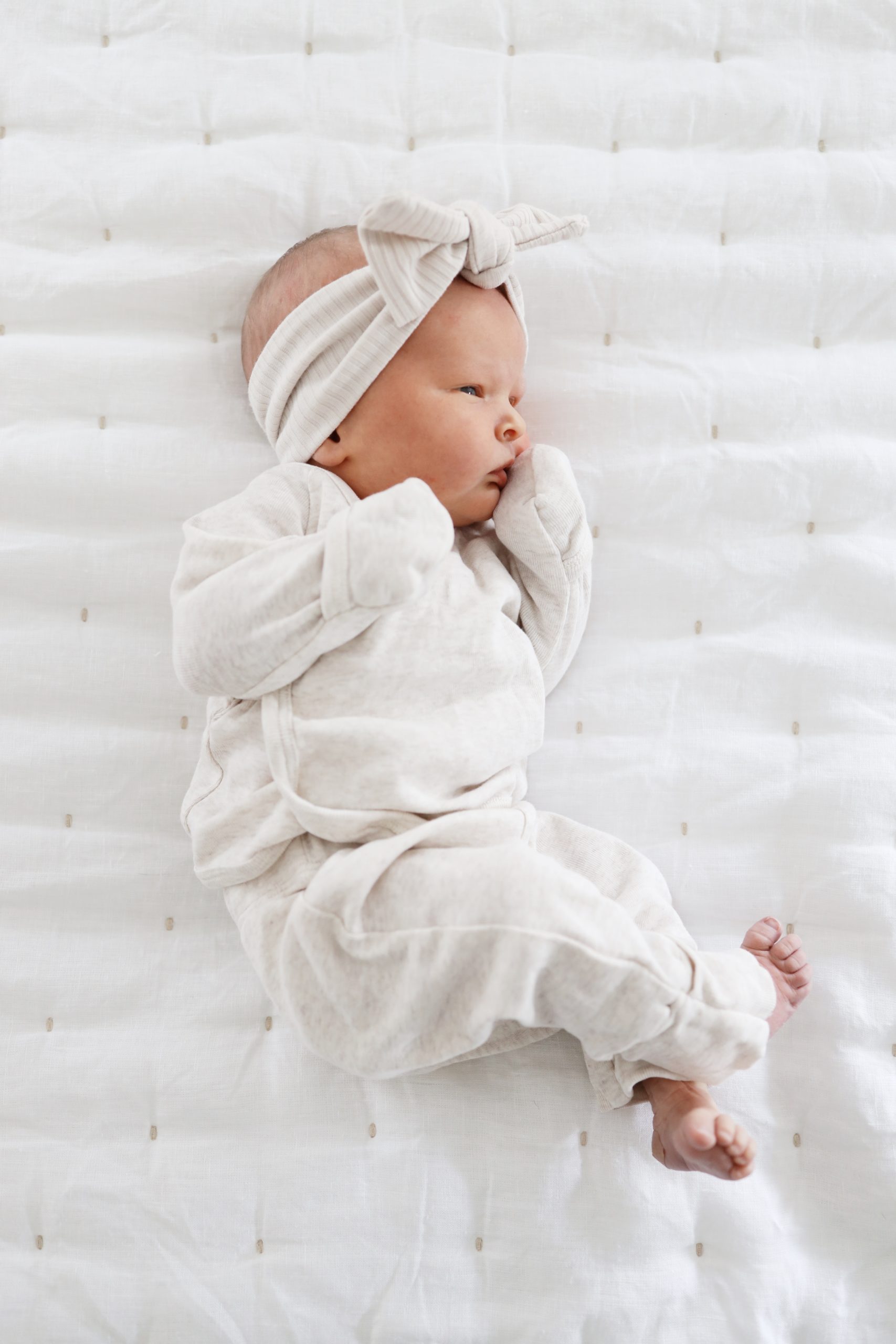 I'd give just about anything to take Margot's diagnosis and this pandemic away. For the last two months of my pregnancy, wished I could change the timing of Kate's arrival. Kate has been here with us for three weeks and is everything our family needed right now.