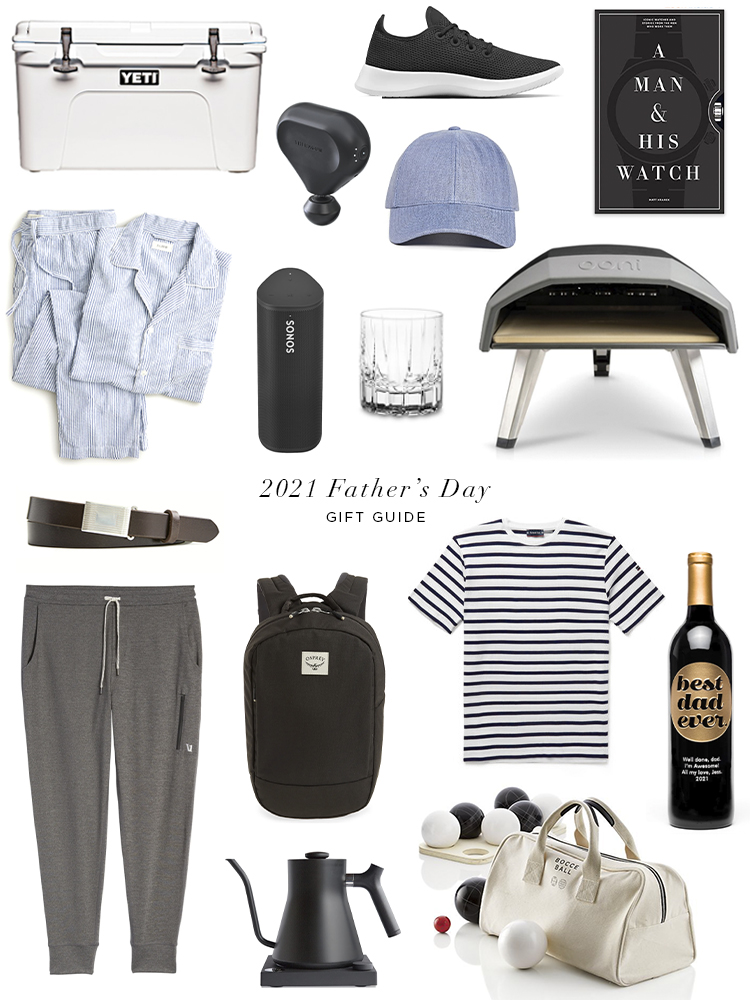 Conor and I didn't do Mother's Day and Father's Day gifts this year. Instead, we chose to buy some new patio furniture. A gift for everyone. I bought the bocce ball set for Conor for his first father's day – it's a splurge but so well made and aesthetically pleasing. I love gifts that are just for dad, but it's always nice to buy something that everyone will enjoy. So if you need a new massager, consider getting one for dad. If you're looking for a traditional gift to hand to a father figure in your life this father's day, here are my father's day gift ideas. See more in my shop.
Father's Day Gift Ideas
Bocce Ball Set:
I love the design, and it's such a fun way to spend an afternoon with friends.
Pizza Oven:
We don't have this (yet) but I really want to get one. It looks amazing, and my friend (who is quite the chef) highly recommends it.
Portable Waterproof Speaker:
You might wonder how often he'll use a portable speaker but if you spend time outside and like to entertain, the answer is all the time. The sound on this one is amazing.
Monogrammed Belt Buckle:
My husband likes a subtle monogram, and this affordable belt is a great gift option.
Striped shirt:
I love this simple, classic, timeless shirt.
Electric kettle:
Take the guesswork out of heating water for pour-over coffee brewing. From the ingenious coffee enthusiasts at San Francisco startup Fellow, this electric kettle allows you to set your target water temperature and view its progress on an LCD screen.
Personalized Wine:
A fun, sweet gift for dads and grandpas.
Seersucker pajamas:
I love a pajama moment.
Cooler:
What dad wouldn't want a cooler for the beach, yard, or sports games? Great for road trips, too.
Running Shoes:
Perfect for the dad who likes to go for a run, or the dad who spends his time running after his kids. These are easy to wear and aesthetically pleasing, too.
Massager:
I bought a massager for Conor for Christmas and he was like umm thanks? And then he tried it. Months later, he still uses it all the time. I do, too.
Joggers:
Nothing says cozy dad pants like a pair of joggers. I love these Vuori pants (one of my favorite brands).
Linen Baseball Cap:
A sweet little gift, great for kids to give to dad.
Lowball Glasses:
A great gift for the dad who needs a drink
Backpack:
The ultimate dad-bag for everyday – throw the kids stuff in there, take them to the zoo, and give me a few hours to relax. It's a gift for everyone.
A Man and His Watch:
I love this book. It's a classic, beautiful on a coffee table or bedside.