Family Holiday Traditions To Start This Year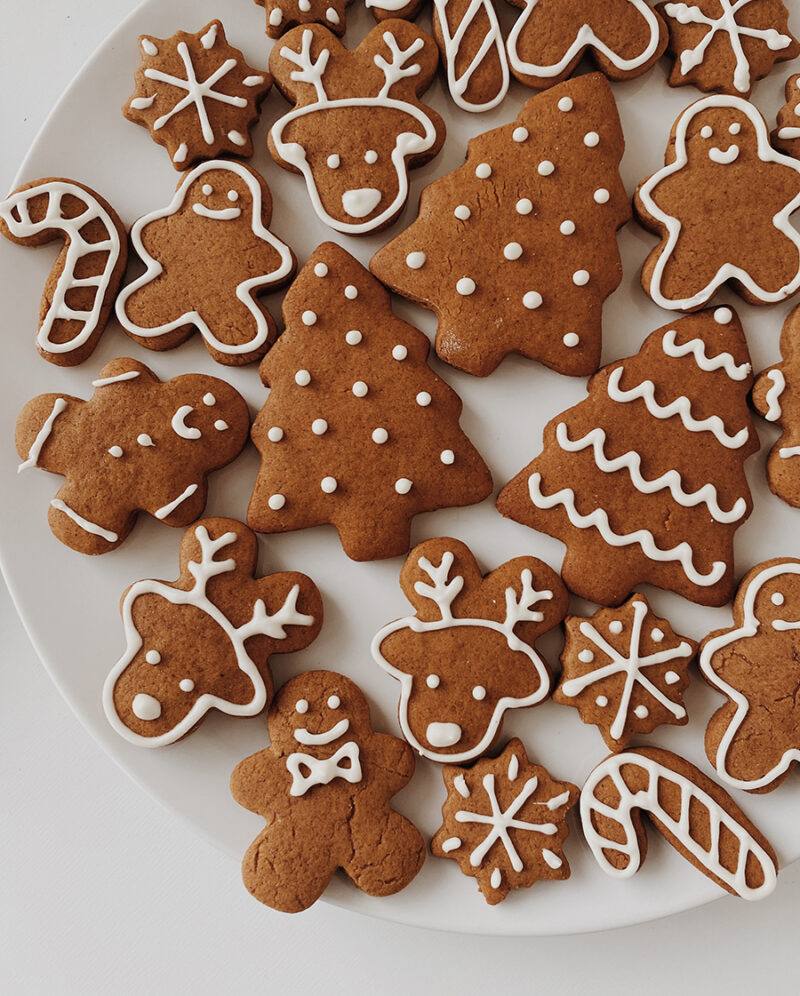 Christmas with kids is magic, and I'm so excited for the holidays with our girls this year. Over the last month, Kate has turned into a little person (she's 17 months) and getting to start some traditions and make memories as a family is what it's all about. Today, I want to share some of the holiday traditions we're starting to do as a family, and the one we skip.
Family Holiday Traditions To Start This Year (and the one to skip)
Annual ornaments
Every year, I purchase one new ornament for our family, and another ornament for each of the girls. I include a note explaining why I chose it, and by the time the girls are adults, they'll each have a small collection. Kate got a 'baby's first Christmas" ornament last year and Margot got this one. This year, I chose a patisserie for Margot and a vintage Radko bunny (found it on eBay) for Kate.
Donating toys to our local hospital
After my daughter was diagnosed with Leukemia, I started donating toys to our local hospital's oncology department. There are a lot of families who are inpatient with their kids during the holiday season, and I know firsthand how meaningful it is when a nurse or child life specialist brings a little something to your child. It makes being at the hospital a little less scary. You can shop our hospital's hematology and oncology wish list here.
Sponsoring a family in need
I love this tradition – we're sponsoring a family through Lighthouse for Hope's Holidays for Hope. It's been really special getting Margot involved and explaining that there are children who are in the hospital or in need of toys. Lighthouse for Hope provides support to families going through pediatric cancer treatment. You can sponsor a family, make a donation, or host a toy drive. The families that benefit from Holidays for Hope are going through the unimaginable and would otherwise not be able to afford to give their children Christmas.
Matching family Christmas pajamas
This is about as basic as it gets, but the pajamas keep getting cuter, and it's so much fun. I really like the idea of a new pair right when the tree goes up. We sort of did that, although I just broke everything out early this year. In normal times, new Christmas pajamas for the Thanksgiving parade would be fun. A friend told me about this and I thought it was so cute – we're going to have Rudolph drop them off when we put up our tree.
Elf on the Shelf
Ok, before you roll your eyes at this one, our Elf isn't visiting from the North Pole and isn't here to make sure the girls are "good." We don't do the whole naughty or nice thing and really shy away from saying 'good" or "bad" too. No crazy scenes or elf messes, either – it's just a festive game of "find the elf" every morning (and sometimes, throughout the day).
Christmas time in the city
I'm planning on doing this with the girls next Christmas. We'll rent a hotel room downtown, look at tree lights, go ice skating, have cocoa, and watch Christmas movies.
Holiday lights
I did this every year when I was growing up and always loved it. We'd drive through Candy Cane Lane (in Los Angeles). I've yet to find a show in the Chicago area that compares, but I'm not giving up.
Holiday baking
This is something I hope to do with both girls every year. We'll make cinnamon rolls, gingerbread houses, cookies, and hopefully pies. And then we'll snuggle. Margot and I already baked a cheesecake and apple crumble. She loved helping with the mixer and pouring ingredients while listening to Christmas tunes.
Skype with Santa
We did this last year and Margot loved it, so we're doing it again in early December. You'll fill out a form with your kids names, toys they want/are getting for Christmas, and even their best friend's name. It's so sweet and such a special (and safe) way to meet Santa.
Christmas movie nights
Every Friday or Saturday, it would be fun to order take-out and watch a Christmas movie. There aren't that many toddler-friendly Christmas movies, but as the girls get older, this will be a good one. We're also renting a movie theater (she's never been!) and taking Margot to see The Grinch this week.
Holiday books
We have a whole box of Christmas books that I pull out at Christmas time and read them every night.
And the tradition we skip
First, if this is a tradition you're into, that's great! It's up to us to decide what's right for our families. If my girls ever want to do this great, but I've made the decision not to force them to sit on Santa's lap. When Margot was almost 1.5, I asked if she wanted to say hi to Santa and she said no, so we didn't go near him. We raise our kids to understand boundaries, but in the name of "tradition" throw that out the window at Christmas to sit them on the lap of a strange, bearded man. For many kids, it's not magical – it's scary. I believe it's important to be mindful and respectful of our kids. I know it's a perfectly fine thing to do, but it's just not for me.