December Q&A: NYE Plans, Anxiety, Isolation, and a LOT of Links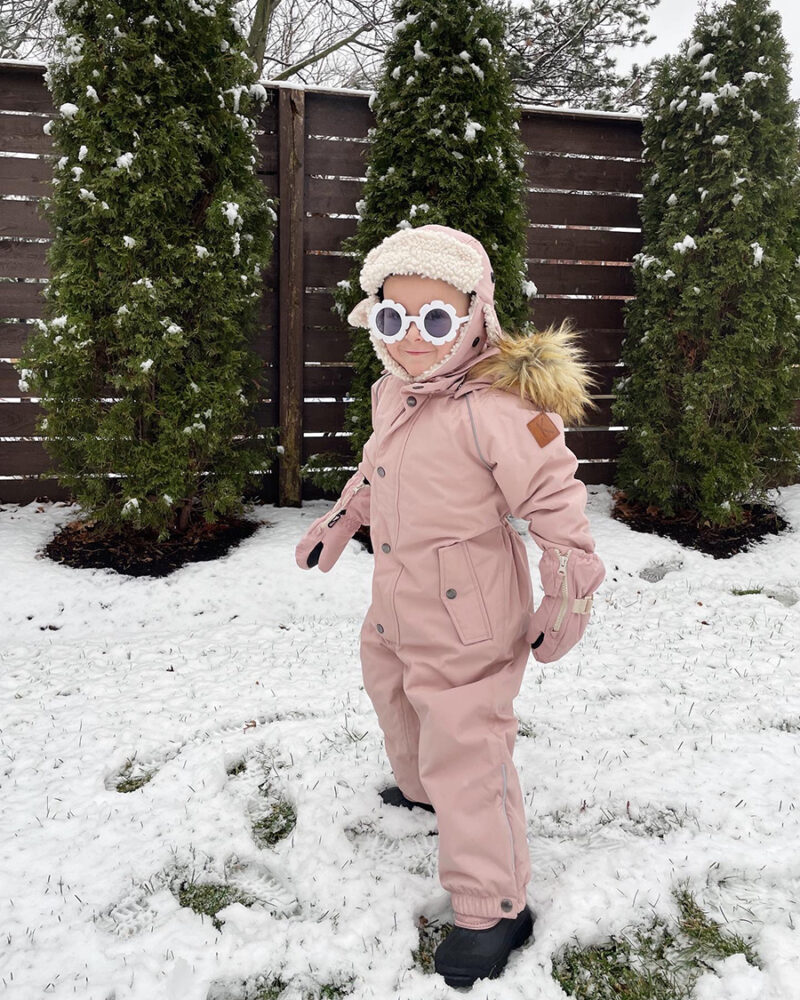 December Q&A: NYE Plans, Anxiety, Isolation, and a LOT of Links
How do I cope with pandemic anxiety with my one year old? I feel like I'm going crazy.
First, know that you are not alone. I don't know all the details in terms of what you are feeling but know that as lonely as it is, we are in this together. Therapy. Medication if you need it. Connecting with friends over the phone when you can. Talking about how you're feeling with someone who understands or at the very least, empathizes.
Follow accounts on social media that lift you up. Unfollow ones that trigger you or do not make you happy.
Everyone was hit hard with this pandemic, but I really empathize with parents who had to do the first year alone without support. It's not fair, and not the way things were supposed to be. I can't shake the lost time with friends and family. The moments and memories we've missed out on. What my girls' relationships would be like with my friends' kids. I know we'll all have that someday, but for now, it's sad and lonely, and the fearing others is not natural.
Please don't feel obligated to answer if this is too personal but can you talk about anxiety and dating?
Thank you for asking this in such a thoughtful way. I'm happy to answer. Conor and I met on Tinder in 2015 and clicked instantly. There were zero games and everything just flowed and felt easy. We were on the same page. That's not to say real things didn't come up as they do for any couple, but honestly, until our engagement, things were really easy. We communicate well. Any other anxiety I had while dating was pretty standard. Wondering when I'd hear from some idiot guy who wasn't that into me, or trying to make it work with guys I knew weren't right for me, but those weren't issues for us.
I'd say my biggest stress was work, but that's life, so it wasn't a huge deal. Conor had a lot of flexibility and I wanted to slow down and have more flexibility, which I've talked about. It was frustrating working for myself and feeling like I wasn't in control. I just craved flexible hours and a slower pace. And given the nature of the business, did not think everything needed to be such a big deal.
My anxiety peaks when things are especially difficult or with huge changes, as it does for so many people.
There really wasn't any anxiety or drama until we got engaged after almost two years of being together. My mom made that time awful for me and I was pretty hurt/sad/anxious over it. Things spiraled and I struggled with the thought of not having her at our wedding which was ultimately the best decision, but it was a really hard time for me. I struggled with anxiety, sadness, and guilt, and let her actions really get to me. Even then, Conor and I were ok. I saw a therapist, our wedding and honeymoon were amazing.
Since becoming parents, a lot has happened, and the pandemic and cancer diagnosis were understandably very hard on us. But in terms of dating, things were really, really good. We balance each other out so well and I think we communicate pretty well, too. Conor is maybe the most low key, laid back person I've ever met. I'm the worrier, and we both understand how extreme our current life circumstances are. So we're just focusing on getting through this and being able to live again. We miss connecting with friends and traveling. We miss normalcy.
Being in isolation, do you feel overstimulated to touch and noise?
I don't. I'll share some of my isolation struggles since I'm sure some of you can relate.
The biggest struggle is what we've missed out on, mostly for our kids. Taking them out, being able to travel, time with friends, adventures etc. I miss how close my girls could be to my friends kids. I know that will come, but it feels like a loss right now. One of my closest friends has boys within a few months of both my girls and another has kids within a year of my girls. I want to see our babies together. I miss my friends. We could at least see people a little bit over summer when getting together outside was an option, but it's hitting me now.
We were exposed to c*vid so canceled NYE plans. At home ideas to celebrate?
I am so sorry. It's hitting everyone right now. Hope you are feeling ok. This is definitely the year to lay low, but for anyone that does plan to get together with friends, please take a rapid test before gathering. That saved some of our family before a party weeks ago.
My thoughts are not very original but I like the idea of making a special meal or ordering take-out (whatever sounds more enjoyable). A nice glass of wine or cocktail, favorite meal, and special dessert? If you have kids, make it fun with a picnic and movie, and maybe a candy or treat board? I am admittedly not a NYE person but love low-key gatherings with friends which is what I'd do at this point if we could. We'll just relax, make a nice meal, have some wine, and watch a movie. Groundbreaking stuff.
How did you get Margot to wear a mask?
I am so sorry but I honestly don't remember. We had some doc appointments since she was diagnosed during the height of the pandemic, and it wasn't a problem. She just…did? I'm so sorry. I think start slow. Get some cute/fun masks and try to make it fun? Sorry. Not helpful.
Volvo or Audi? I think you've had both.
Yes! I had the Q5 and now the XC90. The third row/larger trunk of the XC90 feels essential but pretend they're both the same size, and I'd still choose the Volvo. I prefer the way it drives, love the design, and it was less than the Q7.
Tips for making mom friends in the city? Moved to Chicago over the summer.
I haven't done it, but would recommend signing up for Miriam Kirmayer's course on adult friendships. I've met two new moms since moving (weird time for us) and both are a block away, but happened to message on instagram. 😂 My advice would be to join a class (when it's safe) to meet parents who have kids/babies the same age as your own. I plan on doing that with the girls next year. Get out there. Talk to people at the park. But really, classes, preschool, and neighbors seem like the way to go.
Hi. How do you display your Christmas cards?
Hi! In a pile on the table.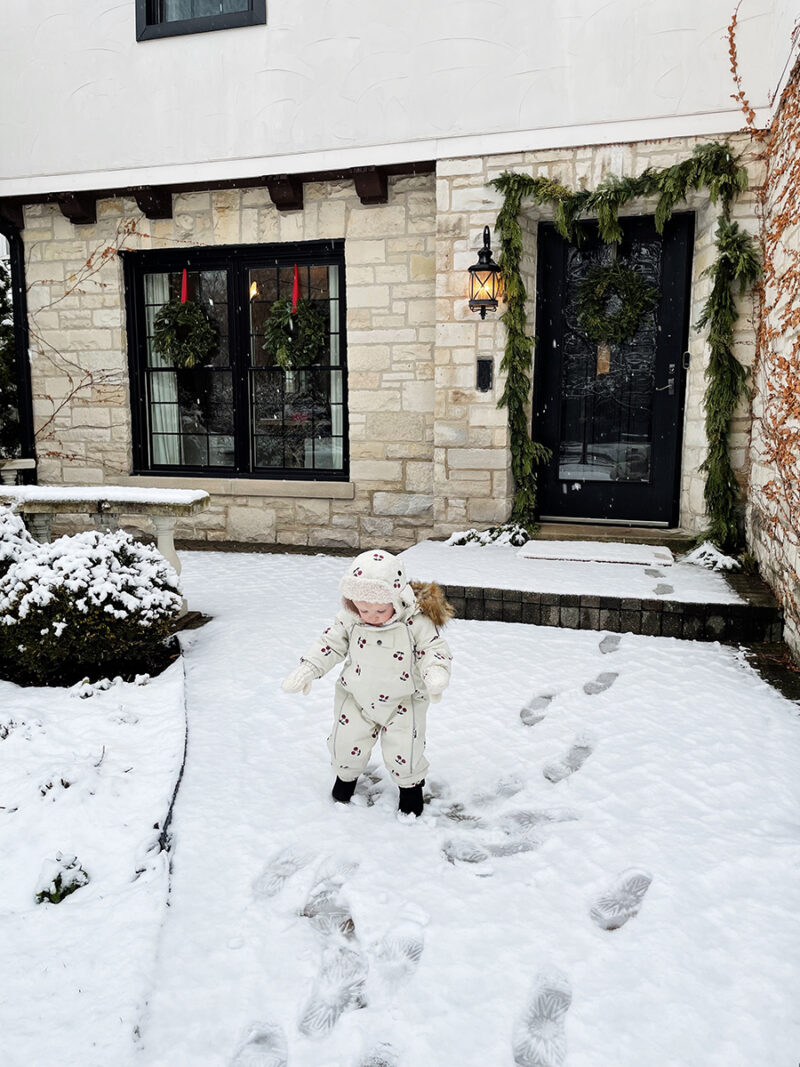 Kate and Margot's snowsuits! Kate's boots!
We have this brand. They aren't the easiest to find and you'll want to make sure to measure properly (European sizing) but I'm so happy with them. These are Kate's snow boots (passed down from big sister).
Any recommendations for newborn cold weather gear?
This stroller pod is a must-have and I used this with both girls their first year.
Does the robot vac work in a house with multiple rooms (non open floor plan)?
Yes! You just need to leave doors open and it will go from room to room. It's on sale right now!
The tiny little lamp in one of your girls' rooms.
You can shop every room in my home here. Here's a link to the lamp.
Can you please share your car seat recs again?
Yes. We have the clek foonf, although a part was actually just recalled. I'm not worried about my girls reaching through the cushion and picking at the foam, but I filled out a form for a replacement. You can see how the seat fits in our car in this post.
The pink art caddy in the playroom
The pink sold out, but it's available in white and blue (and on sale!)
Favorite under eye patches? Looking to do more self-care.
I don't use eye patches but this eye cream is phenomenal.
Your girls' favorite Tonie characters!
They love all the Disney Tonies (this set is still on sale) as well as the animal and counting songs.
Basement shelving
We have this closet in our basement, and I linked the art wall above the girls' play table in this post.
Christmas light garland on the girls' playhouse
I would love to see links for your winter coats
I've owned most of my coats for years, except for this one. I'll work on a winter coat roundup!
Did you have a favorite pair of maternity pants that weren't leggings?
Not really. 😂 Maternity pants are the worst. I found that the denim would start off fine but be hanging off my body within a few hours. Way too much stretch.
Star on your Christmas tree!
It was a gift from my mother-in-law last year. She bought it at Bergdorf Goodman in NY, but I couldn't find it online. Sorry!