The Best Clean Beauty Products I Purchased This Year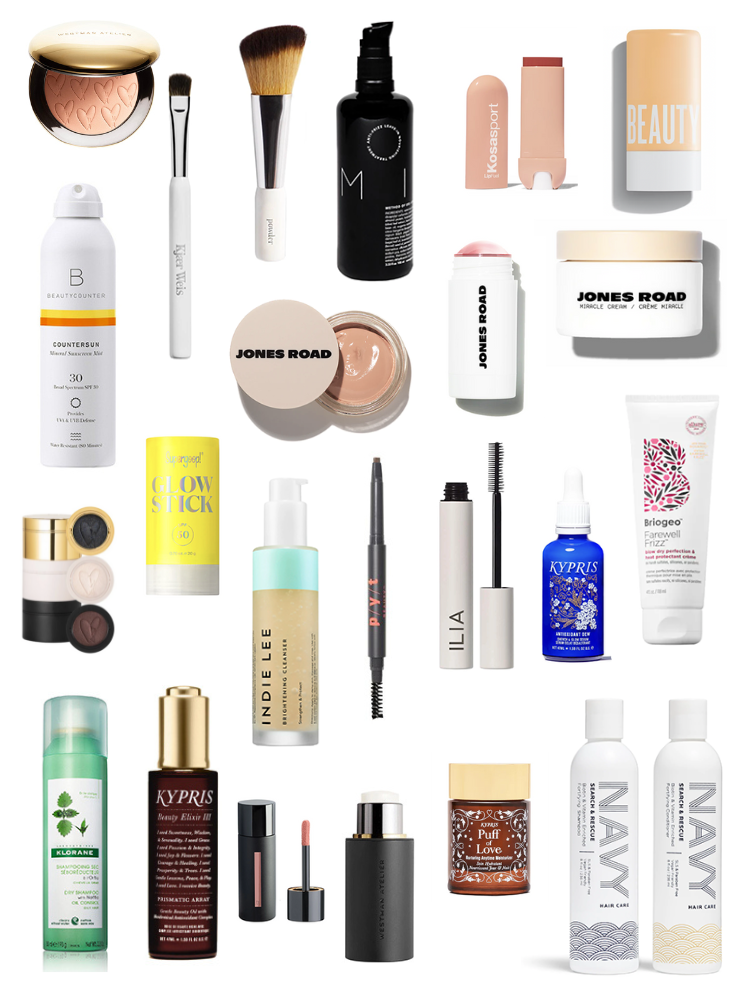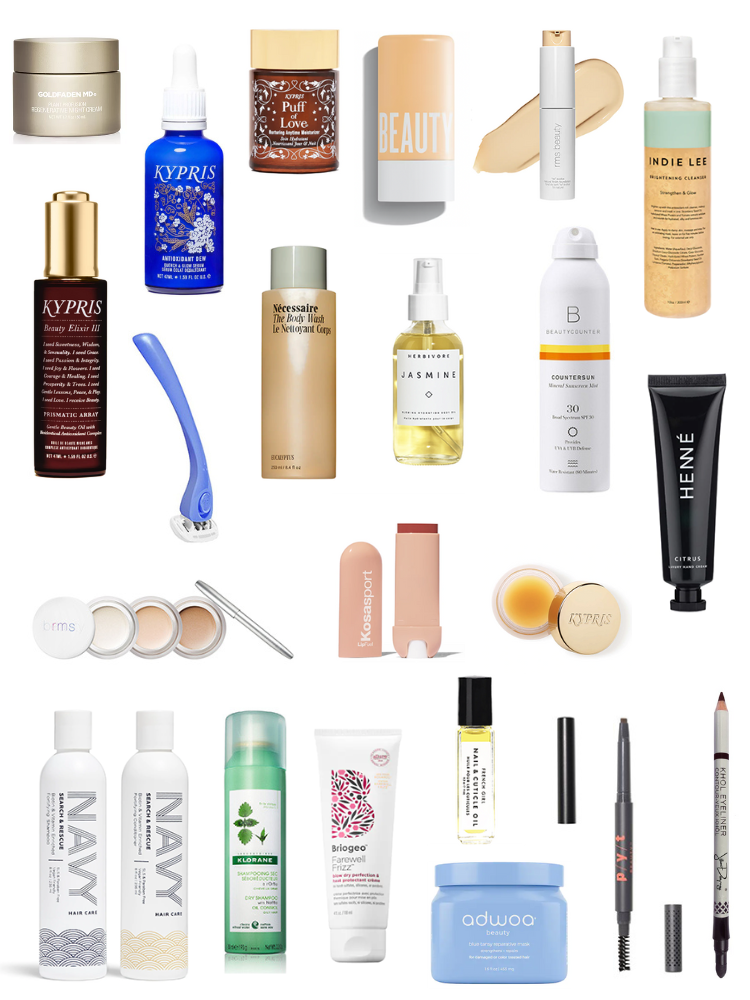 It's been 3 years since I made the switch to clean beauty products. My skin has never felt so hydrated and I've never loved any products as much as I love the ones here. This is a list of my favorite clean beauty products from hair care and lip balm to to skin care products and makeup products. I did not include all of my favorite products – just the ones that are either new to me, or that I purchased again this year. But not to worry! You can see the rest of my clean beauty favorites in my shop.
The Best Clean Beauty Products I Purchased This Year
So first, a little bit about my hair and skin type. My skin type is dry – little to no oil. The benefit of that is that blemishes are extremely rare for me, but the dryness can be a lot. So again, hydration is key. I've always used a good moisturizer as a part of my beauty routine, but ended up finding oils, and the best moisturizer I've ever used after making the change to clean beauty. My hair texture and hair type is fine, dry, and frizzy. I actually have it straightened with a "clean" straightener, and still rely on hydrating shampoos and treatments. I also tend to stick with a natural makeup look, So today, I'm sharing a one-stop shop for some of the best clean beauty products I've used.
Where do I purchase clean beauty products?
It's so easy to shop for clean beauty online. My favorite online shop is Credo, but I often purchase from Sephora and directly from Kypris. I will sometimes look for new arrivals from my favorite brands and clean beauty winners of the year, too. I'm not someone who is always looking for new product, but have found some new-to-me products that have made such a difference this year.
Beauty Products For Your Face
Moisturizing Face Oil: If I could only use one skincare product, this would be it. This product is one of my best sellers and is 100% worth the price. Although I use it with the Antioxidant Dew every morning and the Moonlight Catalyst every night. Just apply 2-5 drops morning and night (I use 5 because my skin is dry and I live for this serum).
Moonlight Catalyst is a more gentle, herbal alternative to retinoid preparations for nighttime exfoliation.
Antioxidant Dew: This product's quenching encapsulated antioxidants, nurturing amino acids, and an array of soothing botanicals hydrate your skin. Use as a lightweight hydrator or as a layering piece in your skin care wardrobe. For best results, use in combination with your favorite KYPRIS Beauty Elixir. So for me, that's the Beauty Elixir III Prismatic Array.
Puff of Love Moisturizer: This is *very* new to me. I've only been using it for a month or so, but the winter had me a little more dry than usual. Even with all my hydrating oils. The difference in dryness was almost immediate, so I am hooked. It is a nurturing, anytime, medium-weight moisturizer infused with Nature's most loving botanicals & green biotechnology's most kind actives.
Restorative Night Cream: I love this product for a little extra hydration. Dr. Goldfaden's powerful multi-functional anti-aging formula combines potent plant stem cells, antioxidants and nourishing plant extracts to provide superior hydrating, firming and restoring skin treatment benefits.
Tinted Moisturizer with SPF: There's a reason this tinted moisturizer has won so many beauty awards – one bottle, four benefits, this multitasking tinted moisturizer blurs the line between makeup and skin care. It offers sheer, lightweight coverage while creating a more even skin tone. Depending on what I'm doing for the day, I'll just wear this as my cover up, but always use this because it has SPF. It's important to use SPF even in winter months!
Liquid Foundation: When I need a little more coverage, this is it. This foundation is non-comedogenic and silicone-free. It provides all-day medium coverage and skin-improving benefits for a youthful-looking complexion.
Brightening Cleanser: This product functions as a cleanser, makeup remover, and mask in one. It's a face wash that is rich in potent antioxidants and plant extracts to cleanse, protect, and enhance the skin. I've been using it since the start of my clean beauty journey and really like how refreshing it feels.
Concealer: RMS "Un" Cover-Up is a lightweight and hydrating concealer that leaves you with a flawless finish and healthier looking skin. The 'un' cover-up will help minimize the appearance of pores and help to rejuvenate the complexion to enhance youthful and radiant skin.
row Pencil: I've been using this brow pencil for years. It's one of those products I always
Eyeliner:
Lip Elixir Balm: A decadent treatment balm cocoons lips and parched skin in peptides, plant stem cells, hyaluronic acid, botanical waxes, and cocoa & shea butters to soften, soothe, and smooth. Experience a buttery-rich texture infused with sweet, floral whispers of jasmine and violet aromatherapy.
Tinted Lip Balm: An ultra-hydrating lip balm with a little color. I have the neutral (tint-free) one as well.
Beauty Products For Your Hair
Shampoo and Conditioner: SLS & Paraben free, Vegan Friendly. Color-Treated, Keratin (conditioner) and Extension safe.
Dry Shampoo: A highly absorbent dry shampoo that absorbs oil in just 25 seconds without the use of water.
Hair Mask: A reparative treatment mask that detoxes, reduces breakage, and strengthens hair suffering from color, thermal, or environmental damage.
Farewell Frizz Heat Protectant: A lightweight, silicone-free heat-protectant cream that minimizes frizz, smooths hair, enhances shine, and protects against heat up to 450°F.
Beauty Products For Your Body
Body Wash: This is a splurge but I really do love it, so much that I wrote a review.
Jasmine Body Oil: When I made the switch to clean beauty, I got really into body oils over moisturizer. Our bodies produce oil, so hydrating with oil over lotion makes sense, doesn't it? And this one is my favorite.
Sunscreen: Formulated with non-nano zinc oxide, this mist sits on top of the skin and bounces the sun's rays away from the skin. (Plus, it's air-powered—no aerosol!)
Razor: I've been using the Billie Razor for years and years, and it's just so convenient. And most important, I love the brand's mission and what they stand for.
Hand Cream: Henne Luxury hand cream is a fast-absorbing, yet rich hand cream that hydrates the dryest of hands. The convenient, lightweight packaging makes this luxury hand cream the perfect on-the-go moisturizer. And I love the branding so much.
Cuticle Oil: For healthy nails and cuticles, roll on French Girl Organics Cuticle Remedy. Dynamic extracts and essential oils enrich the health of your nails to stimulate growth and smooth ragged cuticles.
This post contains affiliate links. If you purchase something using my links, I may earn a small commission at no cost to you.