Life Lately April 2021: House and Patio Updates, and Life Working Part-Time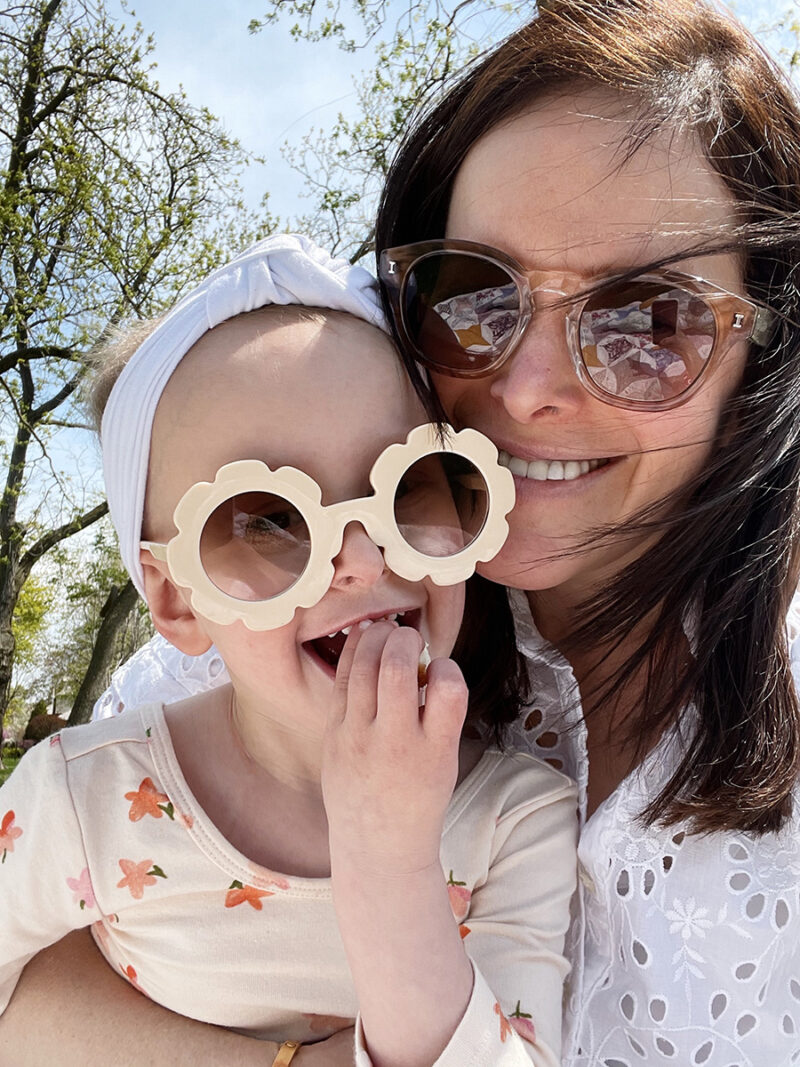 I feel a little hesitant to say this but things have been feeling really good. The girls are doing well, we're spending more time outside, the house is a lot more organized, and we've even found what feels like a little bit of normalcy for the first time in over a year. Our nanny has been a life-changer – we adore her. It's been so, so nice being able to spend less time working and more time with my family, and taking care of myself, too. I'm still working, but there's a lot of flexibility now. So here's my latest life lately: April 2021.
Life Lately April 2021: House and Patio Updates, and Life Working Part-Time
There are still some tough moments and it feels like there's a lot up in the air.
I worry about what's to come but my anxiety is a lot better than it was. I talked about my struggle with anxiety here. We have our second maintenance spinal tap (but I think our 11th or 12th in life) , IV chemo, and 5 days of steroids next week. Sometimes, It feels like I'm just beginning to process what happened to us. Like what the hell was that? I've been so, so anxious about how steroids will go since they've been a big challenge for us. The meds are bitter and she hates them, but I really think/hope it's going to work.
Days feel good but leukemia is still very much on my mind and sometimes, it hits hard.
Prepping chemo in the morning can mess with me and often feels like too much, but I also want to be the one to do it. At least a few times a week I'll have this "I forgot her meds!!!" moment but I never have and can't. You cannot miss a dose and it's all so calculated – should be at the same time daily. It's so much pressure because a mistake makes the relapse rate higher. There is so much to be grateful for but the weight of all of it feels like too much for me, sometimes.
On to happier things.
I've been enjoying my blog more now than ever.
It was the one thing I had for myself, when I had time, the last year, and it feels good ease back into things. To share what feels right when it feels right. I'm taking on very (very) few partnerships (three total this year so far) and will continue to only say yes when it's a perfect fit and something I'm really excited about it. I talked about sponsored content and how I view everything after taking a break in this post. There's a big partnership I'm shooting at the house tomorrow (with a film crew, distanced outside) and it feels like such a natural fit – something that means a lot to me and an opportunity to spread awareness for pediatric cancer.
We took Margot on a little date to Home Depot to look at plants and flowers.
It was fun guys, trust me. Then I dropped C off at home so he could go to a showing and Margot and I went to the park for a little picnic. We sat under a bunch of trees on a sunny day, talking, reading, and playing. It's everything I wanted and knew I needed but didn't have when I was working full-time. I know what a privilege this is – how lucky I am – and I'm just so damn grateful for these moments.
Conor and I went out alone together for the first time and ate at a restaurant for the first time since March of last year.
I wondered if I'd feel anxious being out but we're diligent with masks and it felt safe. First, we decided to drive by Big Star to see if the patio looked distanced enough and wasn't too crowded. It was 2PM on a Monday, and most tables had people seated but it was very spaced out and felt safe. I found myself sitting on a patio in the sun on a Monday with a margarita in hand, and after the last year, felt so grateful. I know going out to eat isn't important and we were honestly horrible at date nights pre-COVID, but it felt really nice.
Before heading home, we stopped by Christy Webber to look for boxwoods and terra cotta planters. We purchased two boxwoods there and the rest at Home Depot.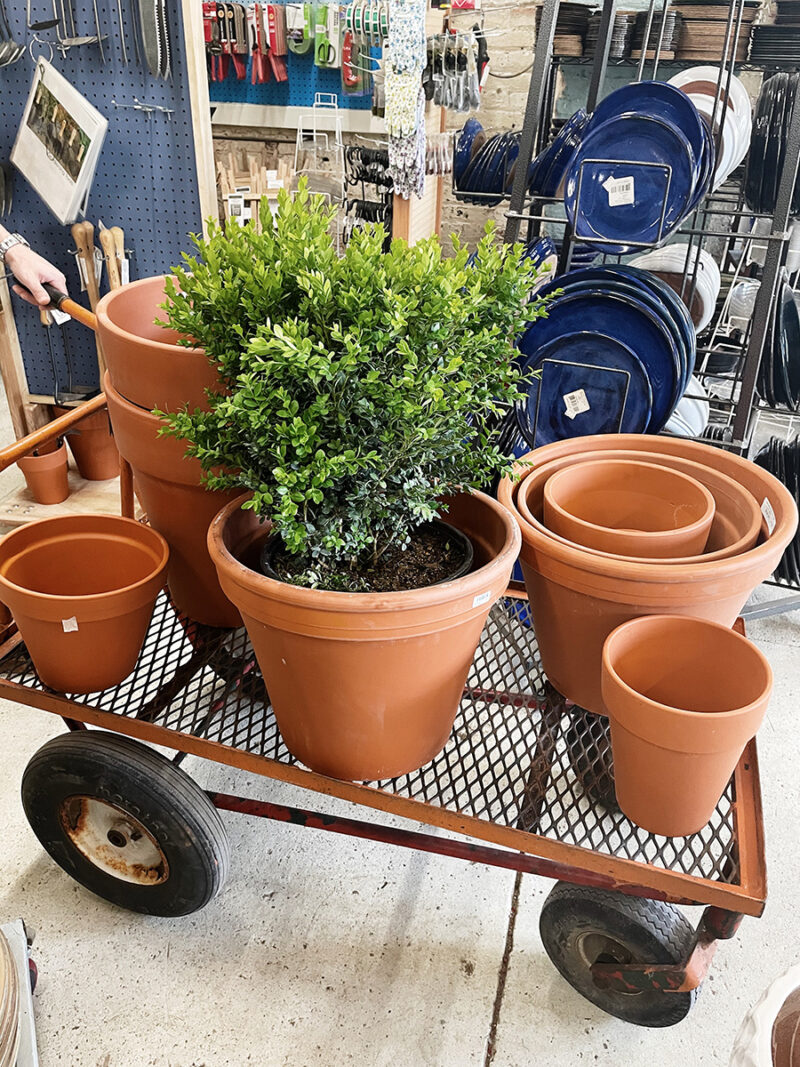 And we turned our patio from this…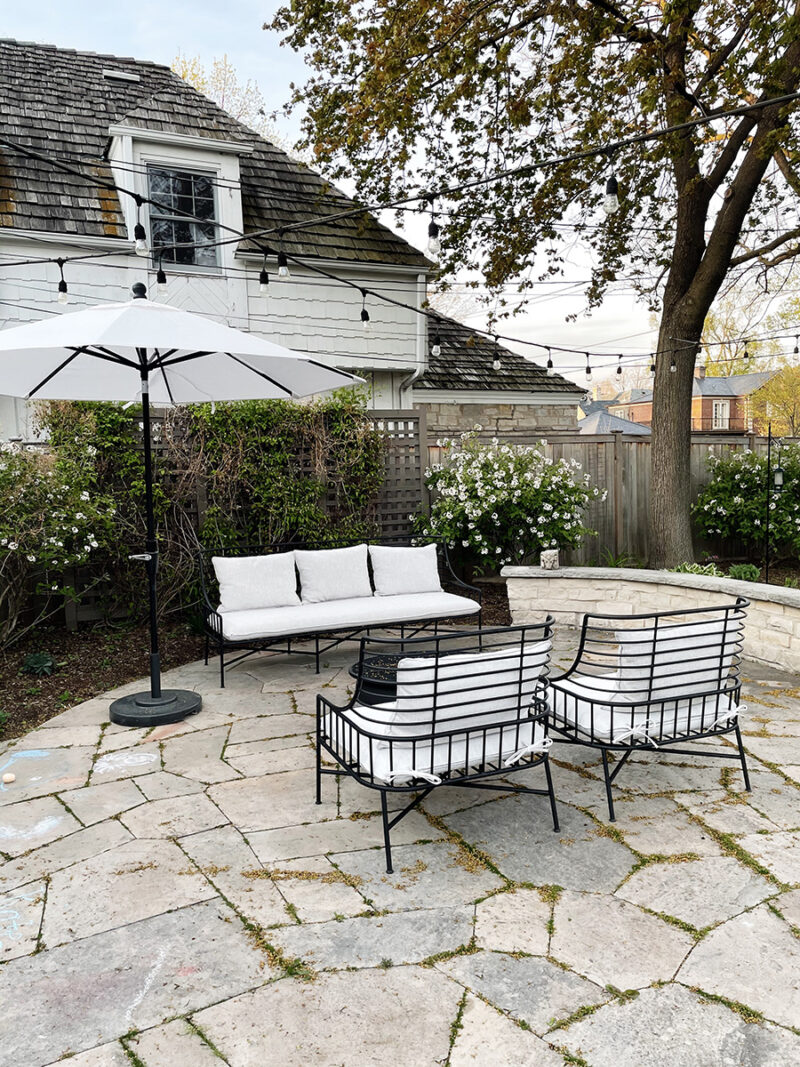 To this. I have some new pillows coming soon, need to power wash the stone, and I think we're going to age the terra cotta pots ourselves. Will report back.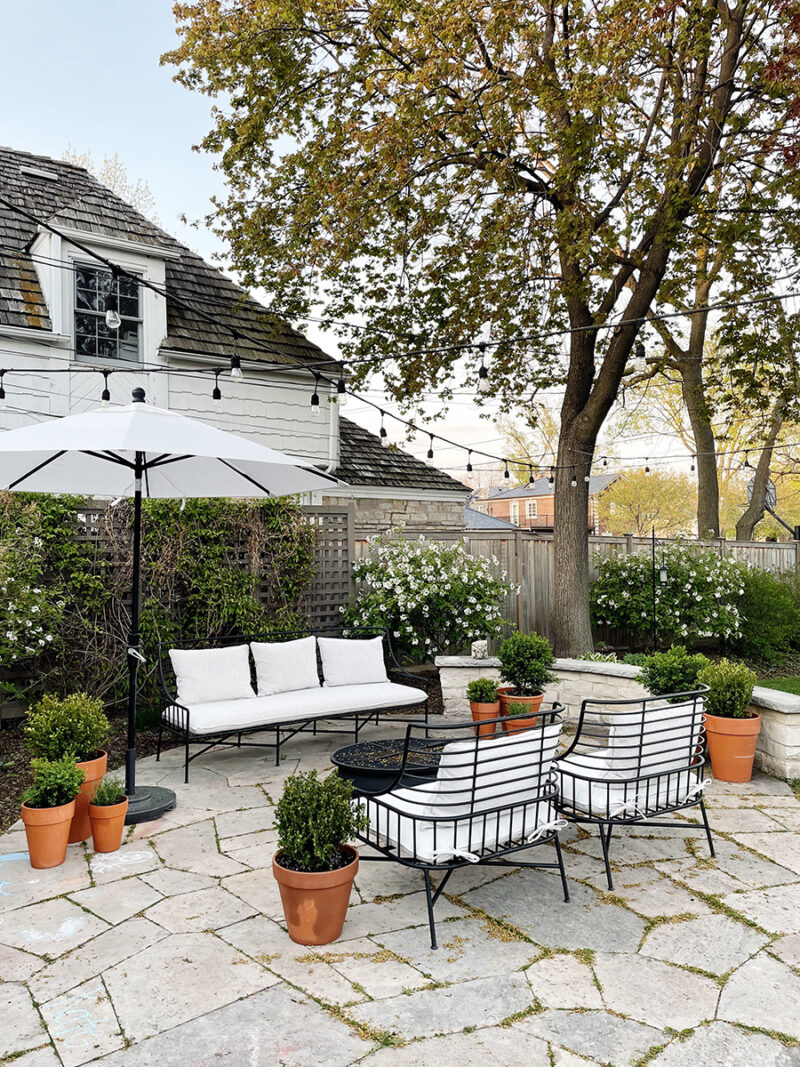 Katertot.
Still the happiest tiny human I've ever met and a great little sleeper. I can't believe she will be ten months old tomorrow! She's so content that she hasn't really wanted to try to crawl until now but she's slowly starting to scoot her body across the floor. Girlfriend is always smiling, laughing, and clapping. We're pretty obsessed with her. Helmet is doing it's job and she should be done in (hopefully!) two weeks.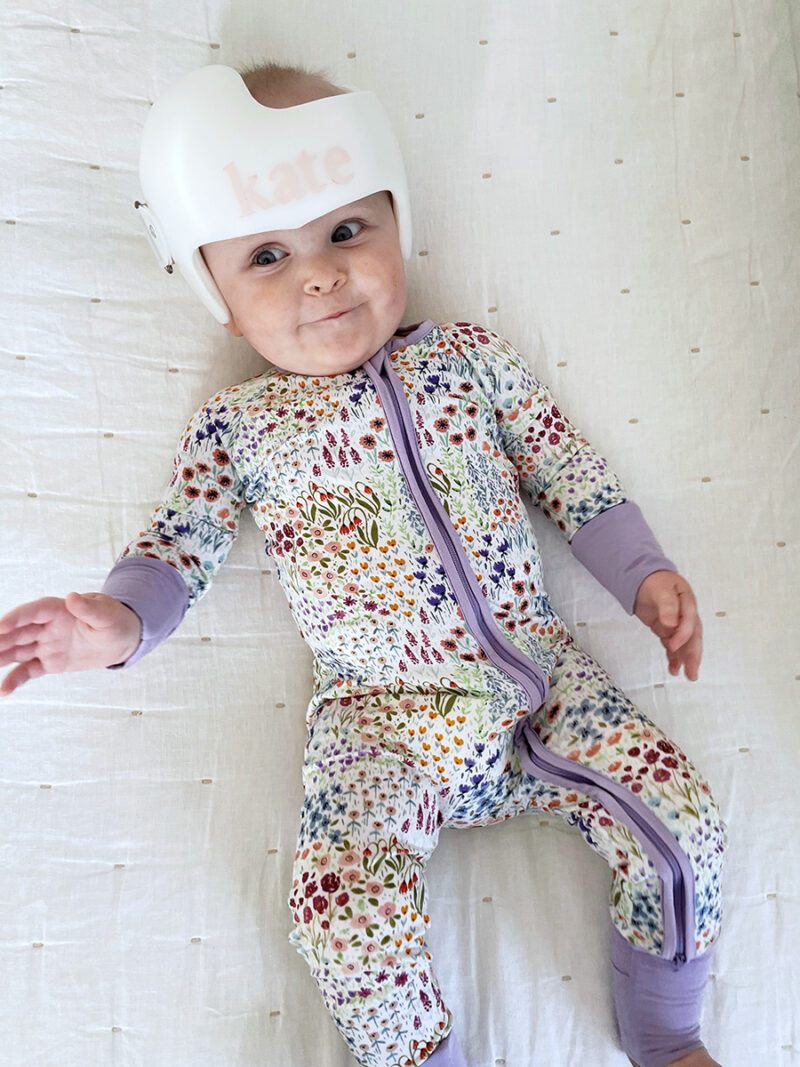 And she really likes pesto with banza chickpea pasta.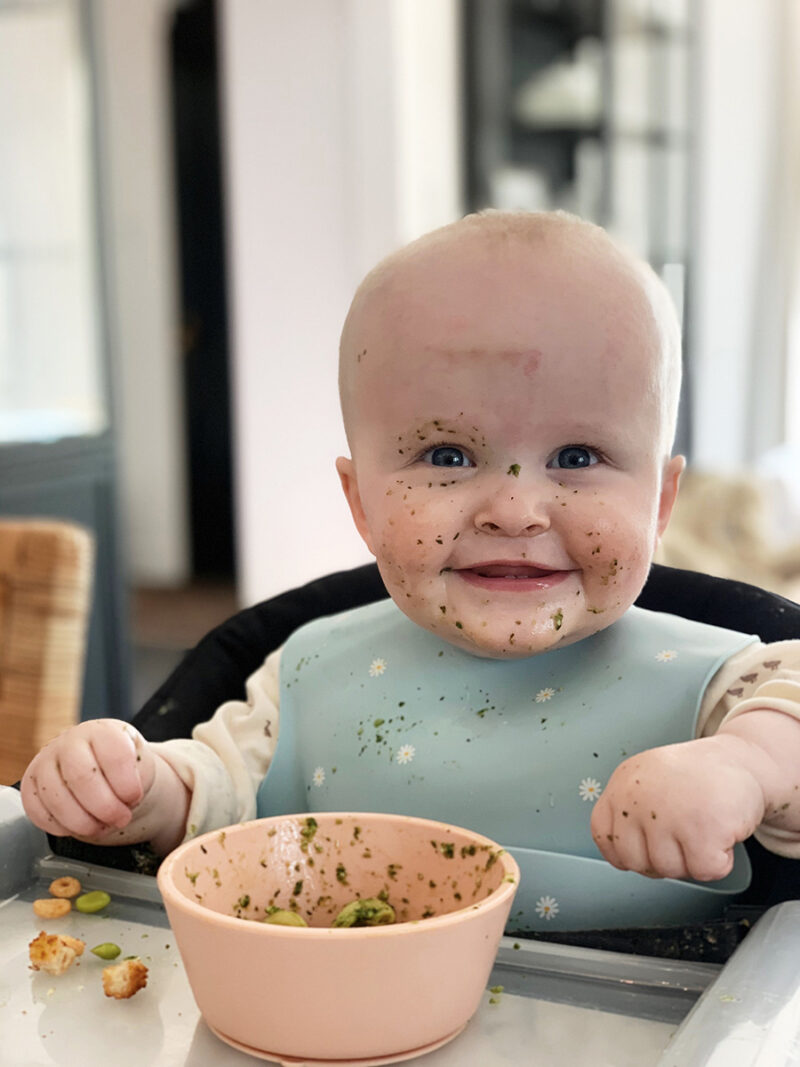 Our mirror arrived and it's priced so well for a large mirror. You can't tell in this photo but we had our bedroom repainted so between that, the mirror, and my plans to layer a jute or sisal under our vintage rug, it's feeling pretty good in there.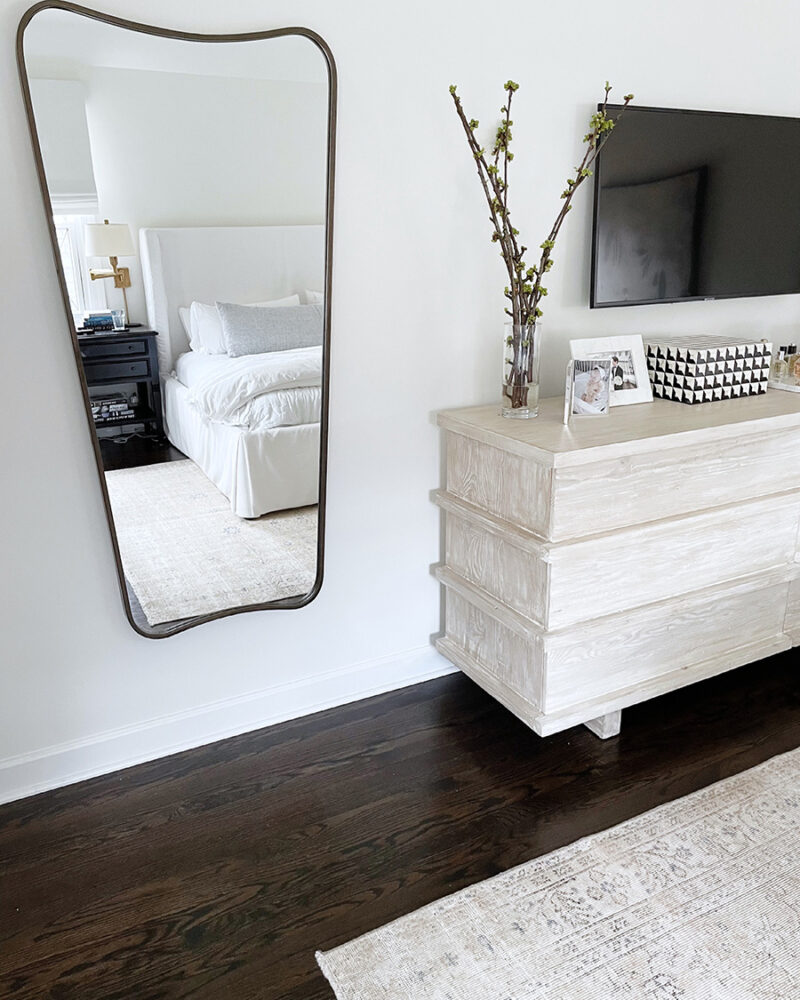 My baby isn't such a baby anymore.
We added her guardrail conversion kit and she's so excited about her big girl bed. The other day, she sat in there singing her ABCs and I felt so grateful (I know I say that a lot) for these moments. These days are not promised to us – something I was forced to come to realize last year – and it all feels like a gift. Planning on a real big girl bed soon but she's happy in her crib-turned-toddler bed and I'm not quite ready to see her in a real bed. There are links to everything in her nursery in this post.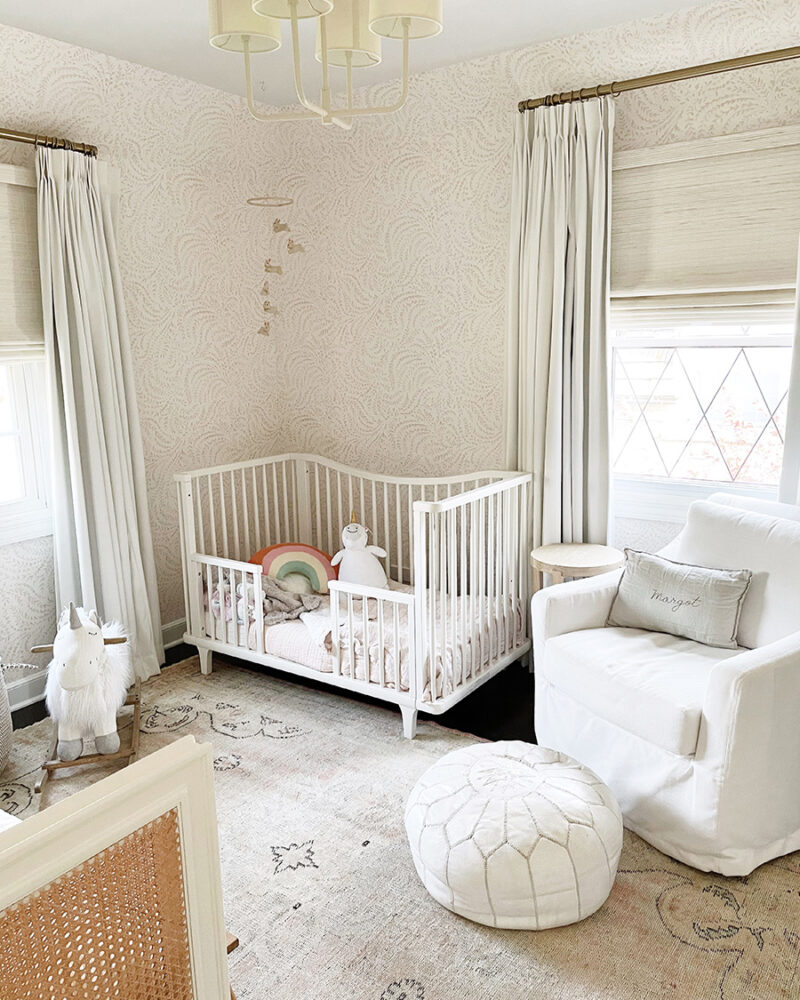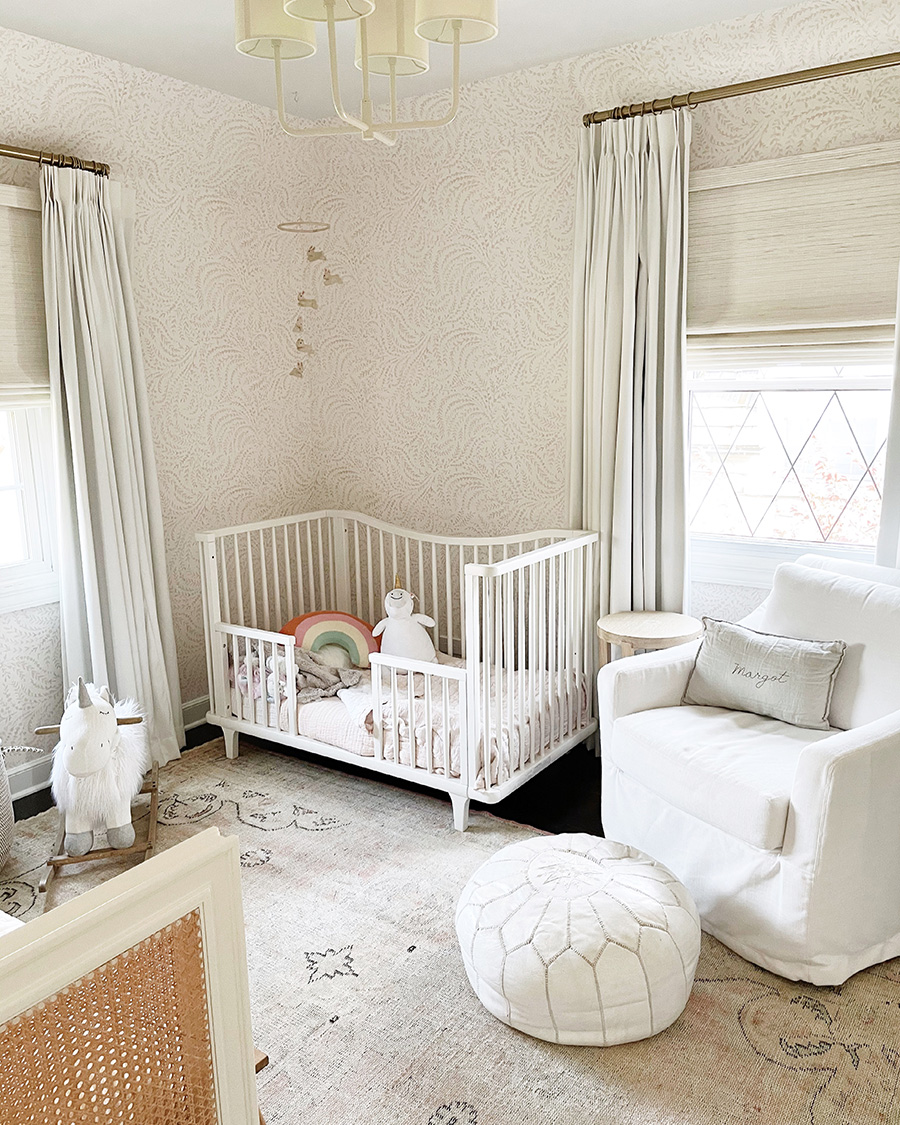 The girls living room play area is getting a lot of use. Made a few small changes that I'll share soon. I should also add that we are loving these books – lots of them in that little basket and I just ordered more this week.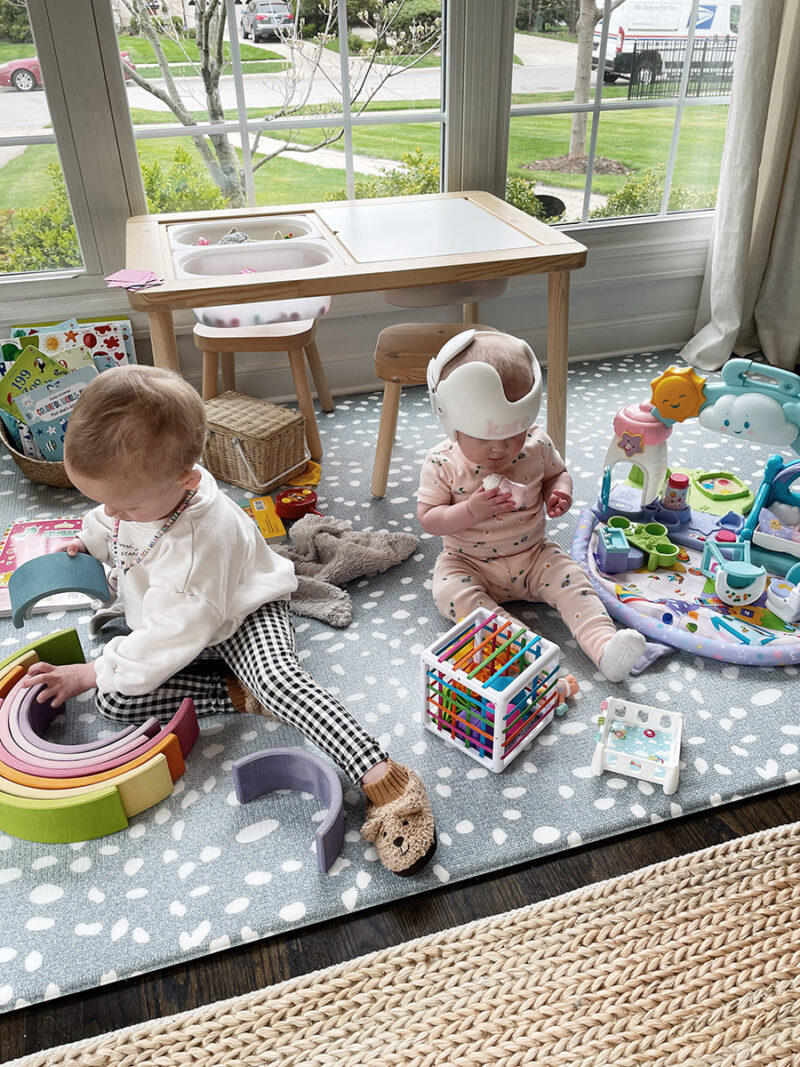 I've been wearing jeans pretty regularly which feels like a thing to note, right? Even I'm sick of sweatsuits. Ha.