The Clean House Checklist: Habits to Keep Your Home Clean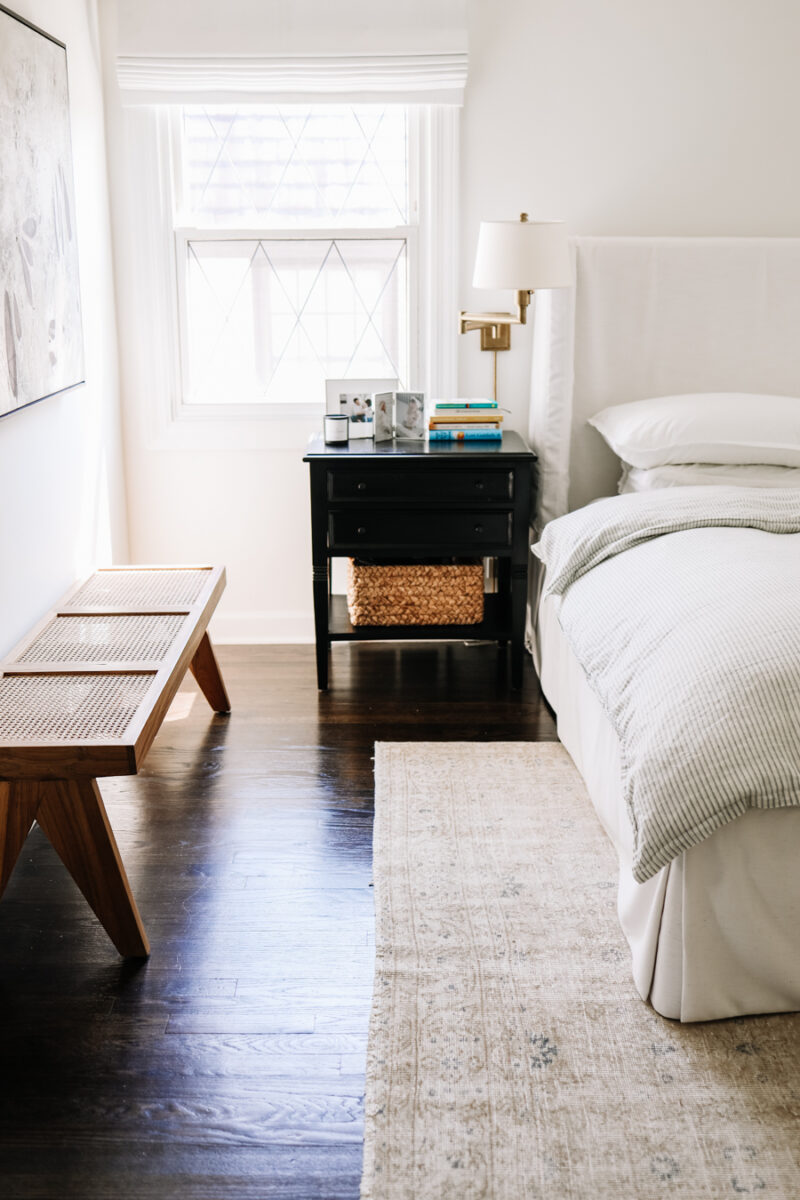 My home was always clean before I had kids. It took some time (almost three years) to get into a groove that had me feeling like my home is clean more than it's not. That's not to say that my home is always clean. Toys are scattered and stuff piles up, but it feels a lot better than it used to. Do I always do every single thing in this list below? No, of course not. I do put time into energy on staying on top of the mess and clutter, but this system works and it feels so good – especially amidst the chaos of life. I'm going to share some tips that have worked for me. Here's my clean house checklist.
The Clean House Checklist: Habits to Keep Your Home Clean
Make your bed
This is such a basic tip but I believe this sets the tone for an (organized) day. Up until I had kids, I made my bed unless I was very sick and laying in bed all day. I always feel more together when my bed is made.
Clean the kitchen
We run the dishwasher every night and empty it every morning after breakfast. The dirty dishes from breakfast are then loaded into the dishwasher. This is one of my least favorite chores but ending breakfast without dishes in the sink and freshly wiped counters is such a nice way to start the day. I keep a bottle of cleaner and rags in the kitchen, and wipe down the counters after every meal.
Keep cleaning supplies accessible
I shared all my favorite cleaning supplies here. Keep reusable cloths and our countertop cleaner right under the sink, so wiping down our countertops is very easy. I do the same with bathroom cleaner in the girls' bathroom, which is just a few feet from mine.
Put things away after using them
Sounds simple enough, but let's say you wake up, don't make your bed, get ready, throw a few outfits on the bed, and leave your makeup all over the bathroom counter. Then you make breakfast and leave everything in the sink. That's fine and it's completely normal, but you're going to have to face the mess later.
Stay on top of laundry
I really try not to let laundry pile up and aim to do a load or two every 1-2 days. Sure, there are those times I do 3-4 loads after not doing laundry all week, but it's more work to put it away. The sheets get washed every Thursday, Friday, or Saturday depending on what the week looks like. This way, they always get done around the same time, but there's some flexibility.
We have two sets of sheets for our bed and I just started putting the new sheets on right after I take the dirty ones off: this is new for us and has saved me from putting sheets on our bed at 10PM.
Make folding less painful and do it while watching a show.
Do a nightly cleanup
Just 10-15 minutes a day can make such a big difference. There's something about things feeling tidy when you start your day. I put the girls toys away, make sure dishes are in the dishwasher, wipe down counters, and run our robot vacuum. It doesn't take that long, and I always appreciate it the next day, especially once the sink is full after making the girls' breakfast.
Have a place for everything
We used to have "stuff" (paper, small toys, etc) all over the kitchen table and counters. I now keep a basket on the counter and it all accumulates there. Keys and sunglasses go on the tray by the front door, bags on hooks at the top of the stairs, extra sunglasses go in a bin in the entry closet, and shoes go on a shoe shelf in the pantry.
Declutter
This is a big one, or at least it was for me. The stuff piles up, and if you want your home to feel clean and organized, you're going to need less of it. If you follow me on instgram and have seen my "organization" highlight, you know I get it. It used to be very difficult for me to part with things, but I eventually did a 180 and wanted less, so I started selling and donating anything and everything we don't use or wear regularly. Having fewer tees and sweaters, a curated toy system for the kids, and less stuff in our basement and garage feels good. Start slowly and eventually, work your way up to the big stuff.
Get kids involved from an early age
Margot is only three, but when I empty the dishwasher, I have her put her plates, bowls, and flatware away. They're stored in a (low) drawer that she's able to access, and kids love to help! She helps put toys away, too.
Implement a quick and easy toy storage system
Don't give your kids access to every single toy they own if you don't want toys all over the floor. Leave a few baskets out and categorize toys by type (I shared my toy storage system here). Getting everything set up takes some time but the system works.
Invest in a robot vacuum
Robot vacuums might seem gimmicky – at least they did to me – but I have been converted and feel so uplifted by ours. I'm not sure how necessary this would have been before kids but since they're always dropping things on the floor and we have a crawling one year old, it feels very necessary. I was constantly cleaning the floor but only vacuumed once a week, so our jute rug shed a lot. And now? I turn it on every night before we go to bed and come down to clean floors. It gets all the crumbs and dust that I was sweeping with our microfiber and broom every 1-2 days. I feel so free.