10 Things: What's On My Mind This Week 11.21.21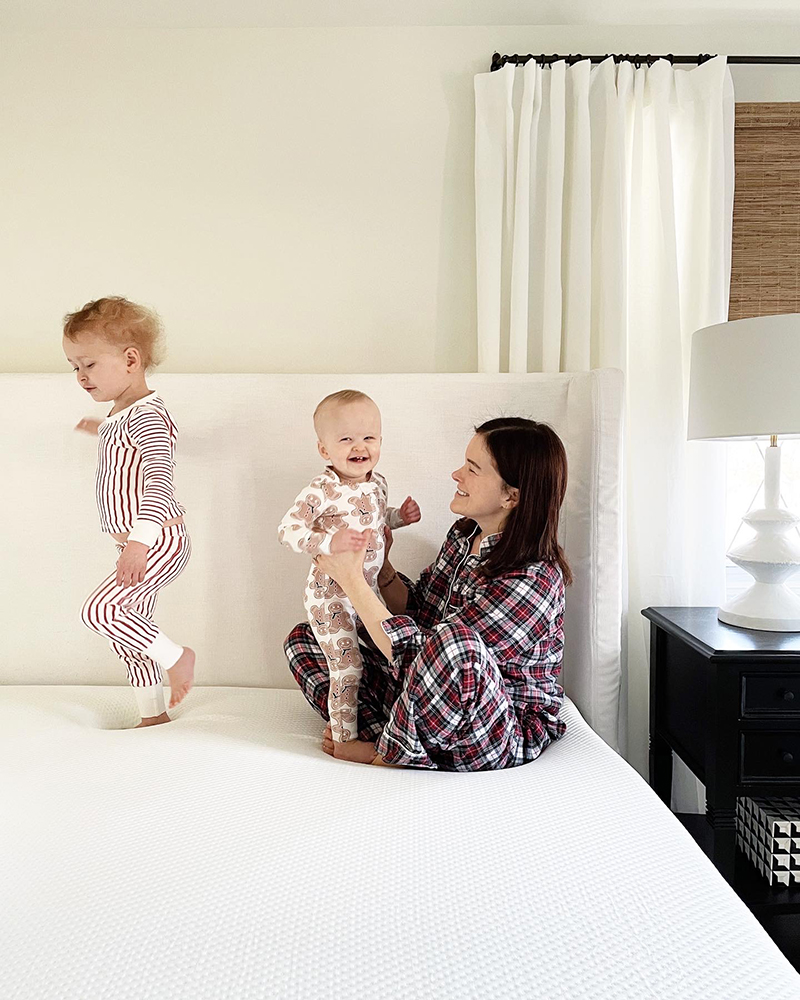 My friends Kelly and Jess have been doing these "10 things" posts for a while and Kelly suggested that I give it a go, too. Most of the time, my thoughts are not cohesive (are yours?). Between life, work, kids, the house, etc. there's always a lot going on. This seems like a nice way to post without committing to a single topic. Fun, yes?
10 Things: What's On My Mind This Week 11.21.21
1. Kelly's support got me thinking about how women in the blogging/"influencer" community treat one another.
I can't speak for everyone, but in my experience, almost every I've met has been wonderful. We're all technically competing (right?), but I have met very few people who see it that way. Kelly basically forced me to switch to WordPress years ago because it would be better for me, and she just referred someone to help me with my SEO. Look at the support around my fundraising efforts – it was incredible. I asked everyone I know to share, and they went above and beyond.
This just came to mind, too.
When I talked about anxiety, Julia messaged me to check in, suggested going back on meds (she's been so open about her journey with anxiety and medication). She even checked in a week later. We've met in person once (years ago at an event in NY) so that says a lot about her. My point here is that I know the internet and social media aren't always positive, but from my experience, most people I come across are good. It is what we make it. Follow people who bring joy and positivity into your life.
2. After almost 3.5 years of motherhood, I started, finished, and ordered our first photo albums this week!
This feels huge! I saw that Artifact Uprising was having a sale (not affiliated with them in any way) and thought I'd try to get the girls first year albums done. They came together pretty quickly so I ended up ordering our 2020 family album, too. I ordered the 8.5″ layflat albums in the beige color. Our albums are a mix of photos from my camera, iPhone, and my photographer/friend Katie Kett.
Earlier this year, an Amazon Photos partnership motivated me to finally organize my photos, and it feels so good to finally have some of these albums checked off my list. I'll share the albums when they arrive! I'm planning to start 2021 and have it printed in early Jan. Need to go back and do 2019 and 2018, at some point.
And speaking of Katie, we're shooting family photos with her on Monday. We'd normally just do those once a year, but it feels especially meaningful to document how far we've come. Our last session was in May, but the girls look so different to me, and as we end 2021, I can't not think about how different life was at the end of 2020.
3. Margot told her dad she wanted to go to the cinéma
(learned that from this book) so we're going to go see her first movie in a theater for a private screening next week! I scheduled a skype call with Santa, too. Hoping to do as much as we can and make the holidays as magical as possible.
4. Margot had clinic this week
I realized that we only have 8 more clinic days (one a month), until July 2022. I know we have a road ahead of us – 3 more spinal taps, 3 rounds of steroids, 246 more days of chemo, and her port removal surgery. There will be years of follow-up labs, too, but this still feels big. She's come so far. Our family is in a good place.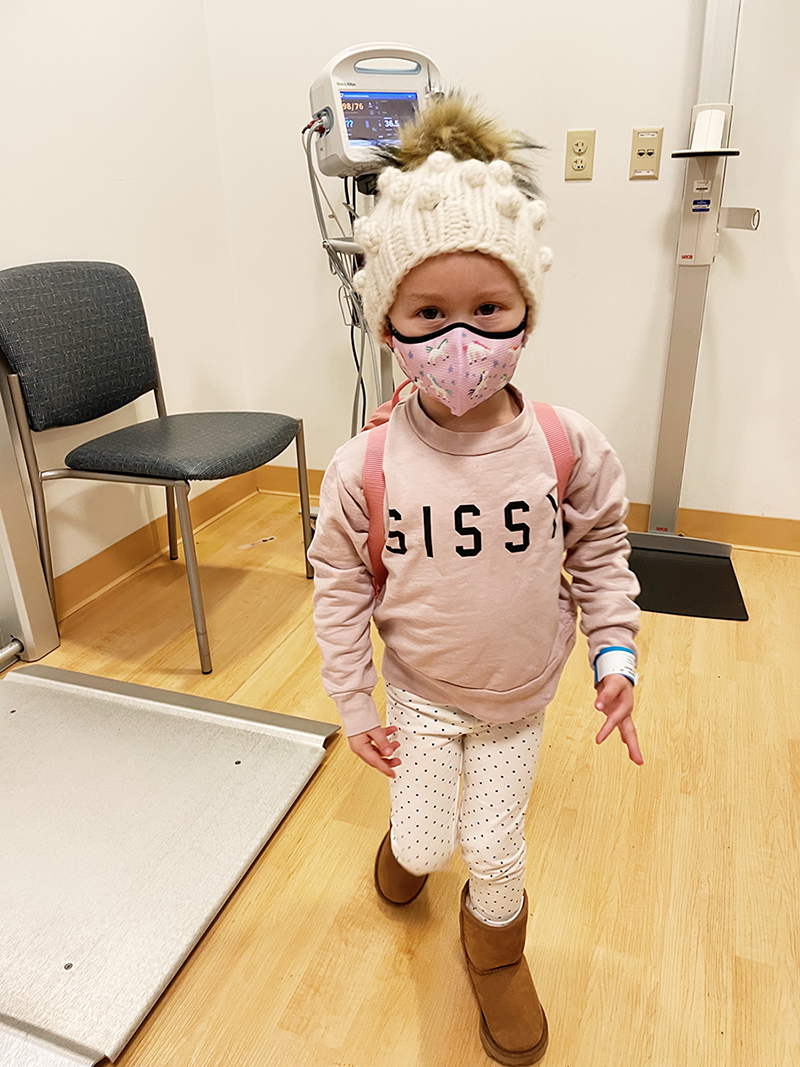 5. Winter is coming.
We've even had a few flurries. I never forget how bad I am at winter, but do block it out. We took the girls on a walk to look at Christmas lights and I'm committed to going for walks until it's too cold. I also did that thing I do where I start organizing and cozying up our home now that we're really in hibernation mode. Yes, we've been mostly at home for over a year, but now we're really home.
I went through a bunch of storage boxes in our basement, sorting through anything I think we won't use again.
I put together a new box of toys and books to rotate. Feels really good to pare things down. And our bedroom is looking so much better! I'll share some photos in the next week or two – can't believe how much some new window treatments can transform a room. I do want to mention that I have a code for our new Emma Mattress. Use DANIELLE45 for 45% off! I do have a paid partnership with the brand but am not getting paid to share the code here. We just love our mattress and it's a great deal (and no, I don't get affiliate when you use the code).
6. I've been neglecting my peloton and need to get on a schedule
As someone who loves a real, in-person class, I really struggle to work out at home, but the Peloton is great and I need to get back into it.
7. My friend's son finished treatment last week and they had a little drive-by parade for him. It was so beautiful and so emotional.
This week is Giving Tuesday. I know not everyone is in a position to give and I get that childhood cancer has become my cause, but these dollars won't change my daughter's treatment. They'll make things better for other kids. I can't unsee what I've seen or un-know what I know. Just trust me when I say if you stepped on to the pediatric oncology floor, you'd give the cost of a cup of coffee for better research and treatment options for these kids. I saw the photos and heard stories, so I donated before Margot was diagnosed, but now, I can't not fight for these kids.
I want to urge everyone who reads this to consider donating the cost of a cup of coffee to Alex's Lemonade (we have a fundraiser dedicated to research), St. Baldricks (they are 100% researched based and truly incredible) or Lighthouse for Hope (funds help families in treatment).
And speaking of our Alex's fundraiser, we hit $150,000 after the $ went in from my Toki Mats collaboration this month! Incredible. Can't thank you all enough!
8. Now that Margot is old enough to get it, we talk about how people can love or marry whoever they want.
She knows some people don't think that's the case and says "that is really not kind." Recently, I brought up how one day, she'll be in school or playing with friends and see a new kid, or someone who is on their own and needs a friend. The last few days, she wants to pretend she's the new girl at school (named Jessie since Toy Story is her life right now). It's so cute!
9. I love Christmas.
The cheer, excitement, lights, tree, holiday pajamas – all of it. It started very early for us this year, but my 3-year-old kept asking if we could get a tree, and making magic for your kids is easily the best part of parenthood. Last year was my first year with an artificial tree. I was too afraid of dirt and dirty water in our home while Margot was in treatment, but the experience was so good (no dirty water, no dried pine needles, and no stringing lights – it's pre-lit!) so I'm not sure there's ever any going back. We put up our stairway garland (sold out), mantel garland, and Christmas tree, and this week, I'm going to pick up some real wreaths and garland for the front of our house.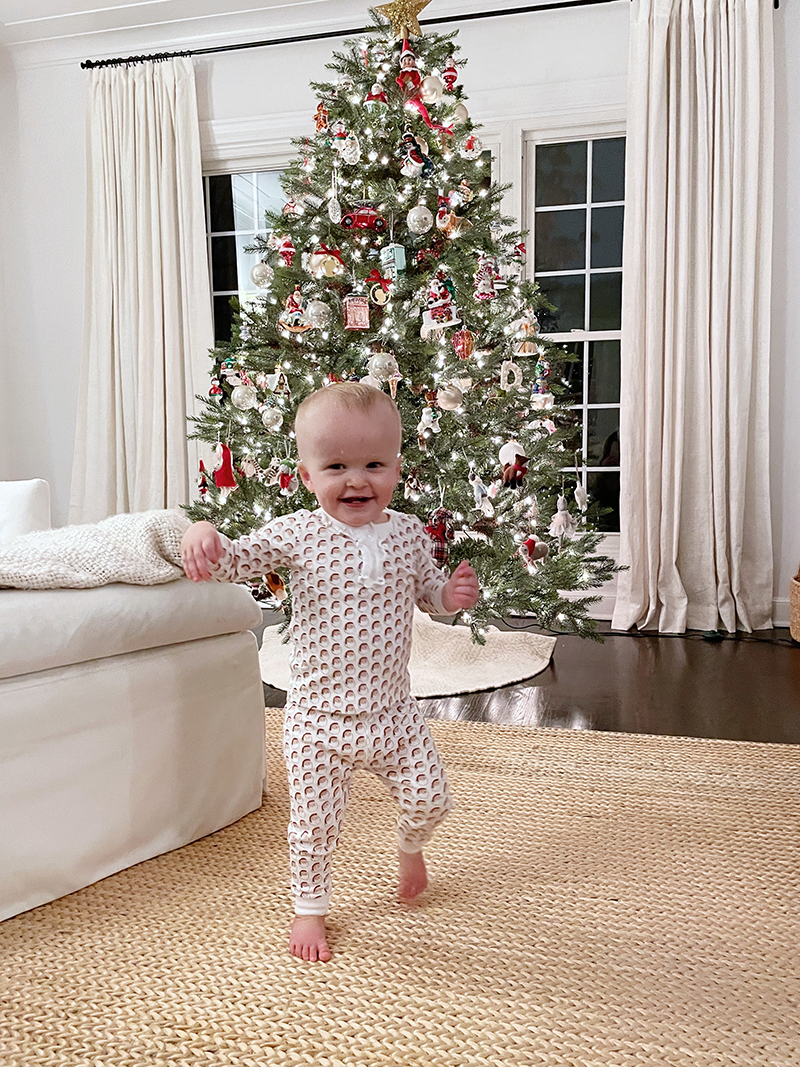 10. Can't really talk about Christmas without thinking about the girls, because really…it's all for them.
We're in such fun stages with the girls. Margot is almost three and-a-half and Kate is a week away from 17 months. Kate was a dream baby, but she has really started to turn into a little person lately, and it's so fun. First, she's been walking a lot more the last week. Margot walked at 17 months and Kate is just like her big sister. She says new words daily and is so funny! I don't want to wish this time away, but I'm really excited for the coming months.
Ok, stopping at 10. That was…fun?