What To Buy From Studio McGee's Target Collection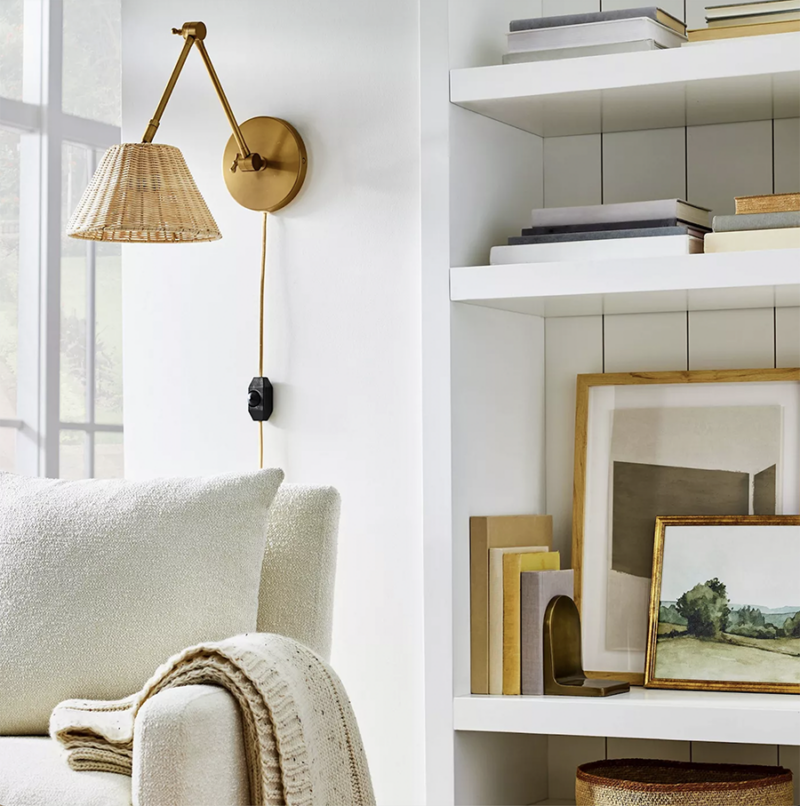 Does the new year make anyone else want to organize and make everything feel clean, styled, and cozy? Well, if I hadn't quite literally redone our entire living room over the last few years, Studio McGee's new Target collection would be a problem. It's timeless and traditional with a few modern touches. The sherpa, the curves, and the block prints are just too good. Here are my favorites from the collection. Select pieces will become available Sunday, January 23.
What To Buy From Studio McGee's Target Collection
Sherpa Bench:
Nightstand:
This wooden nightstand offers a light and airy style with vintage-like brass drawer pulls and woven drawer front accents that add fun contrast to the white frame.
Upholstered Chair:
This casual armchair features a comfortable, unfinished hardwood frame cushions upholstered in cream polyester fabric that can be spot or wiped clean for easy maintenance.
Rolling Hills Framed Canvas:
This decorative wall canvas is encased in a beautiful gold tone frame that offers clean style.
Chandelier:
If you're wondering what to buy at Studio McGee's target collection, this is it. This 4-arm metal chandelier with a chic modern vibe. It looks a lot more expensive than it is, and would be great in a dining area or entry.
Floral Duvet:
I love block print so, so much. This white slub quilt printed with a slate gray wood block floral pattern brings charming appeal to your bedding.
Floral Pillow:
This block print sham would be beautiful on its own, or paired with the block print quilt.
Woven Chair:
I love this little chair. Would be great in a dining room, sunroom, or the office.
Outdoor Loveseat:
This outdoor loveseat looks very similar in style to the not-so-affordable set I purchased last year. Showcasing a sleek design, this outdoor seating collection brings a chic update to your outdoor space, making it a functional and convenient complement to your outdoor decor style.
Embroidered floral Throw:
This throw pillow is simple and traditional, yet of the times with its floral print.
Club Chair:
I love this outdoor chair so, so much. It would be beautiful in a sunroom or on a little patio.
Cabinet:
The ultimate storage solution. It would look beautiful in a dining room, living room, or as a bookcase in an office.
Framed Art:
This decorative piece is encased in a light color frame that offers clean style.
Linen Tray:
A beautiful tray that would look perfect on your dresser or coffee table.
Bench:
rafted from a hardwood frame with medium-density fiberboard, this ottoman features a natural-colored, foam-filled cushion for soft, cozy comfort. Plus, the cushion is removable for easy cleaning.
Block Print Pillow:
Again with the block print. I love this one.
Chair:
I'd love to see this at a desk. It would work well in a dining room, but chairs like this are perfect for a work space with their high back, and the classic design can't be beat.
If you buy something through using my links, I may earn an affiliate commission (at no cost to you). I personally curate everything you see on my blog and only recommend products I love.