The Everygirl is Launching Online Courses and Celebrating 7 Years!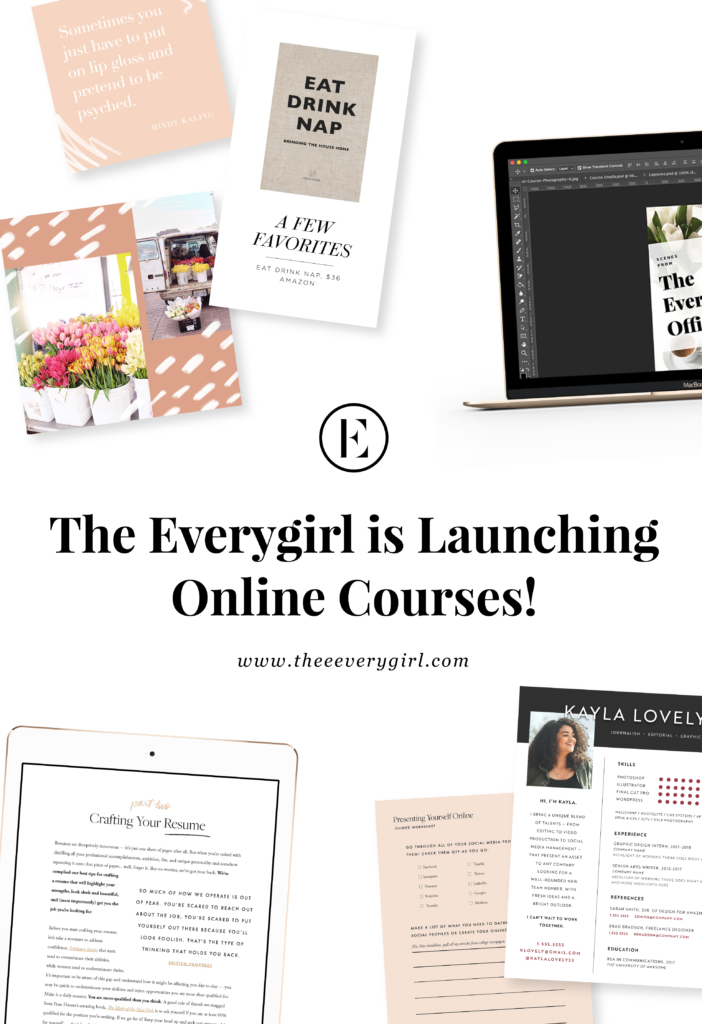 I love a good anniversary – a reason to celebrate and reflect – and today is a BIG day for The Everygirl team because 1. the website we dreamed of growing turns 7 and 2. we are so unbelievably excited to share a new launch that we've been dreaming of for as long as I can remember.
Today, I want to share some favorite Everygirl memories, thoughts on how far we've come, and lessons learned along the way, but before I do, here's some info on our courses.
This is something we've talked about for years. Making attainable courses accessible to our readers – ones to help them move forward personally and professionally – to better themselves and follow their dreams.
The Everygirl's Associate Editor (and talented graphic designer) Kelly Etz did the most incredible job producing these courses. If you're running your own business or blog, want to grow your social following, take your graphics and photo editing to the next level, or you finally feel ready to switch careers and land that dream job, these courses will get you there. We're sharing everything we do graphics-wise over at The Everygirl – from product roundups and photo editing to instagram story graphics and templates. I've been using Photoshop for years and walked away with so many new tips and tricks thanks to Kelly's expertise!
We're kicking things off with two courses.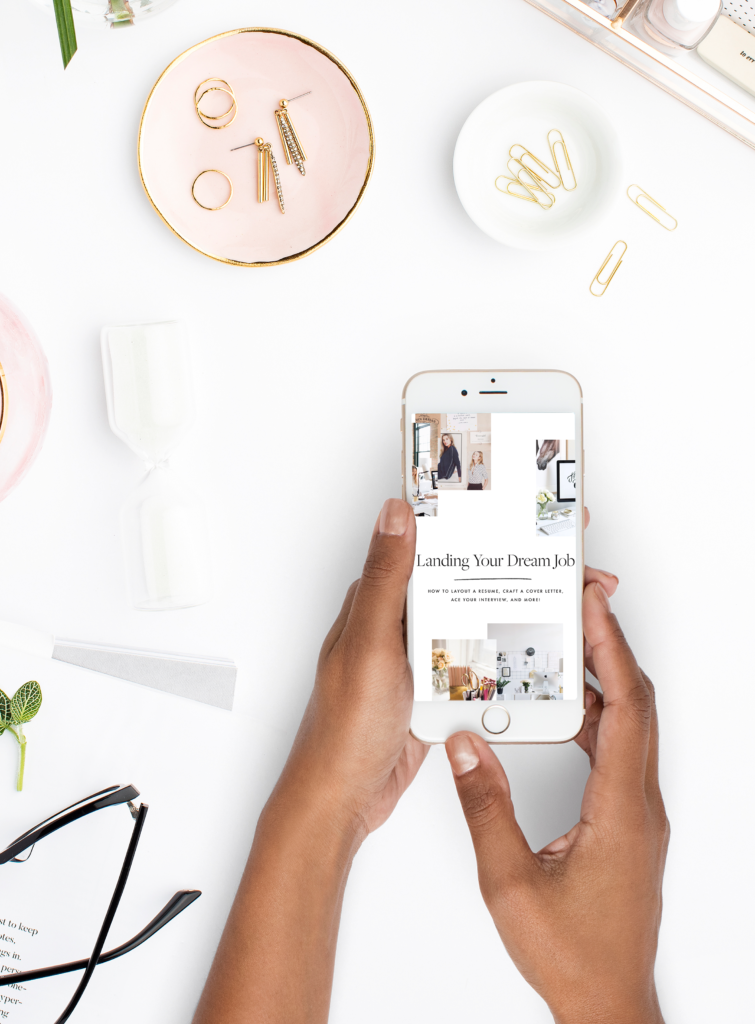 Our comprehensive PDF course is chock full of advice, detailed how-tos, and guided worksheets. It's an essential tool before you hit the job market, if you're looking to change careers, or hone in on your passions. You'll receive five resume, cover letter, and email signature templates to help you build a cohesive online presence and wow recruiters, mentors, and future employers.
Photoshop is our graphic design program of choice at The Everygirl — we use it daily to edit photos, create graphics, and generally make our site look the best that it can. In this online course, we're spilling our Photoshop secrets and sharing exclusive templates to help you master Photoshop in no time. Use our Instagram and Pinterest .PSD templates for Instagram posts, Instagram stories, product roundups, collages, and more to elevate your brand or business.
The Photoshop course is only available for purchase for 3 weeks.
I was a lost 20-something self-employed graphic designer and blogger with no idea of where my career was going. My business was doing fine well but I lacked the skills to take it to the next level. I was at a crossroads and needed to figure something out.
Unfortunately, I lacked the emotional support I needed from my family and felt very alone during a time when I just wanted and needed someone to sit down with me, tell me I could and would figure it out, and talk through my options. Instead, I was told I'd never amount to anything. Looking back, it feels so sad, but was also what I needed to push me to make it all work. This isn't a poor me post though, but ugh – it was a hard time. I remember (can't believe how full-circle things have come) feeling like there was a reason I was struggling and felt so down and alone, and telling myself that one day, it would all make sense. That I'd have a daughter and always be there for her, and maybe one day she'd have a friend who needed support, and I'd be there for her, too. Never in a million years did I think I'd co-launch a website that would inspire almost 2 million women every month.
The emails and comments we've gotten about being a space that's been there for women mean the world to me. I read every single one and file them away in a gmail folder because they are truly everything to me. The women who read our site or follow along on social aren't just "followers" or "readers" to me. I feel the same way about you. I care so much about producing content (on The Everygirl, The Everymom, and my blog) that helps women feel inspired, less alone, and like they can do this. Because life is hard, and the internet can be such a judgmental place, but it can also be a place of hope and inspiration. Of inclusion and togetherness.
I'd see these women sharing their stories online and while they were doing amazing things, none of them were like me. Nothing felt relatable or attainable. I never felt like I had a chance to get to where they were because even though their stories were incredible, they were nothing like mine. How would I (a completely normal person with zero connections) figure it out? Turns out I'd launch a site on a tight budget (3k) and work on that site while working full-time jobs to pay the bills. I was a 20-something girl who launched a website with someone I barely knew and no idea of where it would go.
I went from working a full-time job and running the site with interns to a full-time team, director of brand partnerships, editorial director, an office, over 25 regular contributing writers and last year, launched our second website, The Everymom. Here's a more in-depth post on how we launched and grew our site.
3 months after launching The Everygirl, Forbes listed us as a Top 10 Website for Women and a Top 10 Website for Millennial Women. We launched a product line that turned out to be a huuuuuge pain and in the end wasn't profitable, but we broke even so it all worked out. Not everything works, and I'm so glad we did that, moved on, and learned from it. Packaging and shipping product is the worst.
I dated, got married, and eventually had my babies. Margot arrived 3 months after launching The Everymom, a site we talked about from day one but weren't ready for because we weren't in the mom space yet.
Here we are again, on 2.22, launching something to inspire creative, career-driven women to continue to live their best lives.
If you've been a reader of The Everygirl for 7 years, months, weeks, or days, thank you. And I truly hope we've been a place that's brought you some happiness, and if you've struggled, has been that little ray of light I needed 7 years ago.