The Best Paleo Snacks and Brands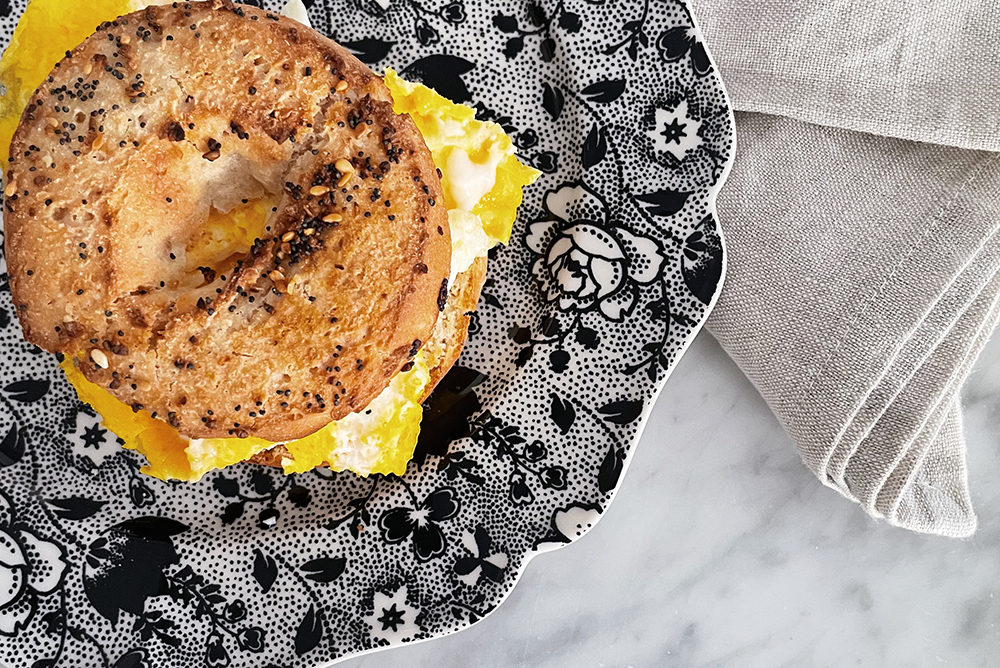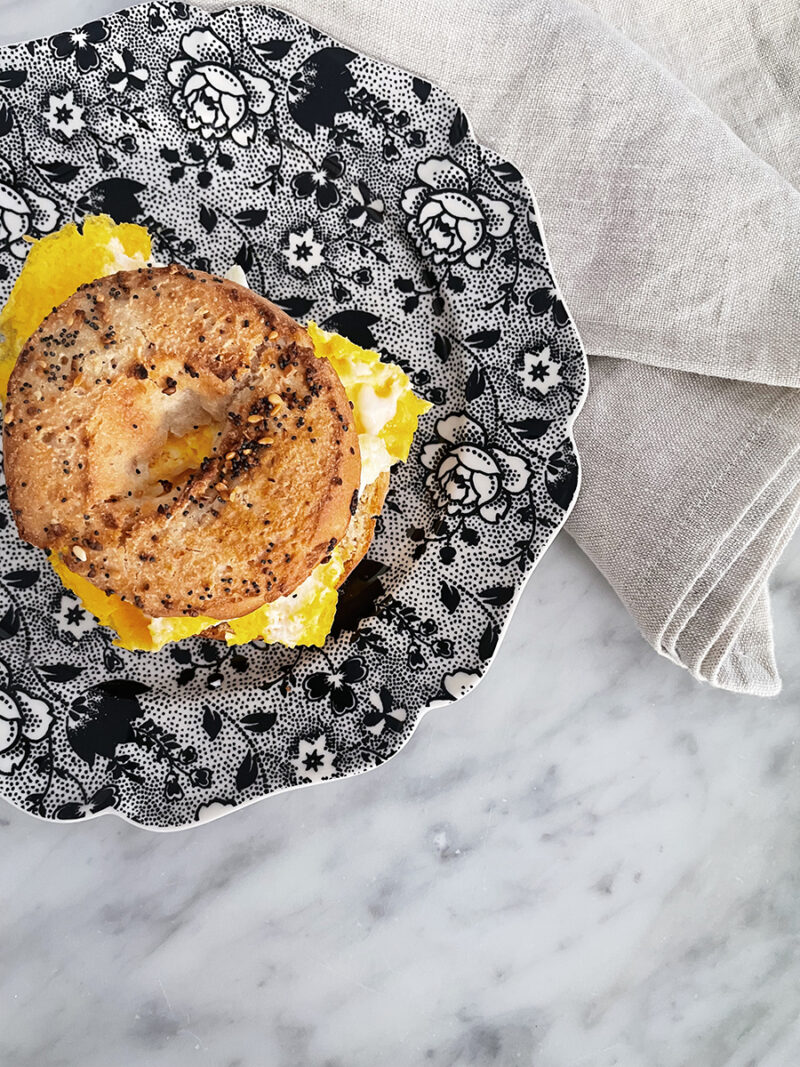 Years and years ago, I followed a strict paleo diet and felt better than ever. Then I married someone who isn't paleo and had kids, and became a lot less strict. But I still love a paleo-friendly snack (most of my snacks are paleo). And ( tend to choose mostly paleo options at the grocery store and restaurants. When you're in a food rut and crave motivation to put healthier food into your body, paleo is such a great option. Whole30 always felt a bit too limited but that's never been the case with paleo. When I follow a paleo diet, I find myself cooking more and generally eating more, but the food I'm consuming is closer to nature and more digestible. And these are still delicious foods – I never feel deprived. Here are my favorite paleo snacks and brands.
The Best Paleo Snacks and Brands
It all started when a friend got me hooked on CrossFit (I know 😏) almost a decade ago. My old gym did a 2 month paleo challenge (read more about that here) and I loved it. I should mention that it included the occasional glass of red or a tequila soda with lime, and one cheat meal (read: meal not day) each week. If you really want fries or cake, have them once a week. Eating this way with lower fat and less of the frills – just good, healthy, close-to-nature ingredients – felt really good. After not being the healthiest over the holidays and splurging a few too many times, I made the decision to reel it in.
A quick and obvious note that I am not an expert or dietitian and you should not do paleo because I'm doing it. In my experience, if it feels like you're really giving something up or on a diet, it won't work. Paleo does not feel that way to me so this works for me, but it's not for everyone. It's motivated me to start cooking again, and to make healthy, homemade paleo snacks and to eat more veggies and protein and to make healthier choices. I do limit paleo treats but it's nice to be able to have a bagel or cookie – that helps me feel good while I'm not eating certain foods. These are the brands that make paleo easy (and delicious).
Some Favorite Paleo Snack and Meal Options
There are paleo options for pretty much everything. From paleo-friendly bread to protein bars and pretty much anything that might satisfy a sweet tooth (or craving). I switched flour (which I never used anyway) for coconut flour and almond flour. Make paleo pancakes with maple syrup when you need a sweet treat for breakfast. And I started eating healthy fats like coconut oil and coconut milk, sweet potatoes. It's easier than ever to find these items at the grocery store. There are so many easy paleo snacks like fresh fruit (add a little almond or cashew butter to an apple and you're guaranteed to be satisfied). But there are lots of healthy snack options that make it a little more fun.
Why Paleo?
So why would I be interested in a caveman diet? It's really simple. The paleo diet consists of foods that are close to nature and easy to digest. I never felt limited and still don't when I eat paleo, and really prefer simple ingredients every day.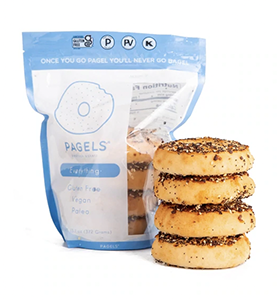 Bedrock Bakers paleo bagels
Bedrock Bakers paleo bagels (or "pagels") do not taste exactly like regular bagels. But – they're pretty close and I really like them. I'm not having them daily, but they're nice to have on occasion. And you won't be having dairy products while following a paleo diet, but I've found the best paleo cream cheese or make an egg sandwich with some fresh berries on the side. These are a great way to not feel deprived of something you love.
Kite Hill cream cheese
You will not believe that this cream cheese is dairy free! It's the perfect pairing with a paleo bagel.
RX Bar
These were started by a guy at my old CrossFit gym and have been a favorite quick snack for years. I was one of the first to try the bars and they are great on the go. I prefer lower calorie snacks so if I'm home or to get more enjoyment out of 200+ calories, so I really only eat them if I'm out. Alternatively, the almond butter is delicious and when paired with a crispy apple, is a go-to snack.The chocolate sea salt is so good, and the almond butter is truly the best treat ever. It's a great snack with paleo-friendly chocolate chips too.
Primal Kitchen
Primal Kitchen's sauces, dressings, and seasonings are the best and are paleo and whole30 compliant. Why have ketchup or BBQ sauce with added sugar when these are so good?
Siete Foods
One of my favorite brands tasty snacks from paleo tortillas to tortilla chips and my personal favorite: cinnamon sugar chips. I'll eat the tortillas as a sandwich wrap – they are so good! The churro chips are delicious – the perfect mix of crunchy and sweet.
Birchbenders pancake mix
Ok, this is really good and so easy to prepare (just add water). My girls love them, too.
Simple Mills
I don't do a lot of paleo baking but Simple Mills makes some of the best mixes and grain-free crackers out there. If you want a muffin or are craving crackers, Simple Mills is a great paleo snack that everyone will love. My 4 year old loves their crackers!
Nutpods creamer
Giving up coffee or having to drink my coffee black would be (as Margot would say) too too sad. Enter nutpods. I've been using nutpods for years – they make my coffee a little sweeter (but not too sweet!) and are even whole30 compliant. And it froths beautifully in my Nespresso frother.
Cassava Chips
As a whole, chips are a great paleo snack. There are kale chips, sweet potato chips, tortilla chips and the unexpected cassava chips. They may sound different, but they're so good. My r year old loves them, and if you're craving chips, they do the trick.
Mera Bites
These paleo cookies were started by two women at my old CrossFit gym, and they are fantastic. The friendchip (chocolate chip) is my favorite – they are are soft and chewy, and are the perfect treat when you need them. Your taste buds will thank you.
This post contains affiliate links. If you purchase something using my links, I may earn a small commission at no cost to you.