The Best Home Decor Gifts $100 and Under
Anyone else ready for a spring refresh? Every time this year rolls around, I bring in some blue and find myself gravitating toward woven accents. I always love making little updates and bringing in new design elements – they can make a space feel new and refreshed. Whether you're looking …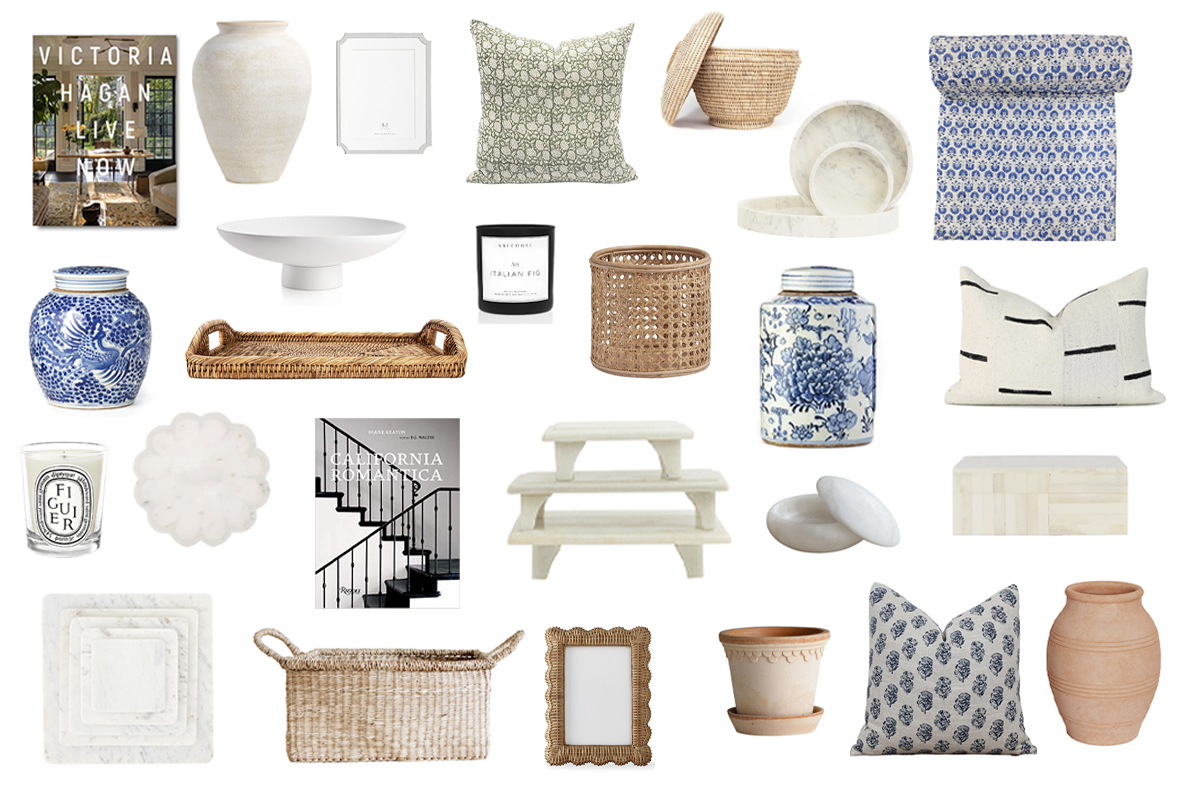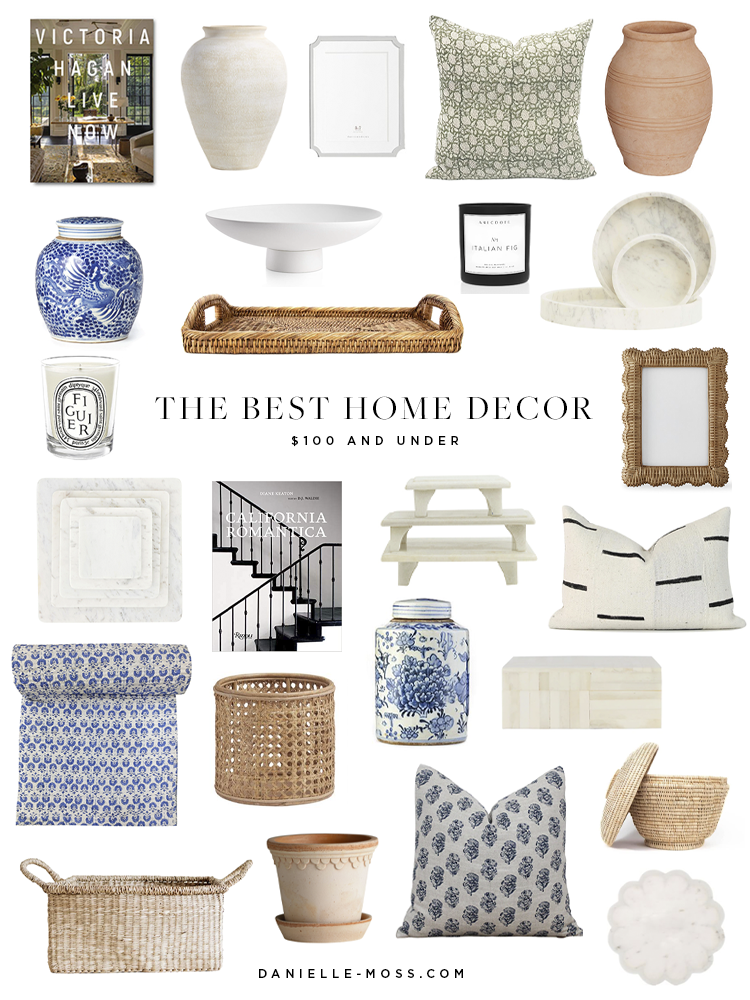 Anyone else ready for a spring refresh? Every time this year rolls around, I bring in some blue and find myself gravitating toward woven accents. I always love making little updates and bringing in new design elements – they can make a space feel new and refreshed. Whether you're looking for your home or a housewarming gift for a friend, I've rounded up some decor favorites from pillows and books to baskets and candles, all $100 and under.
The Best Home Decor $100 and Under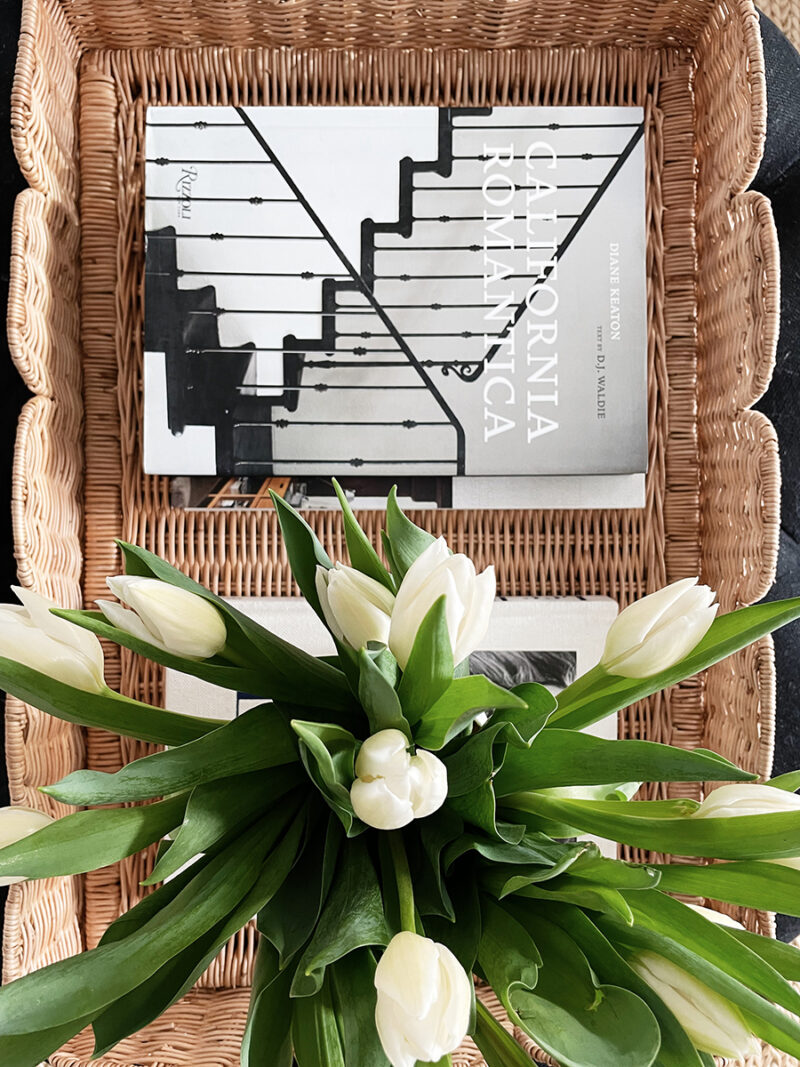 Candle:
Diptyque candles are a splurge but they're worth it. I haven't tried a scent I don't like, but my favorites are the baies (berry), vanille, gardenia, and figuier (fig). Keep the glass jar and use it for makeup brushes or pens once the candle burns out.
Tea Jar:
You can't ever go wrong with blue and white, and this small floral tea jar is a great way to start or add to your collection. Use it to store espresso/coffee pods or tea.
Woven Tray with Handles:
A honey brown tray that is both beautiful and practical. Form meets function in this perfect, woven catch-all for your jewelry and other small personal goods.
Marble Box:
The ideal box for small trinkets or the perfect little accent on a stack of books. Handmade of raw untreated alabaster from Italy.
Green Block Print Pillow:
I love a block print. They're on-trend but feel timeless and traditional, and I find myself gravitating toward green as opposed to my usual blue. I've featured this a few times, and it quickly became one of my most clicked on and best-selling items.
Marble Platters:
These beautiful dishes are crafted from cool white marble, carved into simple square shapes with chic rounded edges. They'd be wonderful for appetizers or small trinkets.
Basket with Handles:
This woven basket is ideal for books, toys, or your pantry or bathroom.
Spotted Ginger Jar:
Hand-formed, hand-painted, hand-finished in the same area of China that has produced this form of artwork for thousands of years.
Large White Vase:
Master potters transform simple clay into an ethereal vase. Thrown, finished and painted by hand, the terracotta vessel features a textured surface enhanced by stippled washes of white and cream.
Live Now by Victoria Hagan:
One of my favorite designers released yet another design book in late 2021. These are always go-to gifts since they are both enjoyable to look at and beautiful on display.
Rattan Basket:
These baskets are handmade in Cambodia – store smaller items in these hand-woven baskets, everything from candies to cotton swabs. I have two and really like them.
Marble Trays:
This simple, shallow dish is crafted from white marble with organic swirls of grey veining. Wonderful for food or as a catch-all (or decor).
Onyx Tea Light Candle Holder:
This modern footed candle holder encircles tea light in warm marble onyx. The candle glows right through the stone.
Block Print Pillow:
This pillow features a delicate floral motif pattern hand block printed using traditional printing techniques.
Italian Fig Candle:
My favorite budget-friendly candle. Comes in at about half the cost of Diptyque, smells incredible, and I love the clean, minimalistic design.
Terra Cotta Pot:
This vase is made of hand thrown terracotta and hand finished by artisans in multiple layers of cream, smoky gray, beige and latté to capture the look of found antiques.
Crossed Bone Box:
This bone box lends interest to your built-ins or coffee table with ease.
Silver Frame:
These gently curved frames are a favorite of mine – I have at least two in my home (but possibly three). Comes in a few sizes, and offers an elegant, refined shape.
Cane Basket:
Ah, cane. I love cane – it's timeless yet trendy. This basket comes in a few sizes and is constructed of warm-hued natural rattan.
Kantha Quilt:
A Unique Product, Fusion of Hand Art Work : Kantha Work. I have a quilt from this shop – it's light and thin (perfect for summer) and really ideal for adding some color or pattern to a white bed or sofa.
Ceramic Vase:
I own this gem, too. It's beautiful on a shelf on its own or full of blooms. Painted by hand in a modern yet rustic white glaze, this terra-cotta vase has a wide mouth and rounded body. It's really beautiful in person, and does not look like it's from Pottery Barn.
California Romantica by Diane Keaton:
Do you know about my love of Diane? About a decade ago, when asked if I could have lunch with any woman, I chose Diane. And Paris as our location, naturally. This book is beautiful and sits right on top of our our coffee table (ok, round ottoman because sharp edges and toddlers do not mix).
Planter:
These simple, delicate scalloped planters are really lovely. Hand-crafted in Italy, Bergs planters capture the simple beauty of Danish design, drawing inspiration from time-tested antique styles.
Marble Pedestals:
Perfect for serving hors d'oeuvres or cheeses at your next get-together, Taj is great for giving your centerpiece a boost in height or as a base for your houseplants.
Mudcloth Pillow:
I have this pillow on our sofa and really like the texture and simplicity it brings. It's beautiful yet simple and feels very casual. Mixes really well with block print or even a stripe.
Marble Petal Tray:
This tray is made of natural white marble and priced so well. Use it as an upscale catchall on a coffee table, a chic serving platter for fine cheeses and condiments, or a display piece on a vanity or dresser.
Wicker Frame:
Scallops are one of those on-trend but timeless design elements that I love. Hand woven from natural rattan, this frame designed in collaboration with lifestyle expert Aerin Lauder reflects her effortless approach to living beautifully.
Footed Bowl:
Elevate grapefruits, chorizo nachos or a fascinating arrangement of air plants with this graceful footed bowl. It's cool and modern, and feels effortlessly chic.