The Best Father's Day Gifts for Dad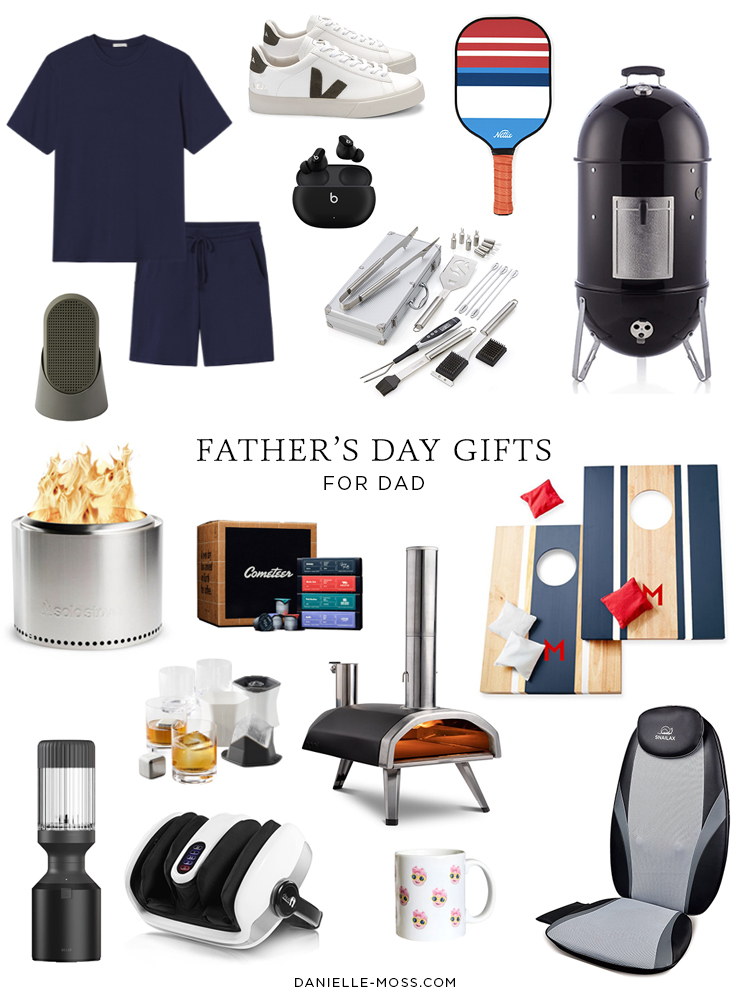 Summer has unofficially started and somehow, it's June. How are we halfway through 2022? And now Father's Day is somehow just a few weeks away. I don't have a relationship with my own dad, but I married a man who is an incredible father to our girls, and I love giving gifts. And making the people I love feel special. But shopping for men can be…tough. So I started my search early and enlisted the help of my husband who always helps with guides for men. And we came up with a list that any dad would love. Here are the best Father's Day gifts to buy in 2022.
The Best Father's Day Gifts for Dad
Eberjey Pajamas
Father's Day gifts can be hard, but they don't have to be, and nothing says "dad" like a new pair of pajamas. I've been wearing Eberjey pajamas for years and years, and have around half a dozen sets. I'm not sure if you're aware, but they make men's pajamas. They're so soft – but truly softer than any other pajamas – and I actually feel good (and even put together) when I wear them. They resist pilling and are biodegradable, too. And since I always ask my husband for help with men's guides and he approved this set, I bought it for him. 🤫
It's luxuriously soft, resistant to pilling, and retains its color and shape beautifully. Plus, it's completely biodegradable.
Solo Stove
We don't have one of these but I want one, but I want it more than Conor, so it looks like he won't be getting it for Father's Day this year.
Bean Bag Toss
This would be so fun for backyard parties.
Pizza Oven
I've heard the best things about the Ooni but it somehow also goes on the list of things I want more than my husband.
Custom Mug with Kids' Faces
You can get this with a few kids' faces (or even add your pets). I had to order one.
Smoker
I married a man who grills but hasn't gotten into smoking. But this seems like the perfect way to get someone into smoking meats? Hint hint?
Pickleball Racket
Pickleball seems to be all the rage right now, and this is by far the best looking racket I found in my search.
Wireless Noise Cancelling Earbuds
Because dads need quiet, too.
Flash Frozen Coffee Pods
Was Cometeer targeting you with their coffee ads on IG or is it just me? I had to buy them and this coffee is fantastic. I like my Nespresso but I love my Cometeer. Pour it over water or almond milk, add some ice, and woah. So good.
Shiatsu Back Massager
Ok, so I bought a shiatsu neck massager after a friend talked me into it. And then she made me get a foot massager and I was sure both would be gimmicky but they're pretty incredible. So when I came across this and saw that it was on sale…I had to include it.
Sneakers
I love my Vejas and love them for men (and kids) too.
Shiatsu Foot Massager
My husband rolled his eyes so hard at this. And then he tried it and he now uses it more often than I do.
Whisky Lovers Set
Set includes colossal cube, whisky cube, and four double old-fashioned glasses.
Grill Tool Set
The ultimate tool kit for the avid grill master, this set from Cuisinart gathers together a spatula, grill tongs, silicone basting brush, eight corn holders, five skewers, cleaning brush with replacement brush head and digital temperature fork with LED light in a handsome aluminum storage case.
Thank you to Eberjey for sponsoring this post. All opinions are my own.