The Best Baby Toys for The First 8 Months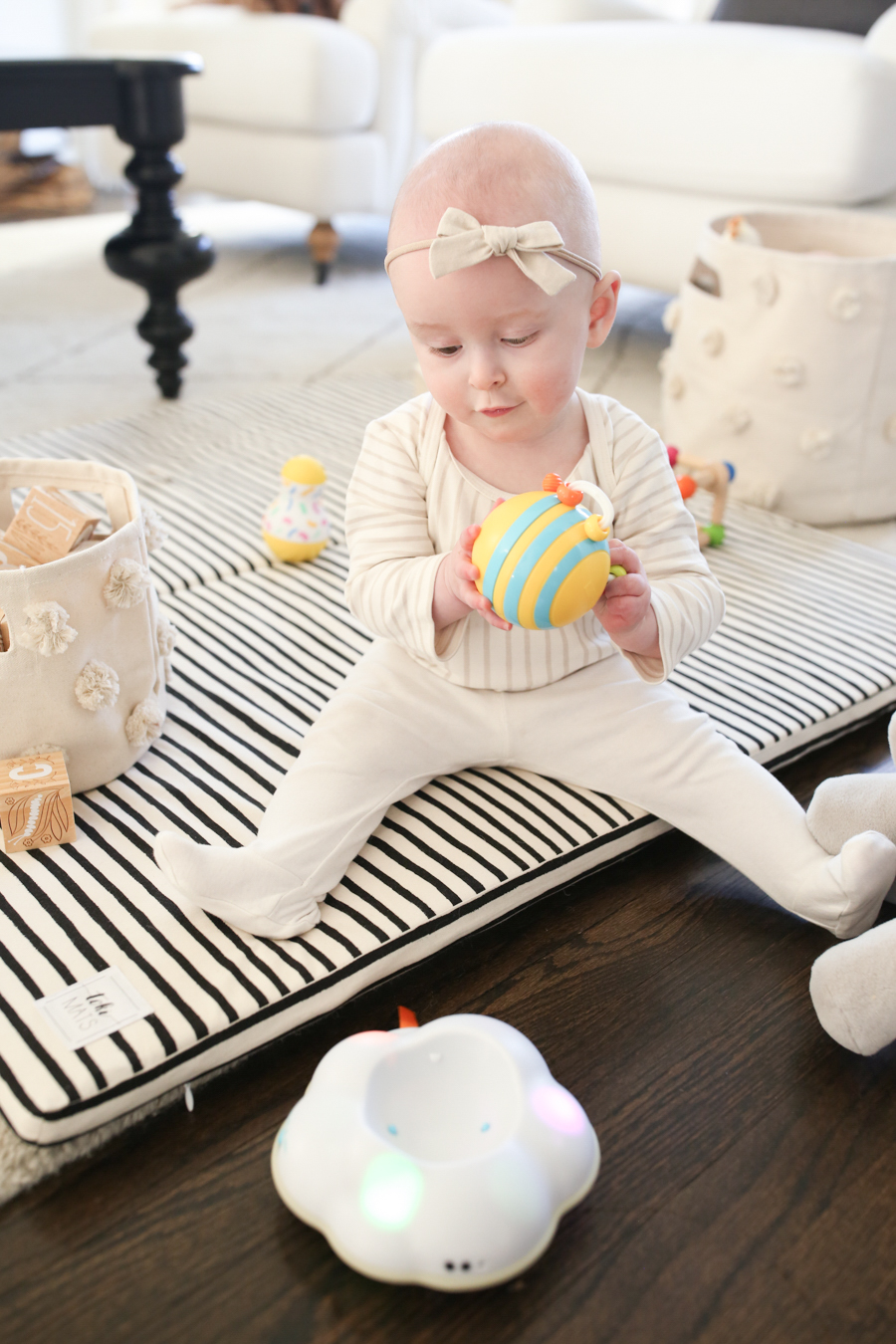 I am long overdue on sharing Margot's favorite toys – a post that has been requested oh…just a few times. If I'm being really honest (and when am I not) I started this when she was 6 months old and even took a few photos but never got it together to post. It's for the best though because I ended up buying a much better play mat than the one I would have shared then and added a few toys to the mix. Here are the best baby toys for the first 8 months.
The Best Baby Toys for The First 8 Months
Before I get started, a few things to note.
Some product in this post was gifted (from my baby shower and a few from brands, too).
There are notes after the descriptions at the bottom of this post letting you know what was a gift and what was purchased but (as always) I am only sharing the things we love and use all the time. We also love books (we have SO many) so I'll put together a list of the best ones soon.
I have gotten a lot of questions about Margot's play mats.
I bought a Little Nomad mat which is perfect for us now that she's not falling over, but I would recommend something softer for those first few months. After doing a little research, I ended up buying a Toki Mat and definitely prefer it / recommend it for the first 6-7 months. It's small but so cushy and folds up nicely, which is ideal for our family room. I moved the Little Nomad to the basement/play area and it's working perfectly in that space.
Margot has a few stuffed animals in her room but all her toys are in the living room and basement.
The Pehr bins work well with our decor, so we have a few in both rooms to store toys. Ther room needs some work but I'm ordering a cozy rug for the space (I love this and we'll eventually have a play table and kitchen down there, too.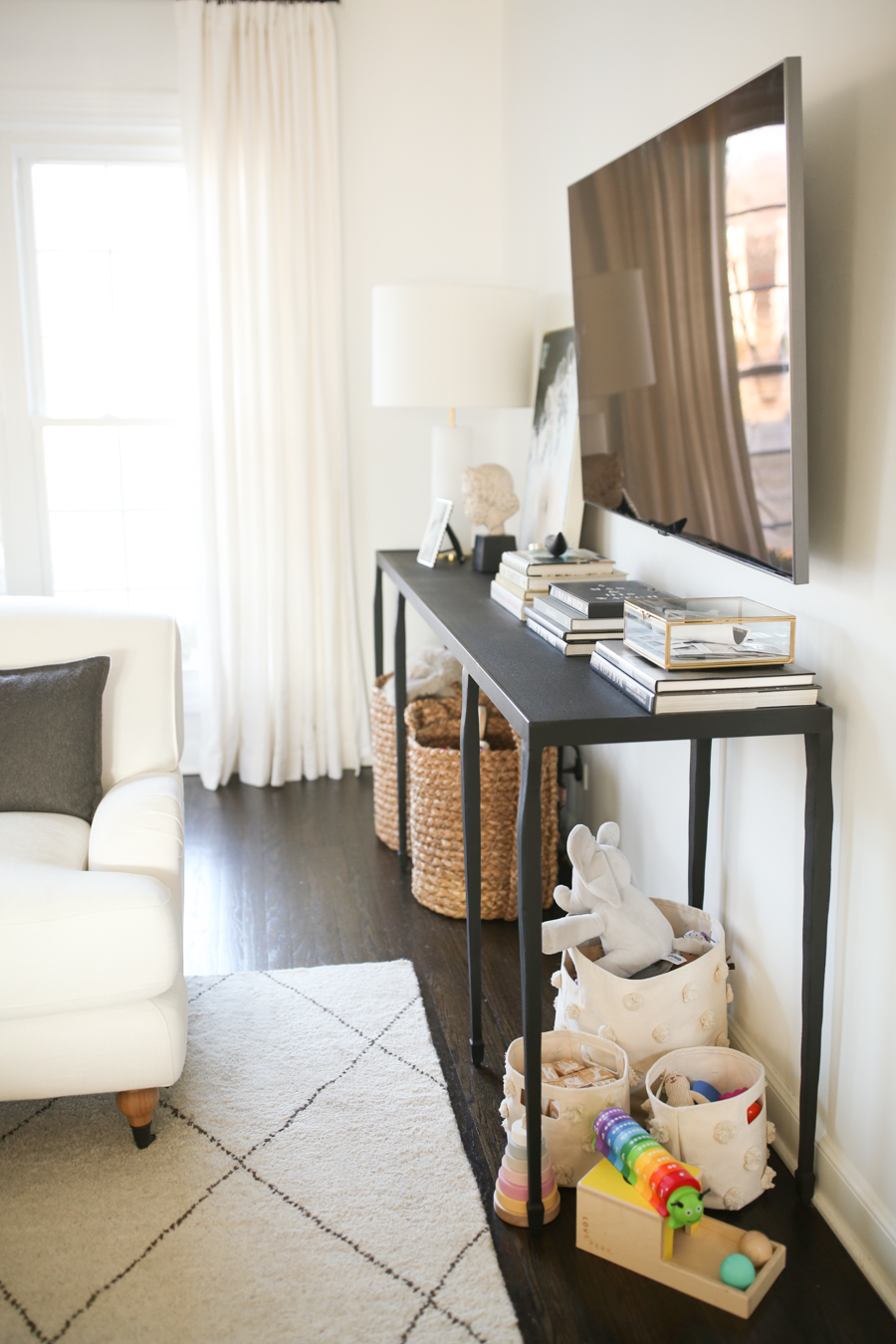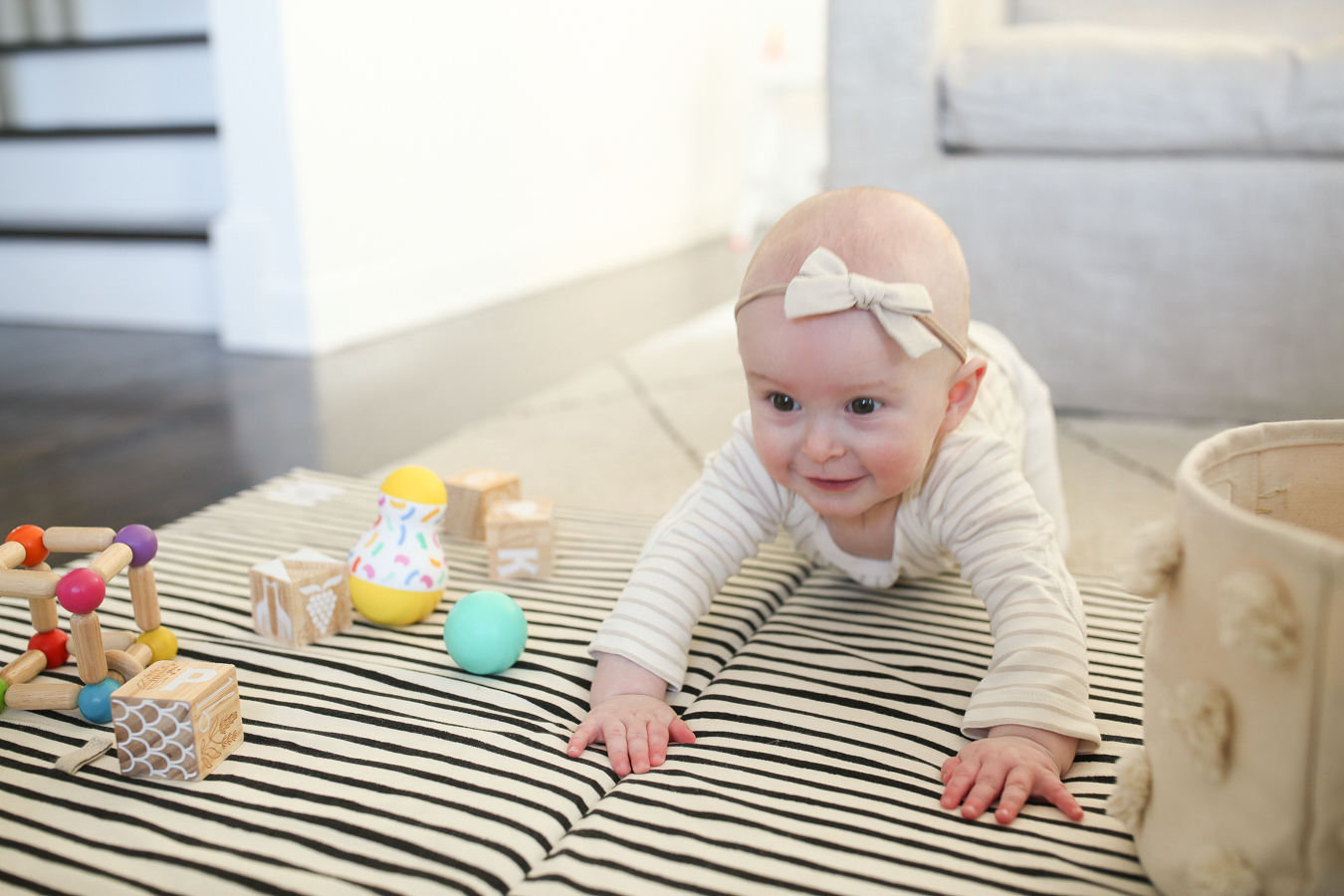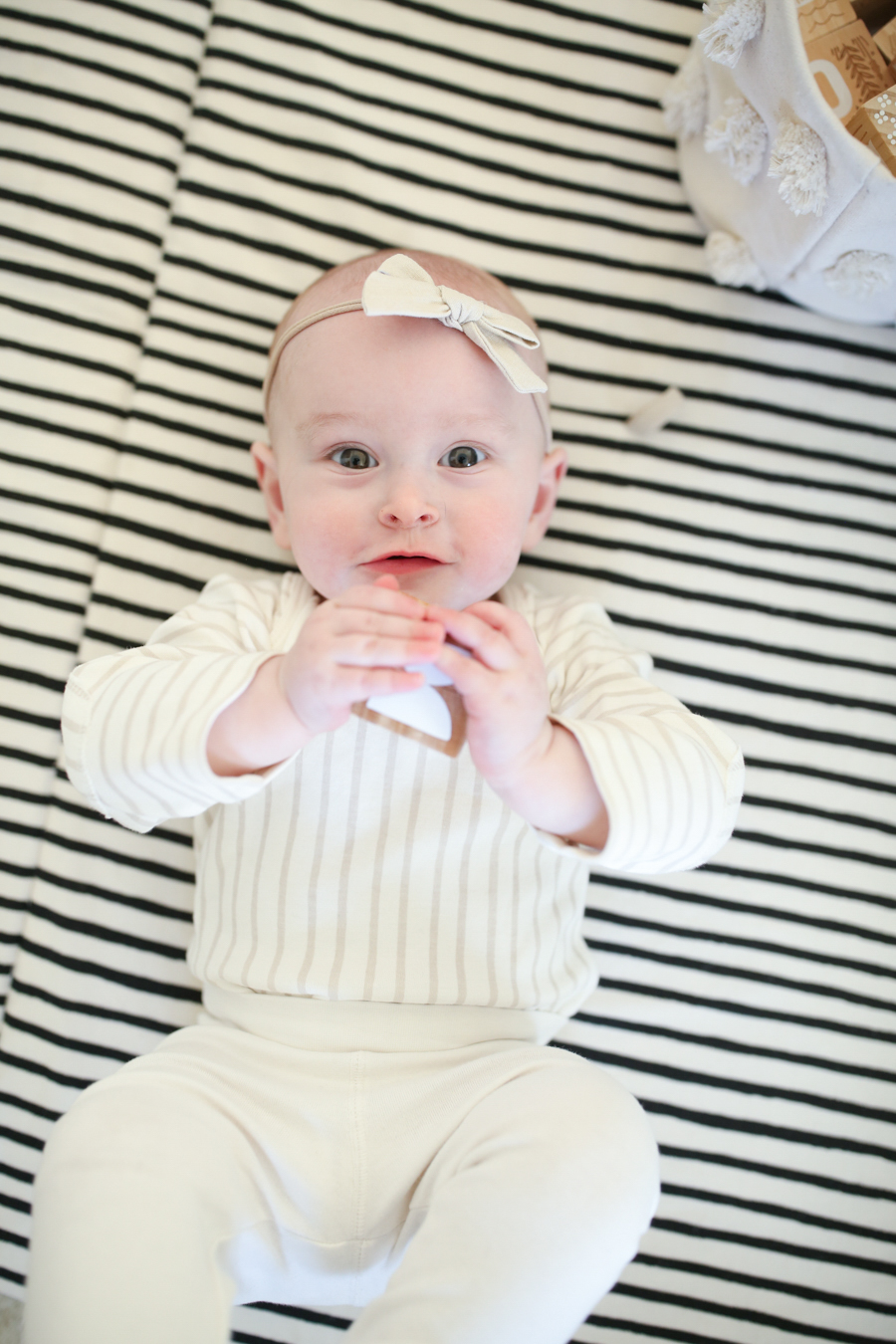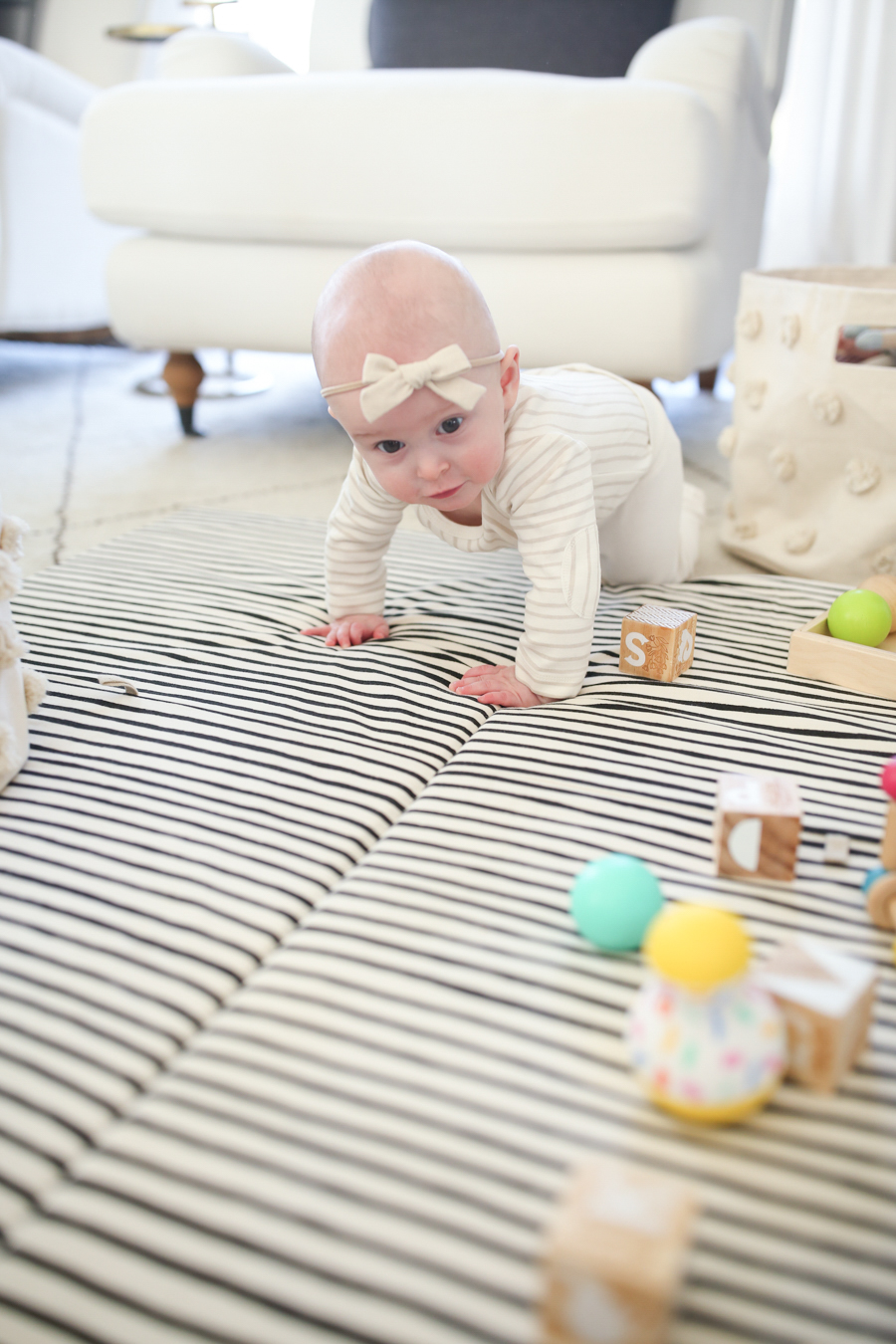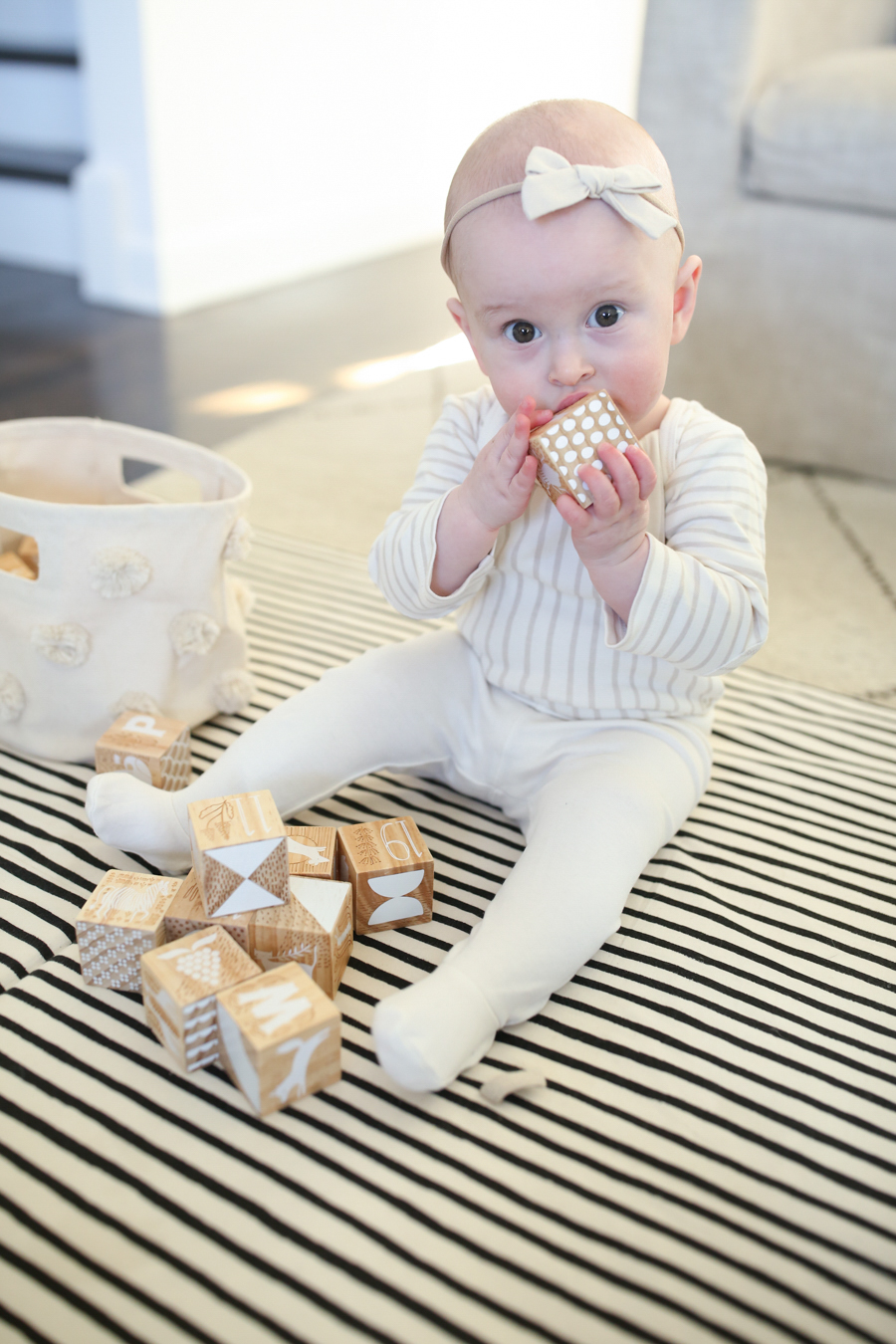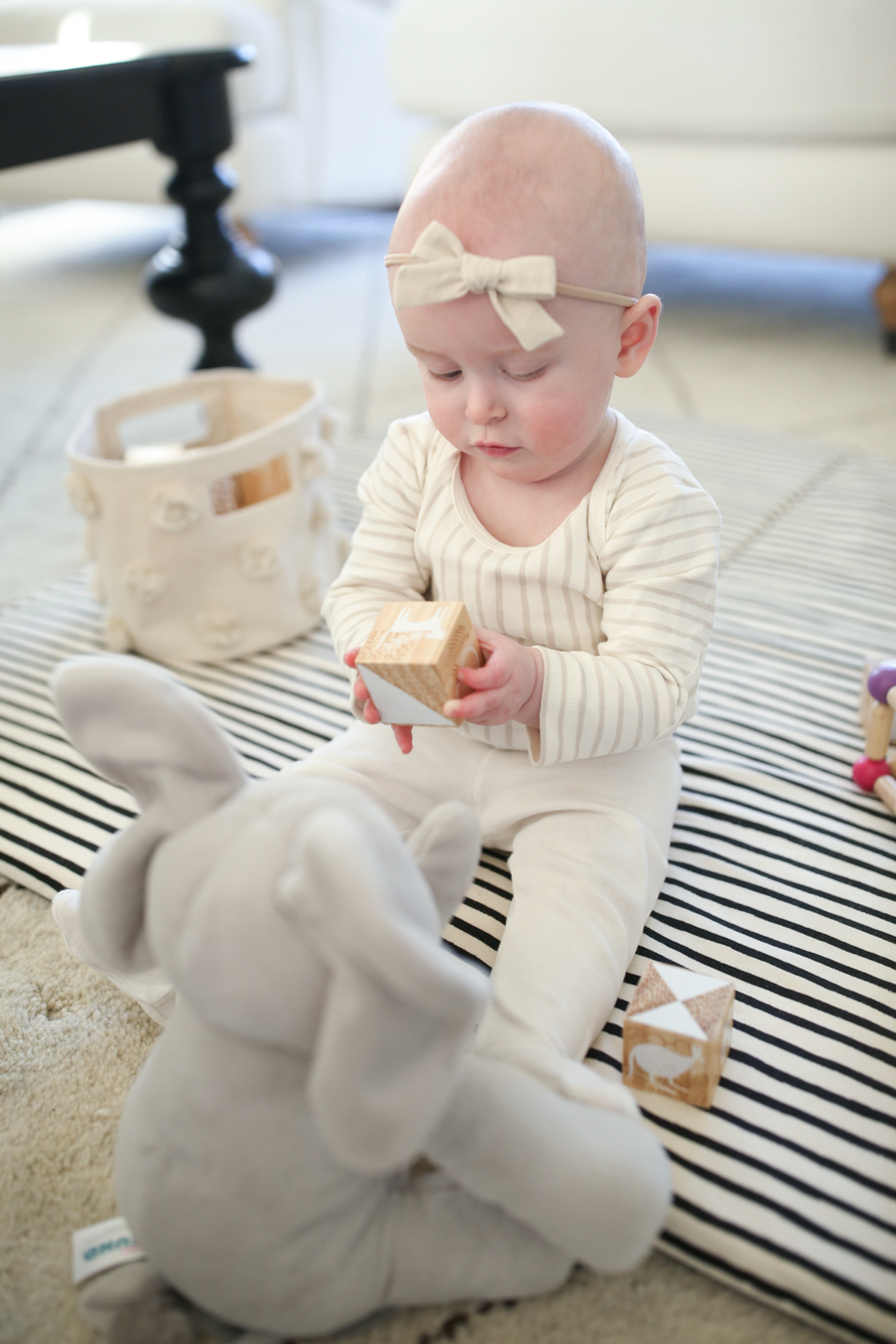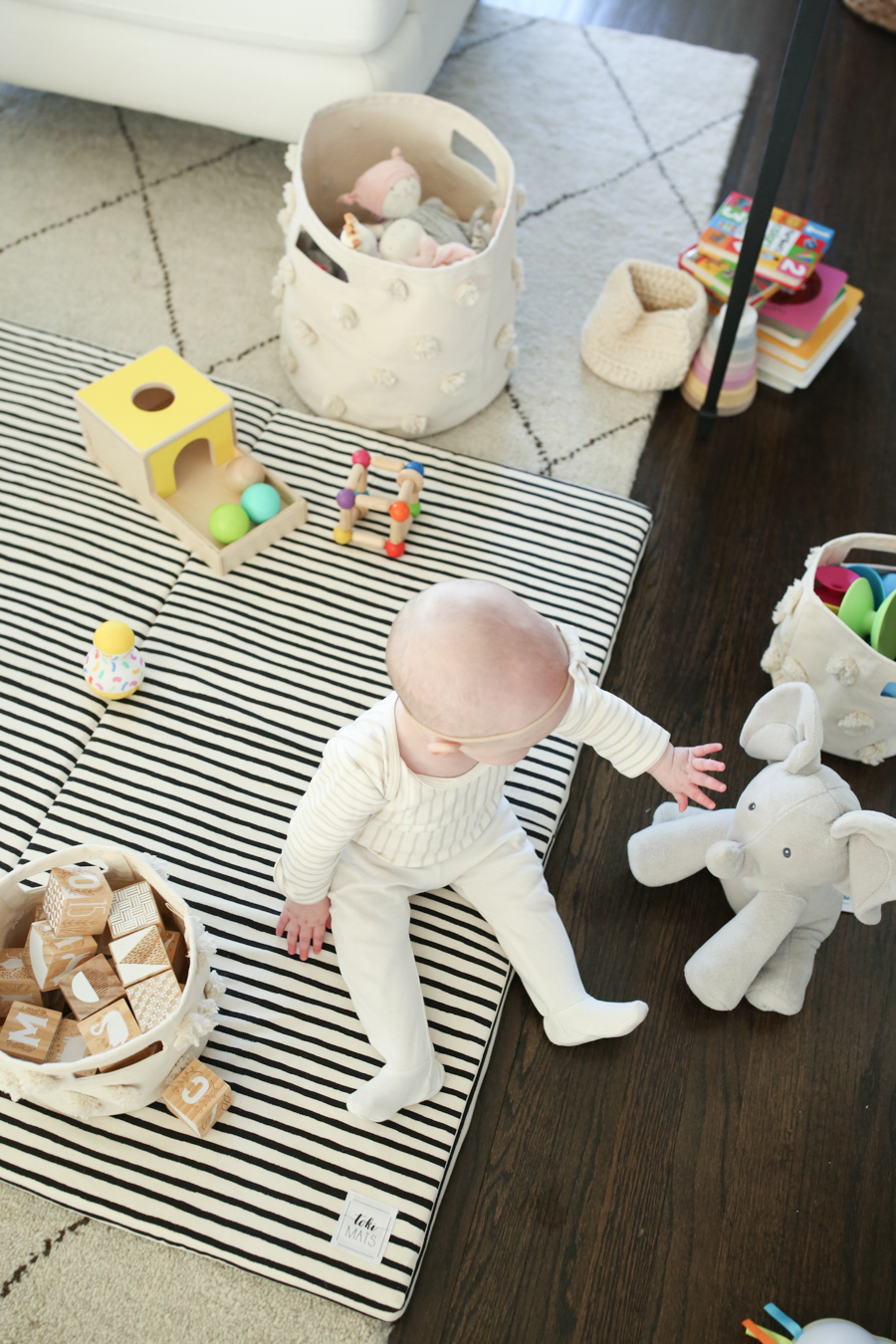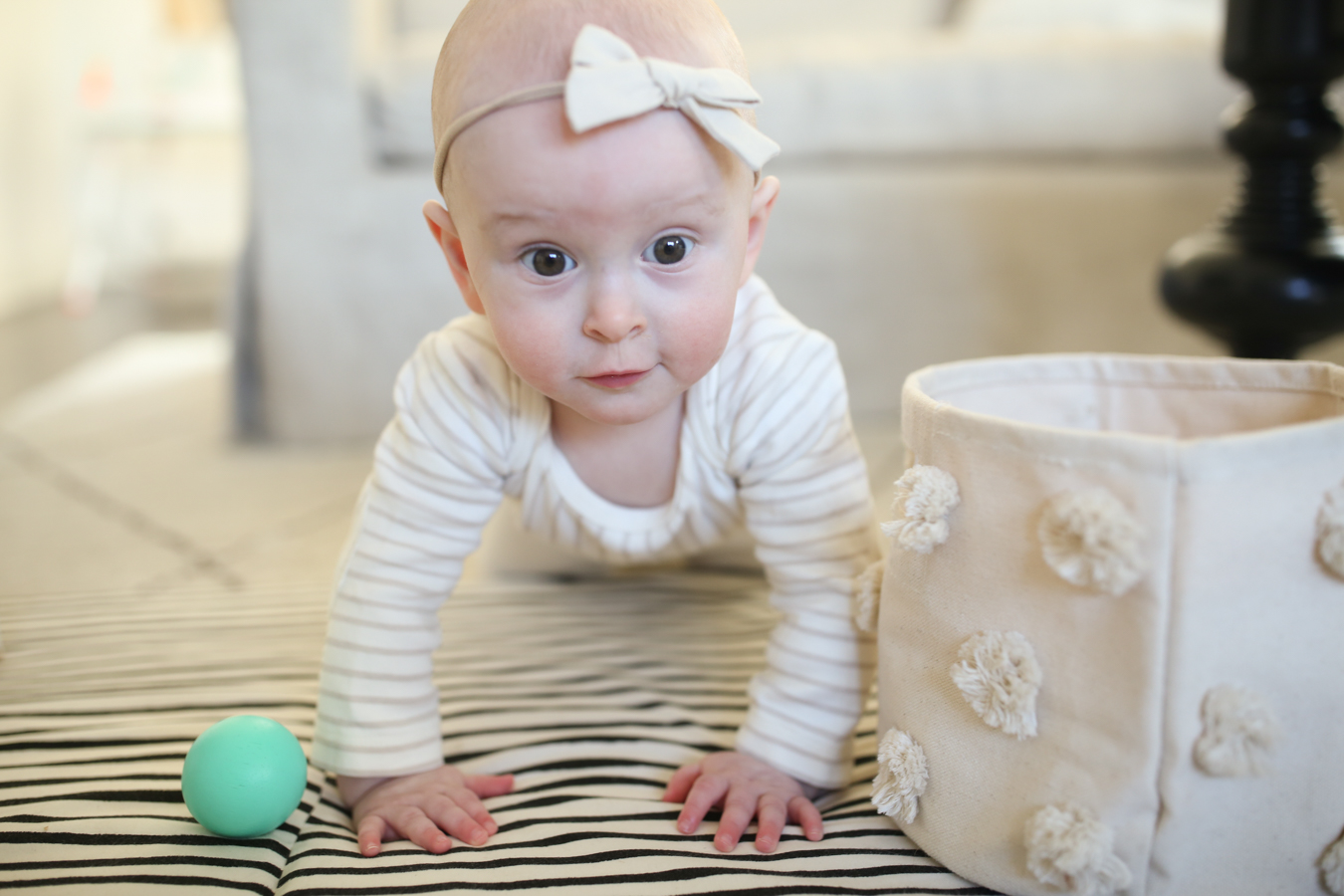 Play Gym:
We used this a lot the first few months and still use it to this day. Now that Margot is sitting up, she's really enjoying rediscovering this mat. There are so many shapes, colors, and textures for baby to grab, and it's one of the cuter baby toys we own, too. The best part is that it comes with a piece of fabric that turns it into a tent for toddlers, and I love anything that's meant to last longer than a few months! This was a registry gift and one that I've since gifted to friends! *shower gift
Play Mat:
It was a bit of a splurge but I'm so happy with this mat. It's small, so she crawls off pretty quickly, but it's great for sitting and playing, and would be so nice before baby is moving and learning to sit up. *I bought this
Pom Bins:
I love these bins! We keep a few in the living room (toy storage) and in Margot's closet (for accessories, blankets, etc). The minis are great for sets (like blocks) and the pints are perfect for an assortment of larger toys. *gifted but I purchased a few, too
Bouncy Seat:
I'm going to go ahead and call this the only baby seat you need. We tried 3 seats and this has always been Margot's favorite. And the best part is that it lasts longer than most. The Baby Bjorn toy bar is a must, too. I love this so much that I just bought it for a friend. *gifted
Activity Mat:
We used this a lot the first few months but retired it when Margot was 6 months old. It's a must-have and something I've bought for a few friends since having Margot. Great for on-the-go, in the car, and playtime at home, too. This mat has a ribbon that allows it to be placed on a vehicle car seat facing baby, and the magnet allows for it to wrap around a stroller bar, too. *I bought this
Take Along Tunes:
This little guy has been a life saver. Margot doesn't love getting strapped into her car seat and this saves us every single time. Keeps her nice and distracted when we're in the car! *I bought this
Fawn Teether:
We have this and Sophie the Giraffe, and Margot loves both. She thinks the squeaker is hilarious and has loved chewing on it ever since she started teething. *shower gift
Silicone Teether:
Easy to grab and chew – this teether great for tiny hands. *shower gift
Soft Rattle:
These rattles are so soft and huggable, and perfect for tiny hands as they're learning to grasp new toys. And they're the perfect size for your diaper bag. *gifted
Monthly Play Kits:
We started using these play kits at around 3 months. The Montessori style toys are adorable and educational, too. Lovevery sent me the first 2-3, and I loved them so much that I signed up for the last few kits. We're loving them! *gifted and purchased
Musical Elephant:
Conor's aunt got this for Margot and she loves it so, so much. It might be her favorite thing right now. She smiles, laughs, and will crawl over to it without fail any time it starts playing. *shower gift
Crawling Bee Toy:
Everyone (Margot and our friend's one and three year olds) love this toy! It has a few settings – one for sitting babies (spins in a circle) and one that zips around the room to motivate crawlers to chase it. Such a cute, engaging little guy. *I bought this
Caterpillar Bead Toy:
Margot LOVES this thing. She's probably a little young for it and just tosses the caterpillar pieces all over the room, but the wooden beads keep her occupied for a while. *I bought this
Wooden Bead Maze:
This doesn't stick perfectly to every surface but it will keep Margot entertained for a very, very long time. She loves anything with wooden beads! *I bought this
Stacking Toy:
Margot can't stack these yet but she loves playing with them, and I love toys that will grow with her. My friend's 1 and 3-year-olds love these! *I bought this
Wooden Blocks:
I bought these shortly after finding out I was pregnant because they're just so pretty and Margot isn't stacking yet but loves knocking them over and chewing on them. *I bought these
Activity Center:
I swore I wasn't going to get anything that put Margot in a position she couldn't be on her own (sitting or standing) but we let her try our friend's activity center and she LOVED it. I try not to have her in here for more than 20 minutes a day. This one was designed by an OT and her feet are planted firmly on the base which makes me feel a little better about it. *I bought this
Stroller Cards:
We're just getting into these and in all honesty, Margot won't play with them for that long, but she will sit down and read them, and I'm all for anything that will teach her new words, colors, and letters. I bought two sets – one in English and one in Spanish! *I bought these
Clutching Toy:
This toy can be grasped, manipulated, and rattled to encourage hand-eye coordination. Plan Toys are eco-friendly and made from sustainable materials. *I bought this
Blabla Dolls:
I've always loved this wonderfully strange dolls and have given them as gifts for as long as I can remember. Margot loves them too! They're so soft, squishy, and huggable. *gifted and purchased (we have a few)
Stella Doll:
The perfect first doll for baby. It's so sweet, soft, and huggable. *I bought this
Jellycat Stuffed Animals:
Jellycat stuffed animals are so soft and so sweet. Margot loves snuggling them and they look adorable sitting on a shelf, too. *I bought this
Squirtie Bath Toys:
Margot loves grabbing and chewing on these toys, and I think she'll have fun with them as she grows up. I was concerned about mold since they do have a hole where water can get in, so we cut one open and it was mold free. I plan on doing that again in another month or two just to be safe! *I bought these
Suction Bath Toys:
She doesn't know how to stack them just yet but Margot is obsessed with these things. *I bought these