The Single and Double Strollers I Tried and Loved (and The Ones I Didn't)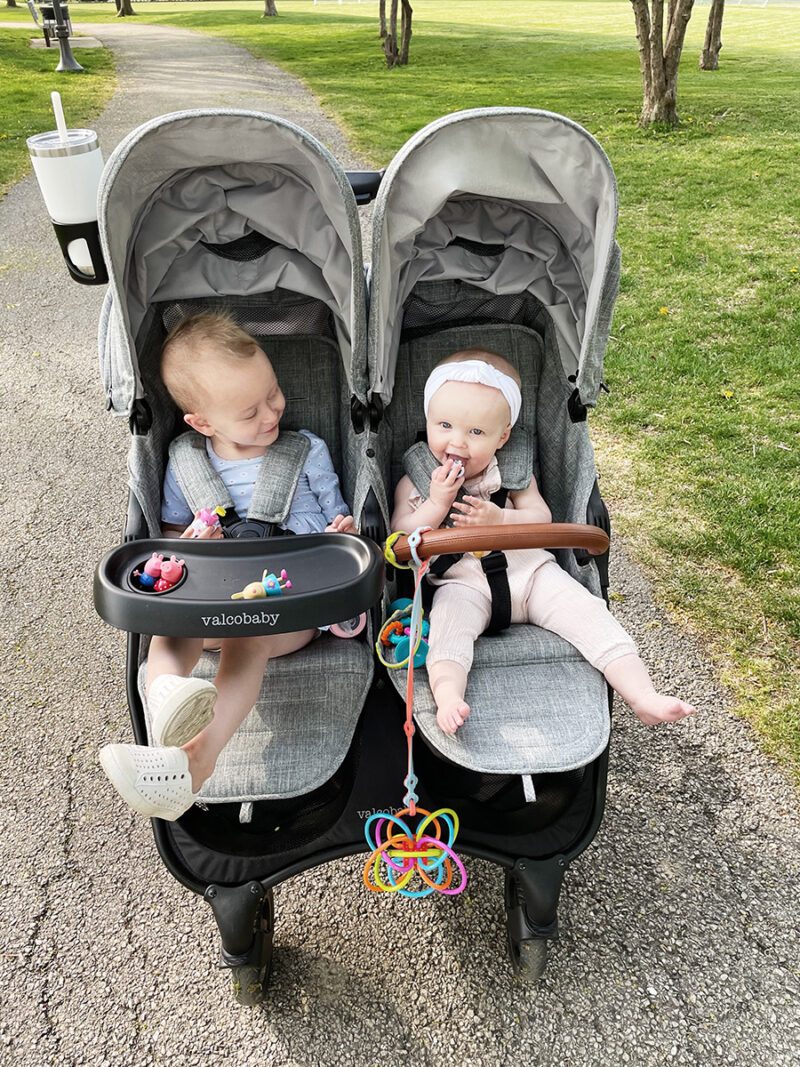 A stroller is a huge investment, and unfortunately, the one you love for one child might not be your favorite for two (in fact, it won't). If you're like me, you might find yourself trying half-a-dozen strollers before figuring out which one(s) are the best. That number might seem excessive but I'm calling it research. 😉 I'm here to share my experience with the hope that I might be able to help some of you avoid making the right purchases for your family.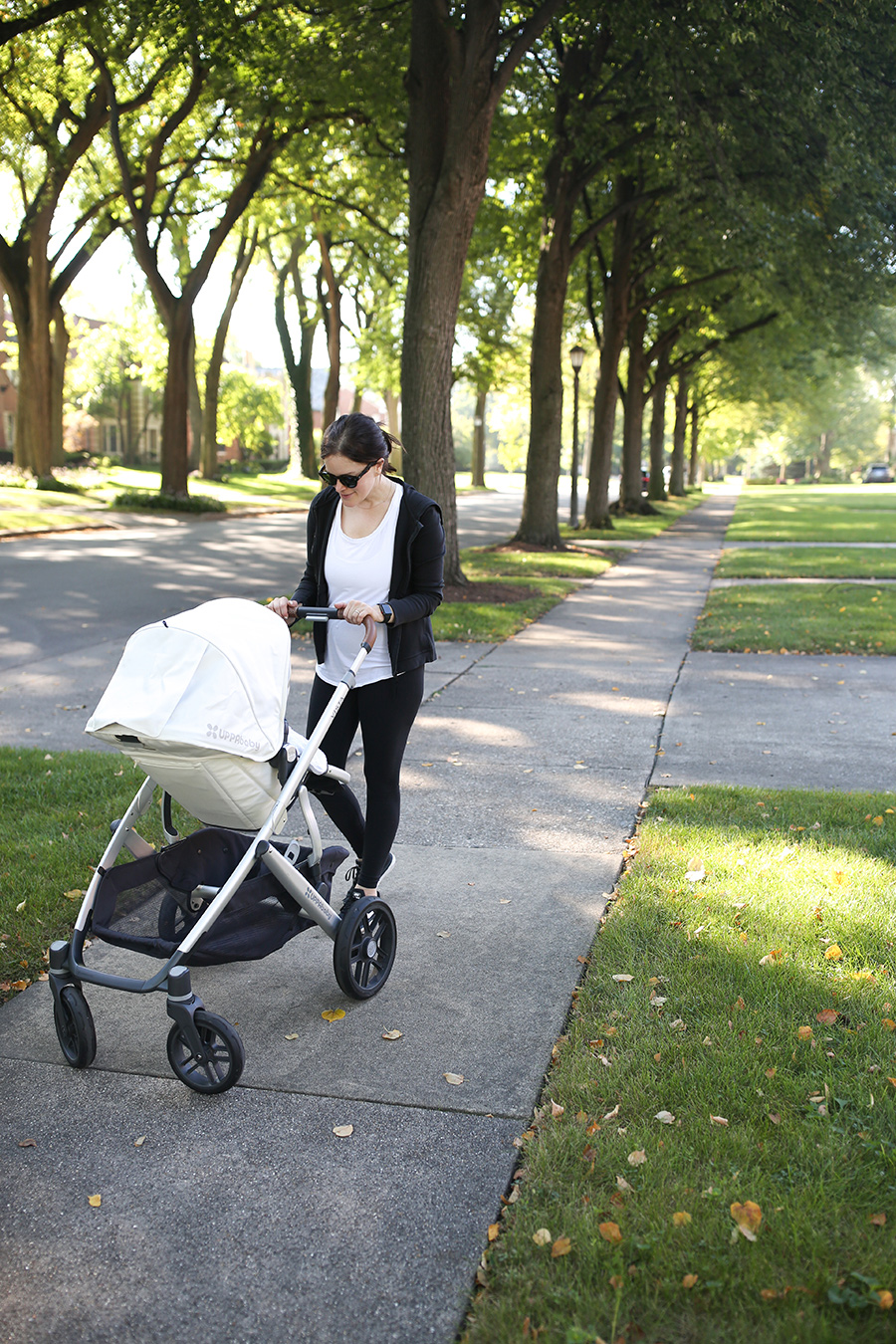 I love the Uppababy Vista as a single stroller and got it because it converts from a single to a double, but it's not my favorite double stroller. The new Cruz baskets look larger than they used to, so if you're looking for a larger single stroller for a single child, I'd consider the Cruz.
I do like that the VISTA is more narrow than most doubles, but it's a lot harder to push with two – something I've heard from quite a few moms. Most toddlers I know are 5-8lbs heavier than Margot and I can barely push the stroller with her in the front (bottom) seat. It's heavy! Her legs also almost hit the ground if the seat is facing out, so it has to face in, rendering half the basket useless. Taking it apart with two seats is a pain and they have to be removed to fold the stroller. We still use it as a single (and again, I do love it as a single), and have the piggyback for Margot.
I chose the Vista because it converts to a double and had a larger basket but since I wouldn't recommend it as a double and the Cruz now has a larger basket than it used to, I'd save a little money and get the Cruz.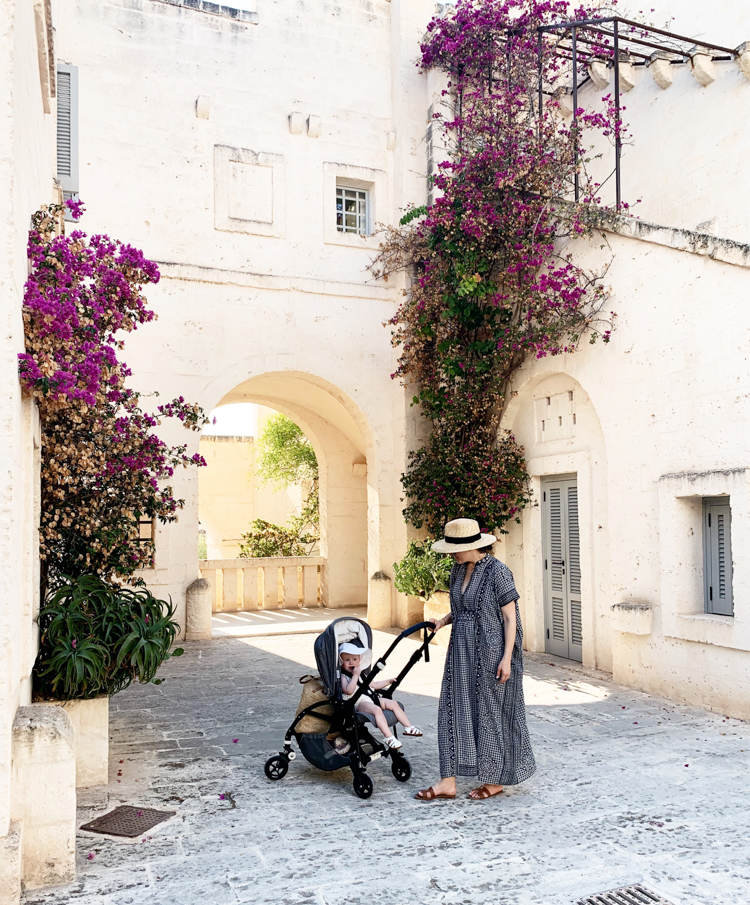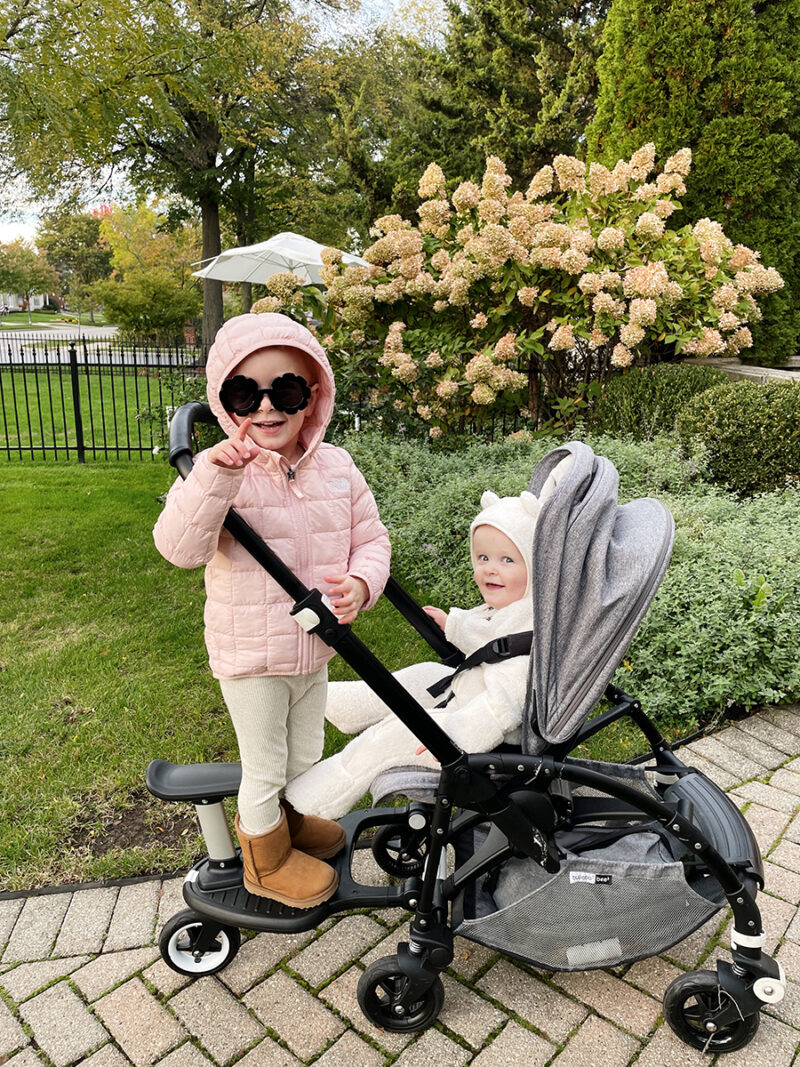 I can't say enough good things about the Bugaboo Bee. It's not technically a travel stroller, but it's so light and easy to travel with, and great for day-to-day, too. It's small so it's perfect to leave in the trunk when you're running around since it takes up very little space. The basket isn't nearly as large as the VISTA, but it's a good size. It's light, the canopy offers full coverage, it reclines flat, it's so easy to maneuver, the seat can face forward or back, and Bugaboo makes a few car seat attachments and this nifty little attachment so the stroller can stand up vertically when folded. There's even a bassinet and this seat for older toddlers, too. If you want to be a one single stroller family, this is the one. It's pricey but worth every penny. I would choose it again and again.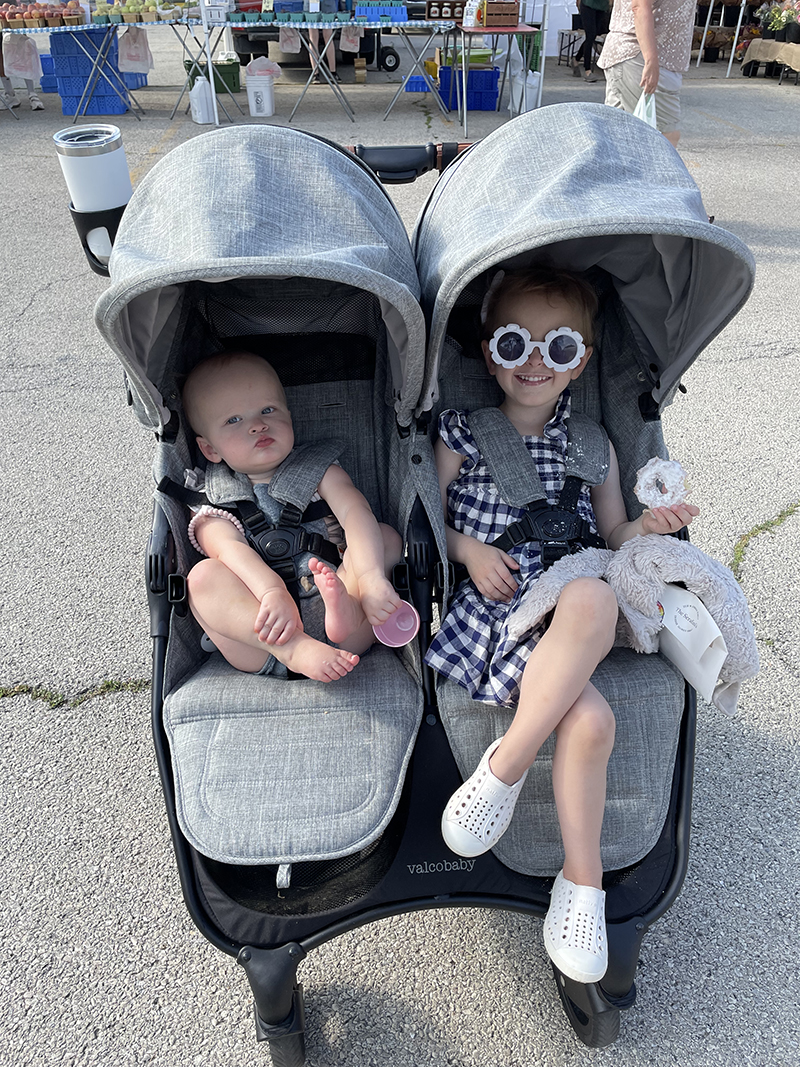 If you have two little ones, the Valco Snap Duo Trend is the double stroller. It's great for day-to-day and works for travel, too. One of my good friends brought it to Disney World and I bought it based on her recommendation. It even has a strap so you can carry it over your shoulder. This stroller is easy to maneuver, opens and closes with one hand, the seats recline fully, canopies extend for full coverage, and the pockets in the backs of the seat hold a good amount of stuff. I'd say the only "negatives" (if you can even call it that) is that the basket isn't the easiest to put a huge bag in, and your kids can't face you, so if those are deal-breakers, it's not for you. This cup holder works great and we have this tray, too. You can't fully fold the stroller with the tray so when we use those (which isn't often – just for long walks), I just throw them in the basket below before closing.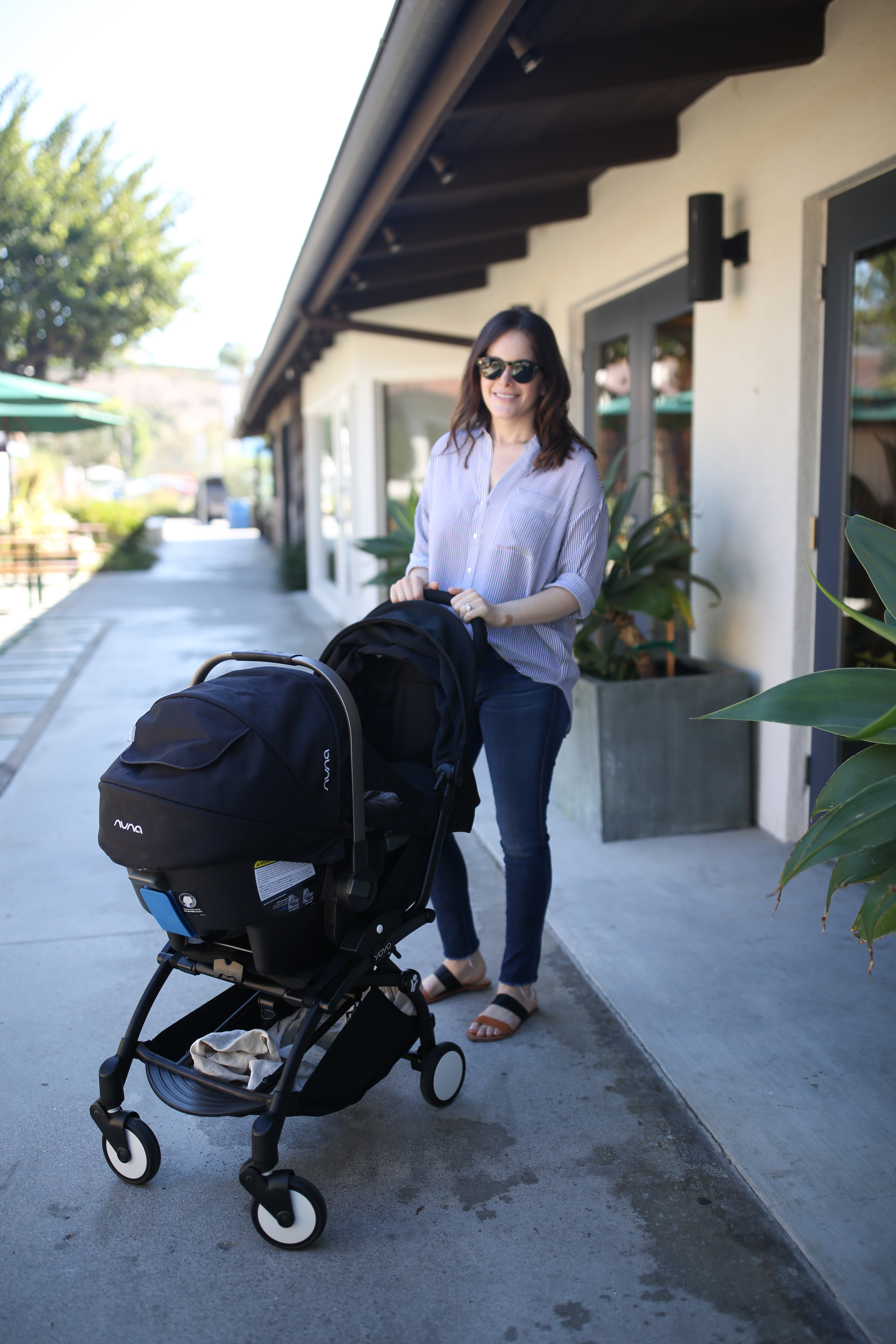 Unpopular opinion here, but I hated the Babyzen Yoyo. I bought it at Nordstrom and am so grateful for their return policy, because we brought it to LA and returned it right when we got home. The basket is so tiny but more important – it felt flimsy. We were walking up a not-too-steep driveway and it almost fell over. I know people love it and but I did not I'd recommend investing in the Bee and using that as an everyday/city/travel stroller.
I tried the Bugaboo Donkey and it was beautiful and easy to push, but felt too big. It took up the entire sidewalk and folding was a pain. I needed something simple and wanted a stroller we could eventually travel with.
Two of my mom friends who always have the best recommendations both raved about this stroller, so I bought it. It's light, easy to push, the canopies offer full coverage, seats recline flat, and you can fold it with one hand. No removing seats, either – it's one piece, folds in half, and is ideal for travel. We took it on a road trip but one of my friends brought it to Disney World and said it was the perfect double stroller for travel.
I also tried MIXX and didn't really care for it. It was fine, but the canopy opened any time I hit a crack in the sidewalk, so I wouldn't recommend it.
If you're planning on owning one single and double stroller, I'd buy the Bee and Valco.
If you want a large day-to-day stroller and a smaller city/stravel stroller, go with the CRUZ or VISTA and the Bee. Just keep in mind that you'll want an easy-to-use double, like the Valco once you have a second.
I hope this helps one of you avoid owning six strollers over a three year period. 😬