My Attempt at a Spring and Summer Toddler Capsule Wardrobe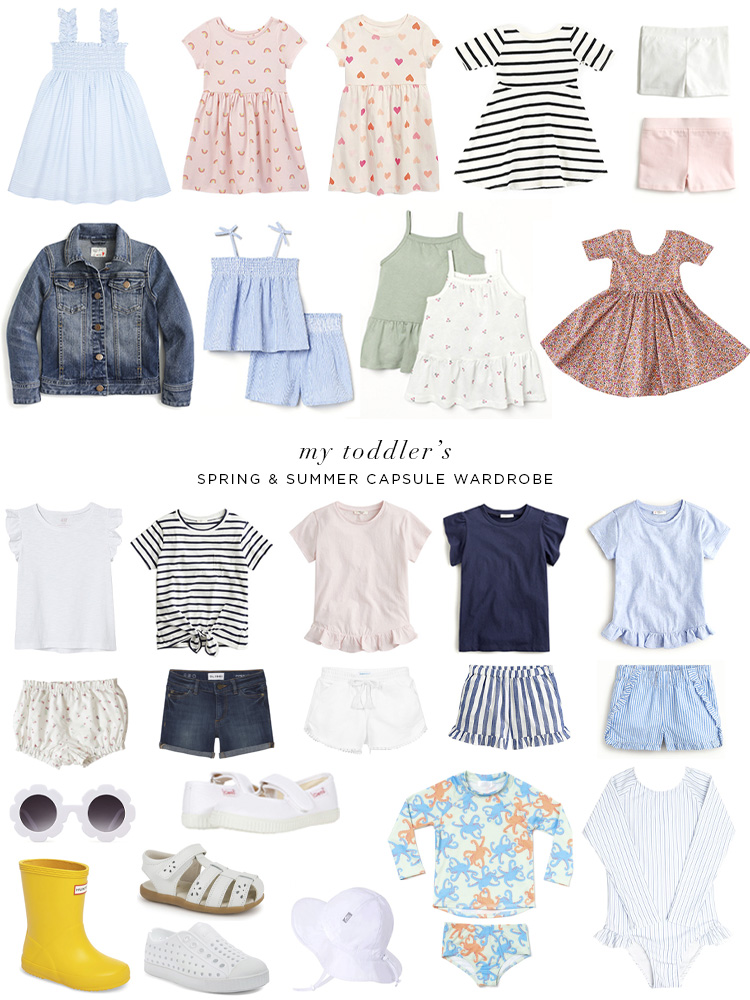 This is Margot's first summer in a 3T, so we're basically starting from scratch with her summer wardrobe. In the past, I've just purchased things that were cute but had zero plan for when or how these pieces would be worn. There were too many outfits she only wore once and pieces that didn't work together. This year, I chose basics that would work well together for everyday play.
Margot loves dresses, so I bought a bunch of easy, cotton play dresses (most are $8 but I did buy a few from some sustainable women-owned businesses) that she will wear with tumble shorts. Since she'll be doing a lot of running and climbing, I also bought a few solid ruffle tees that she can pair with shorts. It's mostly mix and match (white, denim, chambray), and her blue and white striped shorts work well with white, navy, and light blue tees. There's a lot of J. Crew and it's all on sale right now.
Here's what's in her closet
7 short sleeve cotton play dresses
2 long sleeve cotton play dresses (for cool spring days)
5 tumble shorts (for under dresses)
7 shorts
7 tees
4-5 sweatshirts (from late winter/early spring)
cardigan and 2 sweaters from jamie kay
3 patterned leggings (dots, gingham, and rainbow hearts)
3-5 solid leggings (cream, black, grey)
sneakers
waterproof shoes
sandals (that cover toes – better for running/playing)
UPF hats
sunglasses, since she asks for her "sunnies" every time we leave the house
stretch denim jacket
rain jacket and boots (big peppa fan)
a ridiculous amount of PJs
efore purchasing new outfits for summer, I pulled out Margot's 2T clothes from last summer and most of them fit. Fortunately, J. Crew made the same shorts again this year, and the others were Zara so I found similar ones for you.