Get The Look: A Modern, Traditional (and Neutral) Living Room
After quite a few requests for more furniture and interior posts (and some budget-friendly finds) I thought it might be fun to design a living room. And it was, but it might make more sense to round up specific items like consoles, sofas, etc. What would you prefer?
Shop The Look: A Modern, Traditional (and Neutral) Living Room
Let's talk about the design, putting things together, and trends.
When I ask my 3 year old why she likes something she says "I just do." Like Margot, I am admittedly not great at explaining why I like something, but I'm going to do my best. When choosing furniture, I prefer neutral, timeless pieces that I won't grow tired of. Traditional pieces with clean lines, and preferably in a neutral palette to make it easy to add in color, texture, and pattern with accents. I brought in green velvet pillows for fall and winter, but will go back to blue for spring and summer. My striped sofa adds pattern but not too much (you can see it here) and we ordered new (white) chairs that should arrive in Feb or March. If you're about to redecorate, find some rooms that you like and use them as inspiration.
If you're choosing skirted chairs, consider a sofa with wood legs. And if your sofa has a slope arm, try a straight arm chair.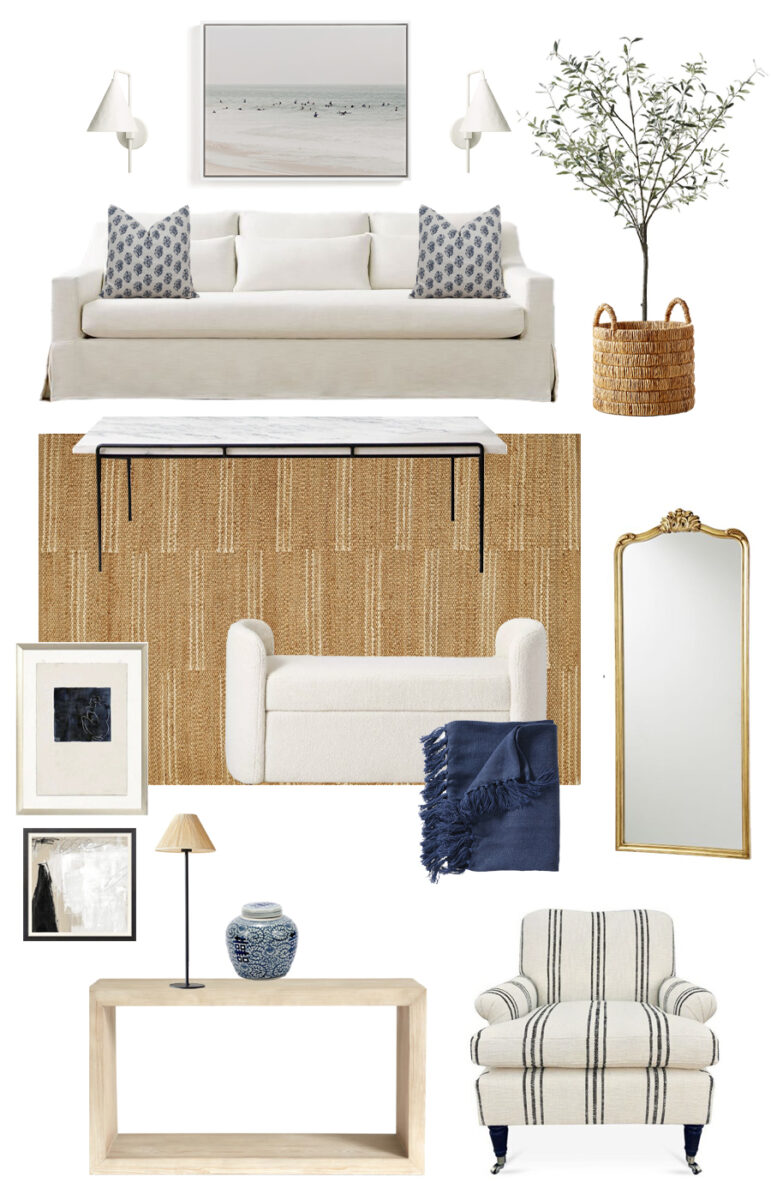 On White Upholstery
In the past, I've gotten some grief for choosing white furniture but our dark ottoman shows everything, and I'd rather see a stain and clean it. There's something about a white chair or sofa that feels so crisp to me, and again, I'll never tire of it. Perennial fabric is pretty stain resistant, and I usually have our upholstery cleaned once each season.
Coffee table vs. ottoman
The coffee table included here is original to Anecdote and was designed after a vintage table that Conor found years ago. We switched it out for an ottoman until the girls are a bit older (felt safer) but I can't wait to bring it back. While kids are little, I prefer an ottoman, but in life, prefer having a coffee table. I'm really loving block prints and would be so bold as to choose a block print chair, but a block print pillow feels a little safer.
Where to place a TV
I know people are putting TVs over fireplaces but it's a trend I can't get on board with. I get it, but did not personally want the TV to be the main focal point of our living room. This is the only sitting room in our home, so the TV is actually across from the fireplace above our console (we have the same console) It's different but works for us, and adding a console below distracts from the TV. I love this console, too.
Rugs
My home is full of vintage and jute rugs. Vintage rugs can be pricey, but they are beautiful and hold up so well. Linda's Barn is one of my favorite shops for vintage rugs, and you can find a lot by looking on etsy. These are a great way to add a little color, pattern, and texture. Jute rugs are not ideal for crawling babies and they will shed on your clothes, but I love the look, they're priced well, and they tend to do pretty well in high-traffic areas.
Neutral pieces will allow you to change your rugs, pillows for a seasonal refresh.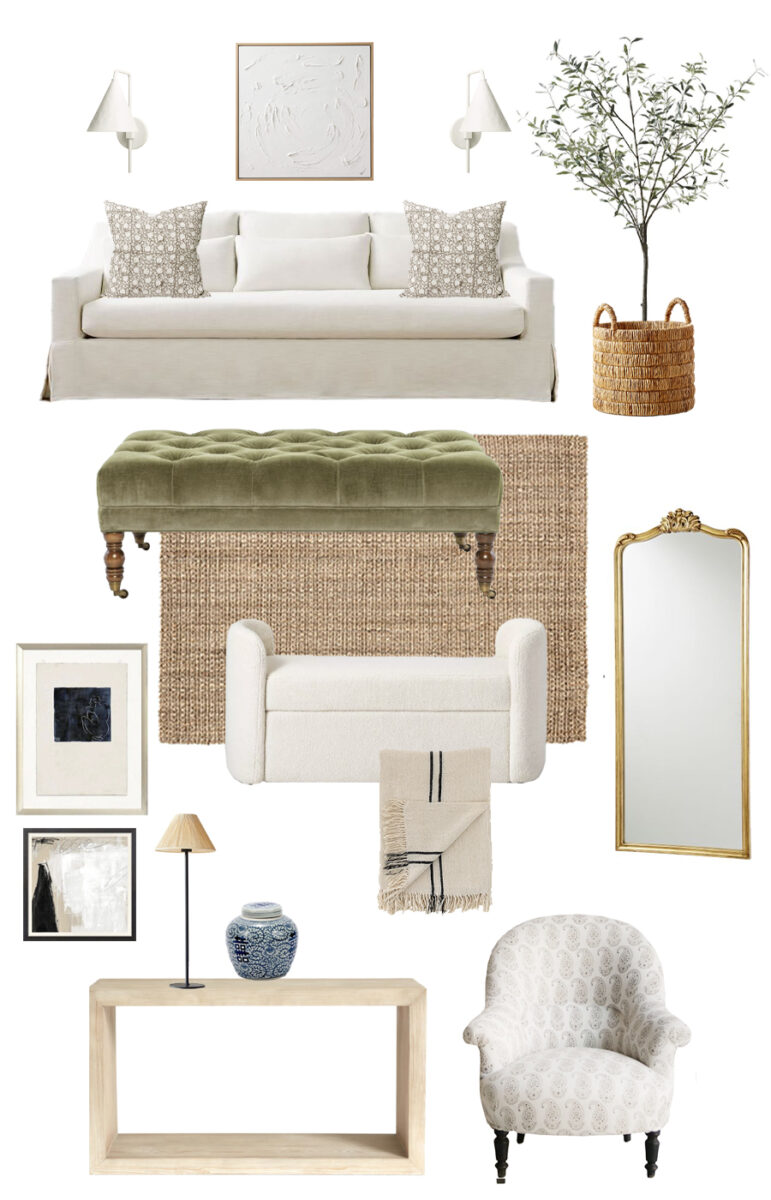 Get the look
In an effort to share a variety of pieces at different price points, I put together something similar (but different-ish? to my current living room) and came up with this.
If you buy something through using my links, I may earn an affiliate commission (at no cost to you). I personally curate everything you see on my blog and only recommend products I love.
Shop the post