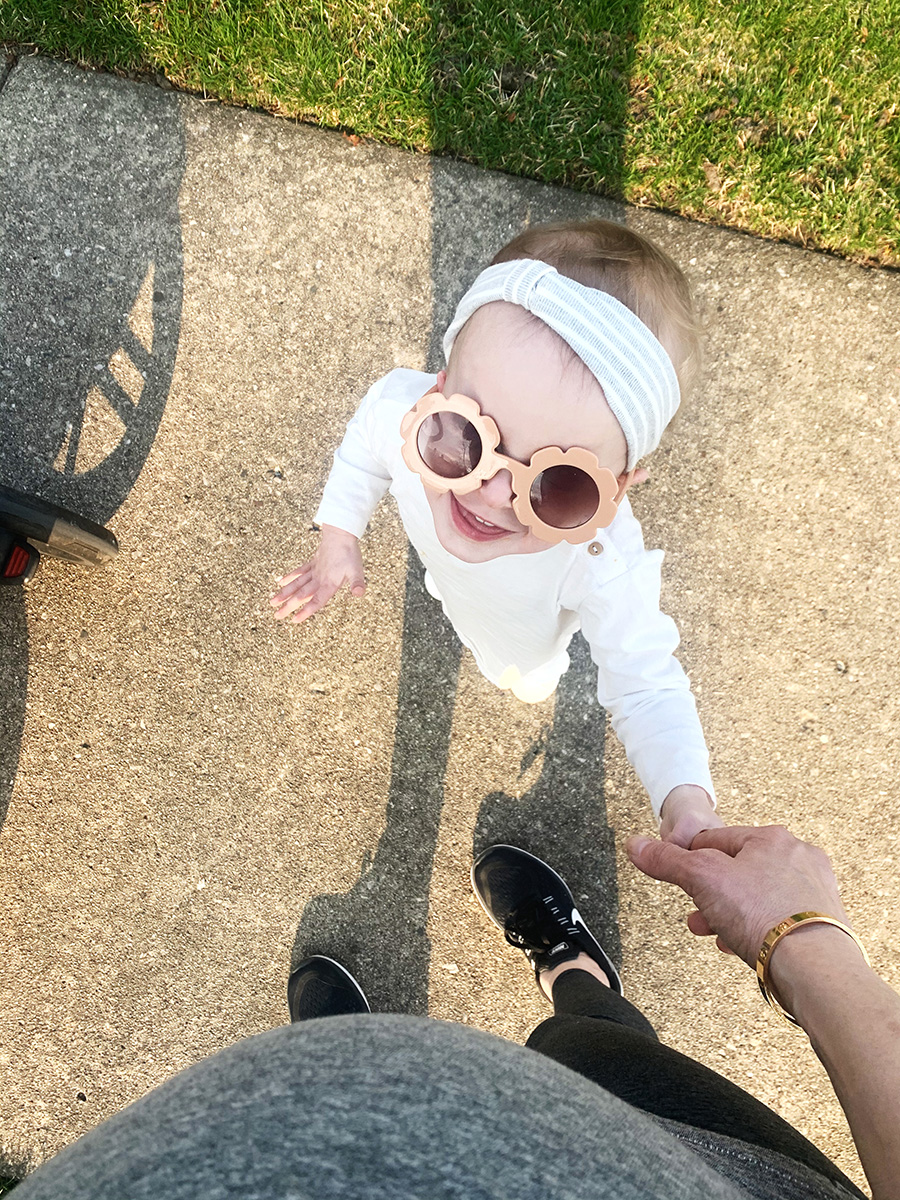 I hit 28 weeks (the start of the third trimester!) on Saturday. I can't believe how close we are to meeting our second baby girl. This pregnancy feels like it's flying by and the whole working from home while watching a toddler and never leaving the house thing seems to be making it go by even faster.  I've done a terrible job at documenting anything relating to this pregnancy but want to do what I can to help other moms – especially first time moms to be because what a time to be expecting.
How are you doing? What does it feel like to be pregnant right now?
How are you all doing? It's such a crazy and uncertain time for all of us. I really feel for everyone who is pregnant with their first or home with a newborn during this pandemic. I am mostly ok but it's up and down. Sometimes my anxiety gets the best of me. I actually reached out to my therapist who I haven't seen since our move and we're going to FaceTime tomorrow and probably weekly until things change. I love her but stopped seeing her when we left the city since it would have taken 45 min to get to her office (each way) plus $30 parking. It was just too much. If you're struggling, please consider talking to someone. Therapists are offering ways to chat virtually.
When things feel like they're out of my control, I clean and organize. It's how I take control. The thing is, we've been working from home without childcare for a month, so there's very little time to organize, and then everything feels a bit chaotic.
I am so grateful that we can be at home and isolate, but it's felt like a lot to know a baby is coming during such an uncertain time. We are hopeful things will be better come early July, but no one knows. I am assuming we won't be able to have visitors at the hospital and I am mentally gearing up not to have anyone come to the house in the beginning. If it looks different, I'll be thrilled, but keeping my expectations low. Losing all sense of normalcy isn't easy for anyone, and the hormones are just a lot right now.
What's the biggest challenge you've faced being pregnant with a toddler?
This has been a pretty easy pregnancy so it hasn't been that hard. We haven't had childcare for a month and aren't able to leave the house, so considering all of that, we're getting by. It's not always the easiest to run after her (especially during Braxton Hicks – having a decent amount of those), I have to pee pretty frequently, and between the weight I've gained and Margot (she's 22 lbs) it feels like a lot to carry her up the stairs. None of it is bad though, so I wouldn't say there's been a "big" challenge.
Any pregnancy pet peeves?
Having to pee 5x every night isn't my favorite but it is what it is. Other than that, unsolicited advice and opinions, or any negativity about motherhood. That unfortunately continues after the baby arrives, and I still don't really know how to handle it half the time. This is my body and my (ok "our") baby. It is my job and right to do whatever I need to do to make sure I feel safe and to keep my baby safe. I am all for a friend sharing what worked for them (especially when asked) but being told what you're doing is wrong is just not ok. I got a message from someone telling me not to go to the hospital last week. My baby hadn't moved all night moved 3/10 times in two hours, and I had already followed my doctor's orders and checked into triage at that point. There are few things worse than someone questioning the choices that you make for your baby.
Will Margot come to the hospital?
If she's allowed to visit, Conor will pick her up and bring her to the hospital. The only thing I know is that we are planning on it being just the four of us when the girls meet. This came recommended by a friend and the thought of it just being our little family sounds so sweet. It is the moment I've been most excited about throughout my pregnancy, and I am so excited about it, however and wherever it happens. Fully expecting not to have any visitors at the hospital and potentially not at the house for a while. No expectations.
What are you buying for baby #2?
We're setting up another nursery (I shared some inspiration here), so we purchased a crib and dresser, and still need to order a glider and rug. Having two nurseries made no sense at first, but the thought of working around different nap schedules and middle of the night wake-ups sounds awful. If Margot was a great sleeper, maybe I'd feel differently, but she's struggled a lot, and I have no idea what to expect with this baby. I'm all for the girls sharing a room when they're older!
I'll share everything I'm purchasing for our second in the coming months. Trying not to place too many orders while we are under shelter in place.
What new baby items are you trying that you didn't with Margot?
I ordered a different changing pad for the baby's room – something prettier and (physically) softer. I also ordered a baby rocker that I loved but never bought for Margot. I'm also getting a new non-toxic infant car seat.
What are you using again? What are you replacing?
I'm using a lot of the same items and saved most of Margot's clothes. The girls will be exactly two years apart so passing down clothes will be really easy. I did buy a few (I think 4?) new outfits because baby clothes are so tiny and cute. I'll replace bibs, burp clothes, pacifiers, and washcloths. All of Margot's infant toys are in a box and will be reused, so I doubt I'll buy any baby toys unless something groundbreaking launches in the next few months.
We made the decision not to use the SNOO again. I would have used it for the first month or so but Conor hasn't really had too many opinions about baby items didn't want to use it after how hard things were with Margot. So…we need a new bassinet but I haven't found one I love (that isn't too pricey).
How are you preparing (or planning to prepare) Margot for the new baby?
Right now, not much is different except for my bump. The baby's dresser comes next week and we're going to build her crib, so I'll be able to wash and put baby clothes away, and we can go through them together. Margot has a baby doll and is so sweet to her. We have a baby seat out and talk about how that's where we'll put the baby. She's also been watching episodes of Daniel Tiger when he gets a new baby sister, and has a big sister book. I'm sure it will feel more real as we really start to set things but, I truly have no idea what I'm doing.
Did you feel more uncomfortable earlier on with baby #2?
How have your pregnancies been different?
My pregnancy with Margot wasn't bad or complicated by any means, but this one feels a lot easier. My heartburn was awful was exhausted for months (18-20 weeks) last time. This pregnancy, I've had zero heartburn and napped a few times on weekends the first (maybe) two months. I think I mostly feel the same at this point minus the heartburn, but it's definitely harder to lift and chase a toddler.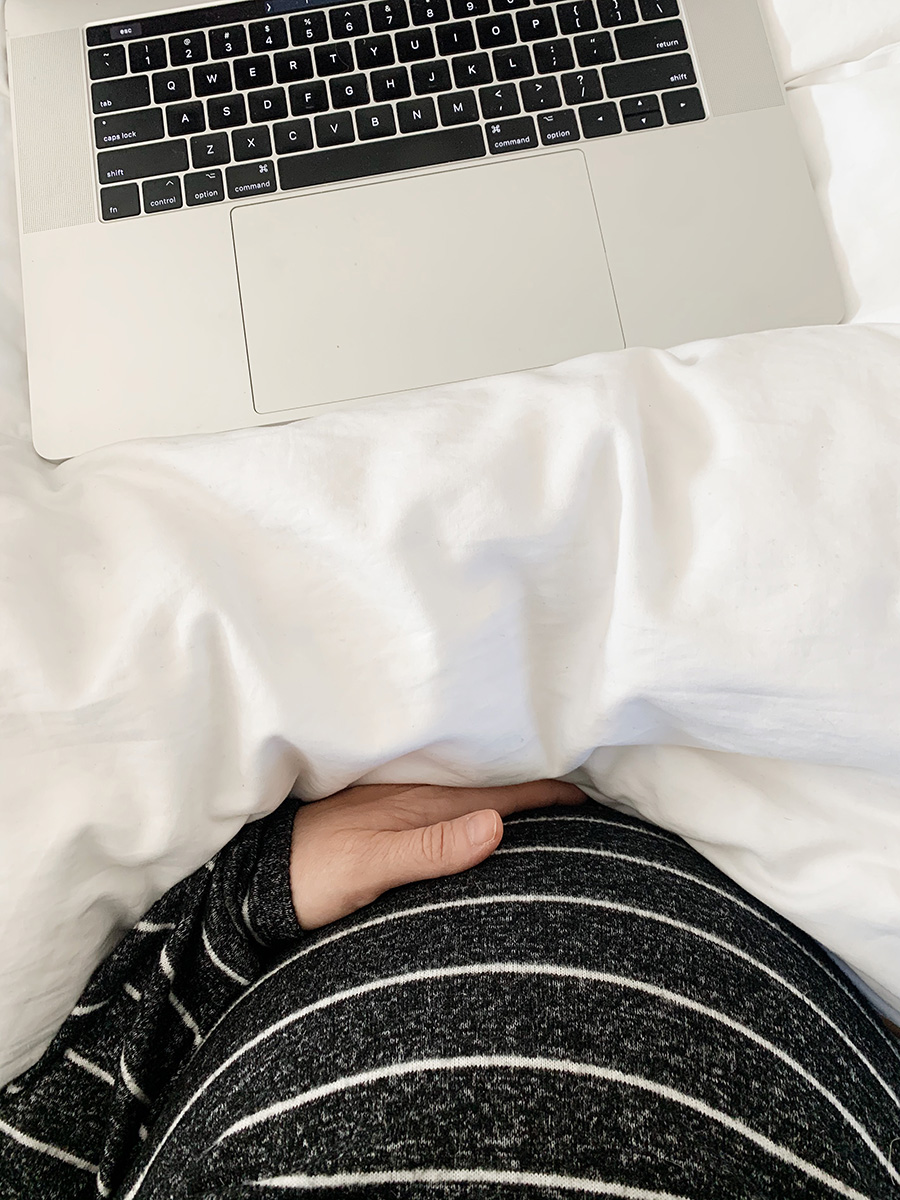 Did you start showing earlier the second time?
I definitely showed earlier and feel bigger this time.
How often did you feel movement during the second trimester?
I started feeling it daily in the last few weeks and am 28 weeks today, but I'm really not sure. I haven't written anything down this time around.
Nursery updates!
The crib is leaning against a wall in pieces and dresser arrives tomorrow. Updates coming soon!
What maternity bras do you recommend for this trimester?
Ugh. Bras are the worst and I honestly don't love anything right now. This is my favorite bra to wear around the house but my chest is so big right now and it doesn't fit the way it used to. It's not fun.
Favorite maternity clothes?
Maternity clothes are a struggle but I haven't really needed to get dressed up the last few weeks, so there's that. I have a few things I've been wearing on repeat. Spending money on clothes I'll only wear a few months didn't make much sense so keeping it pretty simple. The foldover sweats aren't maternity but work so well!
I've been living in these maternity leggings. I bought them in black and grey and wear them over and over (and over). These sweats aren't maternity but are so comfortable and stretchy. Highly recommend them. These jeans are comfortable and cute but I haven't been leaving the house so…
I have these tanks in black and white and sleep in them most nights. They're not that long and definitely won't completely cover my stomach the last month or so. I've been wearing these pajamas a lot, too. So so cozy.
What have you been eating? What are you avoiding?
I've been having eggs with sweet potato most mornings, a smoothie or salad for lunch, and since we've had to stock up on groceries, I've been having a lot of Banza (chickpea) pasta and Cappellos pizza (maybe 1-2x a week) because they're easy and we are constantly scrambling. With Margot, I craved açaí bowls and veggie rolls. With this baby, it's been grapes and Asian salad. The last few weeks, I've been very into kettle chips which feels a little random. We're making a lot of greek salad with quinoa, too. I'm avoiding the basics – undercooked eggs and meat.
Best stretch mark cream that won't break the bank.
Yes! I used this religiously and did not get one stretch mark, and I am prone to them.
Have you had checkups alone due to Covid? How are you coping?
Yes. I've had to go to both my OB and the hospital alone. Going alone bothered me a lot less than having to go out. I would have pushed my appointment back but it was for my gestational diabetes test and took place at 24 weeks, so about a month ago. The doctor said I could come between 24 and 28 weeks but I knew things would get a lot worse in the coming month, so I elected to keep my appointment. We now have thousands and thousands of new cases of COVID, so I'm glad I went when I did. Last week, baby girl wasn't moving much. I called the doctor and was told count kicks while laying on my side for two hours. She only moved 3/10 times so I spent a few hours in triage. I was a little nervous but Northwestern did the best job making the hospital safe. I honestly didn't feel worried being there, but was anxious on the way. If something was wrong, having to be there alone would have been scary. Fortunately, everything was ok!
How are you dealing with exposure of going into an office for prenatal appointments?
Going anywhere feels uncomfortable. I have only been to the doctor and hospital over the last month. I wearing a mask and gloves, change my clothes, and shower when I get home. There's not much I can do.
Do you have any baby related book recs?
I've read Bringing up Bebe and really liked it, but that's it.
Can you share some baby names you considered?
I always loved Charlotte and Emma but both became so popular. I love Amelia and Emilia but have close friends with both names, so that was out. Elle was probably my favorite for Margot but I didn't like how it sounded with Danielle. I should probably just reinvent myself as Elle now.