Reusable Snack Bags and Lunch Containers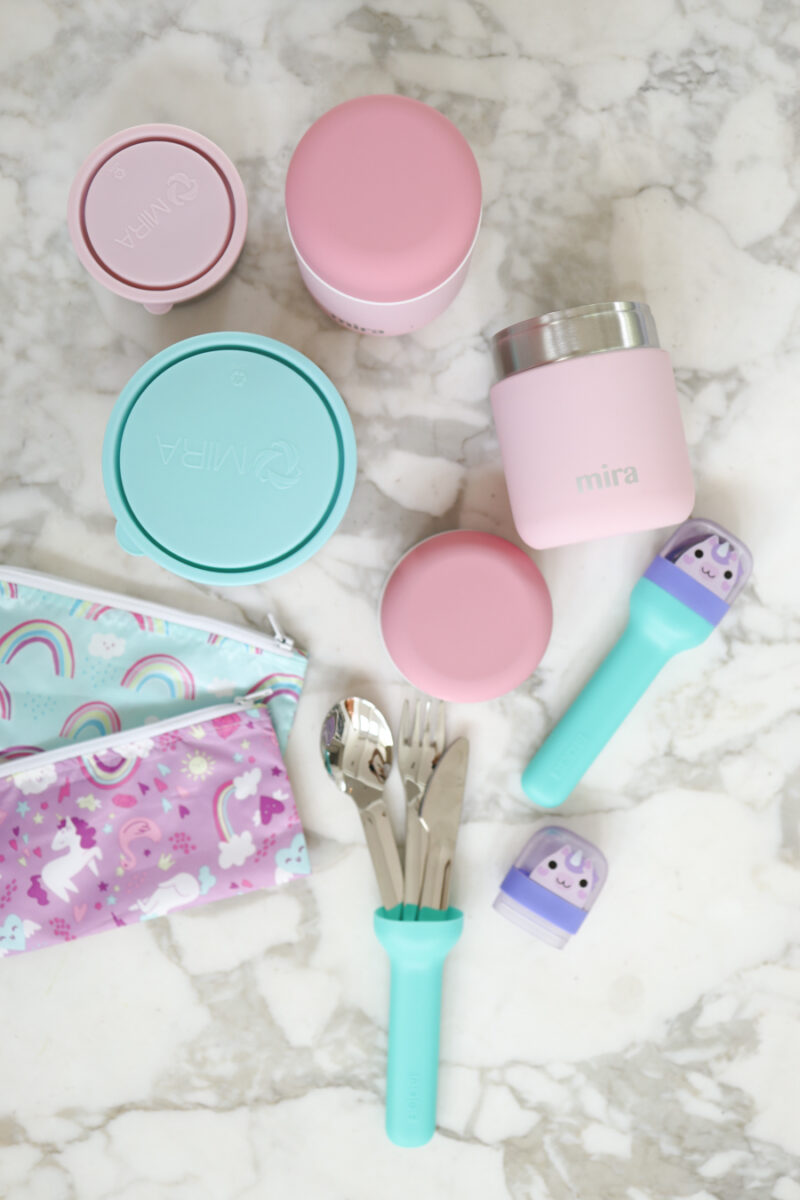 Both of my kids started preschool and will be having lunch at school this year! We're also taking our first long-haul flight with two kids which is what really inspired this post. Since we fly out at 5PM and no one likes airplane food, I wanted to prepare dinner and bring snacks (and treats) on the plane. And it's always nice to have kid-friendly utensils when dining out. So I found myself looking for reusable lunch gear. I've been using reusable bags for years (Stasher bags are my favorite) but needed to get a few additional things for the trip. From reusable lunch bags to beeswax wrap, reusable straws, and reusable produce bags, I have been using sustainable bags and food storage containers for years. And today, I'm going to share of my favorite reusable snack bags and lunch containers.
Reusable Snack Bags and Lunch Containers
I share some of my favorite eco-friendly, sustainable products a few years ago. That post focused a bit more on the home, but this new chapter had me looking for new eco-friendly options for my kids lunches and travel, too. Single-use plastic bags are so wasteful. We have a few large freezer bags and have had the same box for well over a year. Plastic baggies just feel unnecessary to me since silicone bags and cloth bags are just that much better.
Insulated Food Jars
These insulated food jars are great for soups and other hot foods. They come in a few different sizes, and I'm planning to fill them with Annie's mac and cheese.
Utensil Set
Stainless Steel Containers
I'm using these to bring graham crackers and cut fruit on our flight. These are great for crackers or anything that might otherwise crumble in a bag, and I really like them for cut veggies, too.
Reusable Snack Bags
These little Bumkins bags are the best reusable snack bags, and are so much better than single-use bags, which should really be a thing of the past. Choose from lots of fun patterns (even Disney) and different colors that kids will love. They're a great option for dry snacks and really reduce plastic waste.
Reusable Sandwich Bags
Snack bags are great, but if you're looking for a larger bag, I really like these sandwich bags. The Bumkins bags work well but Stasher wins my vote for best reusable bag, and is definitely the best reusable silicone bag. Store sandwiches in these silicone bags that are durable and will last forever. Stasher bags are hands-down the best reusable sandwich bags. I like their reusable snack bags and use their larger bags to store leftovers, too. Stasher is great for wet foods, too.
Stainless Steel Water Bottles
Maybe it's just my kids, but ice not melting is a big deal in our house. They get it from me – I love my ice water and won't drink room temperature or warm water. The Yeti is the best and keeps ice from melting, even when it's hot.
Glitter Bento Box
I bought these years ago, and then they sold out. But they're pretty awesome and were a best-seller for me, and then PBK brought them back. Make lunch easy (and fun) with a sparkly bento box. They come in solid colors, too, and make lunch-planning easy and fun. You can use them for toys and sensory kits, too.
Snack Bag and Lunch Box
This is the cutest little snack box from State – their prints are so fun.
Little Lunch Notes
Ok, so this isn't an alternative to plastic sandwich bags, but how cute are these little notes for school lunches? A little hello, encouraging thought, or "I love you" or maybe just something you love about your child each day.
This post contains affiliate links. If you purchase something using my links, I may earn a commission at no cost to you.