What to Pack for a 24 Hour Getaway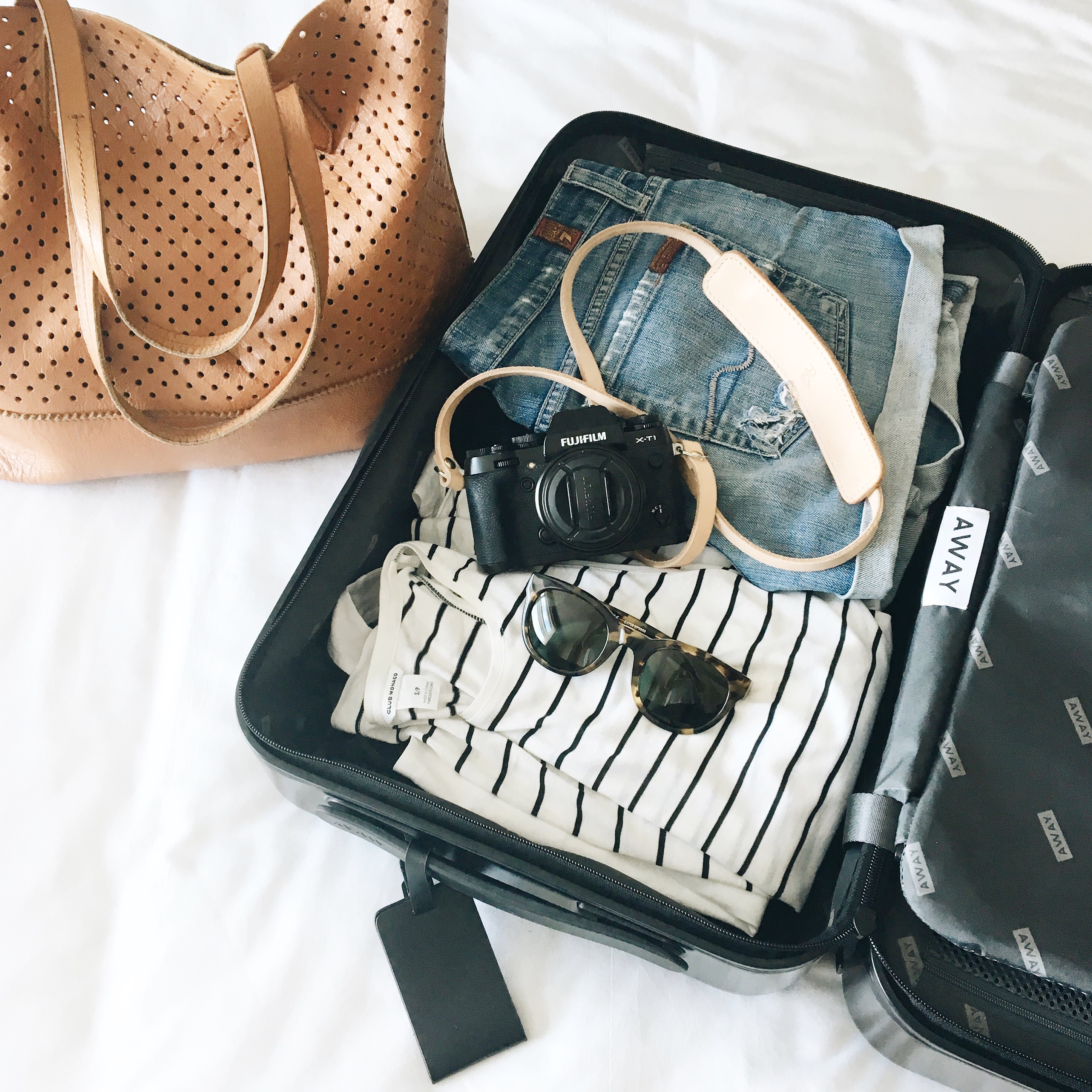 I've always been a notorious over-packer but after taking one long trip and six that were three days or less, I've learned a thing or two. And all those quick 1-2 day trips will force a girl to only pack the essentials. So I thought I'd share what I actually bring with me, which no longer includes two extra tops "just in case" and an extra dress because maybe I won't want to wear pants when spending 24-48 hours away from home.
A spinner
My old carry-on could only be pulled on two wheels and was as large as a carry-on could be without being too big to fit on a plane, so after looking for a spinner that didn't cost a fortune, I decided to go with the Away carry-on which came recommended by my good friend Jess Lively. It's light, sleek, has amazing compartments to help you stay organized, holds more than most spinners, and has a–wait for it–built in charger with two USB ports, so you can walk through the airport whilst charging your phone or iPad. Or both. Being able to glide your luggage through the airport makes things much easier.
Plan your outfits
I bring what I know I'll wear plus one extra top because I the one time I don't do that I'll spill something all over myself. If this is something you get stuck on, lay your outfits out in advance and choose a few items you can mix and match, like one pair of shorts that works with two different tops. During summer, I'll do that or a dress, a pair of sandals that work for day or night, comfortable walking shoes, an anorak if there's rain in the forecast, and linen sweater if it's expected to cool down at night.

Makeup bag
I usually pack my cuyana leather travel case, keeping the larger one in my carry-on and smaller one in my tote bag or purse. And while I'm hardly one to give advice on makeup, I bring the essentials. You know, moisturizer, foundation, some eye shadow, hand lotion, makeup remover, eyeliner, lip balm and gloss, and this brilliant little eyebrow kit that I swear by. 


Tote bag
Totes are usually lighter and easier to carry than handbags, are perfect for transporting a laptop, and fit quite nicely on top of a carry-on.
Camera
I usually shoot with my Mark iii, but when I'm traveling, like to keep things light with my Fuji XT1, 35mm, and 27mm lenses, and this camera strap.

Snacks
RX Bars, larabars, dried fruit, nuts, and other small/healthy snacks that work on the go.
The essentials
Aside from underwear and a toothbrush, I always make sure I bring
Sunglasses 
Hair straightener
Laptop charger
iPhone charger
Music
I make sure my favorite songs and playlists are set to offline mode in Spotify
In less than one month, I'm off to Europe and plan on sharing a list of everything I'll be taking with me. I haven't really capsule-packed for a 2 week trip, so we'll see how this goes! any tips for me?