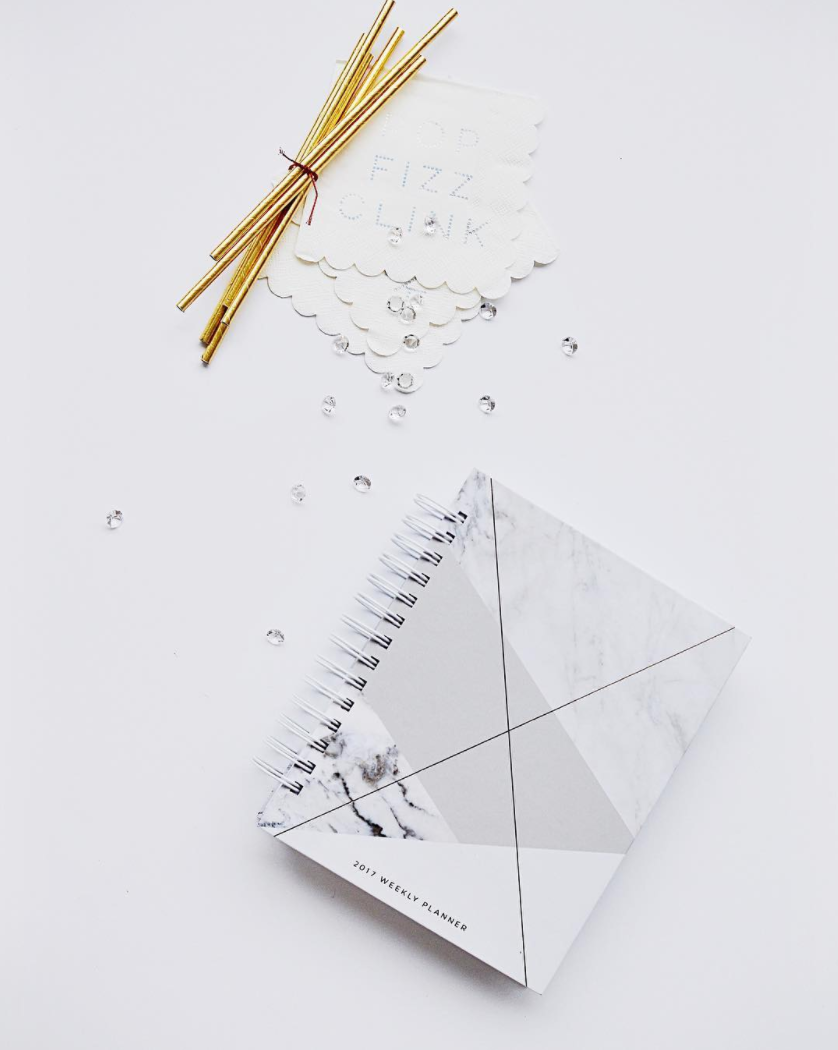 Happy 2017! I don't know about you, but I'm feeling so inspired to make this year better than the last. The Everygirl turns f i v e next month, Conor and I will celebrate 2 years in May, and August will mark s e v e n years in Chicago. I know, I know. I'm talking about things 5 and 8 months from now, but wasn't it just fall?
As 2016 came to an end, I found myself thinking a lot about what really matters to me. How I can be a better person and what will bring me joy. After recapping my goals for 2016 and talking to Conor about what we want to do this year, I came up with a list of goals for 2017. Hoping some of these tips might inspire you in the new year!
Meditate / calm the f down
Last fall, I started seeing a therapist to work through some things and to figure out how to better cope with stress and anxiety. I can be very tightly wound and  want to continue to work on keeping my stress levels down. During our most recent appointment she recommended that I download headspace (among a few other things), so I'm going to give that a go. As I get older and life continues to throw things at me, learning to be a calmer, happier, and less-stressed out is something that's very important to me.
Give back / spread kindness
I did more of this last year and along with becoming a more involved PAWS board member, I'd like to do a lot more to help people, too. Last year, I shared the photo of a rescue dog at PAWS and someone adopted her, so I'd love to help get some more dogs adopted this year. This is about so much more than writing a check. It's about taking time to do something. Think of the lives we could touch if everyone reading this signed up to volunteer somewhere this month and even better, if we each got a friend to join us. We can all stand to give more of ourselves. Volunteer, buy someone in need a hot meal, and make a concerted effort to connect with (and help) others.
Do things
It's so easy to get stuck in the day-to-day. Work, gym, grabbing that same old favorite salad, and repeat. When it's cold it's even easier to be lazy and stay inside most of the weekend. This year, I want to do more. To visit different neighborhoods, get some more culture on (concerts, museums, theater), try new restaurants, visit new coffee shops, and make more plans with friends. You get the idea.

Stop making the same old roast chicken
So I like roast chicken but have a handful of recipes that I make on repeat week after week. Conor and I talked about cooking something new each week which seems pretty doable considering the internet, pinterest, cookbooks, and food blogs. Along with aiming for at least one new recipe each week, we're planning on inviting friends to come over for dinner more often. And by more often I mean at all because we never really do that.
Keep up with current events
This one's all about reading more articles and staying informed. If there's an issue I don't know a lot about, I'm going to take the time to do learn more.
Read 
I won't even bother setting a goal for the number of books I want to read since last year was a joke, so let's just say it's my goal to read something. I start books, read a few chapters, get bored, and move on. And then I just give up altogether. This year, I'd like to be one of those people who starts and finishes a few books. Simple enough, right? Starting with Girl on the Train since according to the internets, people seemed to like that one. Any more suggestions for me?
Fix my back and actually stick to a workout routine
I love working out but my back has been a mess for about a year now, keeping me from being able to work out regularly. There have been a few decent months but ultimately, I've been in pain most of the year. So once again, I'm giving a new physical therapist a go and hoping to go into this summer in better shape than last year. It's time.
Unplug
So much of what I do is online and I've gotten much better than I used to be, but I'd like to be more present and spend less time on my phone in 2017. It's so important to stay connected with people and to disconnect from social media. Conor and I talked about having a few nights a week when we'll cook, read, or watch a show without checking email or social.
Listen and be a better friend
Staying in touch with close friends isn't usually a challenge for me but I can be bad about making regular plans with them. And we could all be better at really listening and being supportive, so that's something to work on, too. Take the time to really listen to others.
Travel
I can't not have a travel goal since traveling is so important to me. This year, I'd love to visit a new country.
Try not to let my blog die
The past few months, I've really enjoyed blogging–something I used to love and don't necessarily have a ton of free time for. It's meant writing and shooting nights and weekends, but I've enjoyed it. That said, I hope to stay motived and to hopefully continue to inspire you and share what I'm hoping is decent content.
Alright, 2017. Let's do this. Happy New Year!
image via stil classics