My Arizona EVA Waterproof Birkenstock Review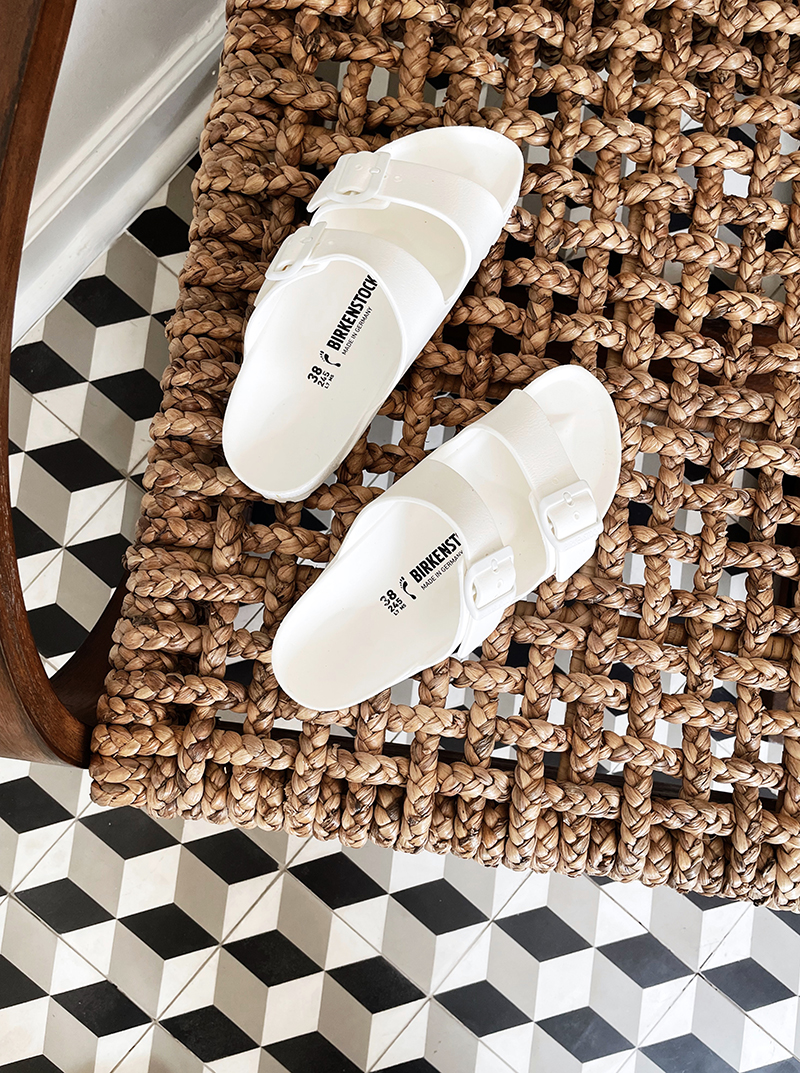 Years and years ago, I bought a pair of Birkenstocks and returned them immediately. They were leather and this was well before waterproof versions came out. But they just weren't for me. Maybe it was the cork footbed? Then along came the Arizona waterproof Birkenstocks sandals. My friend had been raving about them saying they were the best pair of shoes to wear in the yard with kids (and all summer). Sandals that can get wet are essential. So I bought them and I love them.
My Arizona Waterproof Birkenstock Review
Maybe it's just me, but I find these more attractive than a leather Birkenstock. The classic Birkenstock style isn't really my thing, and I'm not sure what it is, but these are kinda cute, right? And after over a year with them, I can tell you that they are an essential sandal for anyone who enjoys gardening, runs errands, goes to the beach, pool, or lake, or has kids. If you need a pair of waterproof sandals, these are it. They're truly the perfect sandal for summer (and warm weather climates).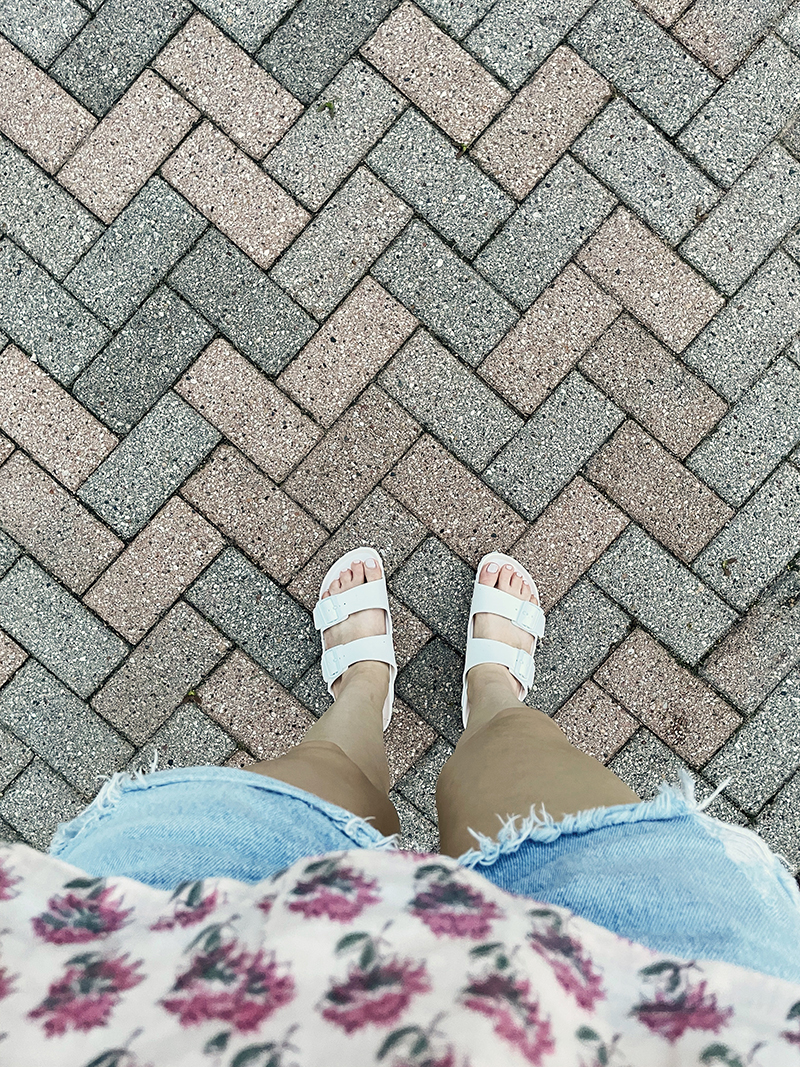 Let's be clear: these are not beautiful sandals that go with everything. 😂 But they the most durable and comfortable shoes (seriously, there's amazing arch support). And there's something about them that's kind of fun and maybe even a little cute, too. They're definitely cuter than leather birks. I even included them in my summer capsule. There's also a lot more to the women's Arizona waterproof EVA Birkenstocks than their looks. And bonus: they make them for the whole family. Look at this little kid version. Here's why I love them so much.
They are very comfortable
If you're looking for a pair of comfortable waterproof shoes, these are it. You're not likely to go on a very long walk in a beautiful, leather sandal, but the Birkenstock Arizona Essentials are great for walking. I don't know what it is, but they are a perfect fit. EVA stands for "ethylene vinyl acetate," – it's a synthetic plastic that is lightweight and feels similar to foam (except they're sturdy). They feature a molded foot, deep heel cup, and supportive arches, too – and they mold to your foot shape. There's a reason 80% of the almost 36,000 Amazon product reviews have 5 stars. They are so comfortable to wear on a hot summer day and the flexible EVA is a waterproof material, so these are the perfect pool slide. I should add that even though Birkenstocks run big, I wear my normal size in these.
They're durable
I wore my Birkenstock EVA sandals on repeat last summer and they held up so well. First, the EVA Birkenstocks are water resistant and can be wiped clean with a damp cloth if they get dirty. I've heard from people who have thrown them in the washer. I just wipe them down or hose them off after gardening, and they've held up well. As a mom who spends a lot of time running around with my kids and playing in the yard (and near a water table), watering plants, etc, these are just so easy to wear.
The Arizona Waterproof Birkenstocks are budget-friendly
Leather Birkenstocks are closer to the $150 range, while the waterproof Arizona sandals come in at just under $50 (and there's free shipping). These days, it can be tough finding a well-made shoe for under $50. If you like the look of Birkenstocks but don't want to spend $150, these will give you the same look (but I think better) for a lot less. They're a great deal. I own them in black and white, but if you like to have some fun, they come in a few bright colors – blue, coral, lavender, and even tie dye.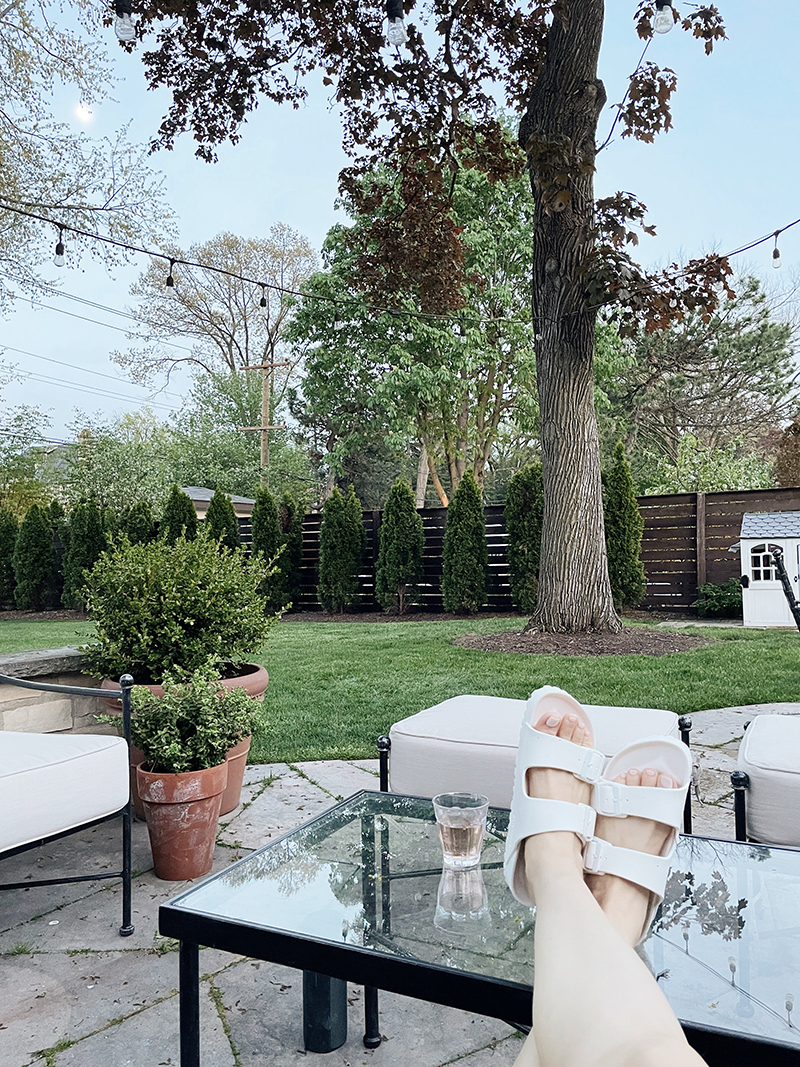 This post contains affiliate links. If you purchase something using my links, I may earn a small affiliate commission at no cost to you.