How to Create a Wedding Website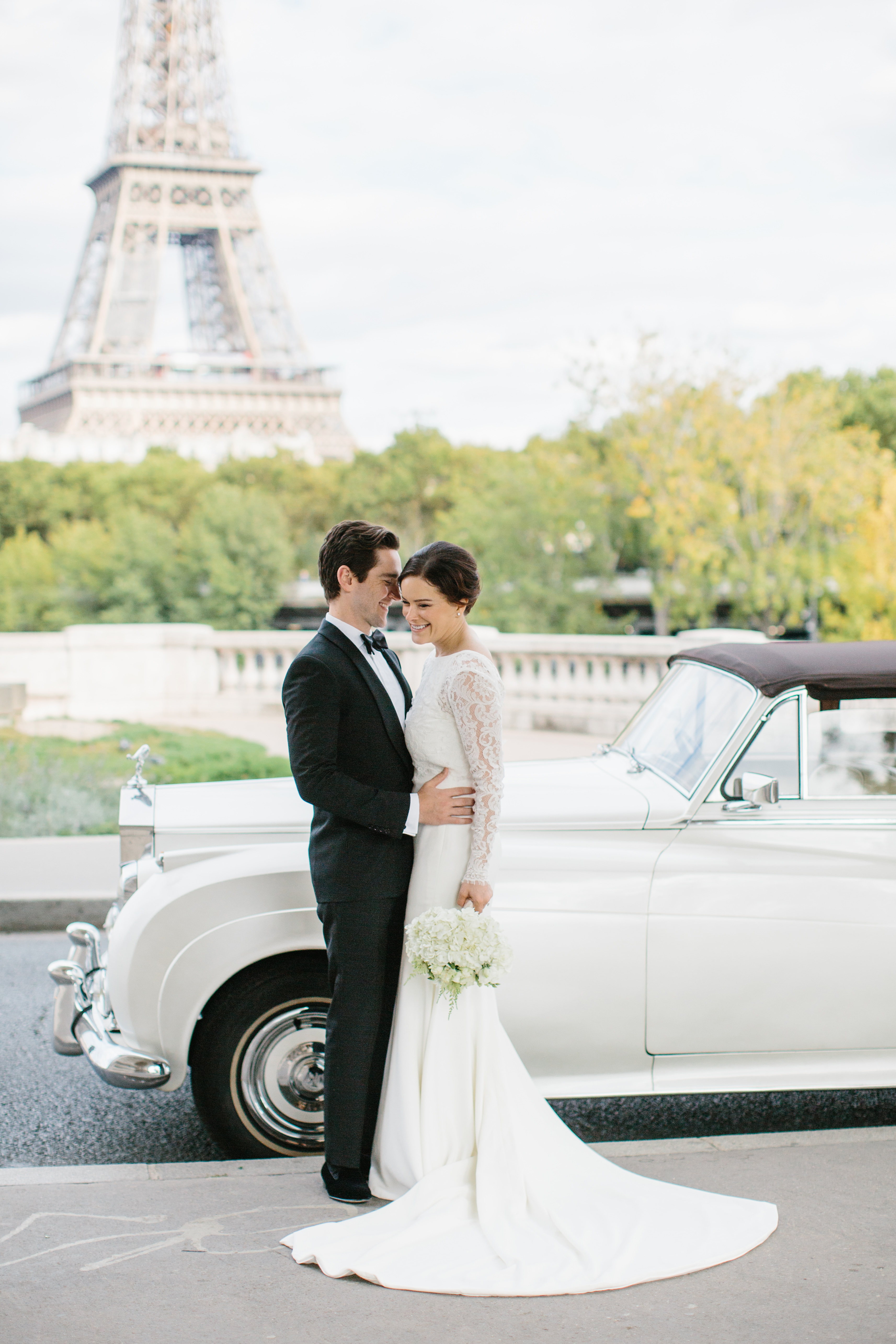 I've gotten a few requests to share more wedding photos. But our wedding is running online at the end of February so I need to hold off until then. I can share my wedding website with you! Creating this website is one of the first things I did after deciding to have a destination wedding. Since we had a weekend of events planned, I thought it would be helpful for our guests. This gave them a place to go (online) before and during our wedding weekend. I forgot to bring an invitation suite to our own wedding, so I think it's safe to say no one will carry a few pieces of paper around all weekend.
How to Create a Wedding Website
I used Squarespace and no, this post is not sponsored by or in partnership with them. Back when I used to design blogs, I helped a few clients set up websites on Squarespace, so it's something I'm familiar with. But it's really easy to use and has some great features. Here's what I included.
THE HOME PAGE
Our wedding website was password protected for guests only but I took it down after the wedding since there's a monthly fee to keep it up. But don't worry, I've included screen shots for you. The home page included 4 clickable images, each taking you to a different page. When you hover over each image, the title of the page pops up. See "when in Paris" below.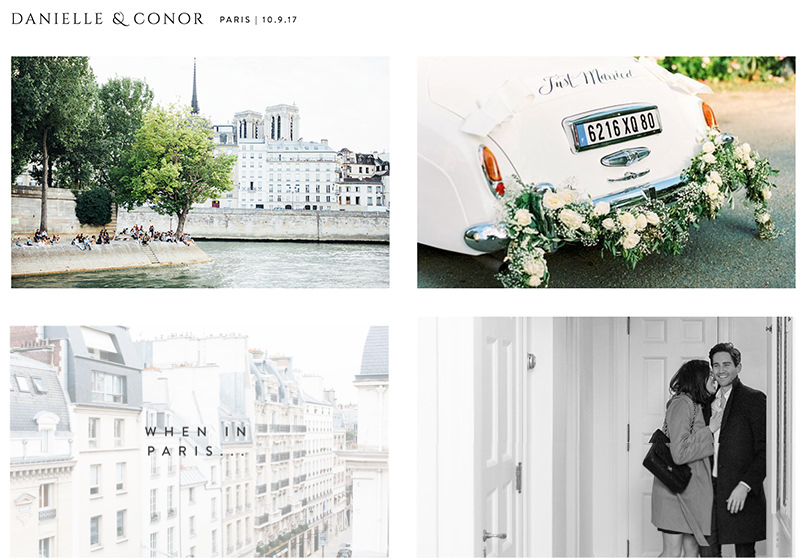 THE WEDDING WEEKEND SCHEDULE
I included a schedule with dates, addresses, and google maps pinpointing our hotel and all event locations. The wedding related events were optional but all our guests chose to come to everything, and it was so fun getting to spend that much time with everyone.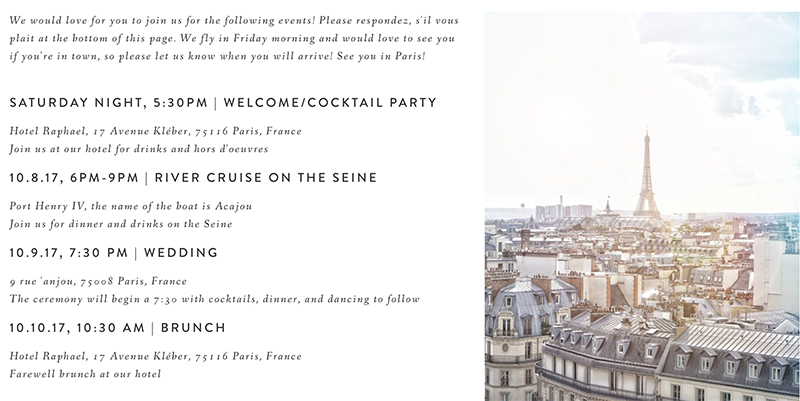 HOTEL SUGGESTIONS AND THINGS TO DO
I had only ever Airbnb'd in Paris, as well favorite restaurants and things to do in the city. So we included multiple hotels and restaurants.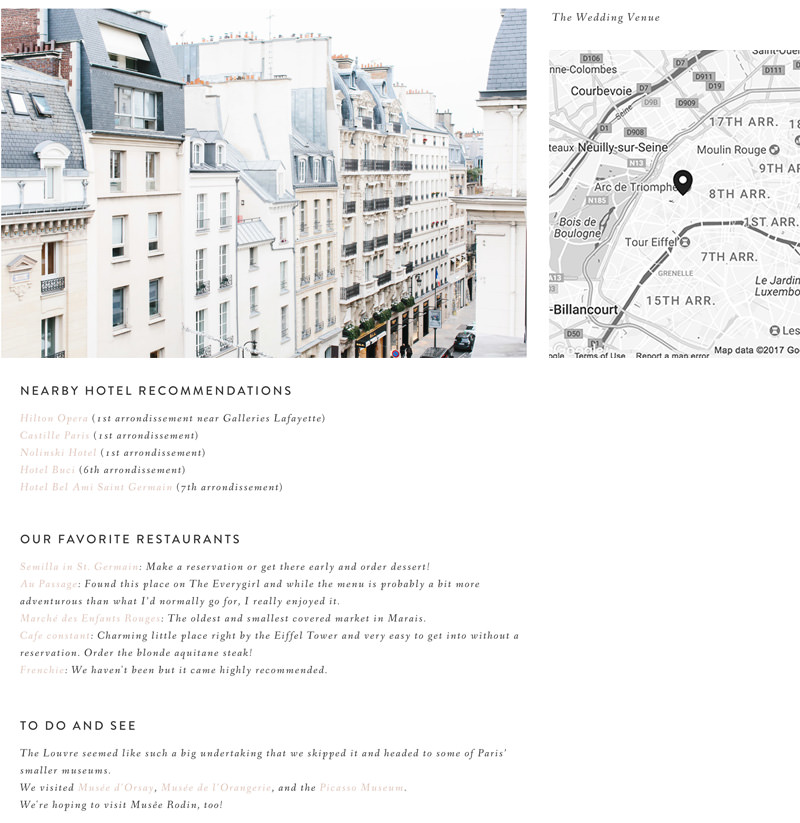 WEDDING WEEKEND DETAILS
Everyone kept messaging to ask how casual or dressy each event would be. While I told everyone to ultimately wear whatever they wanted, I included details about each of our wedding events and a few outfit ideas. All the girls happened to wear black which worked out perfectly. They were basically bridesmaids without the dresses they'll never wear again, anyway. I love how it turned out!

REGISTRY INFORMATION
I left this information off since I didn't want our guests to travel to Paris and buy us a gift (we specifically asked them all not to) but I would recommend including your wedding registry information.
OUR STORY
All our friends and family know how we met (Tinder), but I thought it would be fun to include that on our website.