My Home Tour Before and After: The Living Room
A few months ago, I shared my home tour on The Everygirl and planned on writing a post detailing the decorating and styling process. I'm starting with my living room since this saw the biggest transformation and will post about the rest of my place soon.
I'm a little late to the party with this post but in my defense, work, summer, and travel have come first, which left very little time for blogging. Now that I'm waking up so early, it's been easy to spend an hour writing every morning. This first photo was taken before I moved in. I had thought about putting the TV on the brick wall but for whatever reason, opted against that, although it would have worked either way. The lighting fixture was a bit too small for the space and had to go.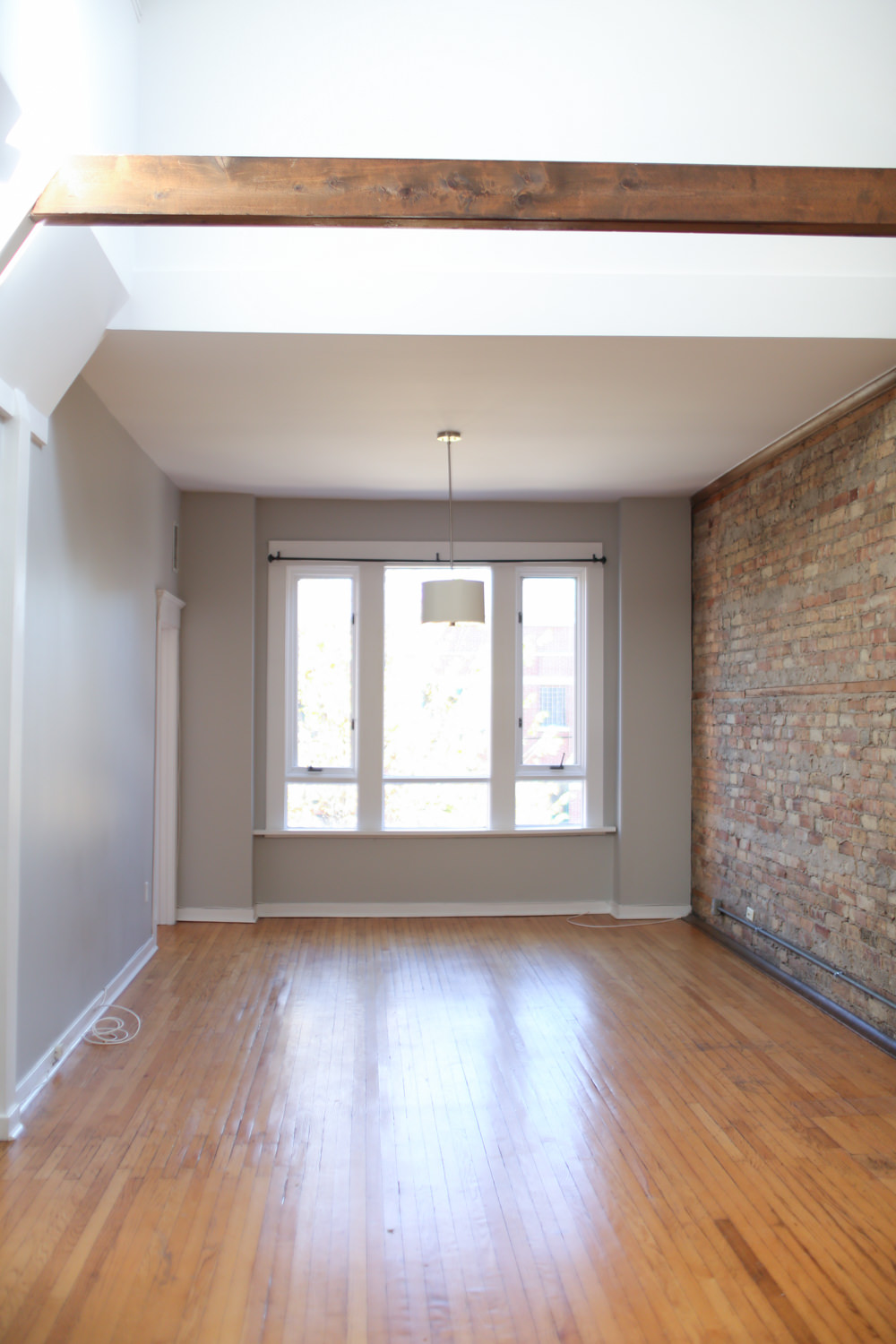 This very grainy iPhone photo was taken the night I moved in. As someone who moves fairly frequently, I've gotten pretty good at unpacking and usually empty all my boxes within 23 hours. I realize how insane that sounds, but even if everything isn't put away, it's best to get those boxes out of my home ASAP. I've been using redi-box for years and schedule my pickup a day or two after the move.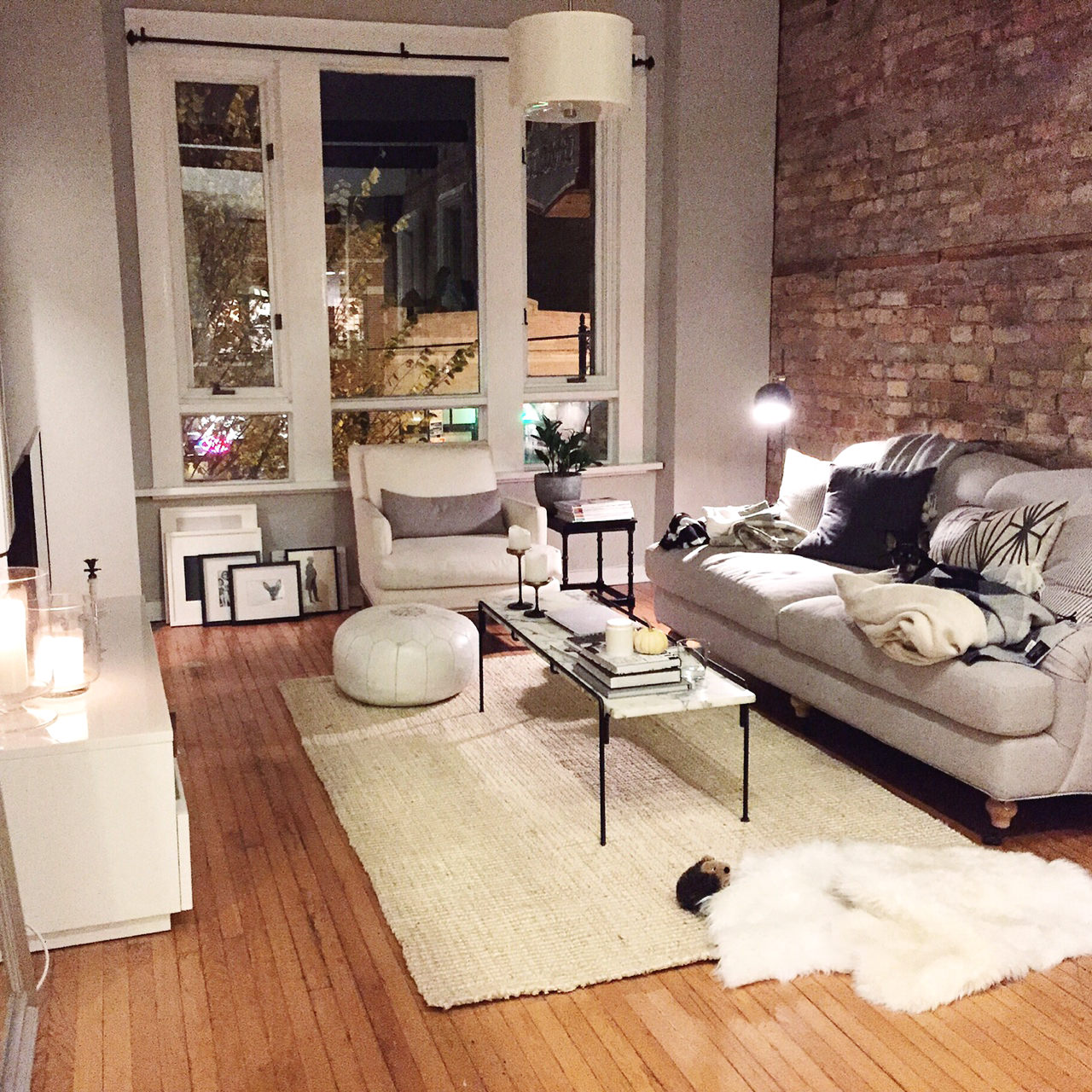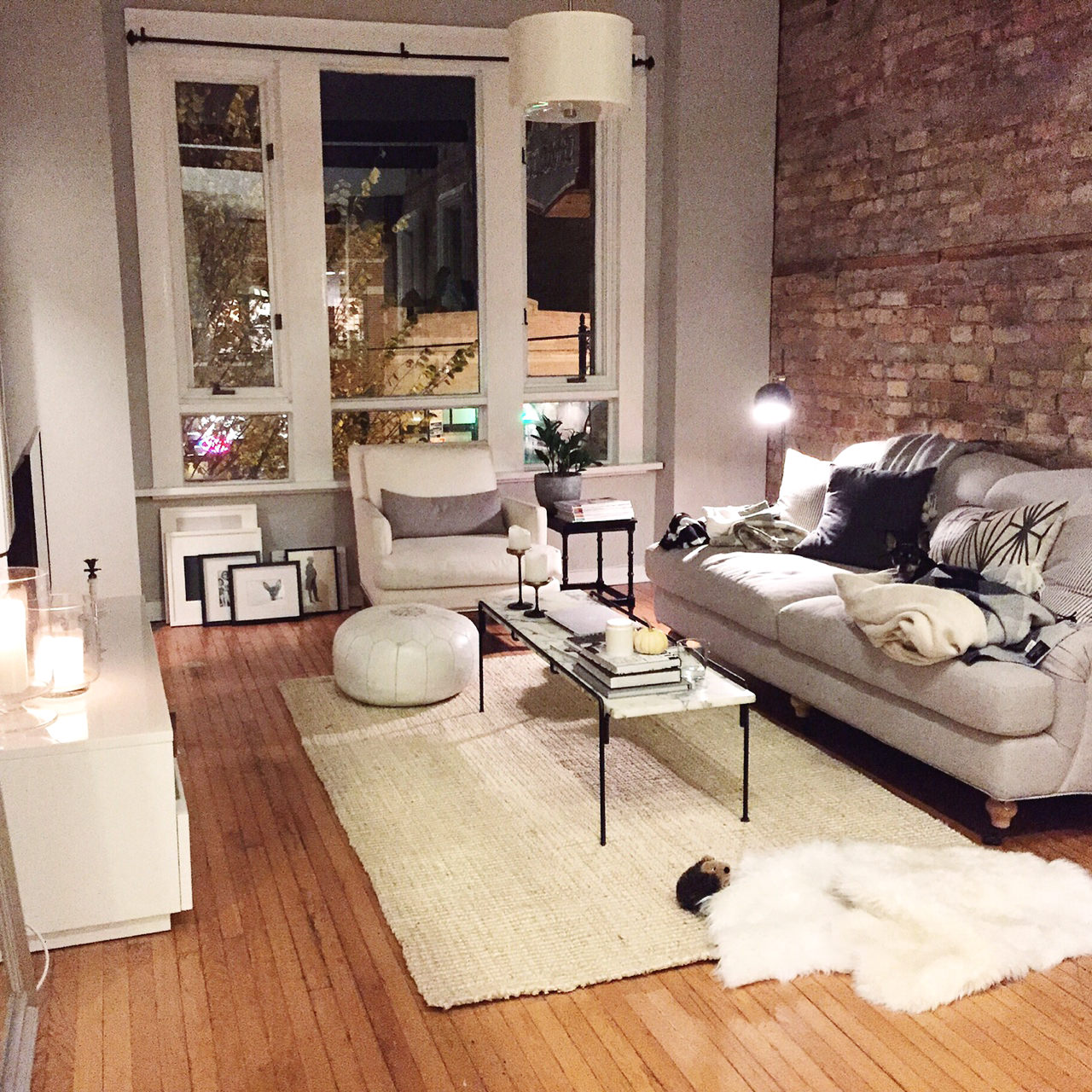 Here's a less grainy version taken the next day. So let's talk about round 1 of decorating. This layout works except for the rug which is way too small. I recommend the jute boucle rug–it's budget-friendly and comes in a variety of colors.
Styling tip no. 1: measure the room before going with a certain size because you're "pretty sure it'll fit"
Styling tip no. 2: Looking for a budget-friendly area rug? The West Elm Jute Boucle is a favorite, coming in at under $380 for an 8×10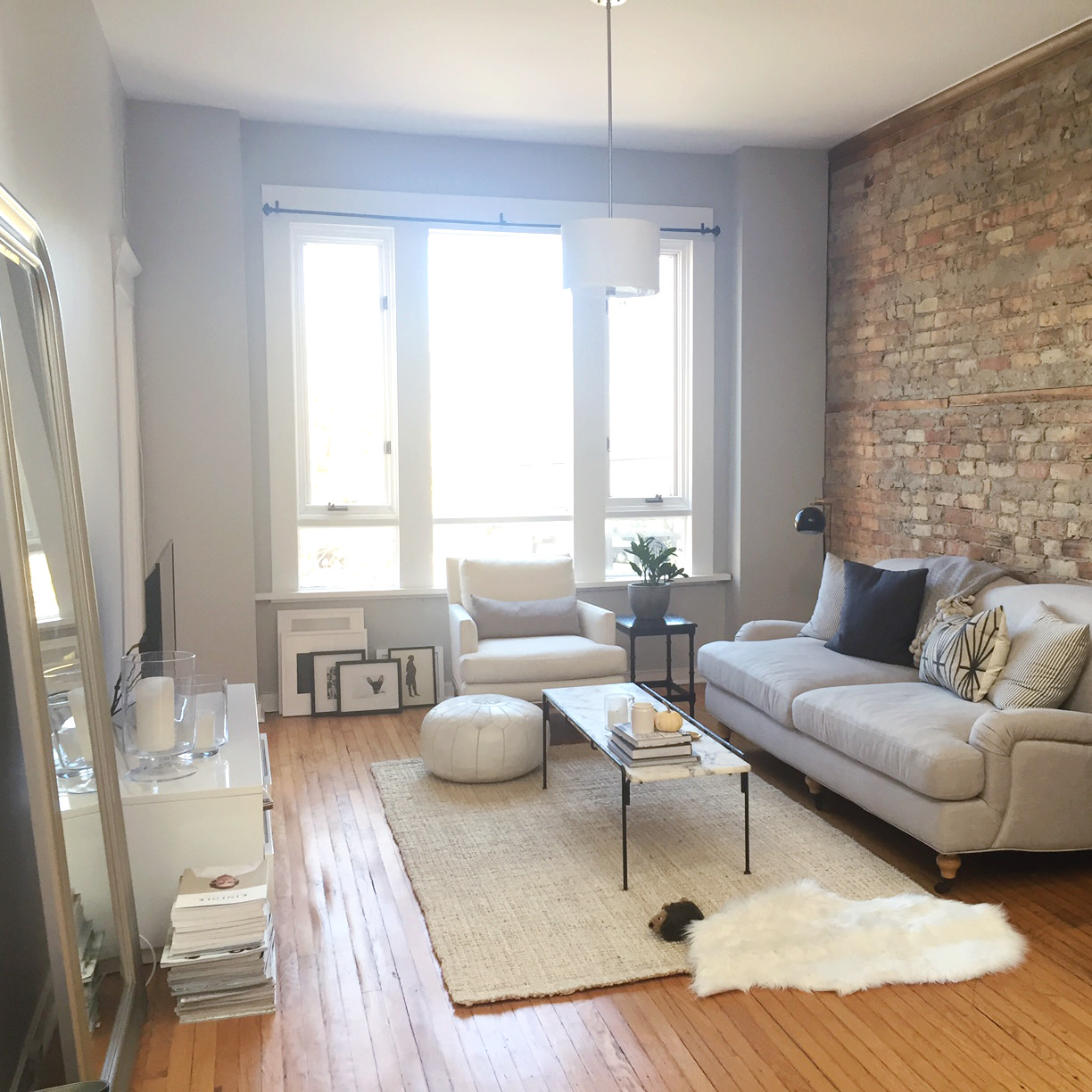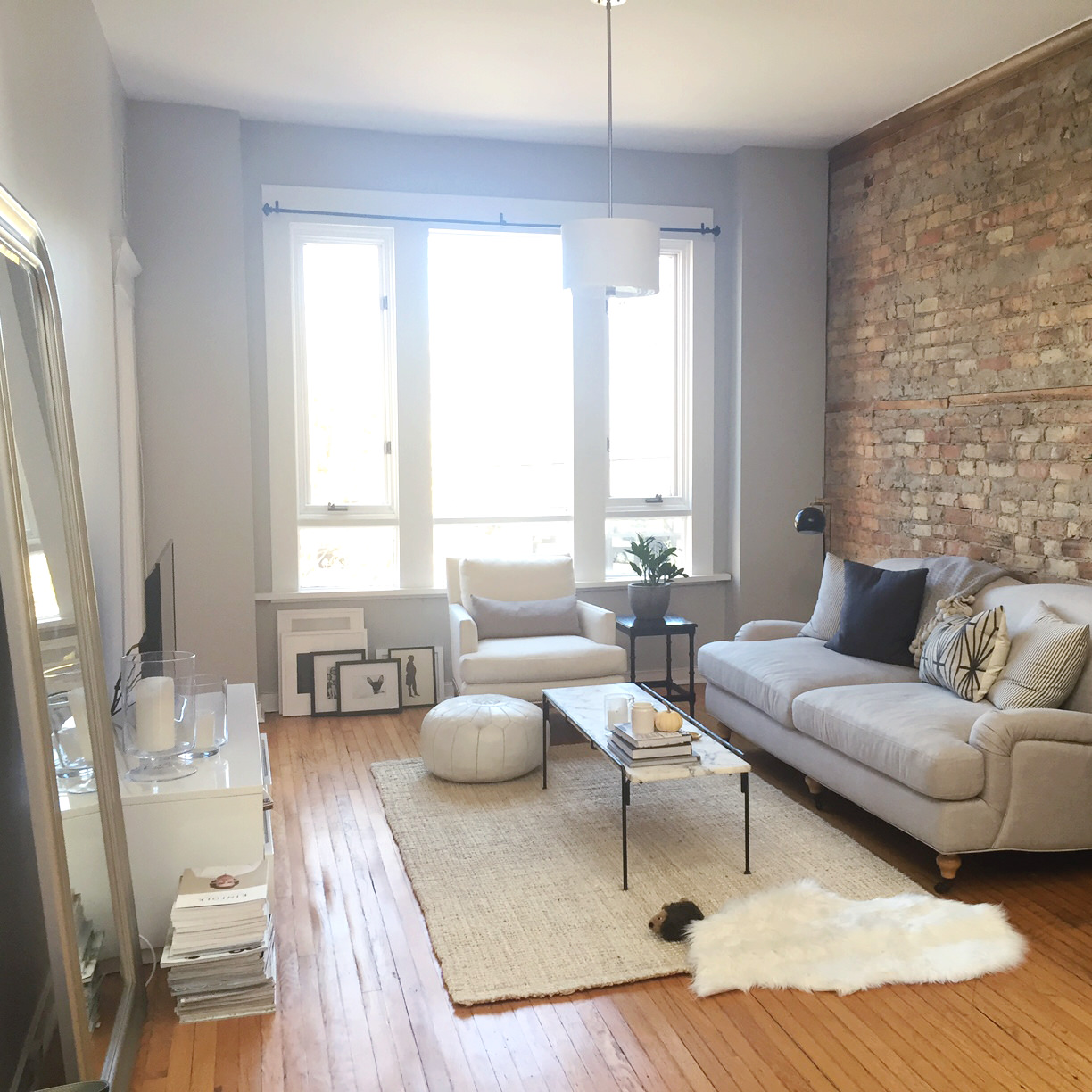 The room is pretty big and needed a larger lighting fixture, so I hired someone from Taskrabbit to do a little handy-work for me. My place is a rental, but changing out a light was worth $35. He installed my new lighting fixture, curtain hardware, and patched a few holes.
 styling tip no 3: never hang curtain rods on window molding
I would have had the rod a bit higher but didn't want to have to alter my curtains for a rental and made these Pottery Barn curtains work. Also switched the 5×7 rug for an 8×10. So much better, right?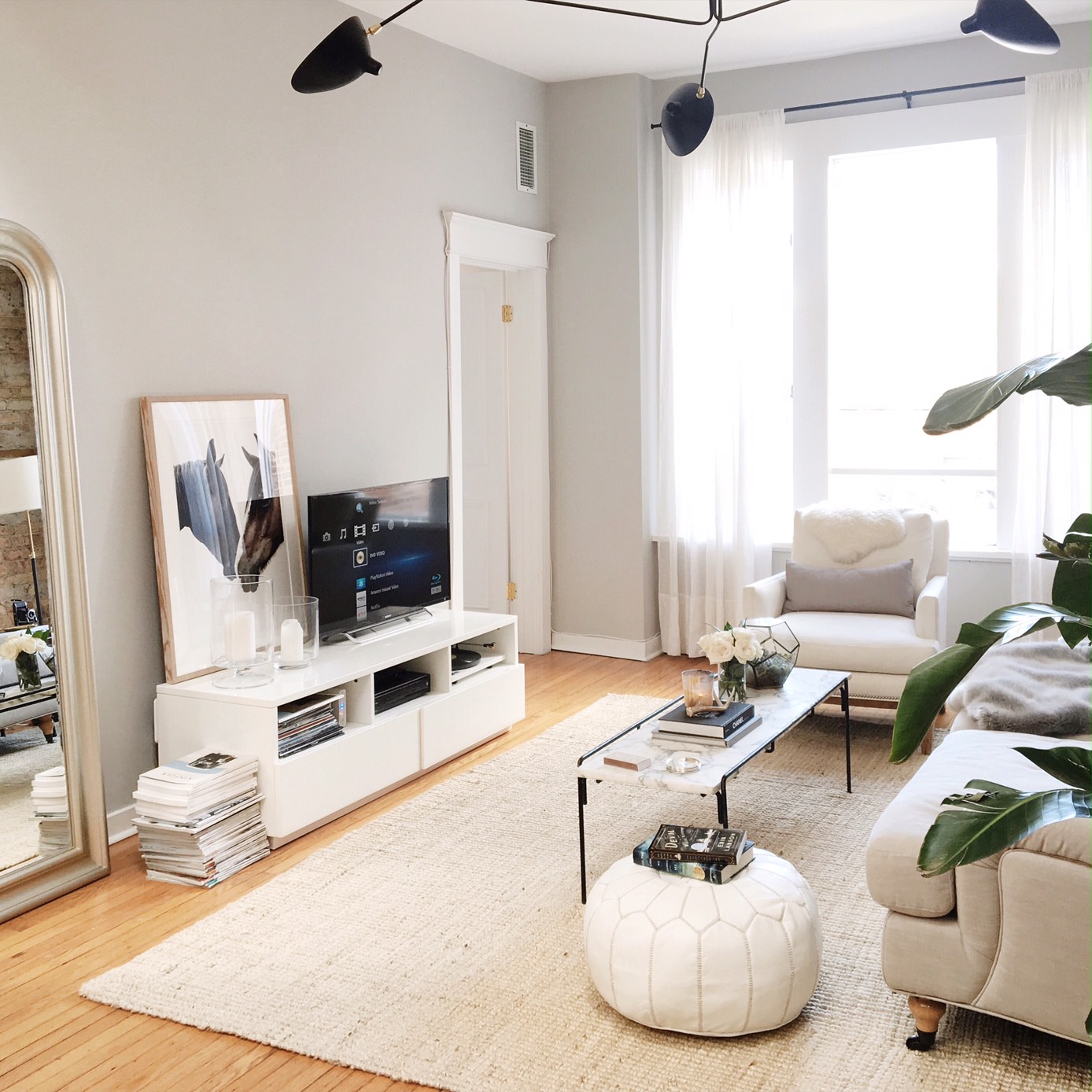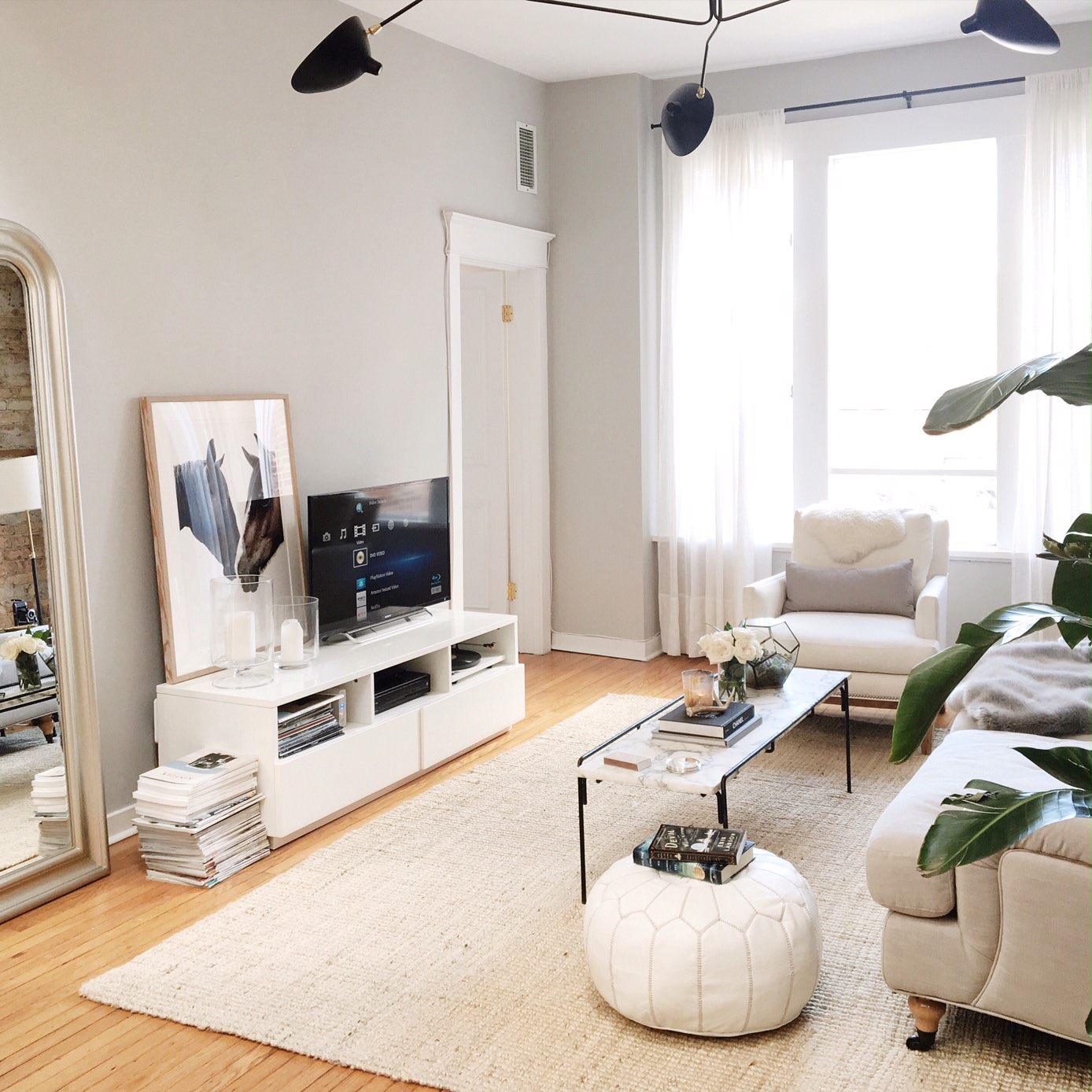 I also have a thing for lamp shades. hey feel really warm and inviting. I love the ceiling fixture I purchased but rarely turn it on because I prefer the softer light of a lamp. So I picked up this floor lamp from West Elm and moved my schoolhouse task lamp into my office.
Styling tip no 4: leave harsh, overhead lighting off and add a few lamps for warmth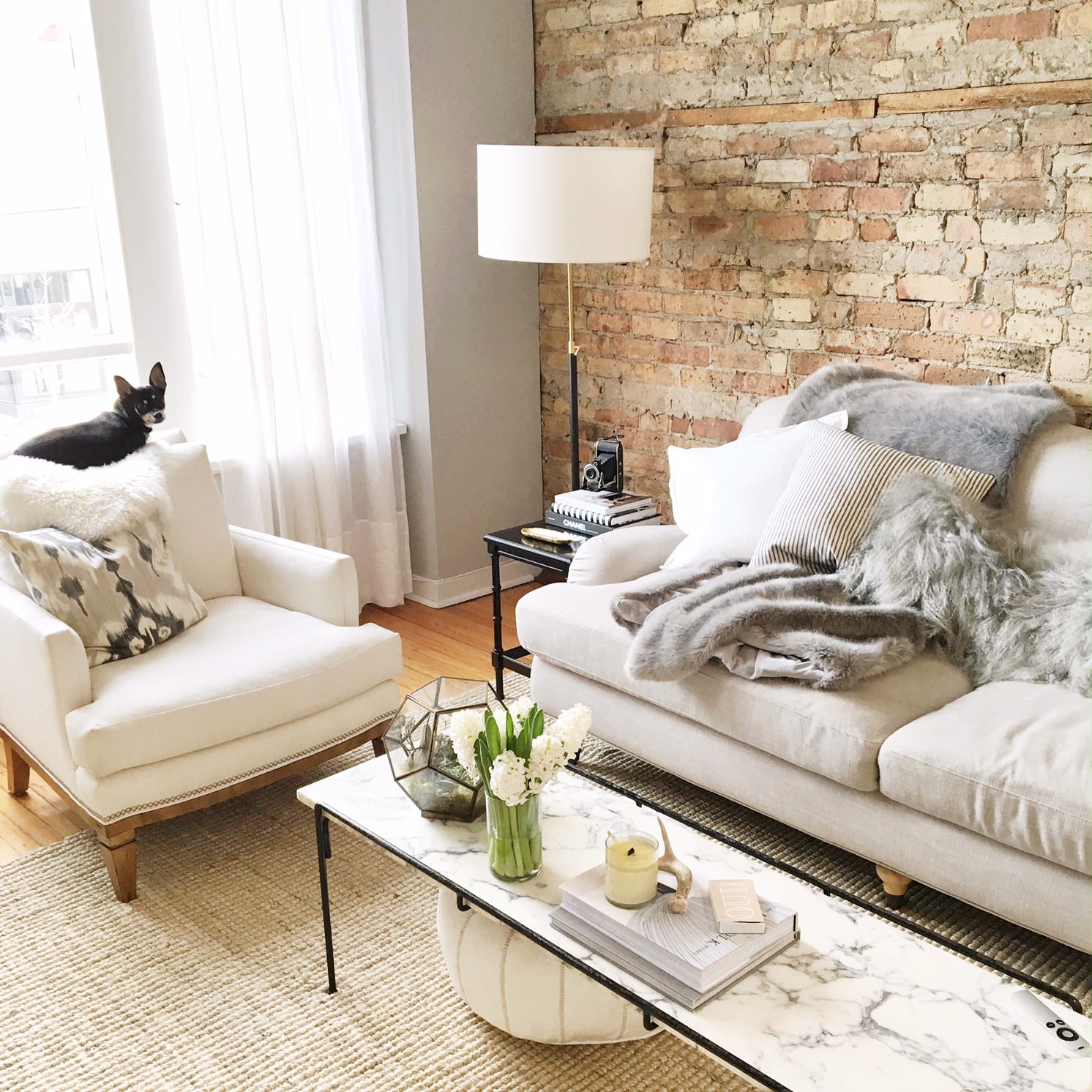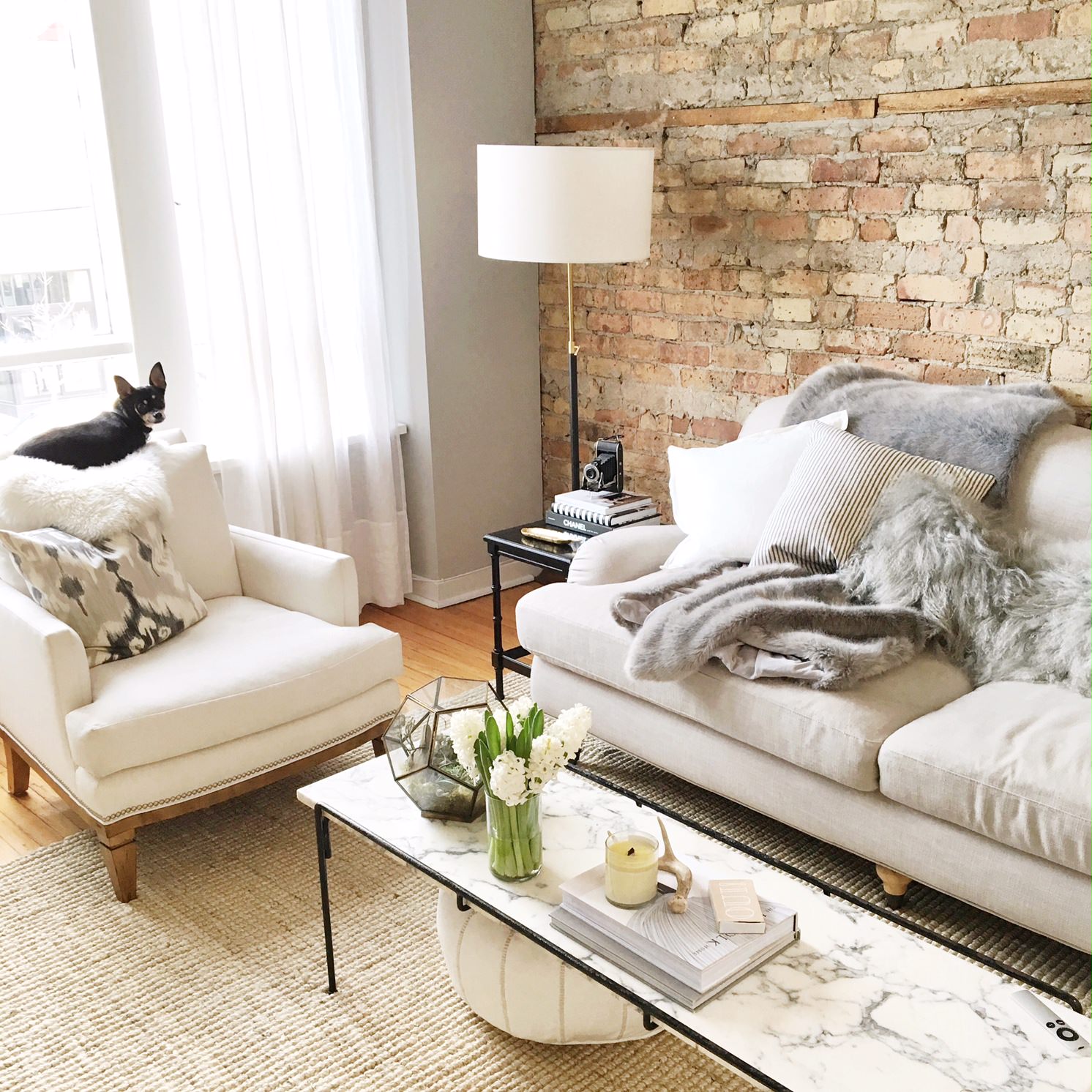 As soon as my new Lulu & Georgia chairs showed up, I moved my armchair to the other side of the room and put the palm plant in the corner to fill that space. I thought about having the two chairs on the other side, but since they took up more space, it made more sense (to me) to have them in a lower-traffic area.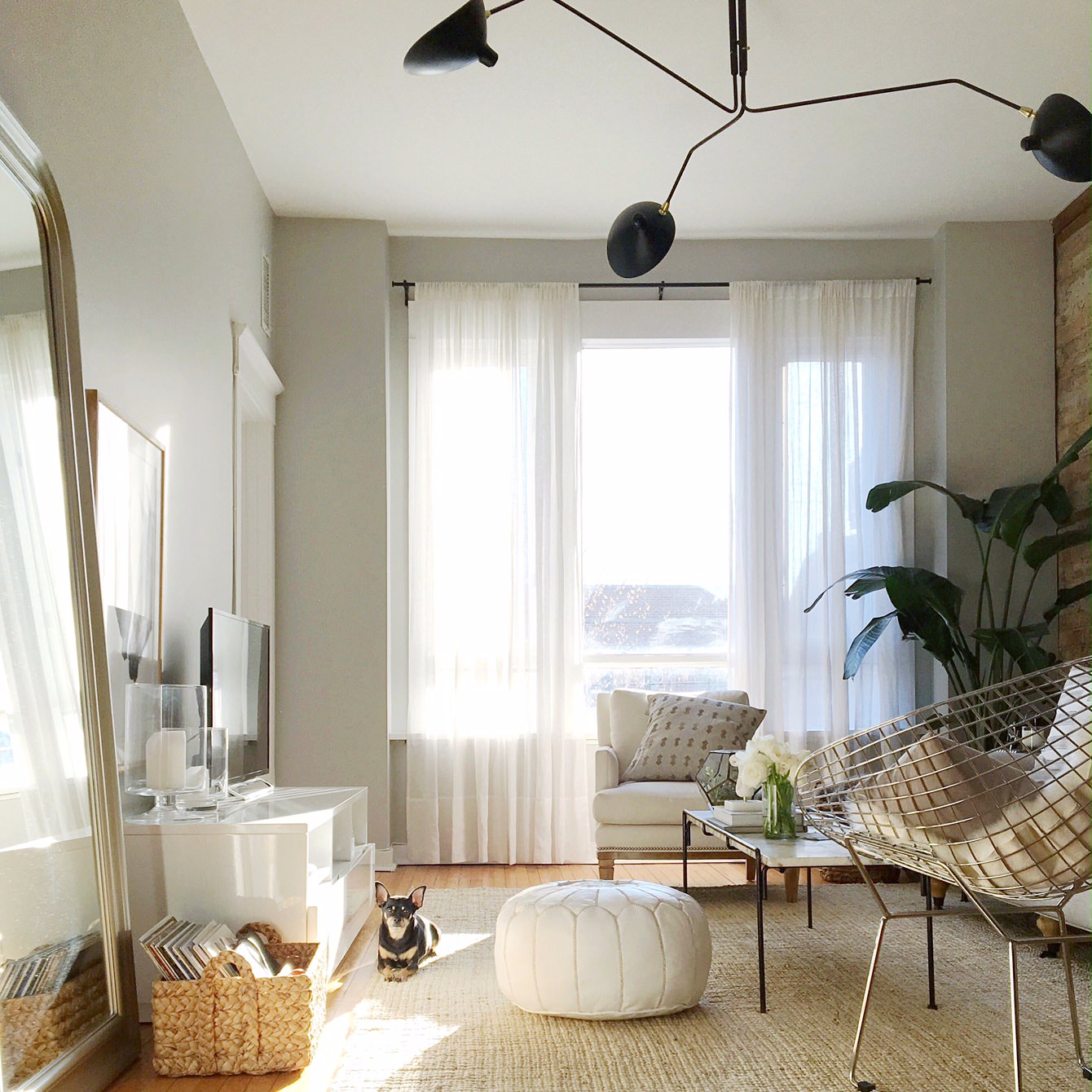 See? They look better below the window, right? I liked looking at the front of the chair vs. the back when I walked in and added some of my favorite Susan Connor pillows which gave the room a bit of pattern and texture. The room is fairly large and connects with my dining room, and never really felt complete until my new chairs came in and I had a chair dividing the two rooms.
Plants also bring a lot to the table. I know nothing about plant maintenance which is why I'm on fig tree #3 (in my office). So do some research and ask your florist what's best for the type of light in your room. I will say that succulents and zz plants always do best with me because they're really tough and virtually un-killable.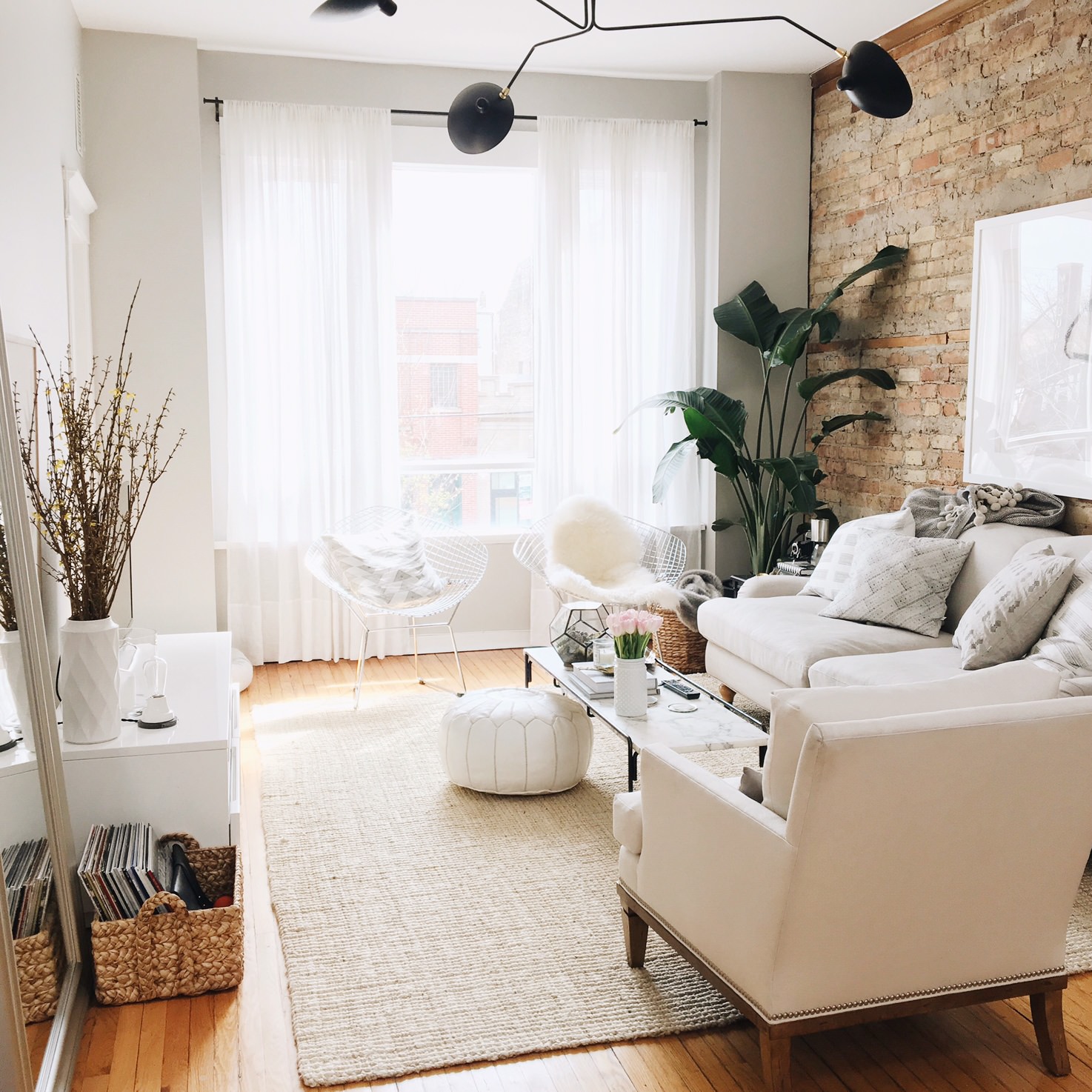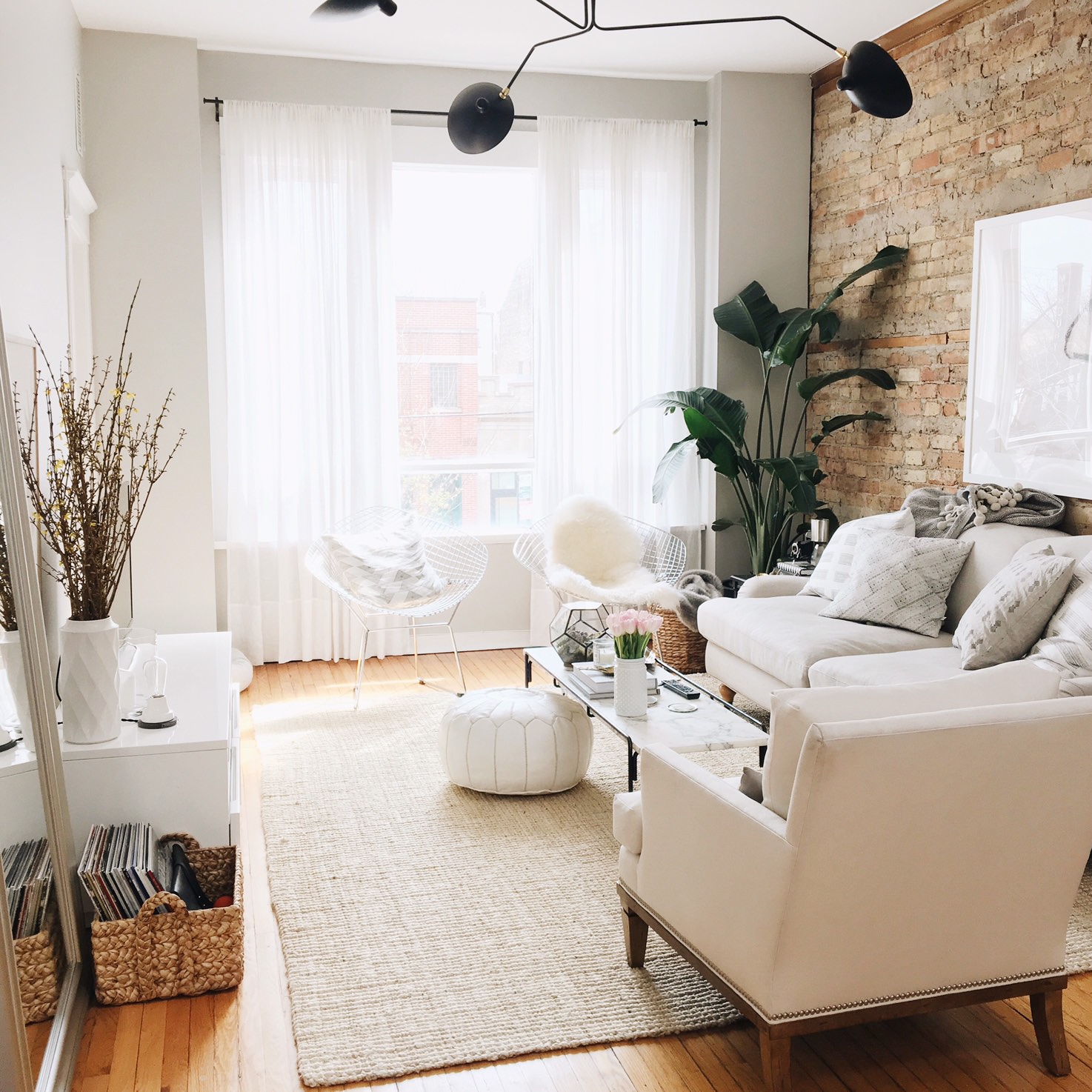 Let's talk about media console styling
My Kara Rosenlund horses are one of my favorite pieces of art but were above my TV stand 2 home tours ago, and I wanted to do something different. This first photo looked really pretty, but accessing my record player was annoying and I was in the mood to change things up.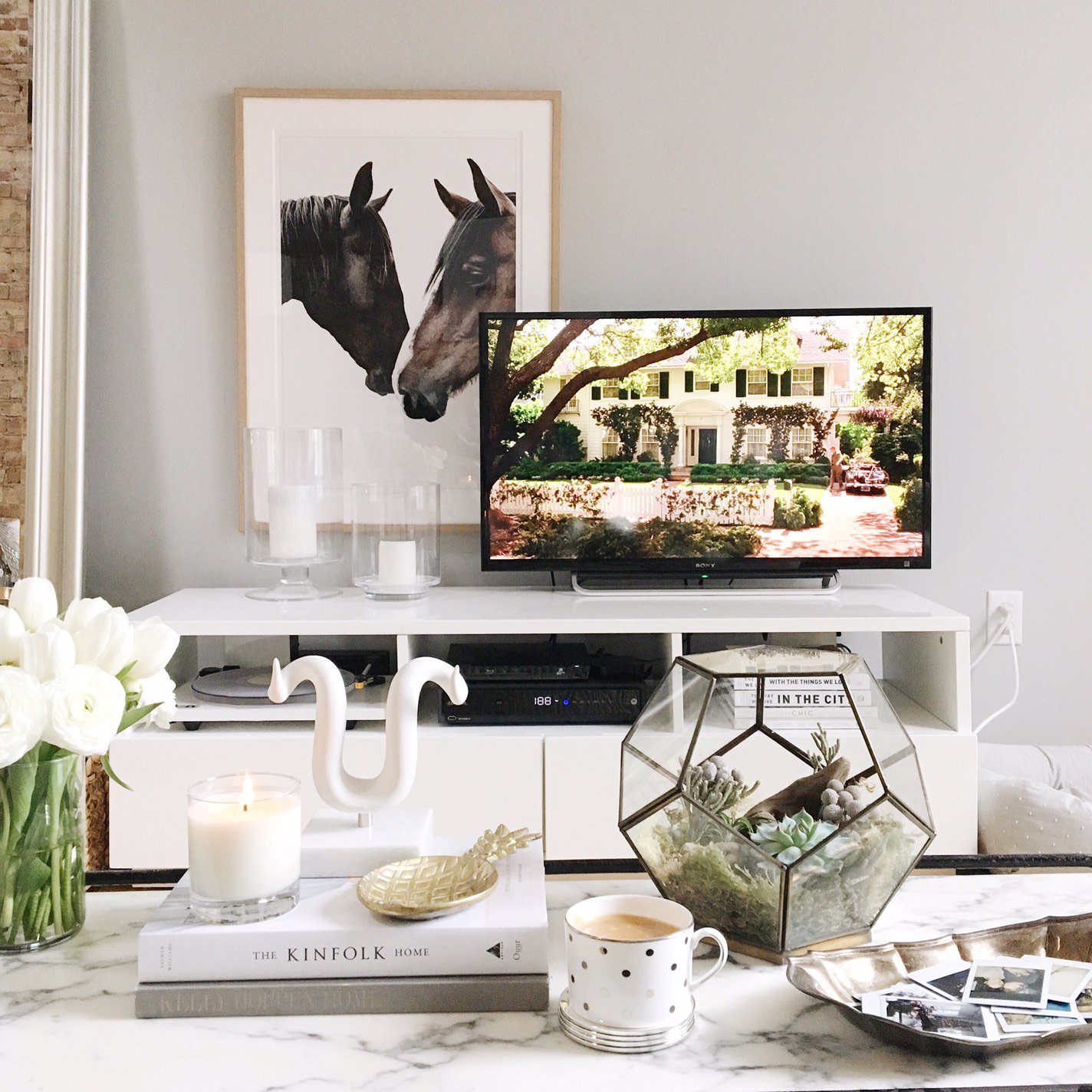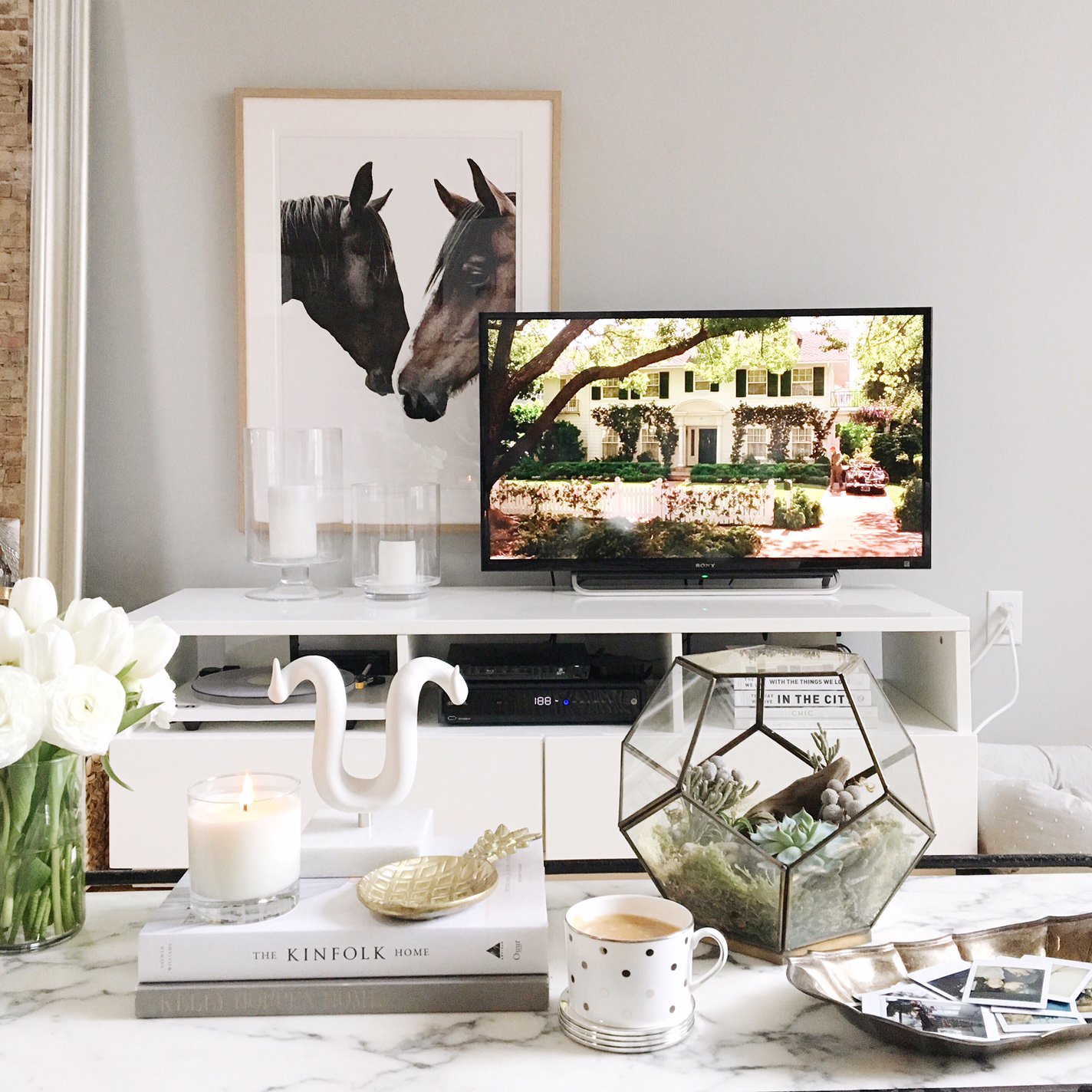 The horses made their way into my office and I chose to hang two pieces Artfully Walls, moved the record player up to the top of the console, and…done.
Coffee Table Styling
My coffee table mostly looked the same from day 1, but I switched out some books and accessories. I recommend stacking 2-3 books, an object or two and a candle on top. When arranging your coffee table, try clustering a few things together. You don't need to space them out all the way across your coffee table. I know everyone says to group things in 3s but that's not always the case. You'll see that I had 2 hurricanes on my TV stand and just 2 books on my coffee table. PS. I prefer the books straight on with the binding facing the coffee table, but that doesn't mean there's a right and wrong way to do things.
Styling tip no. 5: succulents are great because they'll last for months and in the end, cost less than fresh flowers. You can find a similar terrarium here.
Styling tip no. 6: Don't hang pieces of art too far apart from one another. I've seen this a lot, especially with gallery walls. Had that small piece been up another 6 inches, it might have looked a bit awkward. Look for inspiration in magazines and on pinterest!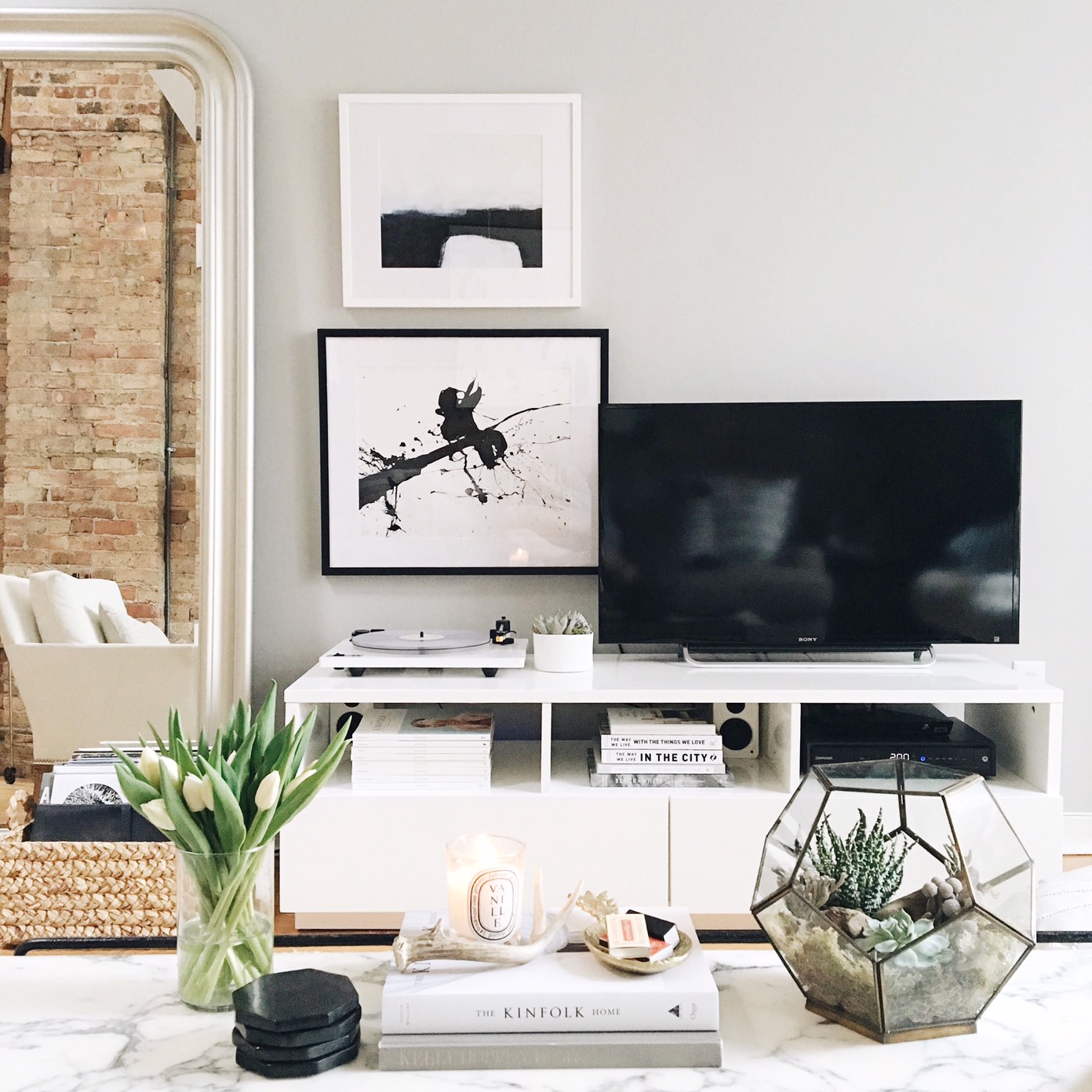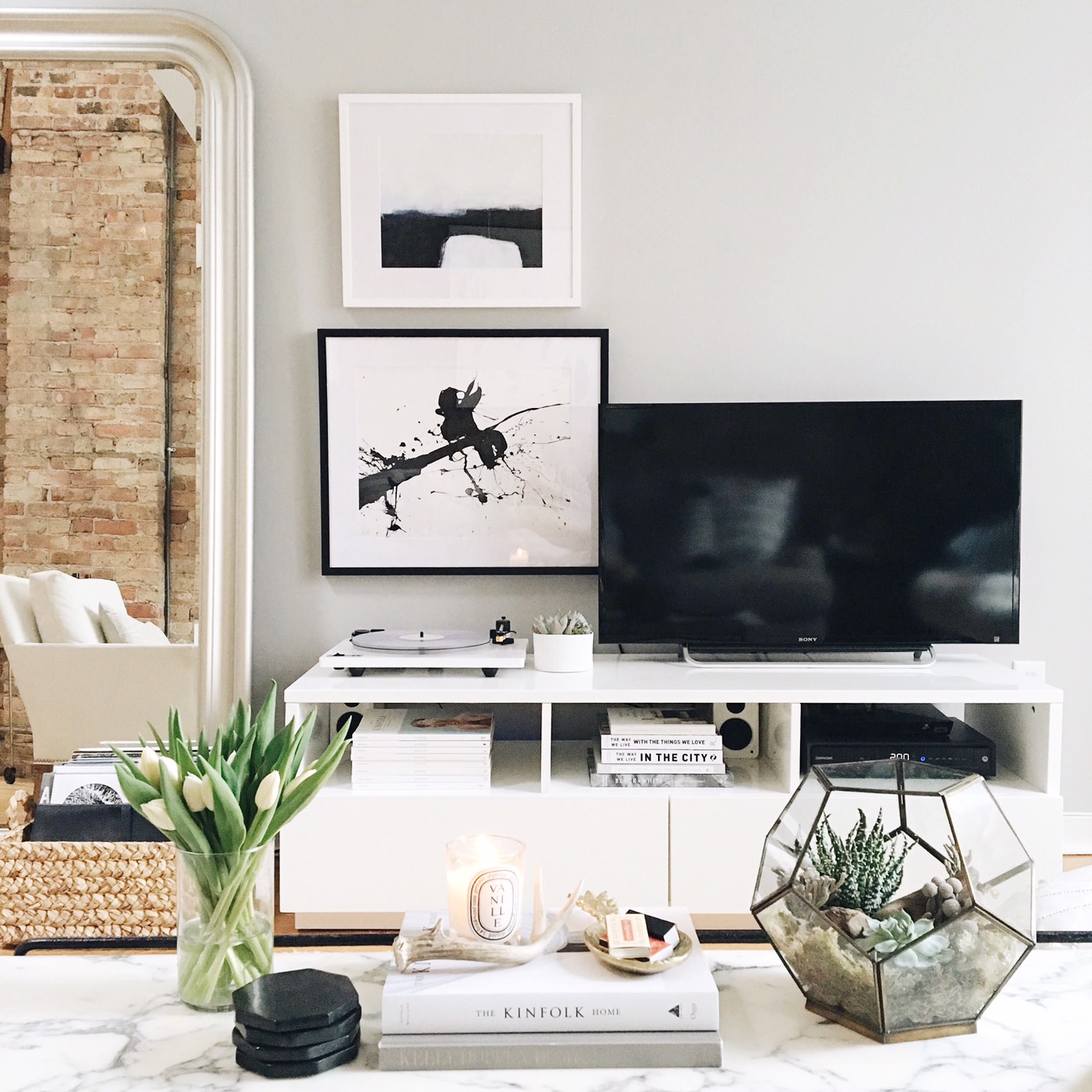 Living With a White Sofa
This isn't my first experience with a white sofa. I had one in my first and second Chicago apartments and loved it. Once we designed the Caitlin sofa for Interior Define, I knew I'd need to make a change. My Rose sofa was a prototype and I was about to order another one but am so glad I went with the Caitlin, and ended up ordering a Rose chair. This sofa feels like a cloud, and the clean lines feel like me. I was in between grey velvet and white linen and am so glad I went with the white linen.
A friend recommended Microseal and after hearing that her son got paint on her white sofa, the decision to move forward was an easy one. I'm pretty clean and never had any horrible stains on my last one, so I figured I'd be ok. Then I gave Buddy a piece of BBQ chicken, he dropped it on the floor, I stepped on it, sat on the sofa, dragged my foot with said chicken still attached to it across the sofa, and thought that side of the cushion was over. Dabbed it with a wet cloth and it came out!
Yes, my dog is black. And yes, he sheds. He's also 12 lbs on a fat day so I'd probably feel differently if I had a black dog that weighed 50 lbs. I'll take a lint/hair remover to the sofa every so often but have learned that I'm going to see his hair on my white sofa and bedding. It's his house too, after all.
The bench cushion cover comes off, so I can always have it dry cleaned if and when I need to.
And that striped and tassel pillow from Found Home might be one of my favorite things I've ever owned.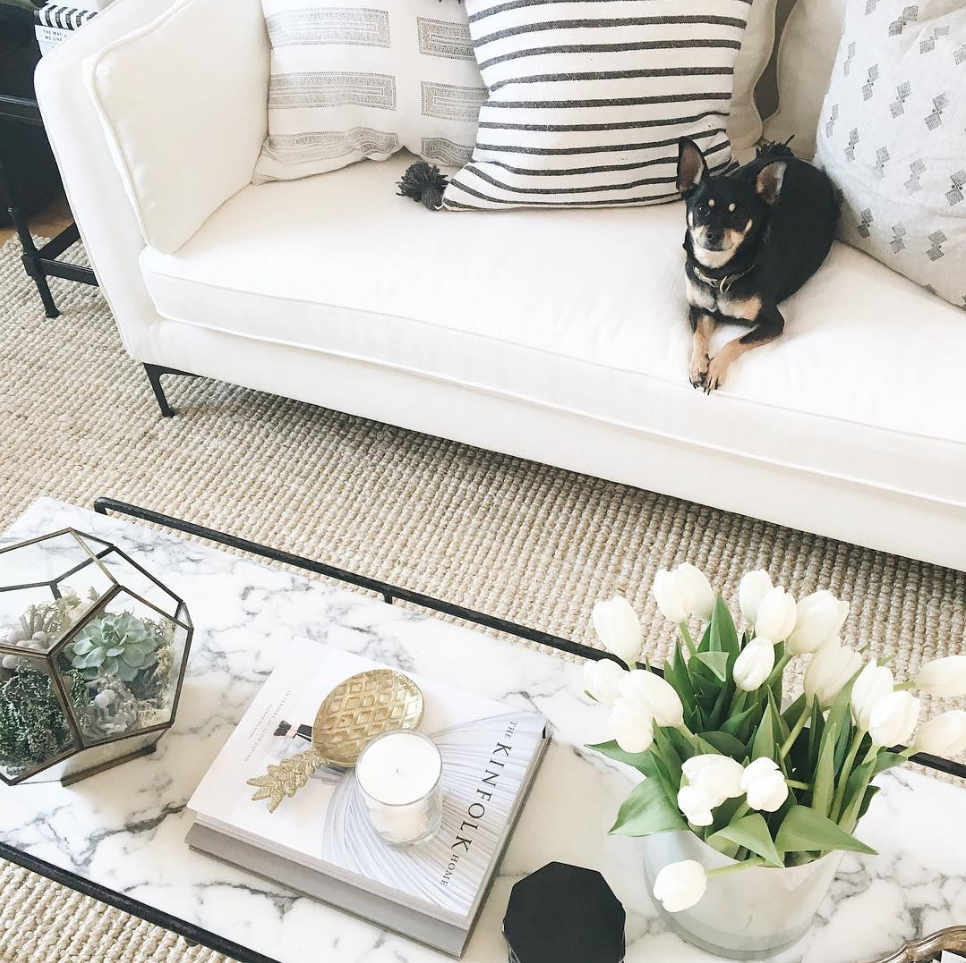 And you'll notice that throughout the process, it was easy to change things out (thanks to my neutral palette). It also would have been pretty easy to add a touch of color had I wanted to do that. There also aren't any pieces from the same collection or store. I do have quite a few west elm accessories, but try to bring pieces from different brands and stores to create something that feels a bit more unique to me.
Styling tip no. 7: Buy neutral larger pieces (i.e sofa, chairs, rugs, etc). This will make it easier to change out pillows, curtains, and other accessories.
Styling tip no. 8: Avoid matching sets! I don't care how much you love your coffee table–find a unique side table and TV stand to pair with it.
Rome wasn't built in a day, and your home won't be either. Take your time when furnishing your home. My first Chicago apartment took a good 8-10 months to come together, and that's ok. I'd say to focus on the sofa, rug, coffee table, and TV stand at first, and then fill everything else in as you find it. And for the love of pete if you don't really love something do not buy it. Trust me on this one.
The differences between what my home looks like day-to-day and in my home tour are:
I'm a pretty clean person which probably shows on instagram, and don't put that much into keeping my home organized. I put things away after I use them and fluff my sofa pillows and make my bed every day. I hid my kitchen and bathroom trash cans, bought lots of fresh flowers and plants, had bowls of lemons and apples, and the small piles of papers on my kitchen counter and desk away. And then I just made sure everything was placed in the right spot so it would look great in photos, which might mean changing the angle of a chair to not block a table next to it. Mostly small, subtle shifts though. I did move some art around but nothing was moved back to its original spot post-home tour.
You can shop some of the items in my living room here: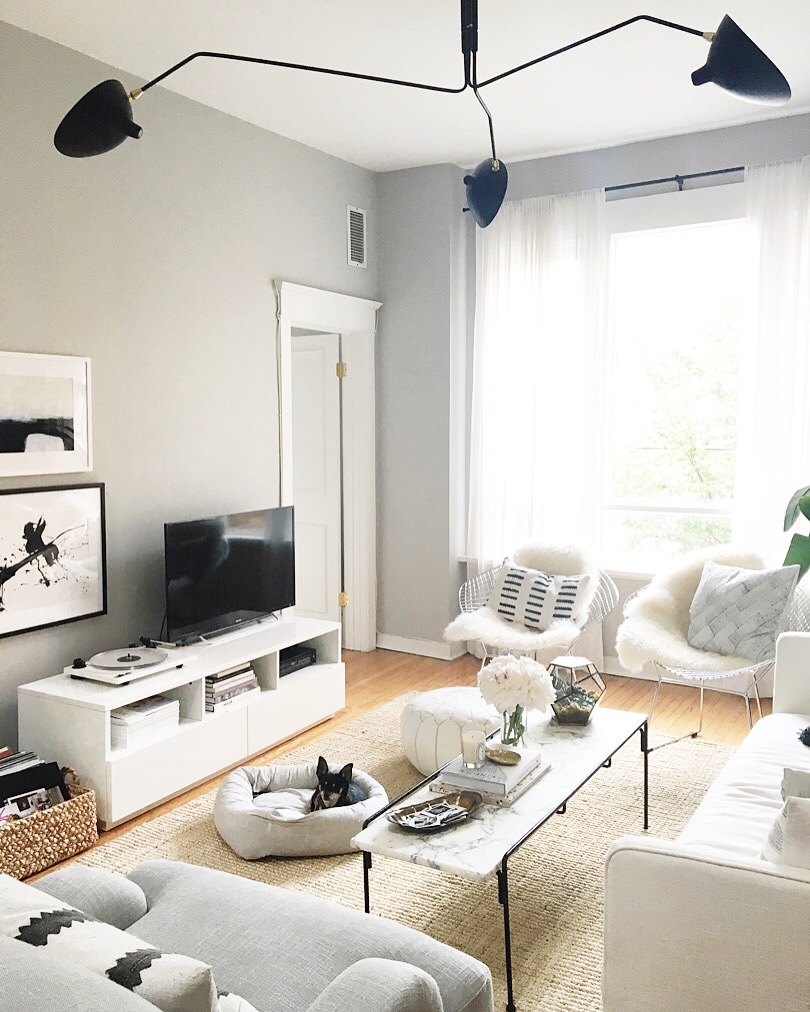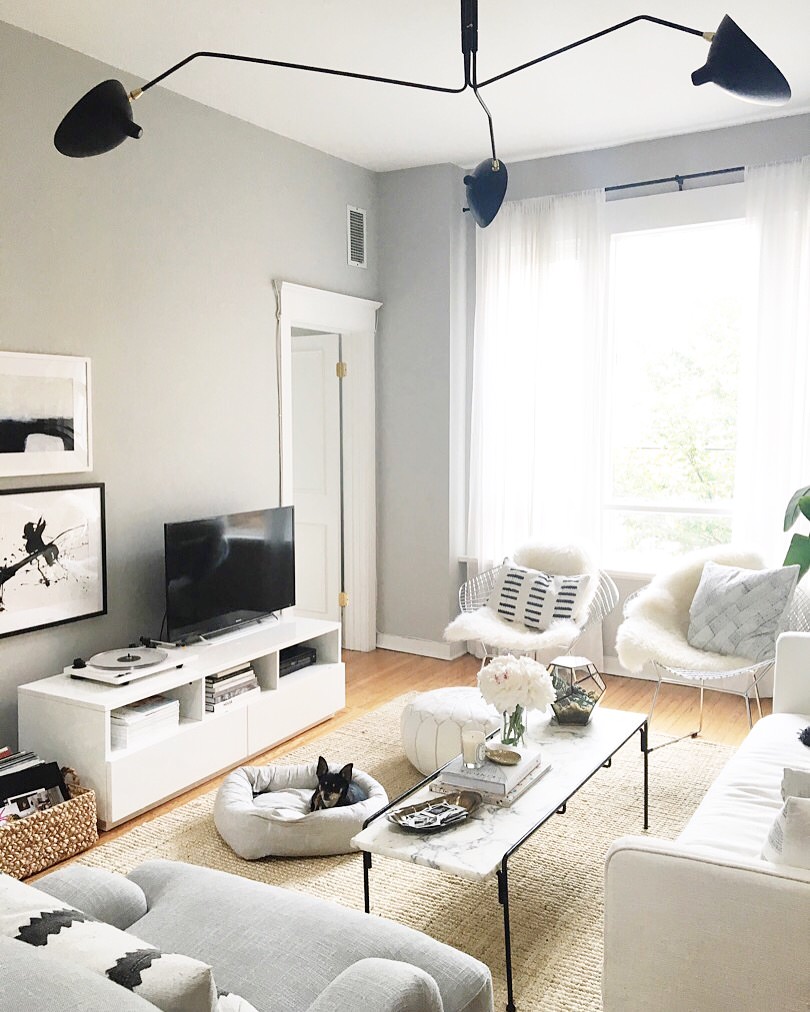 Shop the items in the graphic below in this post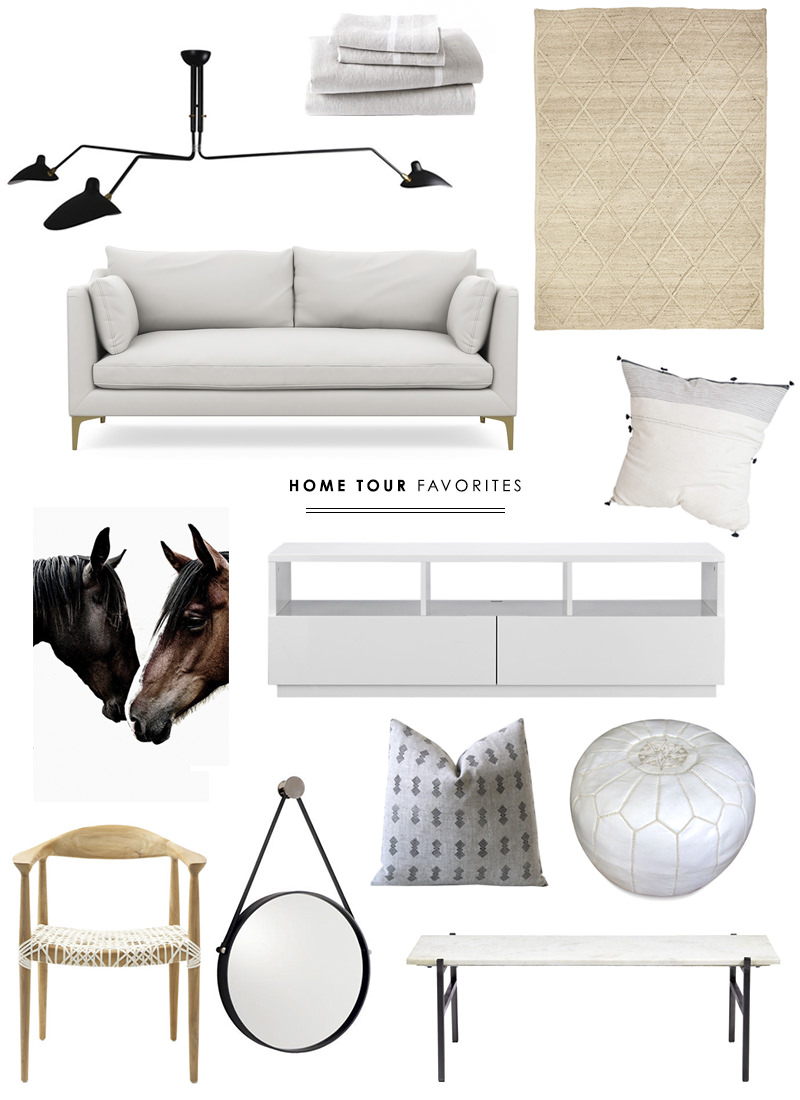 So there you have it. The before, after, and in-between process I went through when getting my place home tour ready. Have any specific questions for me? Leave them in the comments below!