Holiday Outfits for Babies and Toddlers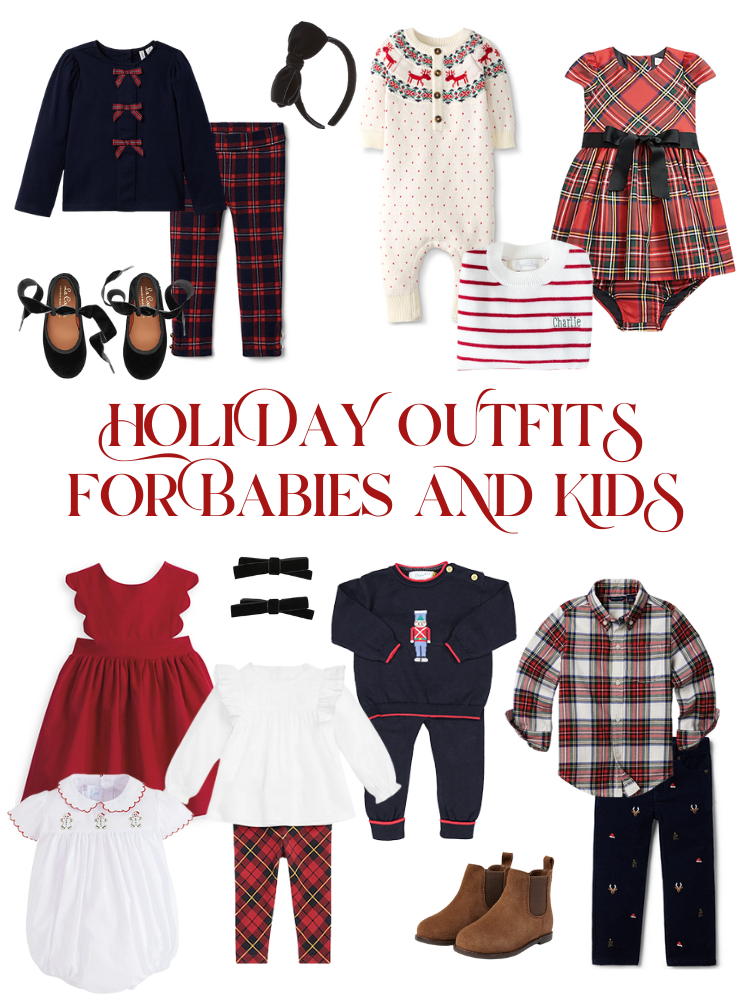 I really enjoy shopping for my daughters. Kids' clothes are so fun, and holiday outfits (and pajamas) are the cutest. There's something magical about celebrating the holiday season with your kids, and I love Christmas outfits for babies and toddlers. What's more adorable than tiny plaid pants? Nothing. Absolutely nothing. If there was ever a time to splurge on something special, this would be it. I've included both dressy and casual pieces for babies and toddlers, and if you're not in 🎅🏻 mode yet, like everything else, holiday outfits are selling out. If you're ready to start your holiday shopping, you can shop my gift guides here.
Holiday Outfits for Babies and Kids
One of the best things about the holidays is the anticipation – getting ready for the season. I've put together a list of cute outfits for all your holiday fun. I've only ever really purchased baby girl clothes (and little girl clothes) but included boys and baby boys, too. From matching sets to dresses and even little ankle boots, here are my favorite holiday outfits for babies and kids.
Each holiday season, I like to make sure my kids have outfits for Christmas Eve, Christmas Day, and then one or two festive and casual winter/holiday outfits for holiday outings. We didn't do much last year, so the girls each had one Christmas dress and an outfit. One thing we did do last year, I'd like to make a tradition each year. I got a hotel room downtown (with my then 3 year-old) and we ordered room service, looked at Christmas lights, and watched The Grinch in bed. Now that my youngest is (almost) 2.5, it would be a really fun thing to do as a family.
I got this Janie and Jack plaid bow top and leggings for the girls. It's perfect for holiday outings and events, school, or even a cozy Christmas day at home.
This post contains affiliate links. If you purchase something using my links, I may earn a small commission at no cost to you.