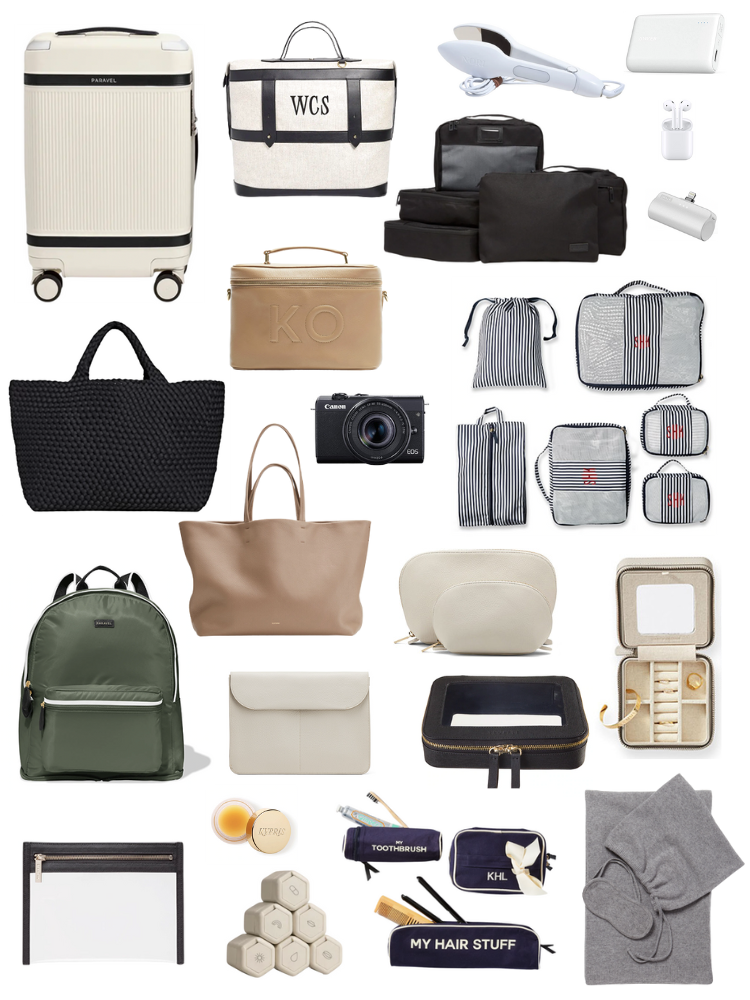 If you're looking for gifts for the traveler, I'm rounding up the best gifts for your friend or family member this holiday season, I've got you covered. These are the best travel gifts for frequent travelers – from road trips to long-haul flights and everything in between, finding the perfect gift is not always easy. So here are the best travel gift ideas, from electronic devices to a travel backpack. There's something for everyone on this list, from fun travel gifts to the most useful travel gifts – my travel gift guide has a variety of beautiful gifts for the traveler in your life. And you can read more travel content here.
Gifts for The Traveler
Aviator Carry-On Suitcase
Every frequent flyer needs to great carry-on spinner. The Aviator Carry-On Plus is crafted of sustainably-sourced materials including recycled polycarbonate, recycled aluminum, and recycled vegan leather. A spinner (carry-on on 4 wheels) is a must-have for getting through the airport, and this one is beautiful. It glides so smoothly, and the design is the best I've seen. I keep my tote or duffel on top and just glide it through the airport. Keep your must-haves for travel in your tote and choose a bag with comfortable handles or one that slides onto your spinner's handle.
Weekender
A weekender or duffel is a traveler's must-have. This one is beautiful – I have it in this style and love that it matches the carry-on spinner. It has enough space for a laptop and all my travel essentials, smart straps that slip over the handles of your luggage, and a crossbody strap.
Tote Bags
I have and love this vegan woven tote in two colors. It's easy to travel with and holds all my essentials. The Cuyana tote is a soft, unstructured, double-handle bag that carries it all—for work and play, at home and while you travel.
Fold-Up Backpack
This is the perfect travel gift and actually made it to Oprah's Favorite Things. A great gift idea for anyone who is always on the go.
Tech Carryall
I just ordered this tech carryall and like that unlike most laptop cases, it has two pockets for cords and other necessities. It comes in two different sizes (I got the larger one for my Macbook Pro) and is such a beautiful and useful gift for anyone with a laptop who loves beautiful things.
Packing Cubes
I wouldn't call these one of the most unique gift ideas for a traveler, but these two sets are two of my favorites. A great travel gift for the organizer in your life – packing cubes are one of my personal favorites. From shoe bags to packing cubes, this beautiful set can be monogrammed and comes in a few colors. It makes a great gift.
Clarity Clutch
These are a bit pricey but they're well-made, hold up, and are great for travelers or anyone who is on the go. I am not an avid traveler anymore, but keep miscellaneous essentials in my clarity clutch in my tote. This one is great for moms, too.
Travel Jewelry Case
This travel jewelry case is beautiful and would be great on the go or in your closet. I like keeping the pieces I wear regularly in a small jewelry case so they're easy to find.
Monogrammed Train Case
This is on my wish list this year. It's made of full grain leather and measures 7.5″ L x 10.25″ W x 6.5″ H | 19.1cm x 26cm x 16.5cm. It's tall enough to fit 7 inch full-size containers upright and has two interior zippered pockets and four interior open pockets. There's a large elastic band to secure bottles and small elastic band for hair ties; both with snap closures and water-resistant lining to protect the case from spills. Metal D-rings were thoughtfully included to the exterior so you can clip on a crossbody strap for easy carrying.
Cosmetic Case
This Clarity Case is a TSA-approved clear travel makeup case and sure to delight even the most discerning jetsetter.
Leather Travel Case Set
Everyone needs a toiletry bag for all their essentials and travel lovers will love this set. This set is beautiful, can be monogrammed, and I've had mine for years. It comes in a bunch of different colors and makes a great travel gift.
Cosmetic Travel Set
I am most excited about the hair accessories case. Like the other pieces in this set, it's made of natural cotton but includes a heat protected interior. I use this for my straightener or curling iron. And bonus: the set is beautiful.
Cashmere Travel Set
Consider a luxurious travel set with an eye mask, blanket, or maybe a travel pillow? Probably not one of the most practical gifts, but it's the perfect gift for the traveler who has everything.
Handheld Steamer
This looks like the easiest-to-use and most convenient steamer. If you know someone who loves a pressed collar (like yours truly) this would be an appreciated and fun travel gift.
Wireless Headphones
These are the most budget-friendly airpods, but they're great. I have this set and they're the perfect fit, and work well on an airplane.
Compact Camera
On my most recent trips, I haven't brought my DSLR out at all. It's just too big with kids and all my stuff, but a more compact camera would be such a nice thing to have.
Portable Charger
The compact travel charge is the size of a few credit cards, and the mini charger is even smaller. I love both options – such practical gifts for the traveler and ones that would be appreciated by anyone who loves to travel.
Capsules
These capsules are amazing and hold everything from serums and creams to vitamins and jewelry. It's a great idea and is one of the most practical travel gifts you can give. The compact design is a space-saver, and these eliminate single-use plastics since they can be filled with everything you use at home.
Lip Elixir Balm
This lip balm is extremely hydrating and makes the perfect small travel gift for your friend who loves to travel.
This post contains affiliate links. If you purchase something using my links, I may earn a small commission at no cost to you.