Gift Guide: Holiday Gifts for Her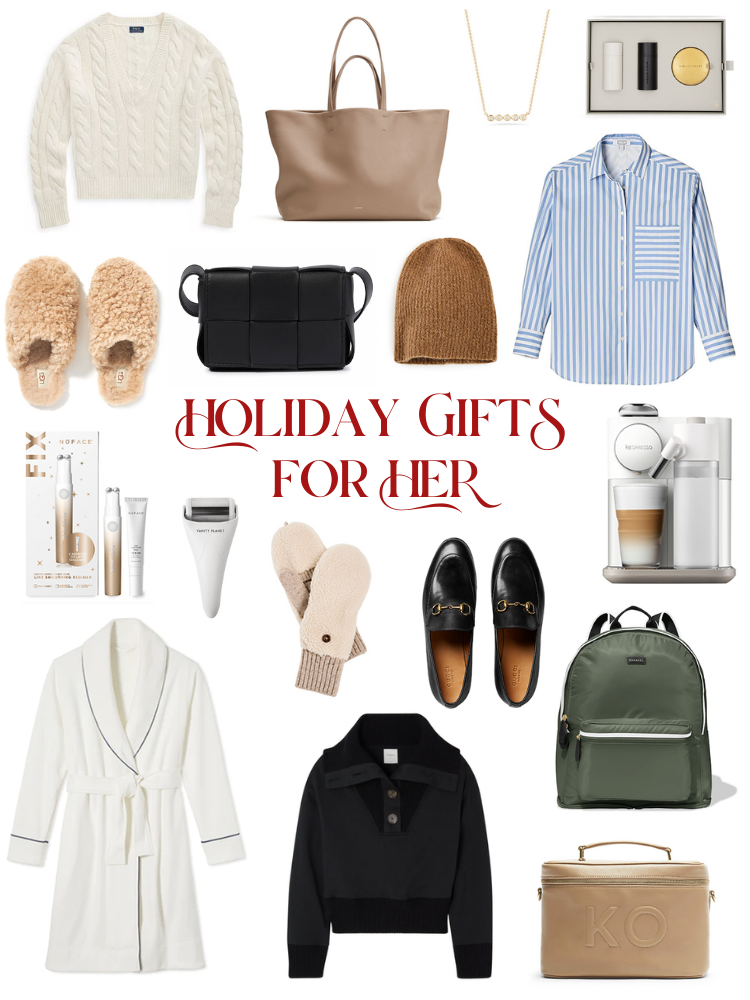 It's the most wonderful time of the year. And tis' the season for holiday gift guides! And this particular gift guide is my favorite: gifts for her. I included some of what I think are the best gifts to give for the upcoming holidays. It's always so fun to look for gifts for her, because these are usually the things I love most and either own or have on my list. I imagine what I'd want for Christmas, or think of the things I've used most this year. From cozy slippers to my favorite versatile bag, if you're looking for the perfect gift for a special lady in your life, this is the gift guide for you. Choosing a thoughtful gift for a family member or your best friend can be a challenge. So here it is, my 2022 holiday gift guide for her.
Gift Guide: Holiday Gifts for Her
I love giving things that feel really special or one that are practical but beautiful and will last. Classic, traditional, timeless pieces, or the super-functional ones that are a better version than what you've seen. A backpack for the new mom, an updated (monogrammed) makeup case, or the coziest slippers you will ever wear. Or maybe it's just the most incredible life-changing moisturizer (yes, that is a thing and yes, it is on this list). I even included my favorite oversized button down – a classic piece that any woman would love. When I put this guide together, I thought about what you might want to buy for your sister, friend, mom, or mother-in-law. Or what you might want to add to your own holiday list this year. If you're looking to gift an experience, gift her a spa day gift card – that is always one of my favorite gifts.
So here it is, my 2022 holiday gift guide: gifts for her.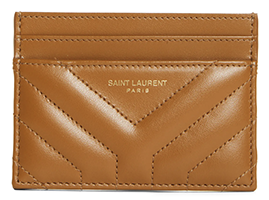 Quilted Card Case
This is the perfect size for a minimalist and a good price point for a luxury gift. Matelassé stitching textures the supple calfskin leather of this Italian card case with an embossed foil logo.
Loafers
These are a splurge, but what a great Christmas gift. I have these in the loafer and mule version which says a lot – and they are very (very!) comfortable. If there's someone special you want to splurge on, this is the special occasion gift. These feature an almond toe and are slip-on (so easy and comfortable), with leather lining and a leather sole. The iconic Gucci horsebit detail is a classic and definitely says Gucci without being overdone.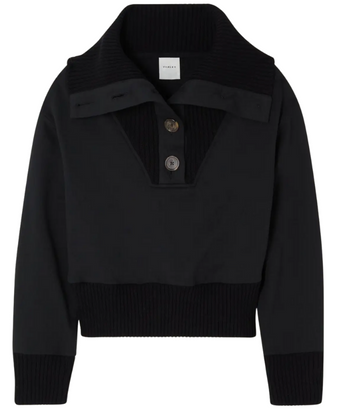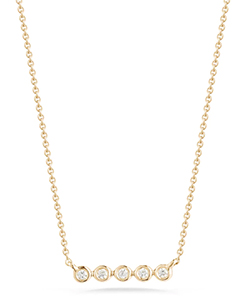 Button Front Sweatshirt
This is such a stylish sweatshirt. With its oversized rib collar and boxy, cropped cut the Milan is the perfect, practical, stylish meets cozy sweatshirt for fall and winter. Pair it with leggings, jeans, or joggers – and dress it up or down with flats or sneakers. From plans with friends to errands and lazy days at home, you'll always feel chic in this button front sweatshirt.
Diamond Bar Necklace
I have a different version of DRD's bar necklace, but love this style, and wanted to share something different from what I have. This petite diamond bar necklace is the perfect everyday staple and stands out a little more than the dainty one I've worn for years. I love both and really just wanted to share something new. Simple and classic on its own, it is also a great layering necklace. This dainty 14 karat gold and diamond bar necklace features white round diamonds bezel set in a row. If you're looking for romantic gifts for a special woman in your life, I love Dana Rebecca.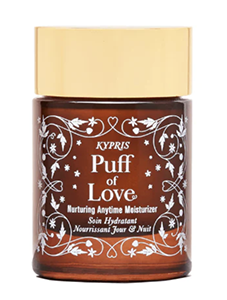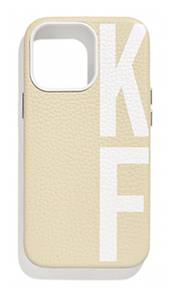 Puff of Love Moisturizer
When I made the change to clean beauty a few years ago, Kypris quickly became one of my favorite brands. Their Beauty Elixir III: Prismatic Array is one of my most-used and most-purchased products. I use it 2x a day without fail (once with the antioxidant dew and again with the moonlight catalyst). A few weeks ago, they sent me their Puff of Love moisturizer and just wow. It's so thick and immediately hydrated my skin, which always starts to get a little drier in those winter months. I've found a new favorite product and think this would make a great gift.
Leather Custom Initial iPhone Case
I came upon this case in my search for a new one since the one i have is peeling pretty badly. It's crafted with smooth genuine leather, and lets you add the initials of your choosing in a color scheme that fits your style.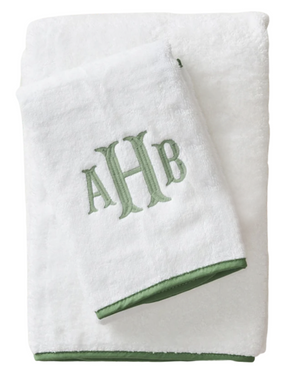 Monogrammed Towels
I've been using Weezie towels for a few years and just love them so much. From the beautiful color options and monograms to the handy little loop to make hanging them to dry so easy. They stay soft and really do make such a great gift. And if that's not enough, they are made in Portugal with 100% Long Staple Cotton, and are OKEO-TEX® certified.
Jo Malone Candle
Take your seat for a truly English tradition: afternoon tea. Almond tarts and freshly baked scones in a London townhouse. This candle is made of a bespoke wax blend, this hand-poured candle is housed in a gorgeous bisque-colored ceramic vessel, complete with an embossed Jo Malone London logo and matching lid. It is 10.7 oz. and will burn for approximately 70 hours. The perfect gift for your friend or family member who loves the UK or loves to travel.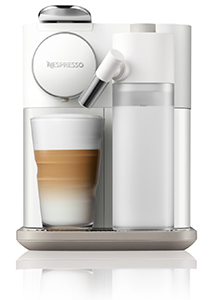 Easy Tote
Designed to go everywhere, this soft and lightweight bag is so stylish. Available in two sizes, classic (shown here) and tall, it's a great gift idea for a mom who, like me, carries around a few things but prefers a tote to a diaper bag.
Latte Machine
De Longhi's expertly designed, fully automated Nespresso machine brews your favorite espresso drinks with the skill of a master barista in an all-in- one, energy-saving design. The control panel is simple to use, offering nine preprogrammed drink options for authentic café-style beverages with one-touch convenience. Choose from espresso, ristretto, lungo, cappuccino, latte macchiato, caffee latte, hot foam, flat white, or hot milk.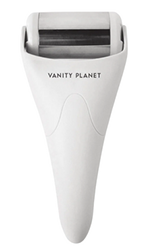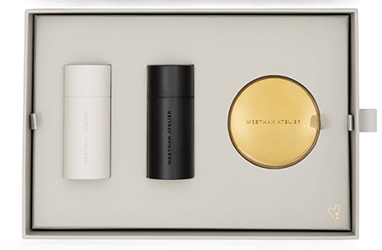 Ice Roller
Need any budget-friendly, great ideas for the beauty lover in your life? Look no further than this ice roller. Why an ice roller? The benefits are endless. Ice rolling helps to decrease pore size, improve skin tone, and eliminates puffiness and brightens under eye circles. But that's not all. It helps fight blemishes, fine lines, and wrinkles, soothes inflammation and redness, and promotes fluid flushing in the face. If that isn't a great gift, I'm not sure what is.
Makeup Gift Set
Makeup gift sets are always a great gift, as long as you know the person you're gifting it to well, and are confident in your selection. Westman Atelier quickly became one of my favorite beauty brands, and I actually have and love all of these products. I love the makeup and bonus: the branding is beautiful.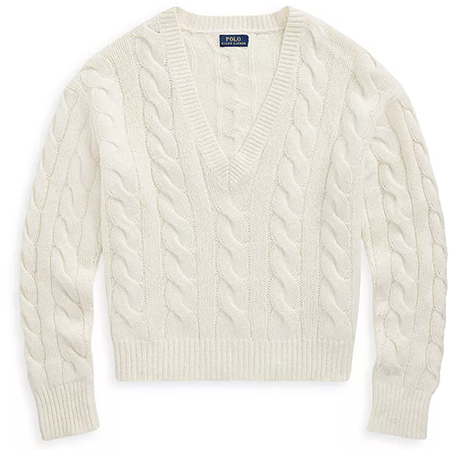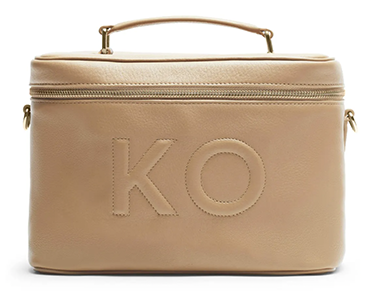 Cashmere Sweater
Another luxury gift, but I love RL cashmere and the fit / style of this cable knit is so chic.
Monogrammed Train Case
This is on my wish list this year. It's made of full grain leather and measures 7.5″ L x 10.25″ W x 6.5″ H | 19.1cm x 26cm x 16.5cm. It's tall enough to fit 7 inch full-size containers upright and has two interior zippered pockets and four interior open pockets. There's a large elastic band to secure bottles and small elastic band for hair ties; both with snap closures and water-resistant lining to protect the case from spills. Metal D-rings were thoughtfully included to the exterior so you can clip on a crossbody strap for easy carrying.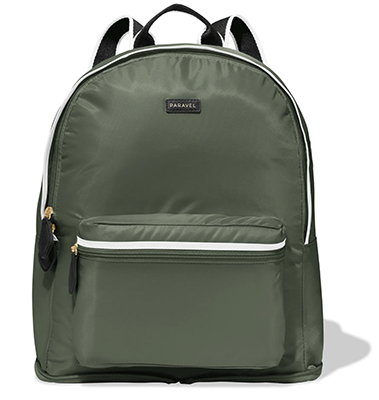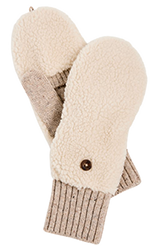 Fold-Up Backpack
This ultra-lightweight and compact carry-all is truly perfect for everything. The Fold-Up Backpack, made of our water-resistant Negative Nylon, is durable and storage-friendly. A use-everyday kind of backpack with a twist of magic: it folds up flat and zips into a barely-there pouch. Pack it up. Fold it up. And go.
Sherpa Mittens
The lightweight knit and sherpa mittens feature a button closure for the mitten flap and ribbed cuffs.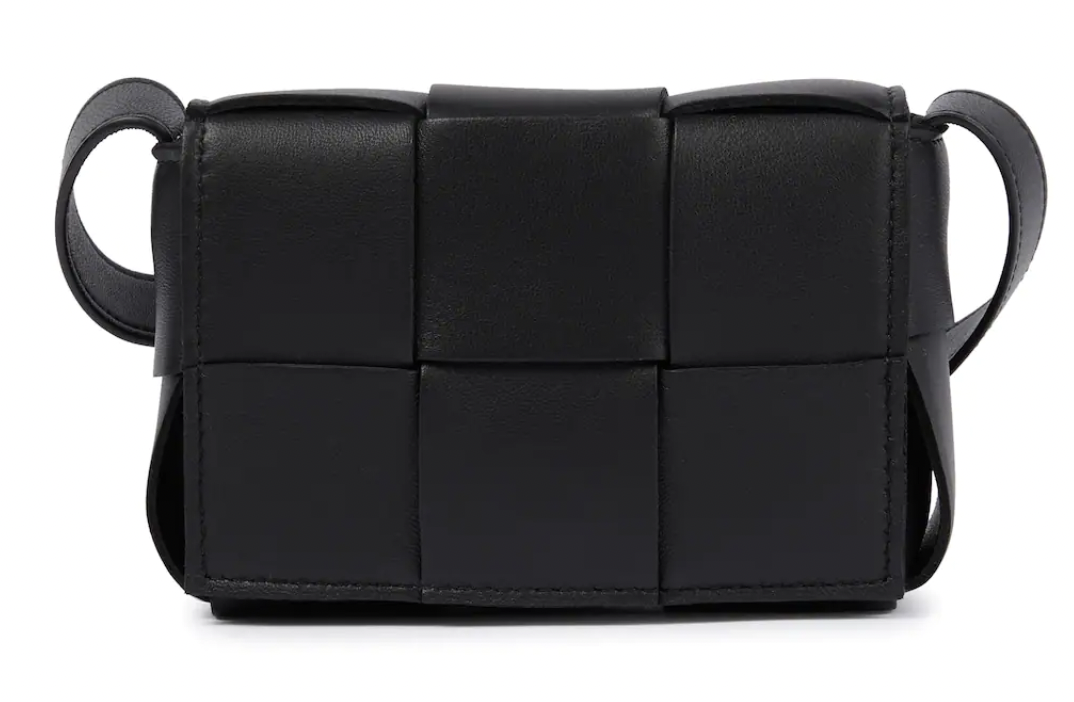 Mini Crossbody
This bag is teeny tiny but it's beautiful. If you're looking for something a little bigger, this is a gorgeous option. I love the concept of micro-accessorizing but have 2 young children and one on the way, so I always have a tote with me. Although I have to say that I love having my phone, wallet, keys, and lip balm on me at all times, and keep the kids' stuff in a separate bag. This black Cassette Mini crossbody bag from Bottega Veneta is gorgeous, isn't it? A modern take on the house's signature intrecciato technique, it's woven from lambskin leather to a compact silhouette with an adjustable strap that can also be styled over the shoulder.
Cozy Robe
I always love gifting a robe or pajama sets (or a cozy blanket), because Christmas time is the best time of year to be cozy at home. This style features long sleeves, a turndown collar, sewn-in belt, and roomy pockets.
Slippers
There is definitely not a shortage of fuzzy slippers in 2022, but these are hands-down my favorite and have made it to my (very short) wish list. So I'm going to make sure my husband sees this post by very casually sending him the link. Ha.
Beanie
I included this in another gift guide but it's one of my most-used winter items, and is quite stylish for a beanie. I love that it's practical but also chic – the perfect gift.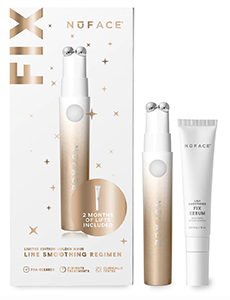 Line Smoothing Regimen
I've always been pretty into skincare and am putting this right under those slippers on my wish list. NuFACE FIX® delivers a gentle dose of microcurrent to the surface layers of the skin with a "feathering" technique, a quick erasing motion, that smooths the look of fine lines and wrinkles around eyes, mouth, forehead, and nasolabial folds in just three minutes per treatment area. Use around the lip line to create naturally fuller-looking lips.
Striped Shirt
It's been called the only button-down shirt you'll ever need. The AYR deep end is perfectly oversized and comes in solid poplins and stripe. I have this oversized shirt in a few colors and styles (4 to be exact – I've been collecting them for a year or two). It's a clothing item that is almost guaranteed to fit your recipient since you can really size up or down. Wear it half-tucked into jeans or paired with leggings.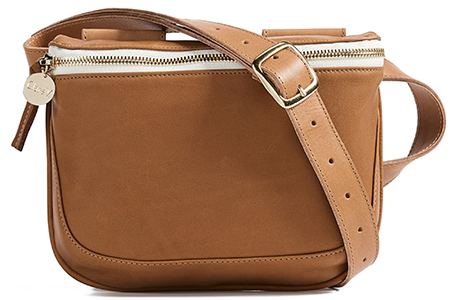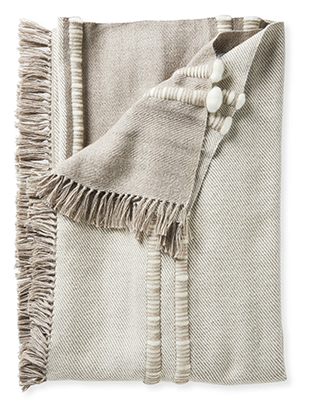 Leather Fanny Pack
I'm not usually a fanny pack person but leave it to Clare V. to design the most beautiful belt bag.
Alpaca Throw
The perfect gift for the home-decor lover in your life. This stylish and luxurious throw is handmade in Peru of baby alpaca wool. The striped pattern is so unique, and the fringe adds some detail to this already beautiful throw.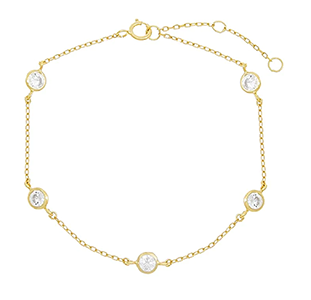 By the Yard Bracelet
Delicate and pretty, this By Adina Eden bracelet is punctuated by sparkling crystals for an added touch of shine. And and under $45!
Cast Iron Stackable 4-Piece Cookware Set
Staub makes some of my favorite cookware and this set is both functional and practical. The set features three pieces of cast-iron cookware plus a lid that fits them all, it's designed to stack for space-saving storage. The Dutch oven has tapered sides that are perfect for preparing soups and stews, as well as French classics like coq au vin. Ideal for casseroles and baked pasta, the braiser has rounded sides that also make it the quintessential risotto pan. The grill pan boasts raised ridges that create appetizing sear marks on food and elevate it above drippings. And the lid fits all three pieces! Brilliant (and beautiful).
This post contains affiliate links. If you purchase something using my links, I may earn a small commission at no cost to you.