The Best Clean Beauty Products and Brands at Sephora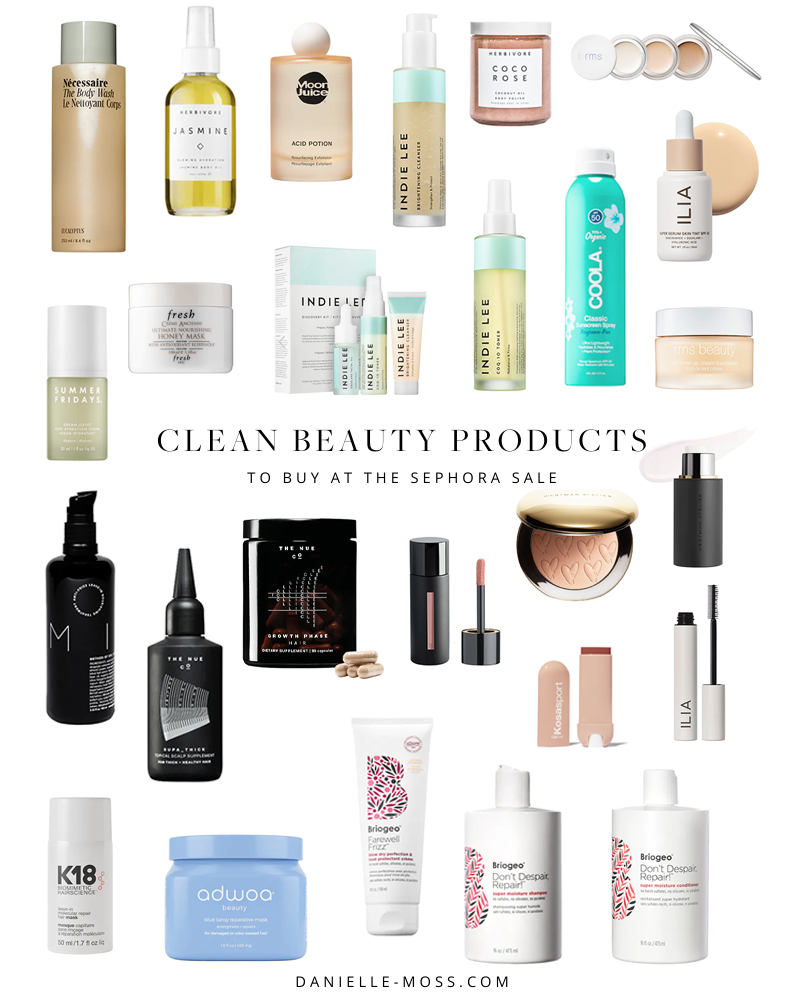 Investing in clean beauty brands with clean ingredients is so worth it. It's been about two-and-a-half years since I switched to clean beauty, and I've found that clean and natural products work better than "dirty" ones. My skin has never looked or felt better, so I want to share some of my favorite products that are on sale right now. Sephora is having a big spring sale, so I'm sharing the products I use daily and some new products that are in my cart. Shop the rest of my favorite clean beauty items in my shop and check out my 5 minute clean makeup routine.
The Best Clean Beauty Products and Brands at Sephora
Choosing the right beauty products and taking good care of your skin is so important. I have always worn sunscreen, but didn't always wear the right sunscreen. Most skincare and beauty products contain ingredients that aren't exactly the best for bodies, and what we put on and in our bodies matters. Since these ingredients make their way from your skin into your body and bloodstream, we should really take a closer look. Plus, the benefits of clean beauty are greater than I would have imagined. I thought I'd be sacrificing on quality, but it's been the opposite.
The Sephora sale runs April 1-11
Rouge members get 20% off starting April 1
VIB members get 15% off starting April 5
Insiders get 10% off starting April 7
All shoppers get 30% off items from the Sephora Collection from April 1-11
Use the code SAVESPRING to save 10-20%
Clean skincare ingredients to look for (and the ones to avoid)
You're looking to avoid parabens, aluminum, formaldehyde, talc, oxybenzone, and petroleum. Read more on these ingredients here. Always look at ingredient lists and consider the following ingredients when you're buying new skincare products. Some of the ingredients I look for are Alpha-Hydroxy Acids (AHAs), Niacinamide, green tea, essential oils and coconut oil.
Clean Beauty Products: Skincare
Body Wash
The eucalyptus smells so good and contains inflammation reducing niacinamide. Great for sensitive skin, eczema, acne, and other inflammatory skin condition. It's also vegan, cruelty free, and the bottle is recyclable.
Body Oil
I love this body oil but actually use the coconut (which isn't available at Sephora). I just rub the oil in my hands and massage all over my body. My legs get so, so dry, and this helps a lot with that. This product works especially well when used after the body polish.
Organic Sunscreen
While I generally avoid the sun, I do always apply sunscreen if I'm going to have any sun exposure. This is just so easy to use and is great for travel or on the go. Just spray all over your body and be sure to reapply after 40 minutes of swimming or sweating.
Hydration Serum
I haven't tried this serum but just ordered it. It's priced well and contains hyaluronic acid, so it's great for dry skin (like mine), and improves skin tone.
Acid Potion Exfoliator
AHA and BHA Acid Complex 25%: Uses glycolic, lactic, and salicylic acids to help unclog pores and visibly resurface fine lines for smoother skin.
Discovery Kit
This trial set includes two of my favorite products: Indie Lee's brightening cleanser and C0Q10 toner. It also comes with Indie Lee's Squalane Oil – its antioxidants fight skin damage and free radicals, which accelerate the aging process.
Brightening Cleanser
According to Sephora, this product is a cleanser, makeup remover, and mask in one. This face wash is rich in potent antioxidants and plant extracts to cleanse, protect, and enhance the skin. I've been using it since the start of my clean beauty journey and really like how refreshing it feels.
C0Q10 Toner
An alcohol-free toner that hydrates, soothes, and protects all skin types with antioxidant coenzyme Q10 and hyaluronic acid.
Honey Mask
This is a major splurge, but I got it as a Christmas gift (it was maybe the one item on my list that year) and it's pretty amazing. Fresh's honey mask contains 38 percent nourishing honey and delivers hours of super-intense moisture.
Body Scrub
This highly moisturizing, gently exfoliating scrub leaves my skin feeling especially smooth and nourished. It's vegan, cruelty-free, and great for every skin type.
Clean Beauty Products: Makeup
Skin Tint SPF Foundation
This award-winning tinted serum offers light, dewy coverage, mineral SPF (always always use SPF on your face).
Natural Finish Cream Foundation
A rich-cream foundation that blends and blurs to provide medium-to-full, natural, buildable coverage with a lightweight, luminous, natural finish.
Concealer
A rich-cream foundation that blends and blurs to provide medium-to-full, natural, buildable coverage with a lightweight, luminous, natural finish.
Highlight Stick
Bronzer
Since it appears my daily self-tanner days are coming to an end, it's nice to give my face a little glow. According to Gucci Westman, you should "sweep in a horizontal motion over the cheeks, eyelids, temples and forehead. Anywhere the sun would naturally hit."
Mascara
This clean mascara weightlessly lifts and lengthens with a dual-sided brush that catches and separates every lash.
LipFuel Hyaluronic Acid Lip Balm
I have this in sheer and warm beige – it's an ultra-hydrating hyaluronic lip balm loaded with active skincare ingredients. And it's under $20!
Lip Gloss
A tinted, clean liquid lip balm that cushions lips with weightless nourishment to hydrate and protect.
Clean Beauty Products: Hair
Leave-In Molecular Repair Hair Mask
This mask repairs damage, split-ends, and breakage. It's a leave-in treatment that works on all hair types that clinically reverses damage in a matter of minutes. According to Sephora, the patented peptide technology works to repair damage from bleach, color, chemical services, and heat, restoring strength, softness, smoothness, and bounce to hair.
Scalp Serum
This is a new-to-me product, and is a topical scalp supplement that reduces hair shedding and supports growth. My postpartum hair loss was brutal this time around, so I'm really hoping this will help.
Hair Growth Supplement
Another new-to-me product that has the most incredible reviews, so I'm giving it a try. It's a drug-free supplement that is clinically shown to support hair growth and hair density in as little as 12 weeks. It's ideal for thinning, weak, or slow-growing hair.
Anti-Frizz Treatment
I've been using this for over a year and apply to damp hair after I shower. It contains amino acids, almond protein, and pracaxi seed oil. In short, it repairs damage, moisturizes, provides protection against heat, and increases softness.
Hair Mask
I am clearly focused on hair right now, so I just ordered this mask. This reparative treatment mask has great reviews, so I am eager to try it. It that detoxes, reduces breakage, and strengthens hair suffering from color, thermal, or environmental damage.
Farewell Frizz Heat Protectant
A lightweight, silicone-free heat-protectant cream that minimizes frizz, smooths hair, enhances shine, and protects against heat up to 450°F.
Shampoo
I found Briogeo when I was researching Black-owned brands and have been using it since. Additionally, this shampoo provides intense cleaning, hydrates, restores nutrients, and repairs damaged hair. And it works on all hair types.
Conditioner
This ultra-conditioning conditioner repairs damaged hair and is moisturizing. And, it strengthens hair to protect against damage and is formulated 6-free™.