7 Moms Share Their Advice and Baby Essentials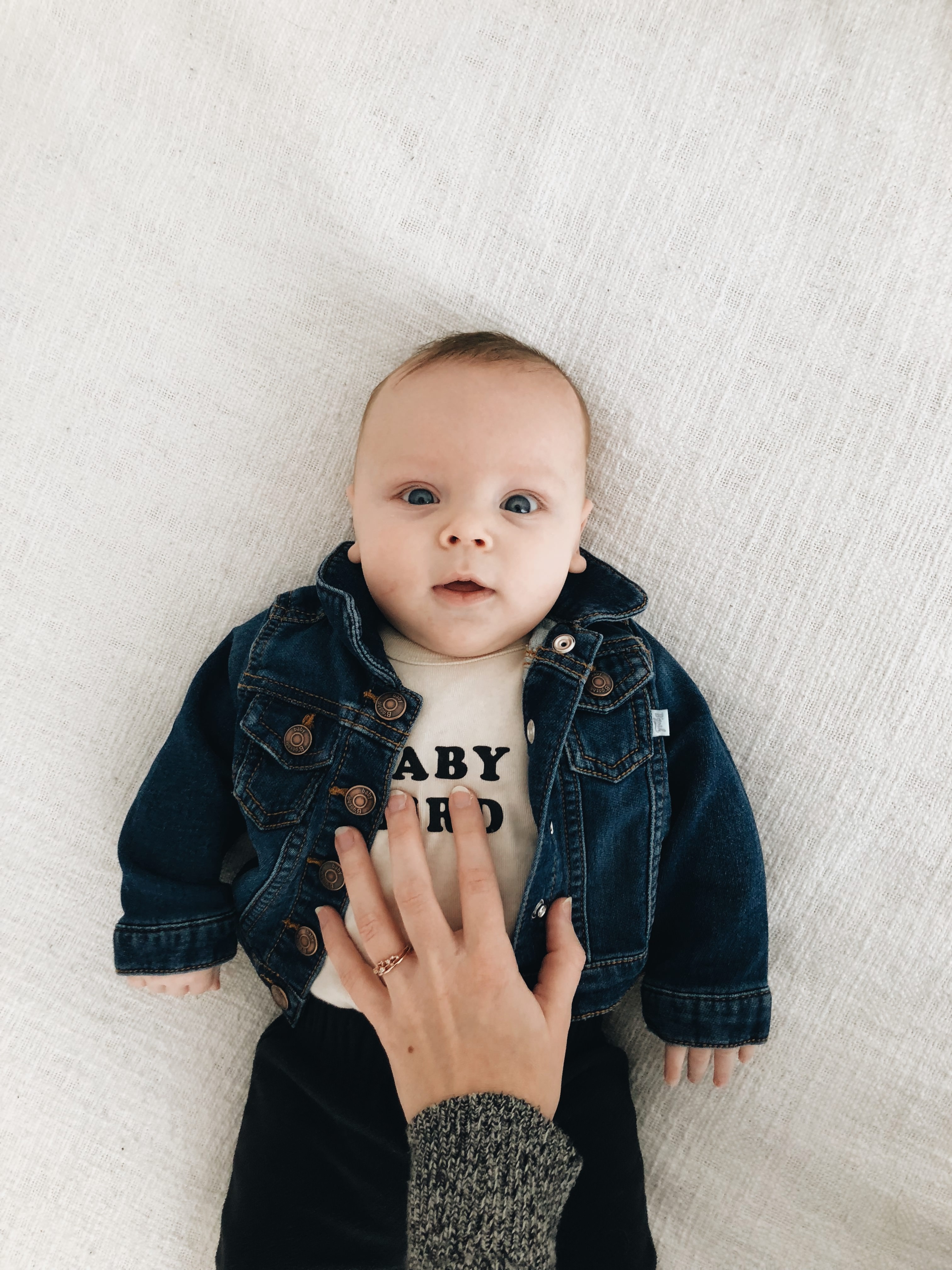 The thought of actually having a baby is so exciting but also a little scary and at this point, still feels a bit surreal. What do I actually need and how do I do this? If you're pregnant or are thinking about having a baby soon, I really hope this post helps you as much as it helped me. One of the benefits of waiting until your mid-30s to have a baby is that you're pretty much guaranteed to have close friends with kids. If you're one of those women who is the first of your friends to grow your family, 2018 is the time to do it because there's so much information online. Each of the women sharing advice in this post have been there to help me the past few months, so I asked them to each share a piece of advice and two products they relied on that first year.
A huge thank you to my friends / these amazing moms for being a part of this! I wanted to take a moment to share their instagram handles so you can follow them because they're all producing beautiful content and they share cute photos and videos of their kids!
@maurastoffer
@kellyinthecity
@amandajanejones
@taylorsterling
@jenolmstead
@holycitychic
@ninagraceless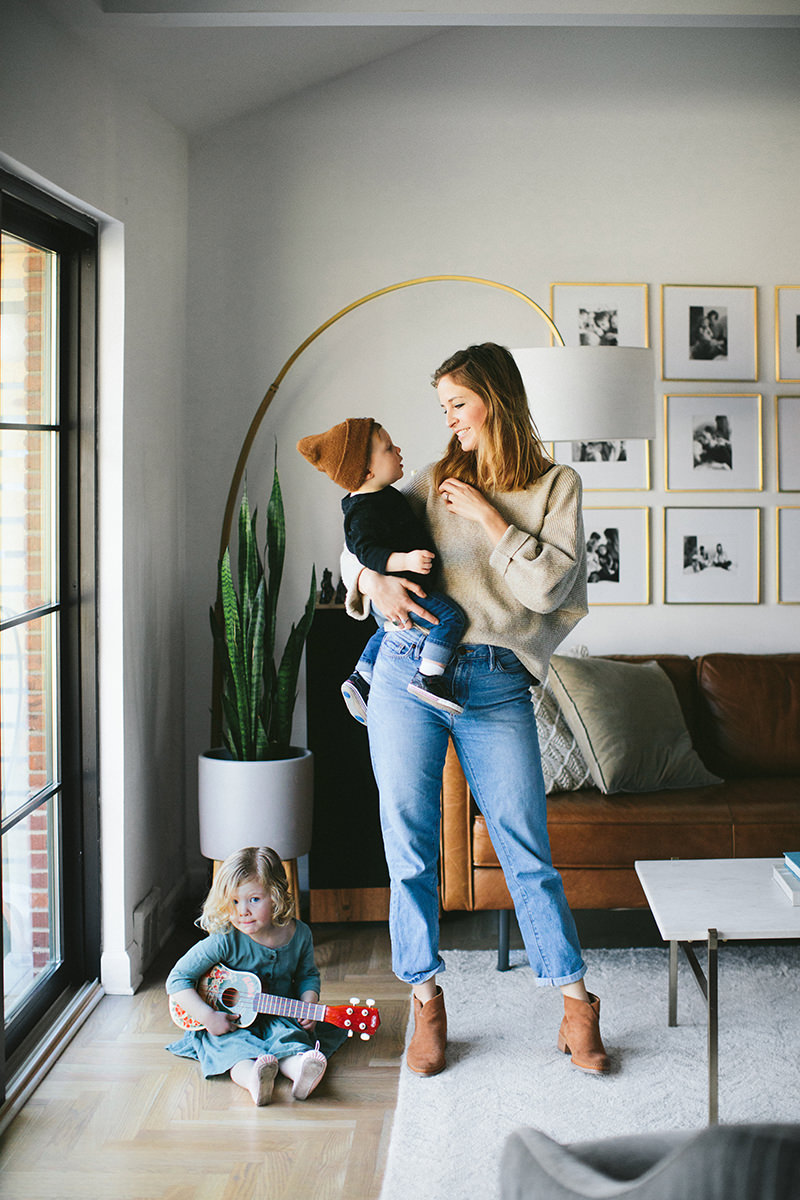 Maura Stoffer
Photographer and mom to Frances and Brooks
Maura and I met six years ago when she and her husband John photographed my home for Rue Magazine. We have since worked together on too many shoots to count (they also photographed our current home for MyDomaine and Arch Digest) and they're one of the couples Conor and I have become closest to over the past few years. I could talk about how great Maura is all day but will keep this short and tell you that I love how she and John parent Frances and Brooks. Frances is the most funny, social, and charming little 3-year-old I have ever known. Hoping she can teach our kid how to be cool.
MAURA'S ADVICE FOR NEW MOMS
Be prepared. John and I are spontaneous planners and love taking our kids with us everywhere we go, so I always have their diaper bag packed for a full day basically. Sounds crazy, but I like to be ready to nap our kids on the go and have meals for them. Always pajamas, their bedtime blankets, snacks, and diapers for days on me, just in case.
FAVORITE PRODUCTS
Uppa Baby Vista with Rumble Seat
We love going for long walks as a family and also walking to our destination even if its across the city, so when we had our second baby, we knew we needed a double stroller – each of us walking with a stroller side by side, or one child in a carrier was not cutting it. We chose the Uppa Baby Vista because of its sleek design and beautiful leather accents, but adore it because of how light it is and easily it folds down and packs in the car – I can get it in and out of the car easily, by myself with both kids, while only causing a tiny scene. It also has so much storage, so we can be packed for the day when we leave the house.
Guava Lotus Travel Crib
Both our children went on their first flights when they were two months old and haven't slowed down since. Traveling with all the baby gear can be a pain and make anyone sweat, so to simplify is key. This travel crib folds down so small into a light backpack. There are also newborn attachments that make it a rocking bassinet.
Bum Genius Cloth Diapers (a close third)
We knew we wanted to cloth diaper before Frances was born and did our share of research on which routes to go. We knew it would take an effort to cloth diaper, but wanted it to be as simple as possible. All in ones are the only way to go, *snaps only, no velcro*. I've seen so many parents commit to cloth diapers using other methods and always quit. John and I are equally in love with using cloth diapers because of how easy these have been. We even take them on the go for short trips.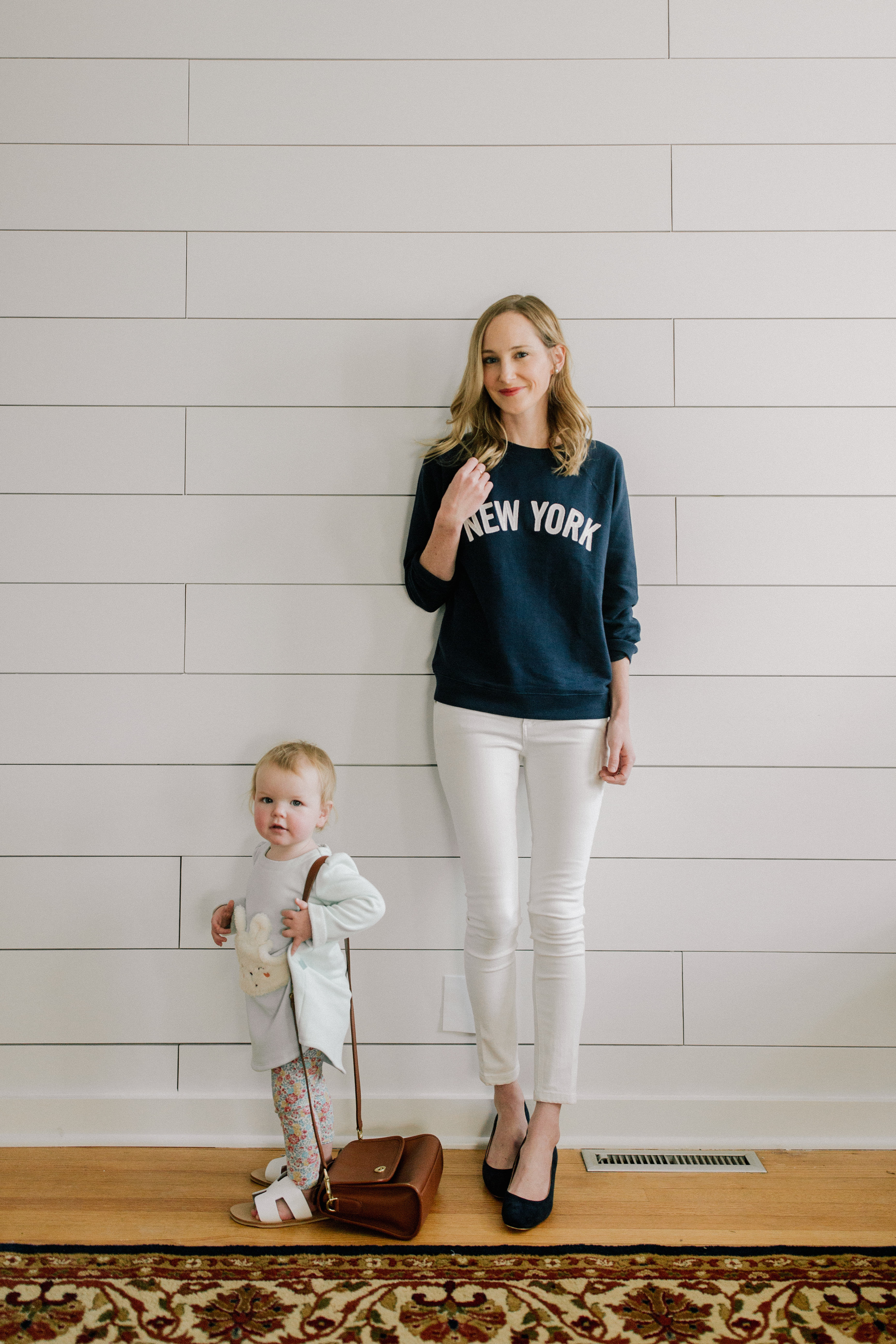 Kelly Larkin
Blogger at Kelly in the City and mom to Emma
I don't know exactly when we met, but Kelly and I are actually friends (some people might use the term "IRL" but I'm way too old for that). Kelly is mom to Emma and runs Kelly in the City, so naturally, I've turned to her for advice on having a baby in a big city and running your own business. She has also talked me off multiple "labor is going to kill me" ledges and is such a good mom. I love her approach to everything. And Emma is a great kid (really cute too, obviously).
KELLY'S ADVICE FOR NEW MOMS
I worried about SO much while I was pregnant. Whether the nursery was perfect; whether the house was clean and organized enough; whether I was fully prepared for all that comes along with motherhood. I thought I'd done everything I could possibly do to "get ready," but there's no preparing for how big your heart grows the moment that tiny baby is placed into your arms. Suddenly, the "perfect nursery" doesn't matter anymore, and how well-vacuumed the floors seems trivial. Just know that all these concerns and worries will soon dissipate. Also, all a baby truly needs is food, sleep and love. You've got this, Sister!
FAVORITE PRODUCTS
Lobster Seat
My family lives in a tiny city home, and we were tripping over our traditional high chair for months until we decided to give it up in place of the Lobster Seat, which attaches right to your kitchen table. It made a huge difference in our lives! Not only do we have more space, we also now have true family dinners. Emma is no longer off to the side; she's right in the action!
Baby Merlin Magic Sleepsuit
I credit the Baby Merlin Magic Sleepsuit for getting Emma to sleep through the night. The first time we put her in it, she slept seven hours straight, and our lives instantly changed. You need to wait until the baby weighs enough, but it's a game-changer once they're "eligible." Couldn't recommend it enough!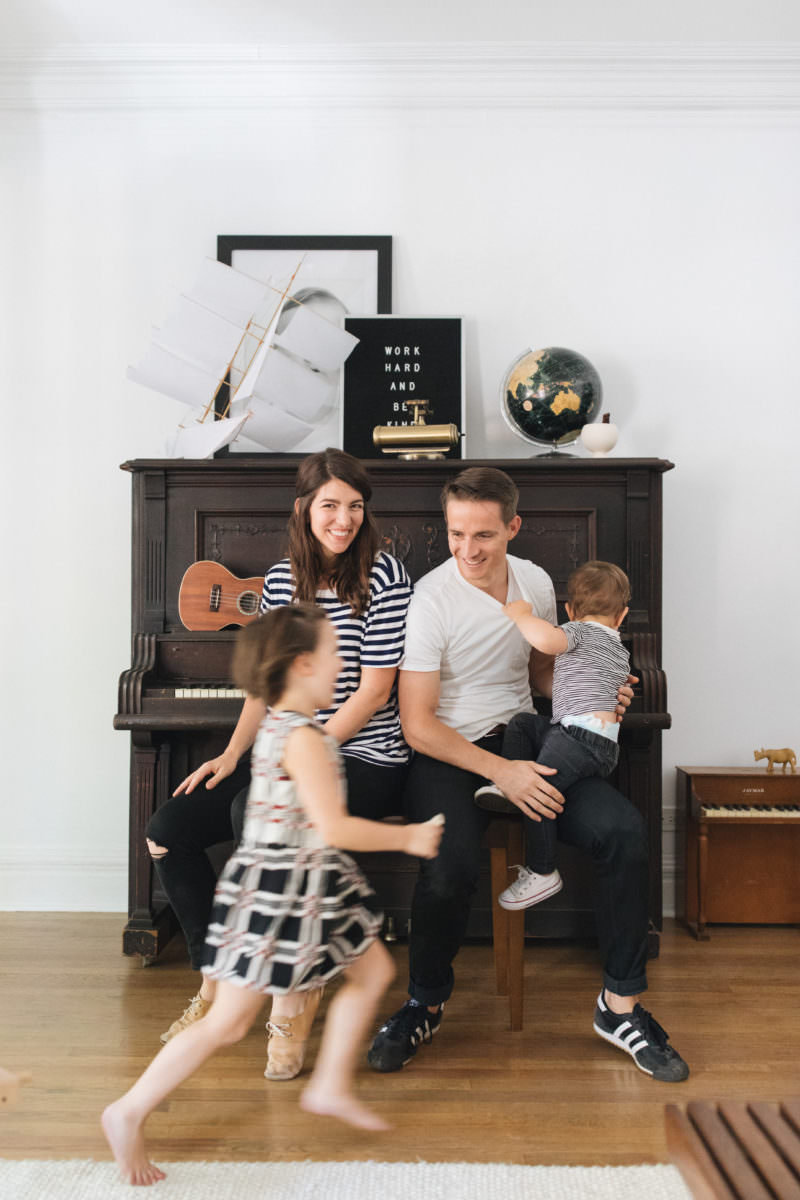 Amanda Jane Jones
Graphic Designer and art director and mom to Jane and Miles
I haven't met Amanda but have been following her for years and definitely feel like I know her. We do message on instagram from time-to-time which probably helps with that, and she's given me some great parenting advice / product recommendations. I love her home, her work (she's a very talented designer), and her two kids, Jane and Miles.
ADVICE
You know your child best—there are so many people out there that want to give you advice oh how best to parent your child, but trust your gut. You know best.​
FAVORITE PRODUCTS
Solly baby wrap
For the first 4 or so months, my son LIVED in our Solly baby wrap. Anytime he was wrapped he'd fall write asleep against my chest. It kept him warm in the winter months being right next to me and it made it so I could still do all of my errands and take care of my daughter while my baby boy slept on my chest. For me, it's a must.
Aden and Anais swaddles
For the first couple months, these were our go to. Once they can get out of the swaddles, a nuroo baby swaddle did the trick (it has velcro, ha!). They helped our kids sleep a little longer, which is always a plus for me and made for fewer cranky mama days.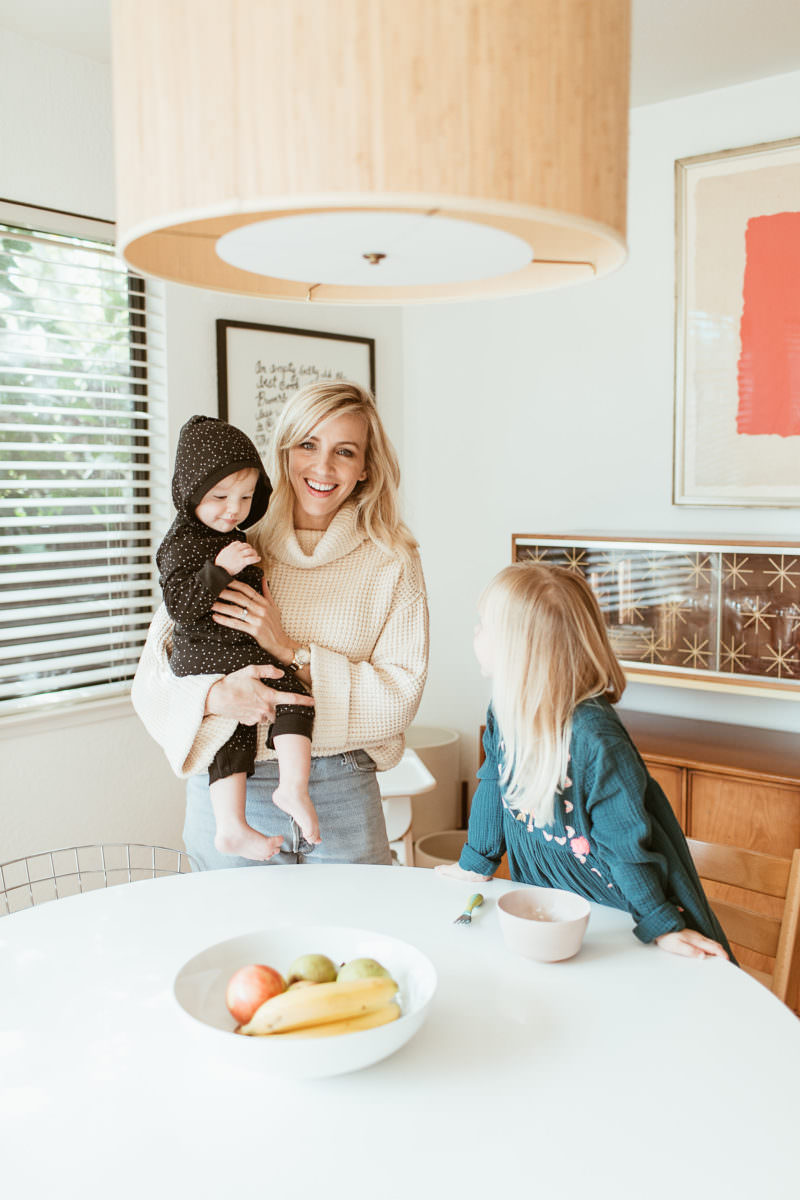 photo by Emily Scott
Taylor Sterling
Creative Director of Glitter Guide and mom to Elodie and Benjamin
Taylor and I go way back. I designed her blog pre Glitter Guide and Everygirl (anyone remember Sterling Style?) and we met in NYC in 5-6 years ago. We got to hang out quite a bit during that trip and had dinner in SF once. Even though we've only met twice and run what some people might consider competing sites, we've always supported each other and stayed in touch – she is what I love about this little online world. Taylor gave me some great advice about running a business and taking care of babies and is one of the kindest people I've ever met. It's sort of impossible not to love her. And Elodie and Benji are adorable.
TAYLOR'S ADVICE FOR NEW MOMS
In the early days, I often would get really hard on myself. I felt like I needed to be better at the juggle of being a mom and a business owner and I would fall into a comparison trap. Now I know it's so important to be gentle with yourself and do whatever feels right. There's no rush. It's a special time. Take it easy and try not to worry that much! It will all work out.
FAVORITE PRODUCTS
Solly Baby Wrap
The first time around I made the mistake of barely using baby carriers, but come the second time I knew I needed to be hands-free more often (I had a little hand to hold). The Solly Wrap was a life saver so many times. I recommend it to all new moms.
French Farmers Market Basket
This one is a little unexpected, but out of all the diaper bags I used I found I went for my farmer's market basket the most. It may not be ideal for a long day out, but for playdates or running errands I would often chuck everything I needed into it and call it a day. I felt stylish carrying it, too!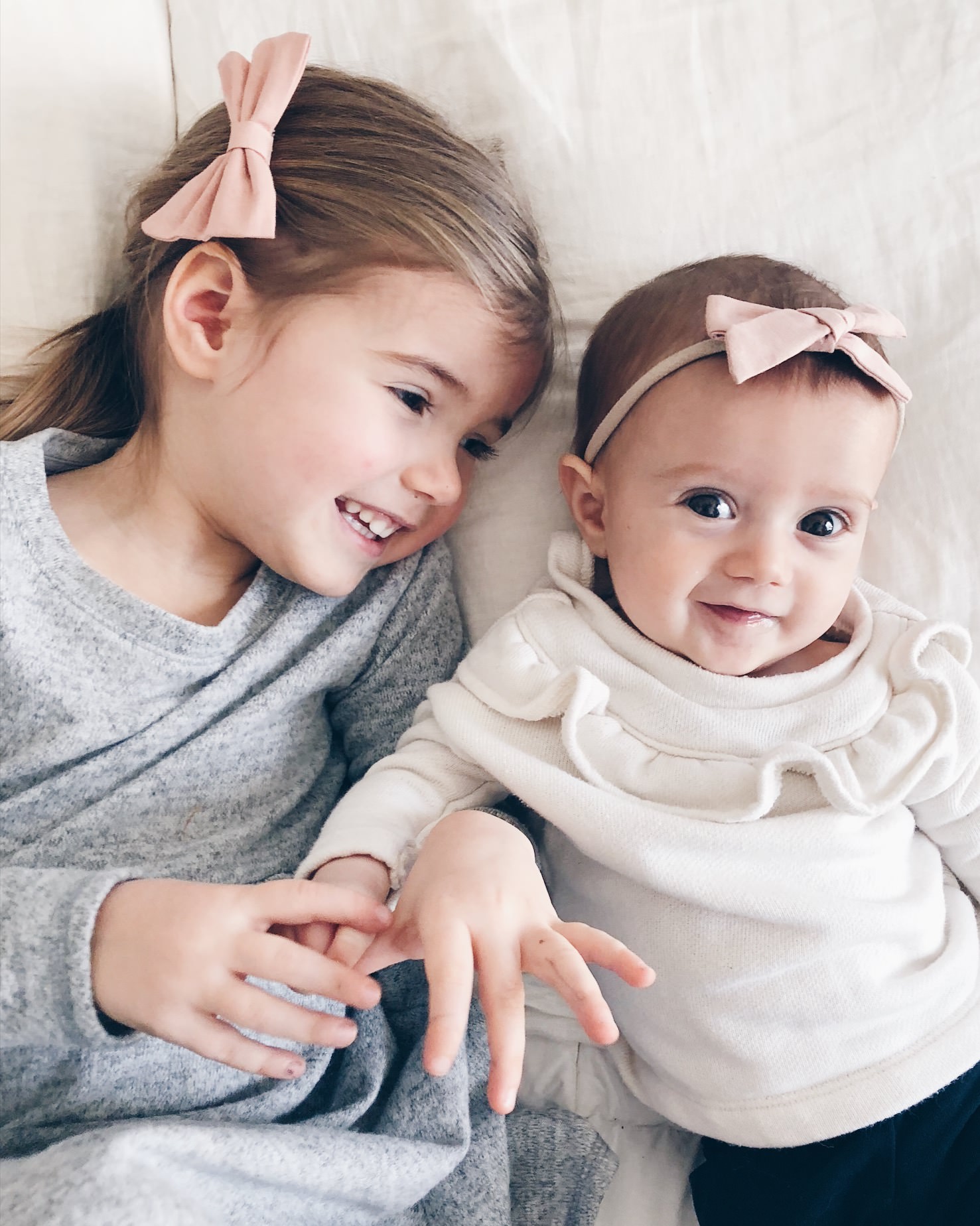 Jen Olmstead
Graphic Designer and mom to Serena and Sofia
Jen is good friends with my friend Emilia, and happens to be another very talented graphic designer. We met when her older daughter Serena was a baby. I've only met her the one time but we follow each other on instagram, so we're basically really good friends. That's how that works, right? I asked for baby/mom advice early on since she recently had her second daughter Sofia, and I knew I'd love any products she recommended since we have such a similar aesthetic. When she told me she loved Rosalie and Junie headbands, I bought 5.
JEN'S ADVICE FOR NEW MOMS
When your incredible mother-in-law / mom of 14 kids makes a recommendation, you listen. I'm eternally grateful that mine introduced to the sanity-saving secret (/legend) of "blanket time." When your kiddo is old enough to know what's happening – around 1 – you introduce a special blanket where you sit and play together with a few (quiet) toys for a short period of time… the only rule being that you can't get off the blanket until the time is up. As the baby gets older, you let them play on the blanket alone with toys, (making sure they stay put) and then gradually lengthen the independent play time, offering a little reward after the time is up.
Before you know it, your three year-old is asking if it can be blanket time and playing quietly for half an hour while you make dinner (read: sip wine) in peace and listen to something other than Moana. You're welcome in advance.
FAVORITE PRODUCTS
Baby Play Gym (in Monochrome)
When my baby-gear averse husband ("Do we NEED a pack 'n play? Can't babies sleep in drawers?") arrived home to see this play gym in our living room and said, "Oh hey, I don't hate that!" I knew I'd found a winner. The Carrera marble + neutral monochrome beads may cement my status as a cliche millennial Instagram mom, but Sofia has absolutely loved playing with them since she was born… and the gym is so pretty that I don't mind leaving it up. It's now my default shower gift and gets both adult and baby thumbs up every time.
Skip Hop Pronto Portable Diaper Changing Station
Confession: I can barely keep track of my purse, much less a purse AND a diaper bag. And if I'm going to carry one or the other, I'd rather carry my pretty Cuyana tote. That's why I now swear by + evangelize this Skip Hop portable changing clutch, which I can throw in my bag / clip onto something and have everything I need for diaper changes in one spot. Especially when we travel, it's come in incredibly handy and when I pull out my diaper, wipes, diaper cream and unlatch the changing pad in one fell swoop, I momentarily feel like one of those super organized, unflappable moms who probably NEVER has to dig for a diaper in the bottom of her bag. (It's a good, albeit fleeting feeling.)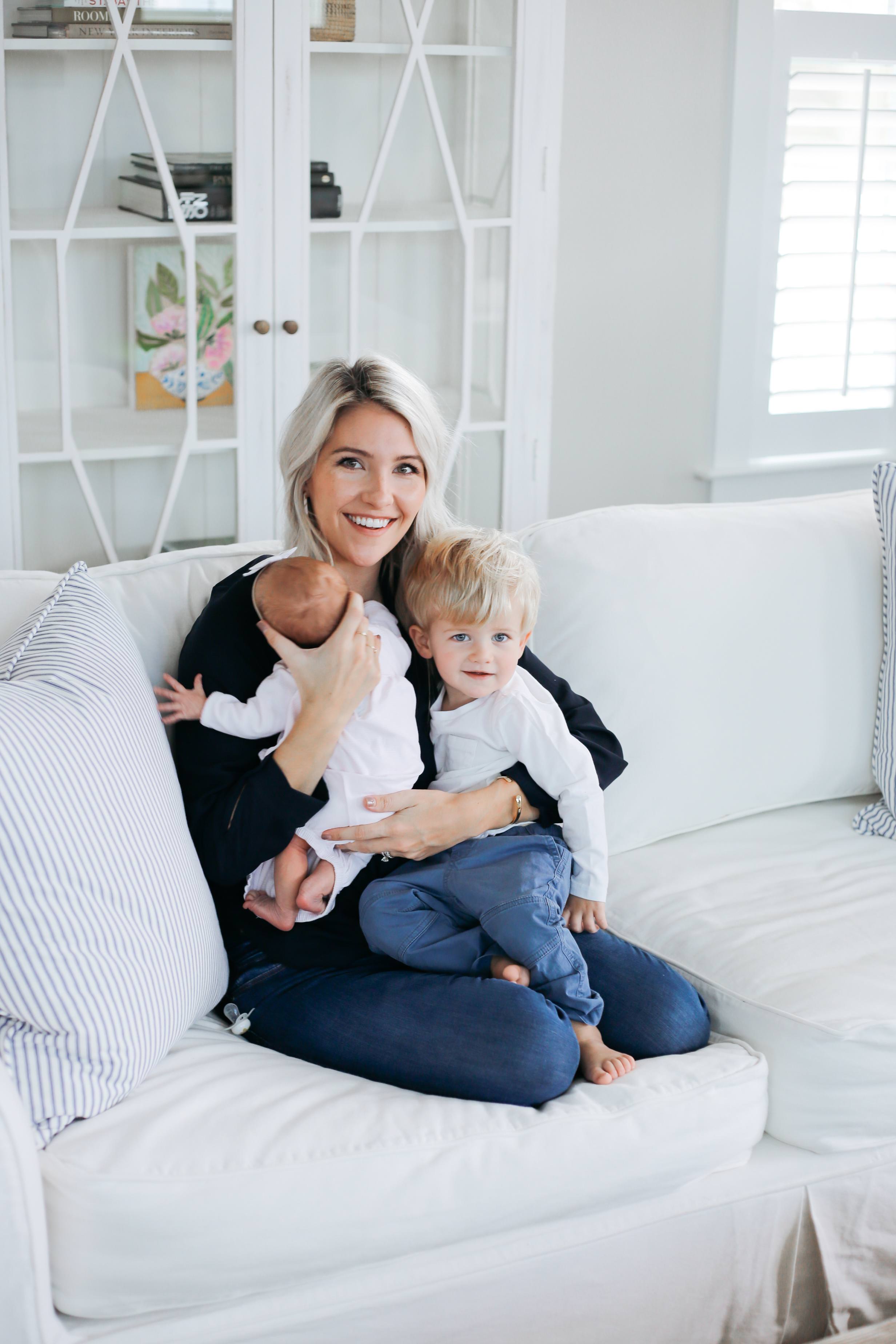 Megan Stokes
Blogger behind Holy City Chic and mom to Watson and Rosie
I met Megan back when she was The Everygirl's beauty editor (when we had section editors). I loved working with her and we've stayed in touch over the years, and there have been a few messages about having a newborn since she just had her beautiful little girl Rosie. She's given me lots of tips and advice and is a seasoned pro now that she's raising baby no. 2.
MEGAN'S ADVICE FOR NEW MOMS
Remember that it's totally fine to make mistakes. Trust me, there will be a lot of them and your baby will be ok, so goes easy on yourself. Just keep your baby fed, in clean-ish clothes, and happy—then you're doing great.
FAVORITE PRODUCTS
DockATot
The biggest need for me off the bat was to have safe places to set the baby down all throughout the house. (You know, like when you need to shower but need to keep an eye on your little one at the same time.) Enter, the DockATot. It's a lightweight lounger for the baby that can be toted absolutely anywhere—from the park to the sofa for a nap. Huge bonus points: Both of our babies have been champion sleepers in it, too. It creates a womb-like environment that keeps them snug and it helps transitions baby to sleeping in the crib since it's a flat lounger. It has been a lifesaver for us.
The Laundress Stain Solution
It may seem silly to name a stain remover as one of my top two essentials, but trust me, this one is a game changer. You'll be amazed at all the laundry one tiny human can accumulate and chances are that each little piece of clothing has a stain. (Spit up, blowout stains, pureed sweet potatoes… the list goes on.) This stuff will remove anything and everything—even old stains. It's also nontoxic, biodegradable, cruelty-free, and all that good stuff. We buy it in bulk!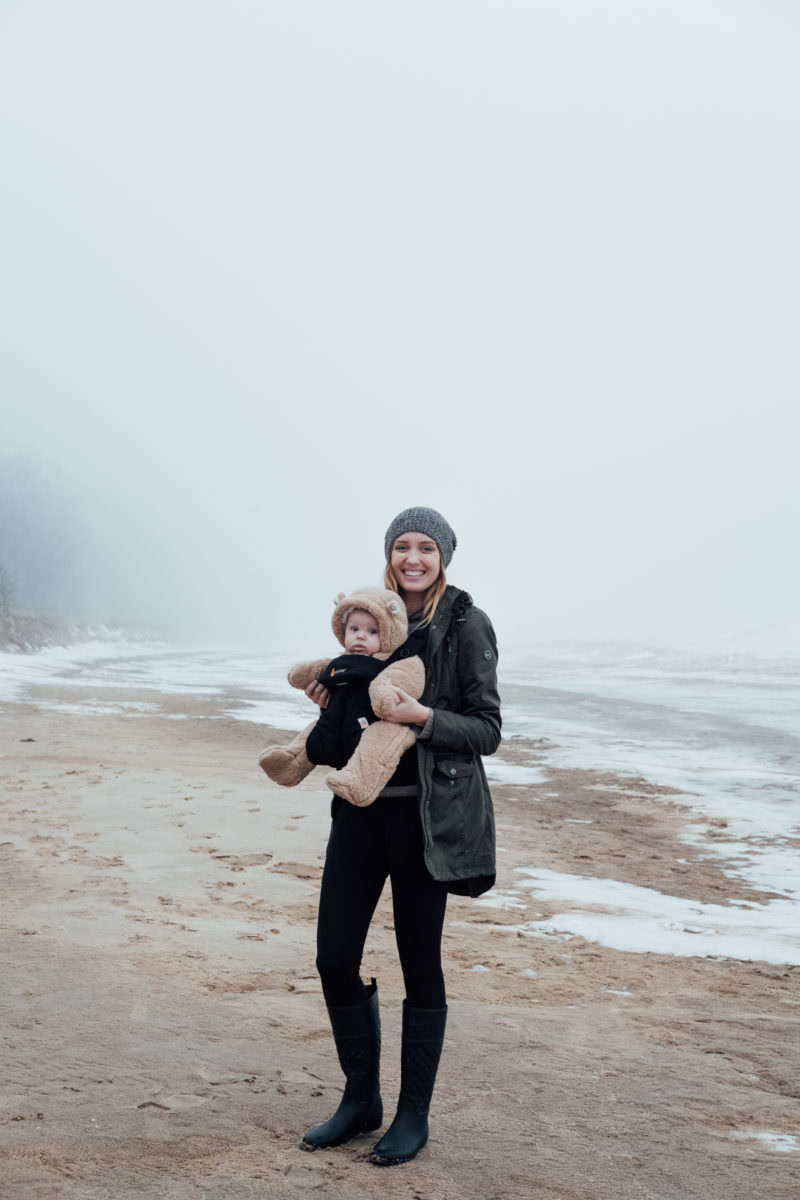 Nina Johnson
Designer and mom to Rockwell
Nina is good friends with my friend Maura (the first mom in this post) and funny story…right when I found out I was pregnant, I posted something in instagram stories about Buddy not letting Conor near me. I had no idea he could sense that my hormones changed but a handful of people asked if I was pregnant, and Nina was one of them. Since she was friends with a friend, I couldn't lie, so she found out super early, and we talked a lot about everything relating to pregnancy and motherhood. She's been so, so kind and helpful and her son Rocky is THE cutest and sweetest little guy, too.
NINA'S ADVICE FOR NEW MOMS
Be calm: your baby will feed off your energy. Approach each challenge calmly so he learns to be calm as well. Be flexible: learn to go with the flow. When you have a newborn, it's perfectly acceptable to be 2 hours late, to only shower every few days, and to not have the house in order when guests come to visit. Be patient: everything is a phase. The hard stuff will pass. Your baby will grow and learn and trust you more and more each day. Also be patient with your partner. You will each have different methods and ways of caring for your baby, so just remember there's more than one right way to do things. Be enthusiastic: It's easy to feel discouraged when you're sleep deprived but you can trick your brain! Smile and sing and try to make your time with your baby fun. Be loving: you cannot spoil a new baby so hold, snuggle, and love your little one as much as you can. It's true what they say about time going by fast, and this is the only time your baby will be a baby. Soak it up.
FAVORITE PRODUCTS
Ollie Swaddle
Our little baby Rocky was so comfy tightly swaddled by the hospital nurses. Unfortunately my husband and I were never able to recreate their super tight swaddling technique and Rocky would squirm right out, thus waking himself up. We tried a few sleep sacks that worked for a little while but he grew out of them quickly. Then I discovered the Ollie Swaddle and I wish we had it from the beginning. It has super strong velcro, can grow with your baby, and is made of moisture wicking material so your little one won't get too hot. We can get him so snug and cozy, and he started sleeping longer stretches once we began using it! He loves being wrapped up before bed now and sleeps much better with the Ollie.
Artifact Uprising Baby Book
I love Artifact Uprising so when I heard they came out with a baby book when I was pregnant, I immediately added it to my registry. It is the most gorgeous book you will find, the prompts are so sweet and thoughtful, and it even has sheets for your loved ones to write letters to your baby. Oh yeah and it's titled "The Story of You" – cue the tears. You will have thousands of digital photos of your baby, so it's really special to have physical prints made (and organized!). Make it a priority to fill out each month as they happen because you will so quickly forget all the little things that happened. Pro tip: if you can't find time to physically write in your book each month (like me), start by typing everything in a google doc. Then take your time handwriting it all later. It's really the perfect keepsake that you and your baby will treasure forever.
Bonus Suggestion: Little Remedies Gas Drops
No one told me babies were so gassy. And that gas hurts! These drops worked wonders for Rocky when he was uncomfortable in those first precious weeks.