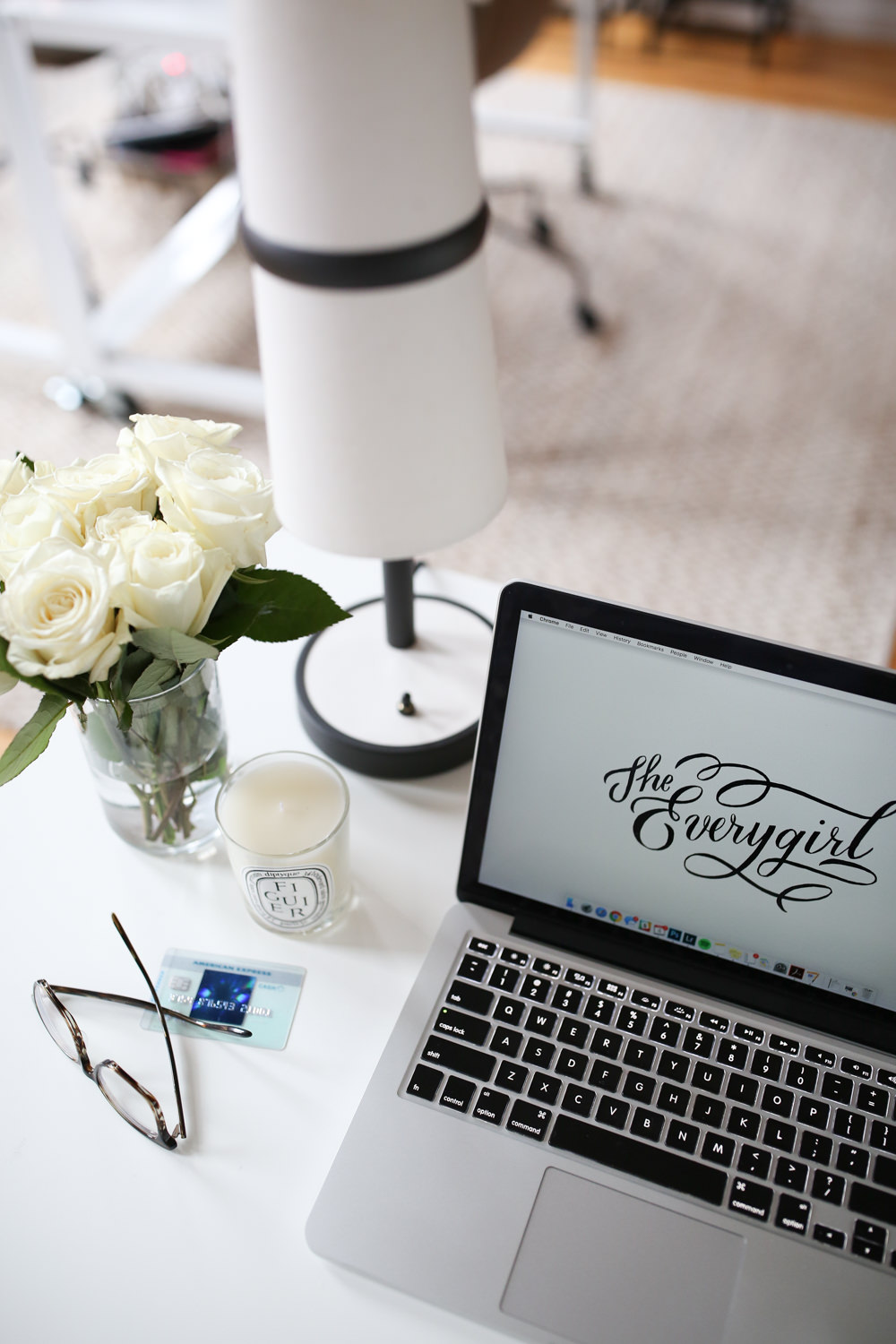 I started blogging over ten years ago, so I like to think I've learned a thing or two about how it all works. From what advice I have to how I got my start, blogging is one of those topics I have been asked about pretty consistently over the past few years. I think people think blogging is a lot easier than it is. Just take photos, write posts, and you'll make money and get free stuff from brands.
But there's so much to it that you can't really understand until you're in it. Starting my blog ten years ago is one of the best things I ever did, and while it's been a lot of work, it's been so worth it. I'm excited to partner with American Express Blue Business Plus to talk about the ins and outs of blogging, and the tools I've used along the way.
DON'T GIVE UP
Before you get started, go into blogging knowing that you're bound to hit multiple road blocks. If (ok, when) you get stuck on themes, names, and everything in between, just move on to something else and revisit whatever you're struggling with later. 
Come up with a calendar because there are a ton of blogs out there, so if you want people to come back, you'll need to post at least 4x a week. If you aren't familiar with photoshop, I recommend taking an intro course online or find some free videos on how to create product roundups.
START WITH WORDPRESS
I started out with Blogger and after a lecture from my friend Kelly (in all caps so she basically yelled at me – thanks, Kelly! ) about how I had to be on WP, I made the switch. If you're serious about your blog, it's time to do the same. The migration was a huge pain, so I recommend starting with WordPress from the beginning.
And your theme/design. You can find something nice/affordable that isn't a free, generic theme. I bought a template on Envato Market and once I made enough money to reinvest in my blog, hired someone to build my current site. Figure out a name that's easy to remember and spell, and then buy your domain (.com). Get your blog set up with WordPress, find a great template, and figure out branding. I also recommend the Genesis framework since the Genesis themes were the best ones I had seen during my search. 
INVEST IN YOUR BLOG
When I first started blogging, I bought a Canon Rebel, then a Canon 7D, and a few years ago, a Mark iii. I've been shooting more for my blog so over the past few months, I used my American Express Blue Business Plus to invest in a new 35MM 1.4L and 50MM 1.2L lenses, and hired someone to make some updates to my website.
Having a business card has made growing this side business a lot easier. The Blue Business Plus card has a 0% introductory APR on purchases and balance transfers for 15 months, and nothing beats not having to worry about paying interest while you're trying to grow your business. I'm not one to advise in buying what you can't pay off right away, but investing in your blog / business is always worth it, and this card makes it easy. And expanded buying power above the credit limit for larger purchases like laptops and camera gear? I'll take it.
USE SOCIAL MEDIA
It's better to really master 2-3 social platforms and then add more to your plate when you feel ready. Instagram and Pinterest have been the two biggest traffic drivers to my blog, and some time over the last year or so, I started promoting my posts on Facebook, too. I recommend starting a Facebook page eventually, but don't put too much pressure on yourself to do everything from the beginning.
Product roundups do really well on Pinterest (see point above if you don't know how to make them) and I always share new blog posts in both my instagram feed and instagram stories. Switch your instagram to a business account to take advantage of the swipe up feature – another great traffic driver. You'll just need a business facebook page to set that up. Instagram is also a great way to make brands aware of your content, so tag brands in the photo and use their hashtag for a chance at being regrammed and at you never know – you may end up with a partnership!
BE PATIENT
Blogging isn't linear and there isn't a recipe for a successful blog.I wish I had a secret for you but there isn't one. My blog had very little traffic the first 5 years then BAM – it just took off. I went from 14,000 monthly sessions in July 2012 and over 120,000 monthly sessions just 6 months later. But my heart wasn't in it and I took a break. I have way less traffic than I did back then (was't even sure – had to check to see the difference in numbers) but feel zero pressure to grow it.
You just have to stick it out and continue doing what you love. Which brings me to my next point.
DO IT BECAUSE YOU LOVE IT
I started blogging in 2007, back when getting paid to blog wasn't on my radar. Neither was instagram though, so things have changed a lot over the past decade. But it was never about money or traffic and still isn't. I did it because I love writing, photography, documenting what was going on in my life, and helping others. I didn't do it with the intention to grow my blog or make money and at this point, it's really just a part of who I am. It wasn't until about 2 years ago that I started making (some) money off this blog, but it's not anywhere close to a full-time salary. I do partner with brands now (a huge perk!) but that's not what fuels me I have a full time job running The Everygirl, so these posts are produced nights and weekends, and they happen because I love blogging. It's a lot of work, but when you love what you do, you'll want to do it.
My blog didn't grow overnight and yours probably won't either. And that's ok. I hope I helped inspire those of you who have been thinking about starting a blog to go for it. With the new year just a few weeks away, I can't think of a better time to dive in to a new adventure.
This post was sponsored by American Express – a company and card that's a part of my everyday life. All opinions are my own.