Our Dining Room & Choosing The Right Vintage Rug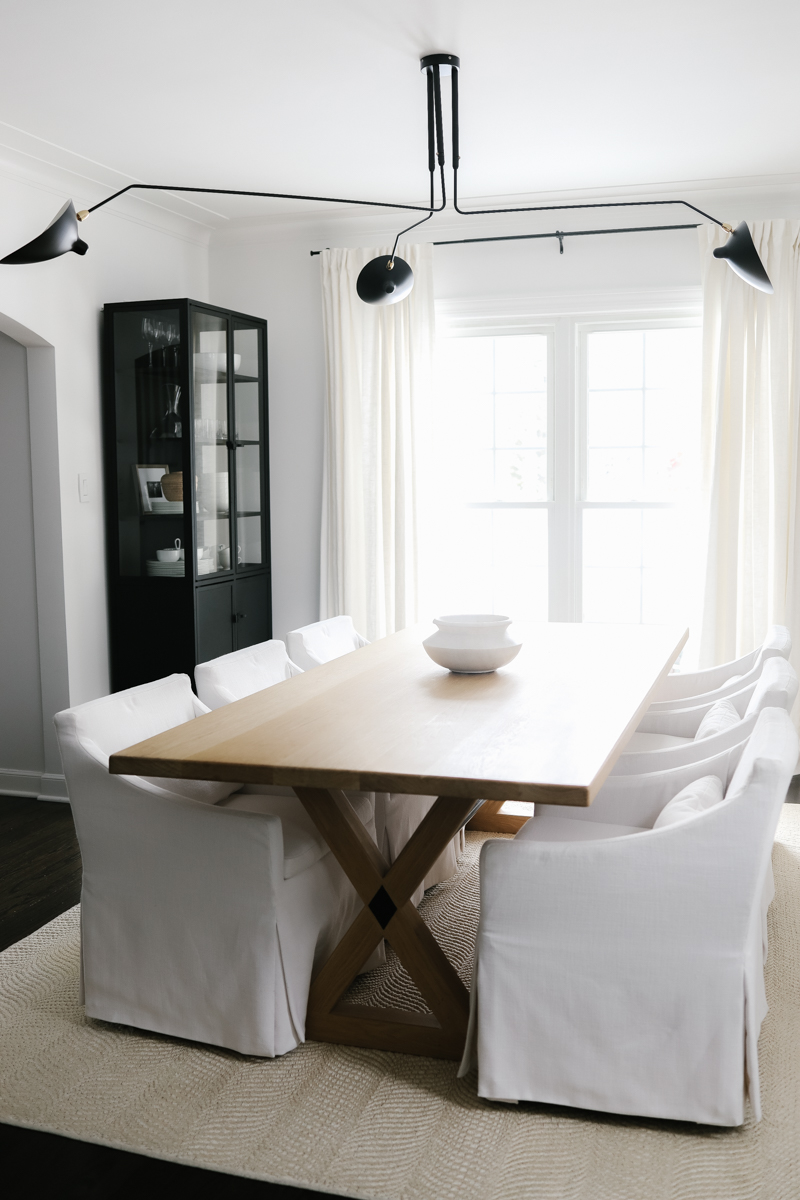 Buddy had an accident on our beautiful sisal rug which was a little too light for our baby and toddler. And yes, I see you looking at my white chairs and will get to those in a moment. This room opens into the kitchen so it's not a formal dining room (do people even use formal dining rooms?), but we wanted a larger table for all the entertaining we never do. I actually ordered our sisal rug one shade darker but this arrived and was so pretty that I kept it. We're having it cleaned and storing it for a future home, but before we started slowly destroying it, I decided to switch it out for a vintage oushak and I don't know why I didn't do this sooner.
Here's how it all went down. The highest bidder of my Linda's Barn auction for childhood cancer never made her donation (I followed up and even reached out to the next highest bidder), so I made a donation and ended up with the credit to Linda's Barn. This all happened the day Buddy peed all over our rug, so the timing was kind of perfect. Linda generously let me upgrade my rug and has been so kind to our family. She regularly sends the sweetest messages, and she's helped us fundraise for childhood cancer. Her rugs are beautiful and the prices are fantastic. We love her.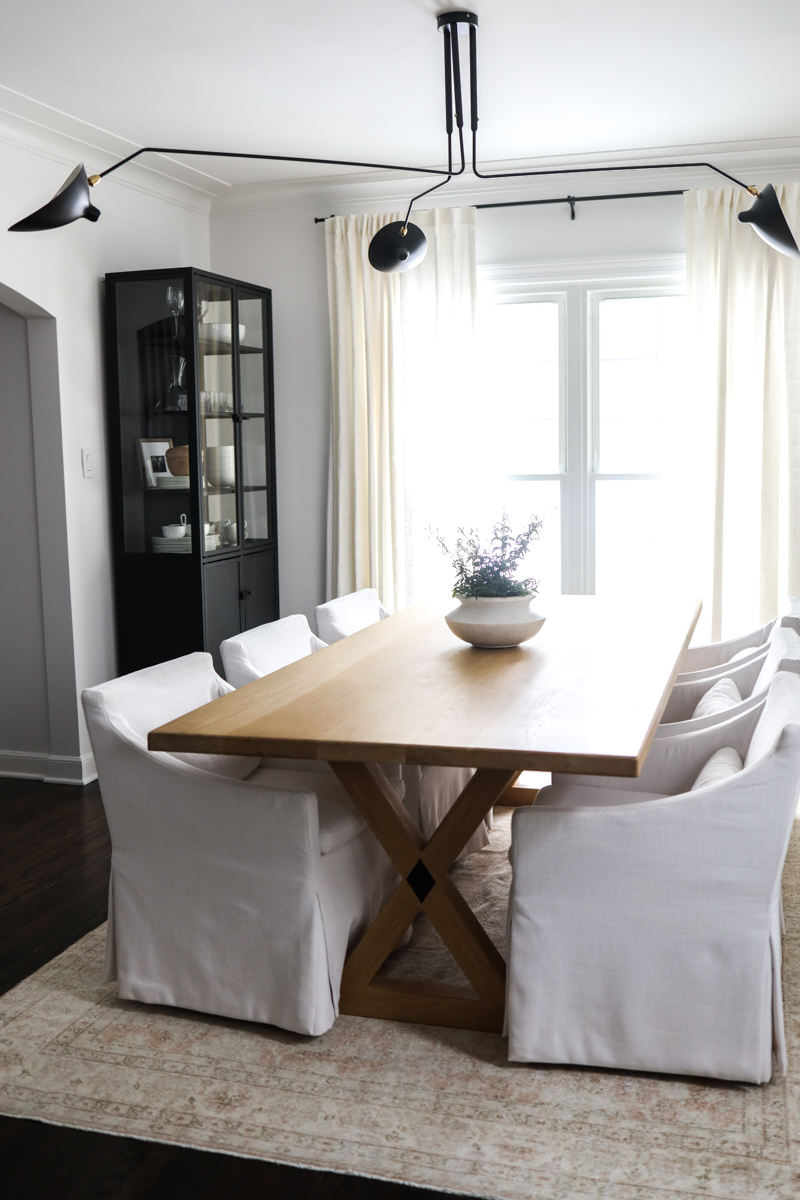 Why vintage? And how can I choose a rug I haven't seen in person?
Vintage rugs are the best rugs for high-traffic areas. Margot spit up a ton as a baby and the vintage rug in her room was hit hard. We had it professionally cleaned a few times and it looks perfect. She had a wool rug for less than a week and it could not be saved. These oushaks are already old, so there's zero pressure to look brand new.
If you see a rug you love, you don't want to wait. When I was looking at Linda's Barn for our bedroom rug, I was torn between two rugs. My decision was made for me when one of those rugs was purchased. They're one of a kind and the good ones sell quickly.
A pattern looks great under a dining table since most of the pattern is hidden, so the room won't feel too busy and stains are easily hidden. Most vintage oushaks not only have pattern, but they're also distressed and were made to survive mealtime with a toddler.
Flat weave rugs are perfect for under a dining table. They're easy for chairs on rollers, and it's easier to pull out a chair that doesn't roll vs something with a lot of texture. I've noticed a big difference going from the sisal to our oushak.
The sizing of oushak rugs are not the typical 8×10 that you're used to. Our rug is 7'2 x 10'8. Take measurements around your table with the chairs pushed in and out. When our chairs are out, they are to the edge of the rug, but still on the rug, which is ideal. Vintage rugs don't have to be perfect, so I'm probably breaking some design rules, but I think it's ok if they're a little smaller than a typical store-bought rug.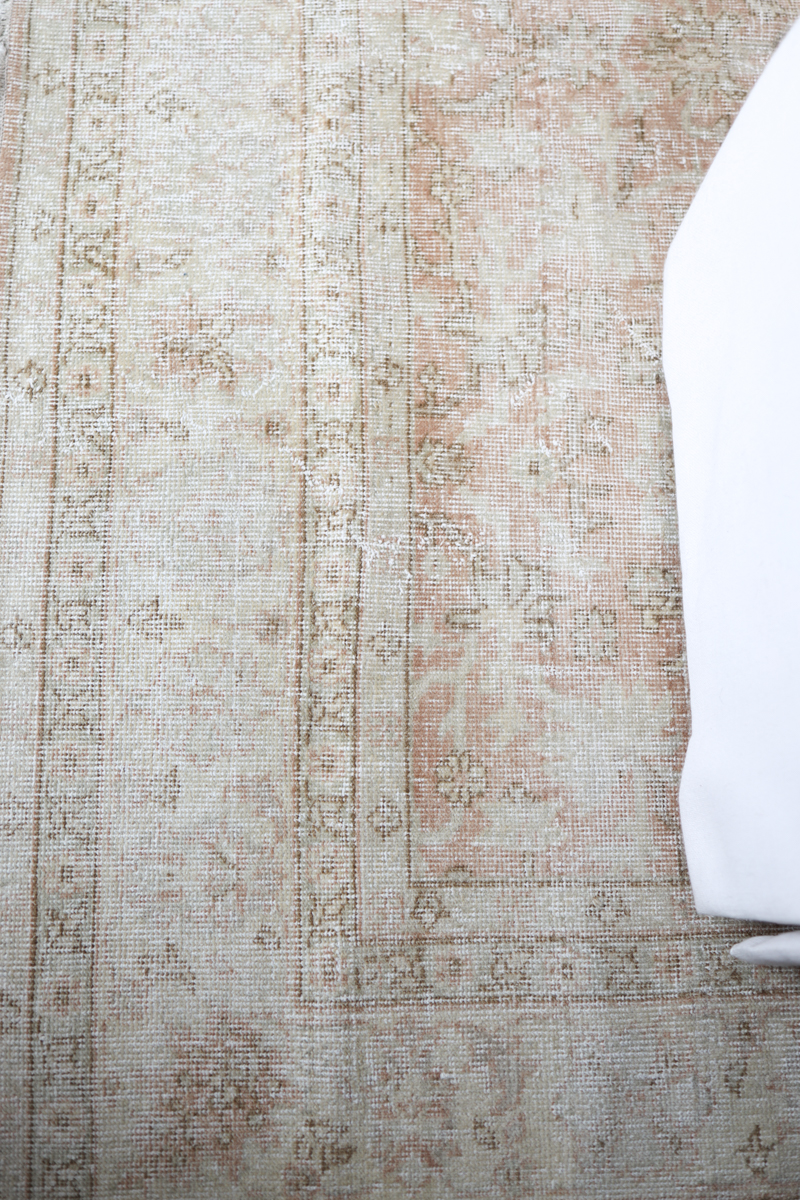 The art is an original by William McLure and was above our bed in our condo. It looks so good here, and the copper tones complement the rug perfectly. We had the same light fixture in our bedroom, too. Love these elements together.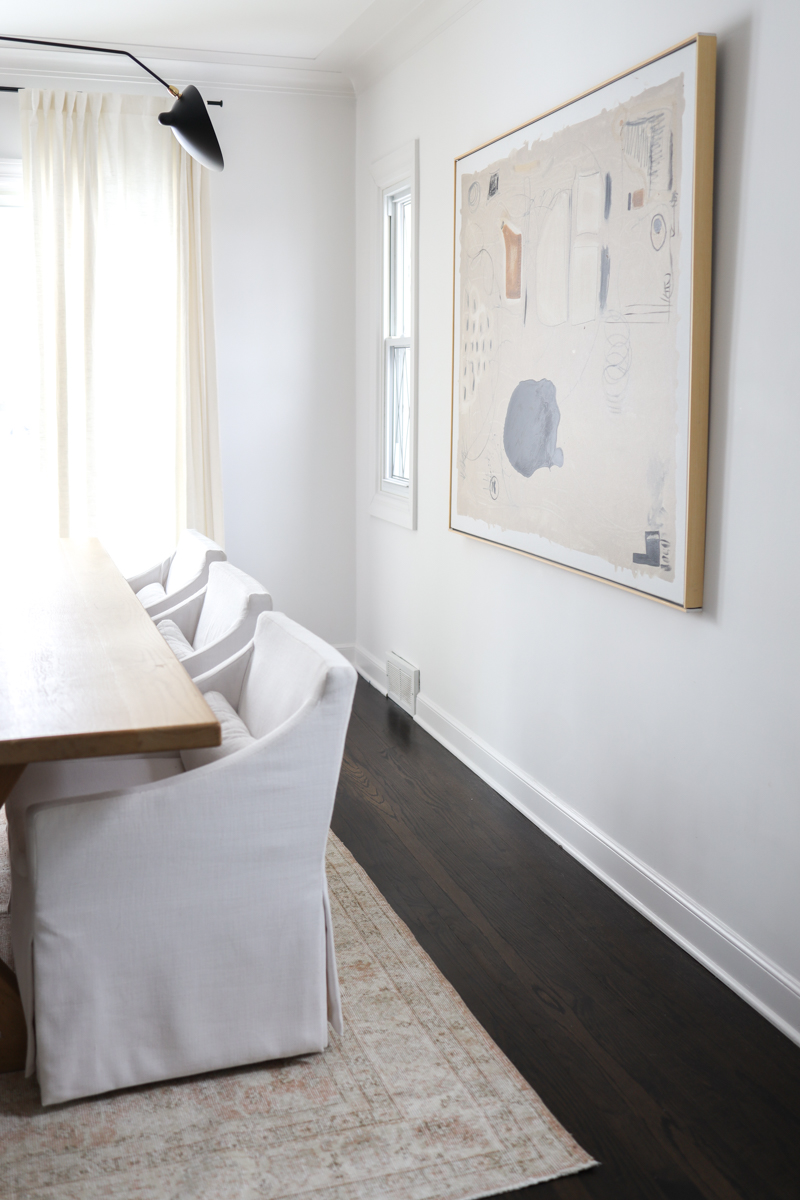 Our dining chairs are great – so comfortable and they're on wheels, so they're easy to pull in and out, but don't roll around once you're sitting down. They are perennial fabric (stain resistant) but they are white, so I have them professionally cleaned every 6 months or so. I'd rather know something is dirty and clean it vs. hiding dirt. The white doesn't bug me.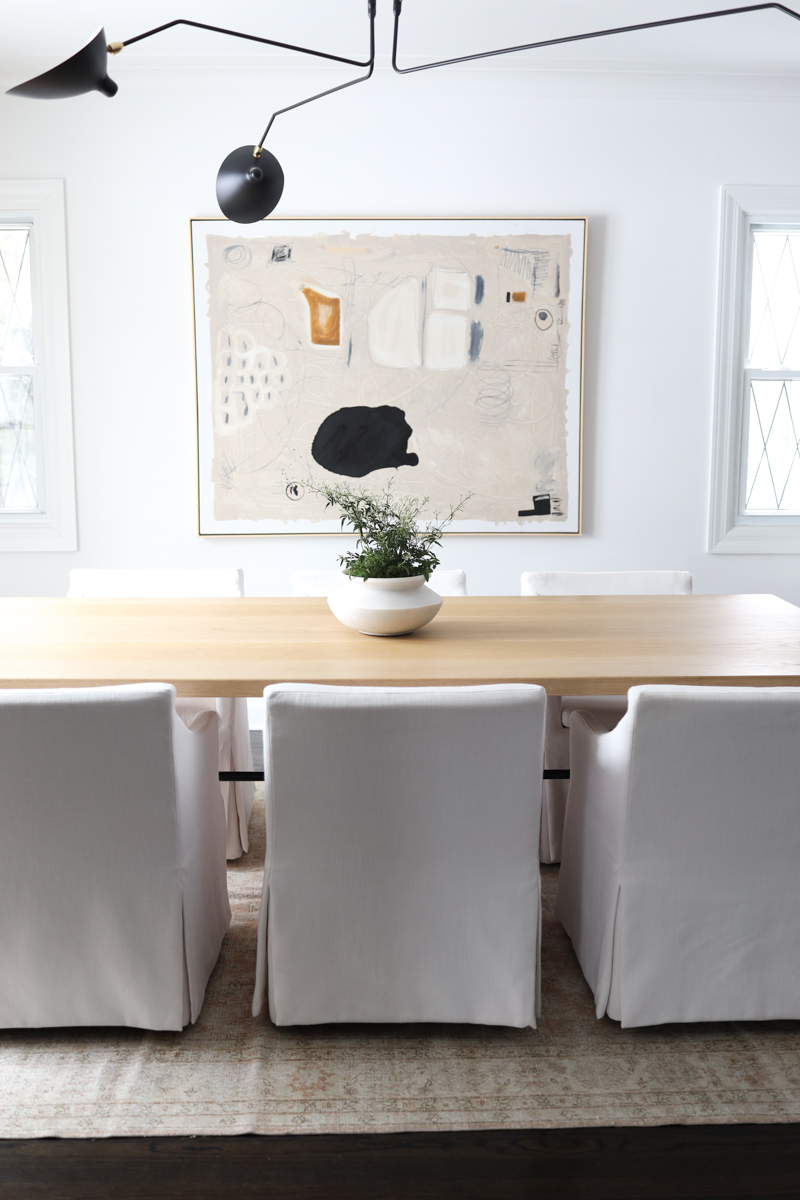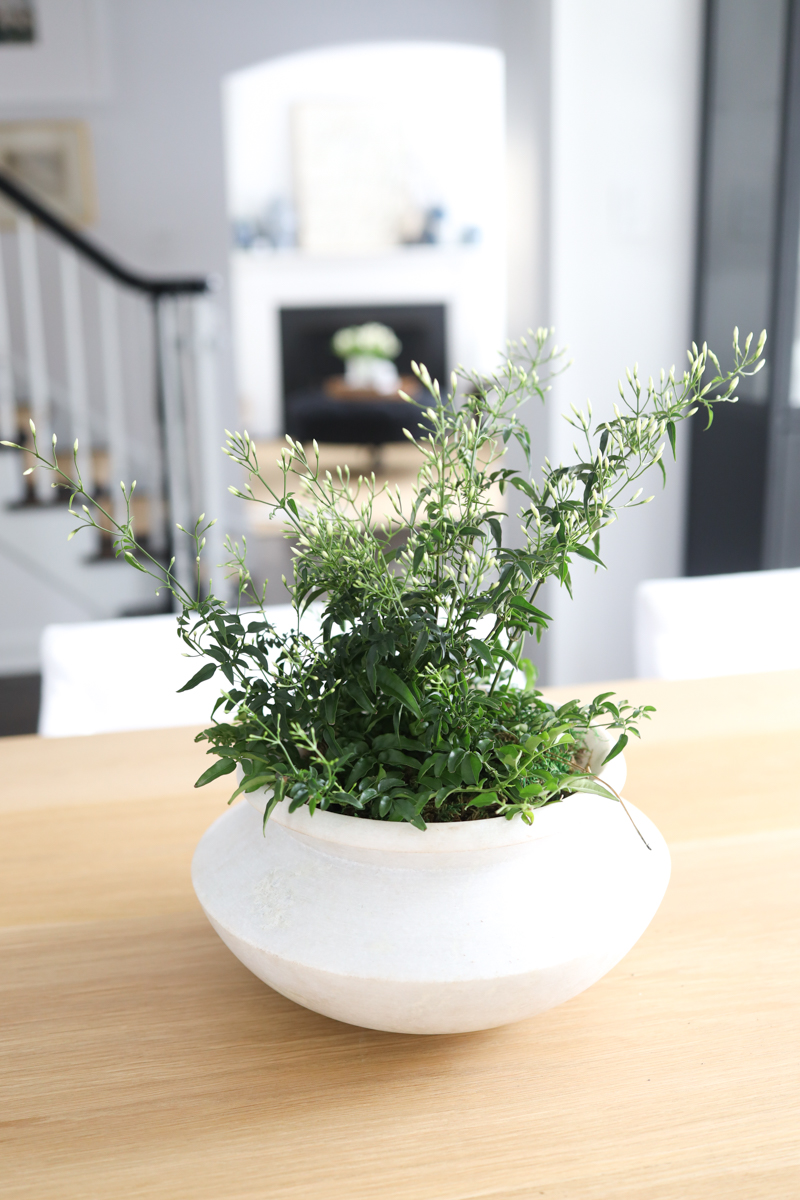 I filled our marble water pot with a jasmine plant from Vagabond in Western Springs. They are my go-to for greenery and branches.