Auction for Childhood Cancer: Williams Sonoma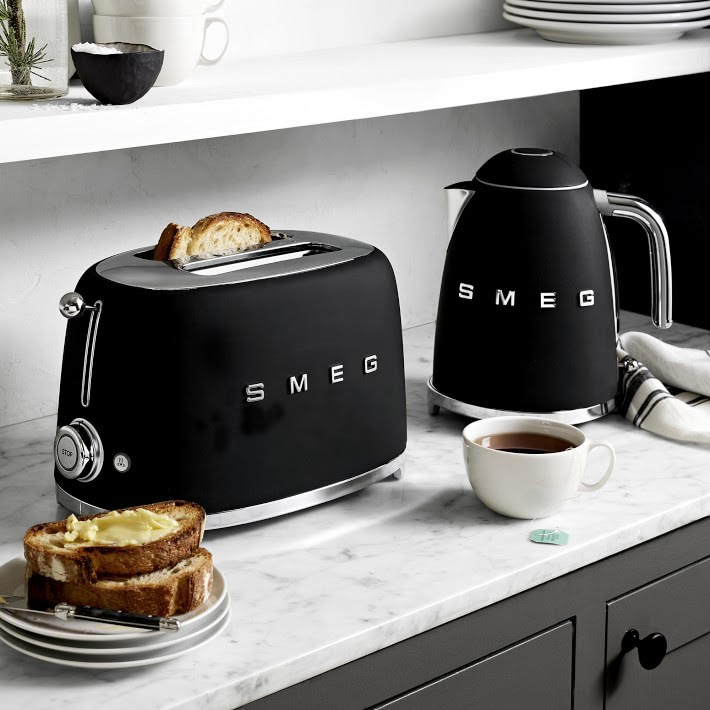 This auction is for a (matte black) SMEG Two Slice Toaster and Electric Kettle from Williams-Sonoma, valued at $400
Please note that matte black collection is exclusive to Williams-Sonoma, one of my favorite brands that I've loved working with (and shopping) for years and years. I even worked at Williams-Sonoma in college.
On May 16, my 22 month old was diagnosed with Leukemia. On January 25, we finished the most aggressive part of treatment, and prepare to start "maintenance" in a few weeks. Just 4% of the billions of government dollars spent annually on cancer research goes toward treating childhood cancer and as a mom to a toddler who just finished frontline, I need to help make things better for other children and their families. Our babies are worth more than 4%.
How to bid, donate, and claim your auction item
1. Leave a comment with your bid. Leave a new comment for an additional bid, with a minimum increase of $25. The starting bid for this item is $250.
2. The highest bid at at 8PM CST on Sunday, January 31 will win the item. I will announce the names of the winning bids in the comments section of this post and on instagram.
3. Your donation should be made here by Monday, February 1 at 8PM, or the item will go to the next highest bidder. Once you make your donation, please email me at hello@danielle-moss.com with the name of your prize, selection if applicable, and address. All donations are tax deductible.
Where the money goes
I'm fundraising for Alex's Lemonade Stand, an incredible organization that funds childhood cancer research and supports families going through treatment. In the past, I have fundraised for our hospital and will continue to do so, but wanted to focus my efforts on helping Alex's Lemonade Stand. ALS works directly with our hospital and others to help families who need financial assistance during treatment, and their COVID-19 relief fund has provided over $650,000 in direct (much-needed) support to over 2200 families.
The highest bidder will win a matte black (exclusive to Williams-Sonoma) toaster and electric kettle. Thank you to my friends at Williams-Sonoma for helping us fundraise!