How to Care for an Indoor Olive Tree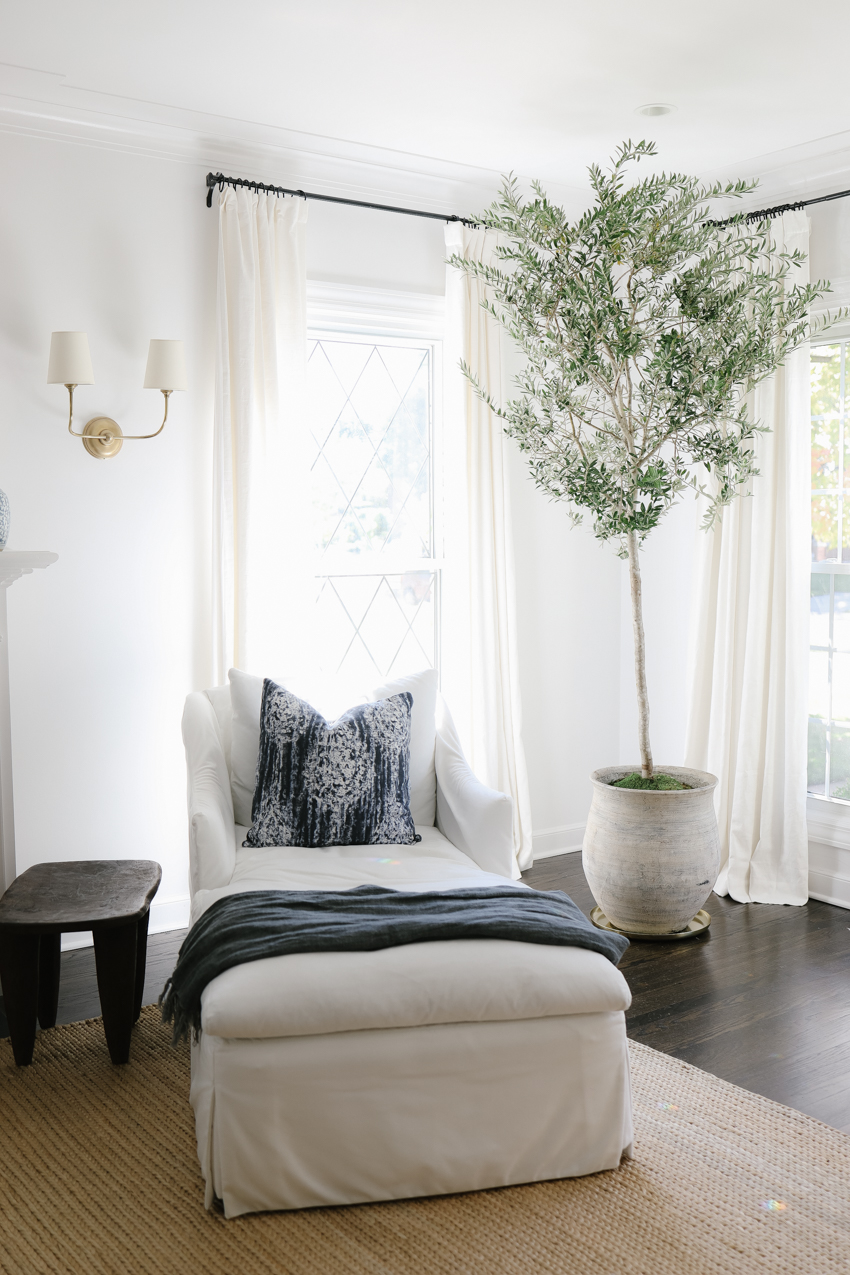 I've always dreamed of having an olive tree but didn't think it was an option. Where does one find an olive tree? Even I know that they need a lot of sun which Chicago doesn't have half the year, and plants never do well in my care. I was lucky enough to come across Vagabond in Western Springs, and they ordered the most beautiful and perfect olive tree for our living room, and told me everything we all need to know about keeping an olive tree alive, too.
Meet Diane. She's lovely, isn't she? My fiddle leaf fig (Meryl, naturally) has a new home in our office/sunroom, and I can't get over how much brighter and lighter this little corner of our living room feels. Update: winter was hard on Diane, but we brought her into our yard once it warmed up and she (quite literally) bloomed. You can see our room with a fig tree here. The planter is also from Vagabond.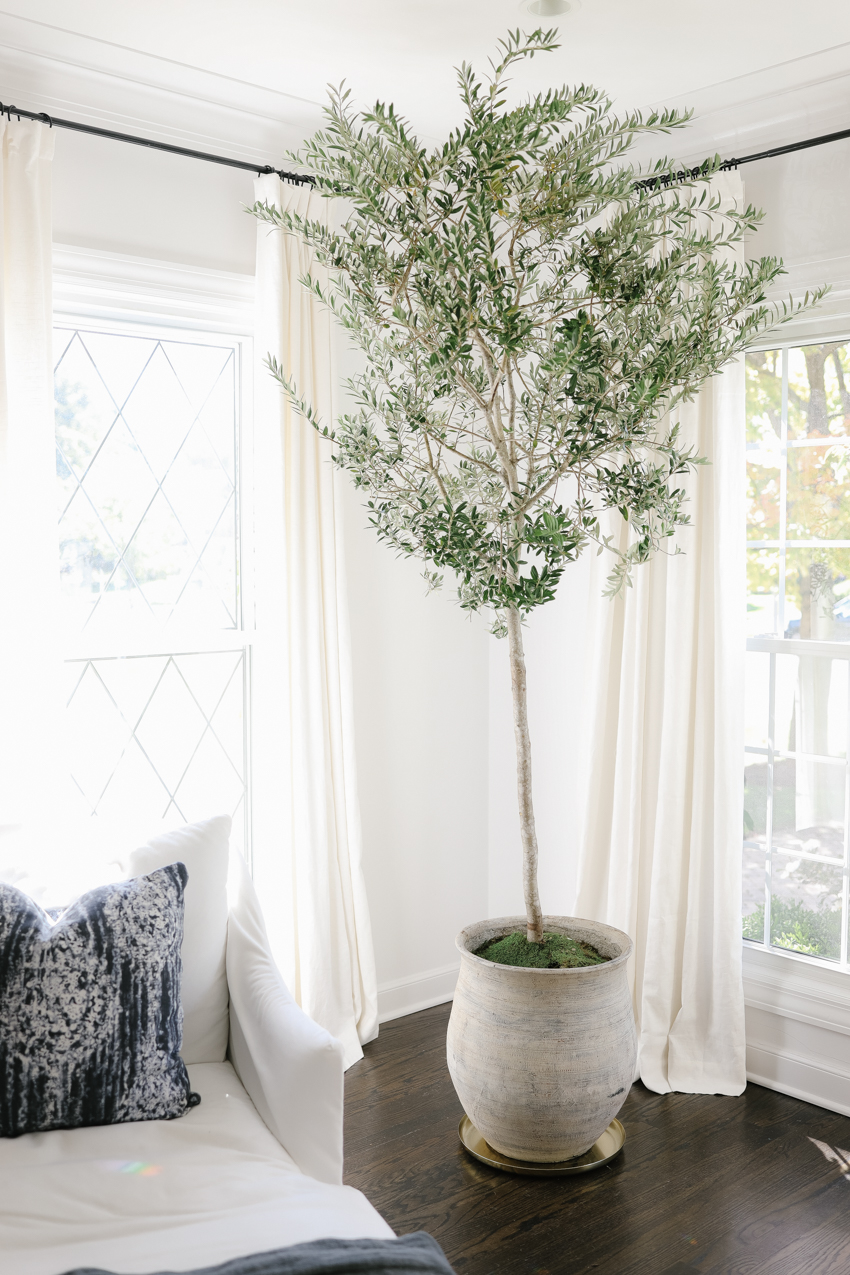 How to care for an indoor olive tree
Olive trees need at least six hours a day of sun. A sunny, south-facing window is ideal. A grow light can help give the tree a little extra sunshine during darker winter months. I did not want to commit to a grow light, but your olive tree will not thrive without sun. Trust me.
They are suited to drier air found in most homes – misting is not usually required. Soil should drain easily.
Add an inch or two of styrofoam, gravel, or any other kind of filler on the bottom of the pot to keep the soil well-drained. Allow the top inch of soil in the pot to try out in between waterings
Potted trees will need to be watered more often than trees planted in the ground. We are using 4 cups of water once a week.
Fertilize twice a year, using a small amount of any slow-release fertilizer
Pruning the potted tree more than once a year may be necessary to keep the tree within its space constraints. Pinching off the growing tips will promote growth, removing branches will provide more space.
You may want to repot as it grows – move up one container size each year if necessary
Olive trees can be grown indoors, but can only last indoors for 8-9 years. It is not likely that olives will grow on an indoor olive tree.
Keep an eye out for sap-sucking insects!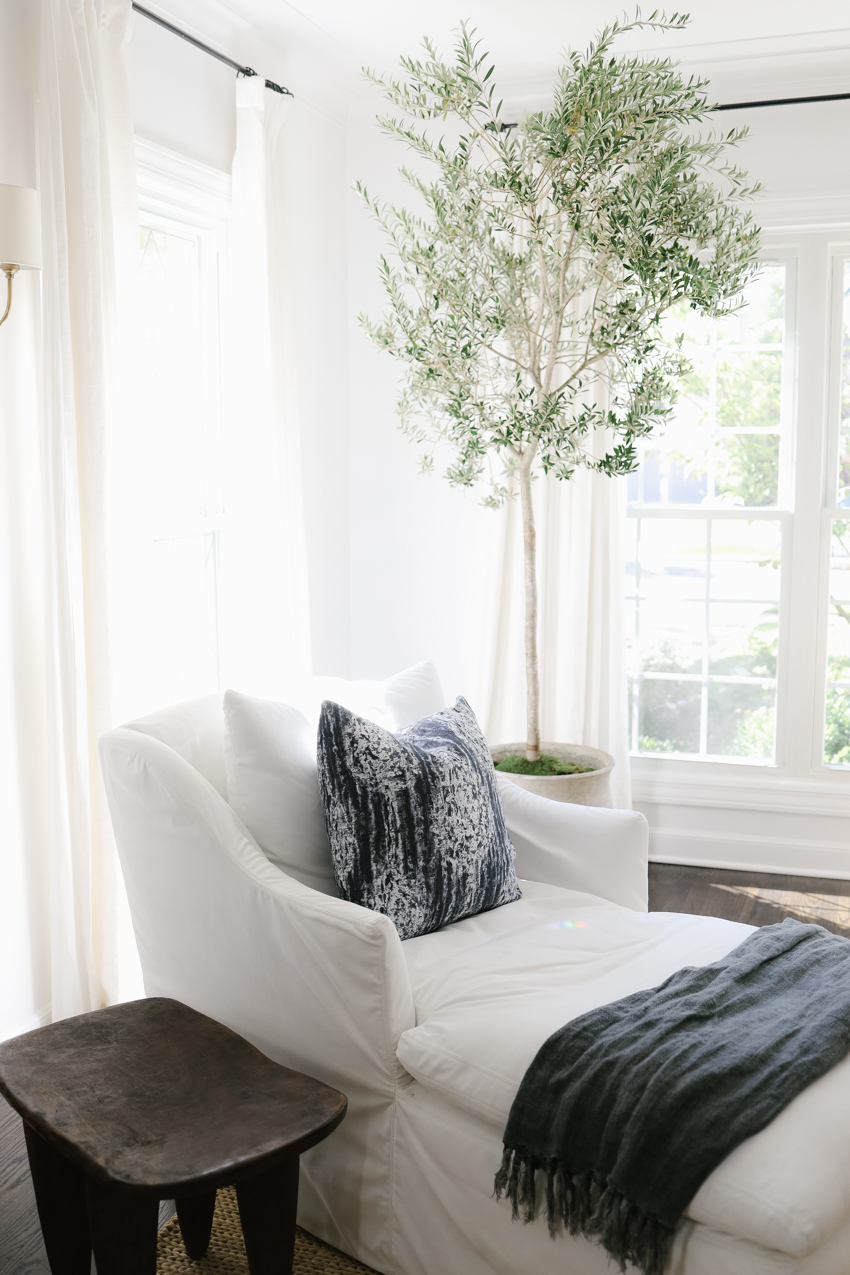 If you're looking for something easier, here are some faux options: