My Experience with Postpartum Recovery and the Essentials I Relied On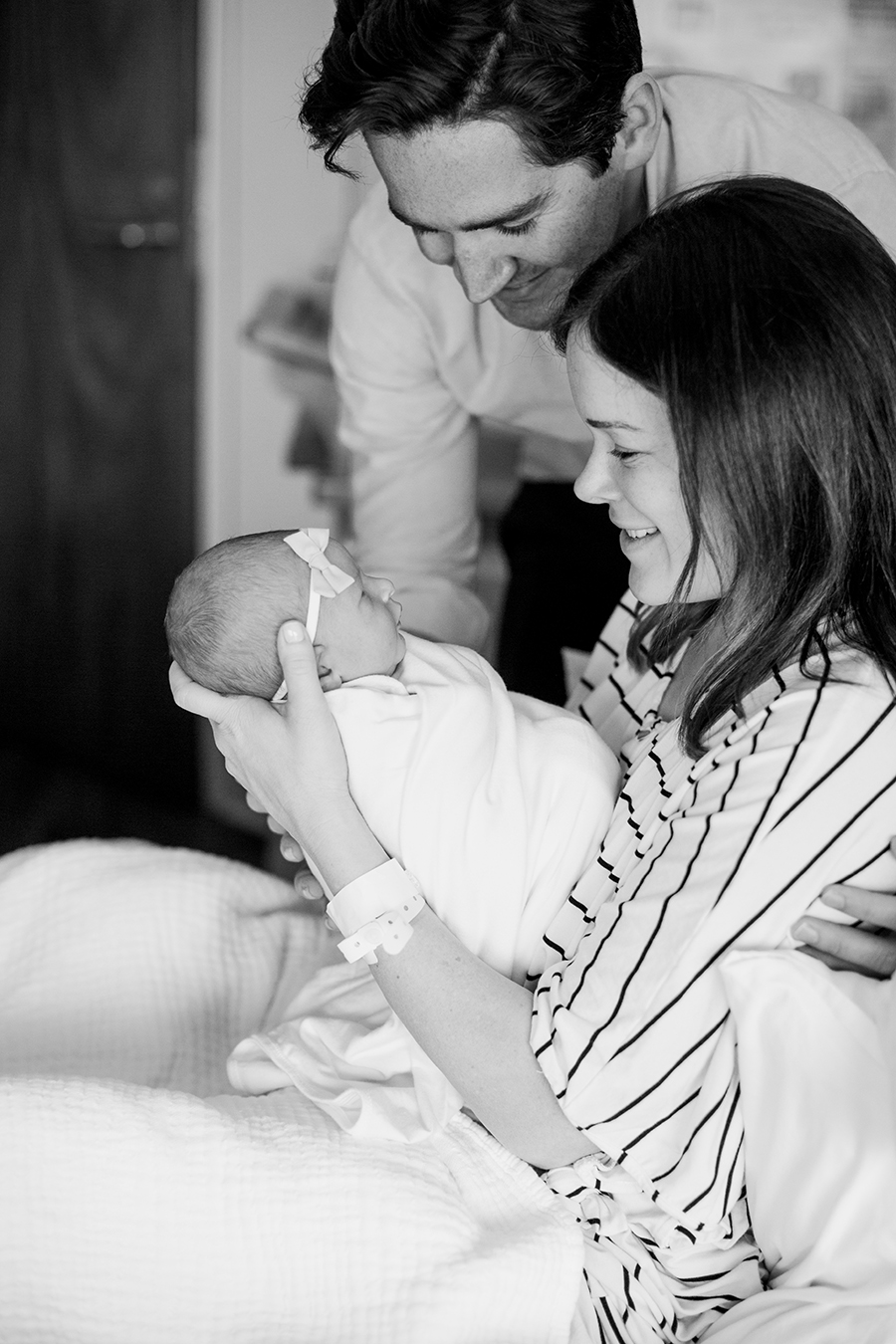 When I was pregnant, I very nervously drilled my friends on the ins and outs of labor. I expected the epidural to be painful, assumed there was no way I wouldn't feel her coming out because ouch, and that the "after" would be a painful disaster. I couldn't have been more wrong. I am obviously not an expert and know every experience is different, but I wanted to share what the recovery was like for me and what I relied on to get through it. There's so little information given to new moms, so I'm sharing this to hopefully help some of you feel more prepared.
A few friends with different experiences ("natural" drug-free labor, epidurals, c-sections, and one who hemorrhaged) all had babies right before I had Margot, and their experiences taught me that in the end, everything would be ok. I shared my birth story a few months ago, but here's a short recap. Opting to go into labor and delivery without a birth plan worked very well for me. I can be Type A but I'm also not the best planner, and I didn't want to go into it with any ideas of how things "should" go. The only certainty was that I wanted an epidural for pain relief. I knew I couldn't control the rest, so we'd just wait and see. As someone who was initially very afraid of childbirth, I was shockingly calm once we got to the hospital. I was so ready to meet my baby, to no longer be pregnant, and as long as she was healthy, nothing else mattered. I was induced on my due date and opted to get an epidural as soon as I started to feel contractions. I almost cried because I was so nervous, but I can't stress enough that it was not even a little bit painful. Again, just my experience, but most have told me it's not bad, and that's how it went for me as well. I dilated quickly, pushed for about 25 minutes, and had Margot about 10 hours after starting Pitocin. I tore and needed stitches in a place where nothing should ever ever tear. They did bother me – mostly because they pinched and itched a bit – but they were manageable. The post-baby part wasn't comfortable, but it was fine. And having a baby is the best possible distraction. Literally nothing else matters.
I hate to admit this, but one of the things I thought about most while pregnant was anticipating being 20+ lbs heavier all summer long. I'm not one of those lucky gals who gained 20-25 lbs. during my pregnancy. It was more like 40 and nothing fit for a while. A lot still doesn't and I'm almost 6 months out. 20 lbs sort of flew off, and I naively thought I would lose the rest by the end of the year. I still have 10 to go and that's ok. I grew a human! The takeaway is that as someone who worried about how I might feel, I was fine. Even though I don't like the way my jeans fit, I know I'll get back eventually.
I understand every experiences are different, so this is just my experience, but it was all manageable. I felt ok most of the day, but for the first week or two, after moving around all day, started to feel really sore in the early hours of the evening. At that point, sitting was uncomfortable and I needed to just stuff an ice pack in my pants (TMI?) and sit still. There was a lot of fear around going to the bathroom (#2) but that wasn't bad (for me) at all. It happened a few days post-delivery and was fine! Take those softeners that the hospital gives you!
One of the things I should have done but didn't do was take sitz baths. I knew about them, but a nurse said something to Conor about not taking regular baths that were too hot, and he thought she said I shouldn't take baths at all. My stitches didn't dissolve and were really bothering me a few weeks after having Margot. I thought one might be loose or poking me, so I went to the doctor and my stitches had to be removed. It was a very uncomfortable experience – so much that I had to ask the nurse to stop and give me a break more than once. But again, it wasn't that bad.
As someone who doesn't wear pads, I hated them so, so much. Postpartum underwear (yes, that's a thing) saved me. So much more comfortable and easier to deal with. Once I got past the fact I was wearing diaper underwear (took about 10 seconds after slipping those babies on) I felt 1000x better.
I thought everything would be feel horrible (down there) and I was sore, but it was nothing I couldn't handle. And the things that were uncomfortable were fine because I had Margot.
Here are some of the items I relied on to get through those first few weeks.