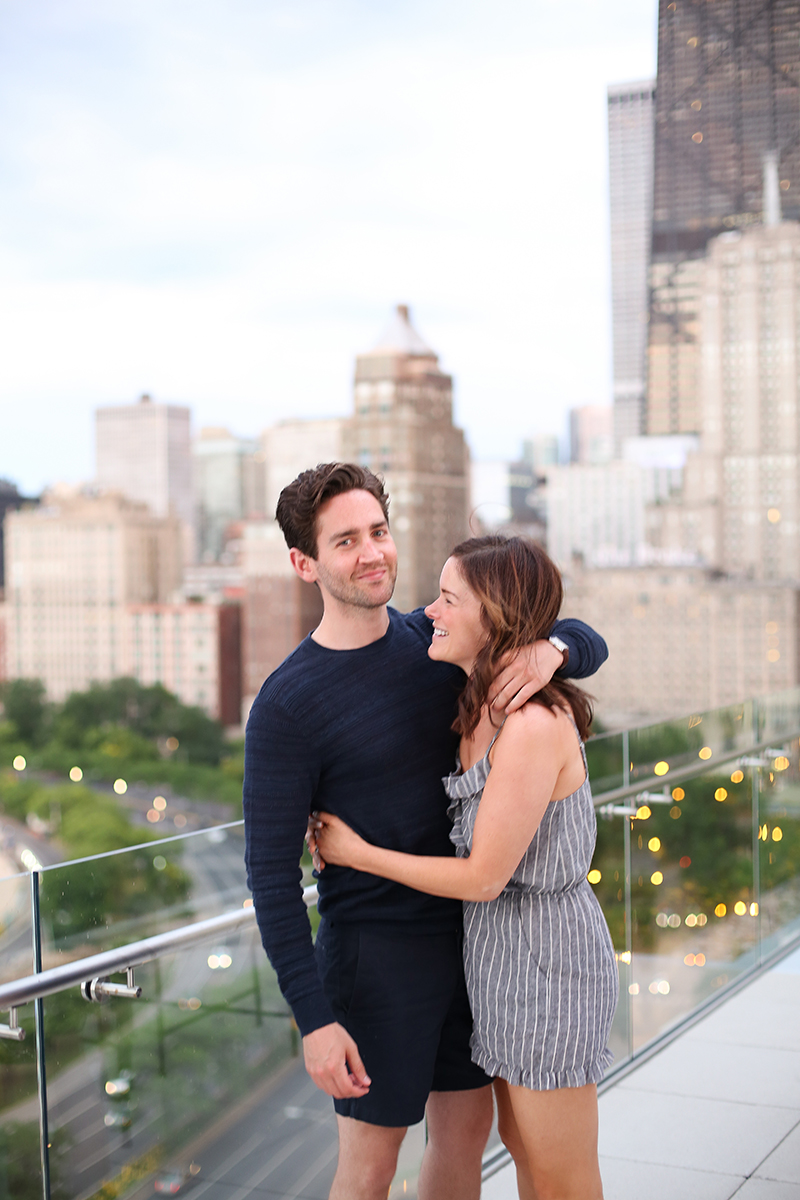 Every year, when August 1st rolls around, I get all sentimental about my move from Los Angeles to Chicago. I write one of these posts every year because apparently I'm a huge sap, and because I love looking back at how much things have changed. Somehow, 8 years have passed since I booked that one way ticket. Since this city slowly started to feel like home. There were so many firsts. So many milestones. There were my many Chicago apartments, the launch of The Everygirl and eventually, The Everymom. Meeting my now husband, buying our first home together, and most recently, welcoming our new baby girl.
I'm a few days late on this post because I just had a baby but thanks to pregnancy hormones, I'm still feeling quite sentimental and couldn't not share a little something about the past 8 years.
For those of you who don't know my story, I spent my entire life in Southern California. Born and raised in LA, college in Santa Barbara (UCSB), and back to LA. Then in 2009, I spent 3 days in Chicago and decided to return a few months later (during winter) for a 1 month sublet because there was just something about this city. A few months later, on August 1 2010, I made the move from the west coast to the midwest. There were months (maybe years) where I woke up, looked out the window an thought "holy sh*t I live here" and finally, one day, it just felt like home.
And without meaning to celebrate, this August 1 may have been the best one yet. Because I spent it with her and my roots feel more formed than ever. Wherever we end up, this will be the place where I started my own little family.


Photo by Katie Kett
Before making the move, I was so lost. It felt like I was sinking – I was in a friendship rut, was trying to get out of a toxic relationship, and was desperate to figure out my career. I have met some really amazing friends here. I let that relationship drag on for almost another two years – he was still living in LA and needed space and just like that, I was finally done. I was free and so much happier. Years of dating (ugh, it's so hard) Conor and I matched on Tinder in May 2015 (read the story of how we met here) and from the start, this one was different.

Photo by Katie Kett
The day began with a text from my friend Maura who was walking by my house with her kids. She wanted us to join her for a little walk – a reminder that I've formed some really wonderful friendships in a city where 8 years ago, I knew no one. Then I cried on the sofa because hormones/I hadn't really done anything in a few days (hey, I just had a baby and it happens), so Conor wrapped up his work and we headed to Big Star. I've been talking about going there for a post-baby margarita for a while and it felt so good being in one of my favorite spots with my little family.
Two days later, I remembered that it had been 8 years and at first, I was a little sad that I had forgotten. And as I sit on my bed with sweet baby girl sleeping next to me, I can't help but think about how much my life has changed, all because I took a chance on a city that seemed nice.
I'm so glad I had a chance to focus on my career, to live alone (see some of my old apartments here), and to meet my own friends before meeting my husband. We got engaged in March 2017, married in October 2017, moved into our house in May, and had our first baby a month ago.

My first Chicago apartment. Photo by Stoffer Photography Interiors
Then there was my career as a blog designer. A career that allowed me the freedom to pick up and move across the country on my own, but one I wasn't passionate about and one that wasn't going to get me where I wanted to go financially. Then, on February 2012, we launched The Everygirl and everything changed. It's been 6.5 years and we've since grown our team and launched a second website, The Everymom. The whole thing feels like a bit of a blur because I can't remember life before these big changes. They're such a big, defining part of who I am.
The move wasn't an instant fix by any means and it took years until things felt like they were really coming together. Life isn't perfect but I have a family, friends, and career I love – all things that happened because I took a chance. I know what it's like to feel completely stuck, like your life isn't going anywhere. Like you're in a hole you can't seem to get out of, a job you feel stuck in, or a bad relationship you know isn't working, but you're just too afraid to leave. I let myself get to a really unhappy place before finally doing something about it, and even then, I let that awful relationship drag on for a few more years.
People have told me how brave the move was but let me assure you I am no more brave than you are. I was the girl who didn't get on a plane for almost 10 years after 9/11. I lived at home until I was 27. And a huge change isn't always the answer, but if you find yourself stuck, it's time to start thinking about what you can do to make yourself happy.
It was that move on August 1, 2010 that changed everything. I hit the reset button on my life and everything changed in the best possible way. Moving from Los Angeles to Chicago–a city where I knew no one–helped me grow more than I ever could have imagined. I had no idea who I was or what I really wanted in my 20s and here I am in my mid-30s with my own little family in a city where I didn't have roots just a few years ago.
Have you moved to a new city on your own or done something big that you were afraid to do? I'd love to hear your story.