Cute Baby Stuff and an 18 Week Update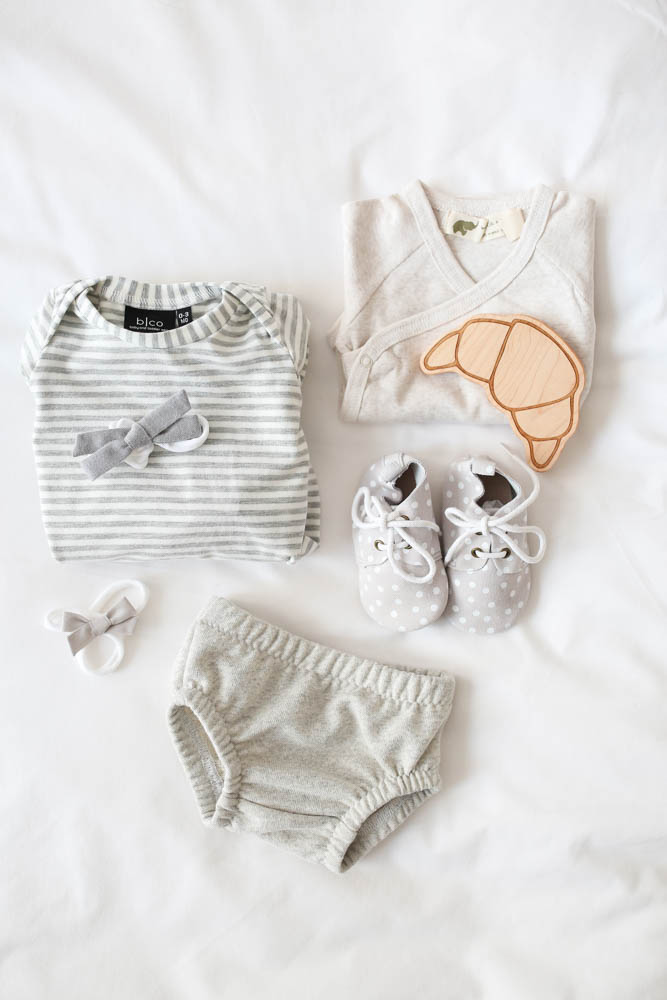 With another 5 months until my due date I'm probably a little early on this, but I couldn't resist getting a few little things for our baby girl. I'm giving myself get one drawer until we move. One. Drawer. It will be a while before I'll be able to set up a nursery (we need to find a home and move) and I'm in no rush since she won't "need" her own space in the beginning, so this felt like something I could do to prepare for her arrival. If you've had a baby, when did you start buying clothes and setting up a nursery?
I haven't actually used anything here, but most of these brands were recommended by friends and I just thought it would be fun to share a few little things I've found. Everything is really soft and cute which has to count for something, right? And in case you missed it, some of my favorite moms shared their favorite baby products here and I added a new baby section to my shop, too.
I always want to be upfront about partnerships and gifted product. This post was not written in partnership with any of the brands mentioned here but I love promoting small businesses and these are all products I love. The following products were gifted: My friend Monica of Monica and Andy sent a sweet gift box, Blabla gave me the alpaca (those are two brands I've gifted to my friends over the years), Adelisa & Co gave me the leather booties, and L'ovedbaby for the onesies.
And here's a quick 18 week update!
At 18.5 weeks, I finally feel like myself for the first time in months which I wanted to share for anyone getting through the first trimester right now. I got really lucky and wasn't sick but the exhaustion was rough. Getting out of bed, making it through the day without a nap, falling asleep at night all felt like a challenge. It was so hard to go from working out 4-5 days a week (pre pregnancy) to once a week at best, but in the past week, I've made it to pilates 4x!
This has all been a lesson in patience – something new parents need when their lives completely shift in the blink of an eye. I know how lucky I am and that it's all so worth it, but it's not fun or easy to feel like you have the worst jet lag for 4 months straight. Since everyone's pregnancies seem to be across the board, I thought this update might be helpful to some of you. And these have been a real game changer. I'm finally comfortable in something other than leggings.