Paleo Slow Cooker Chicken Noodle Soup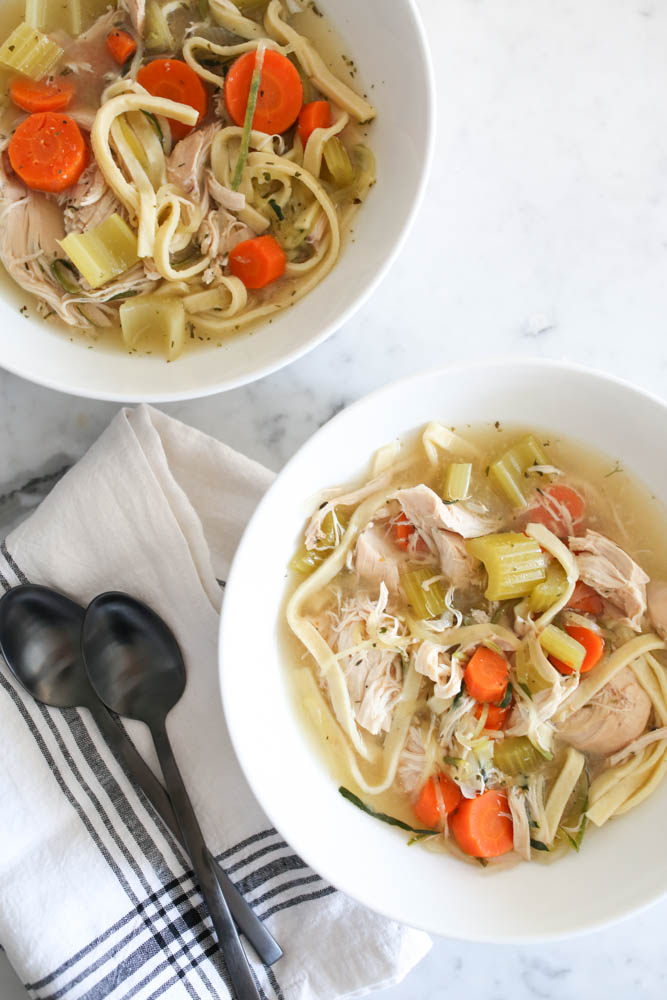 Guys. It's literally freezing in Chicago and I spent the first week of the year at home with a cold. All I wanted to do was lounge around in cozy sweaters or pajamas with something warm, so I came up with the best paleo chicken soup recipe. As promised, after adjusting a few things and doing my version of "perfecting" this recipe (which, for me, meant making it twice), I feel ready to share it with you.
Ingredients
4 skinless chicken breasts

1

 

medium onion

 

chopped

4-5 

celery stalks,

 

diced

5

 

carrots,

 

diced

32 oz. organic chicken broth
2 cups organic chicken stock (or a little more, depending on how soupy you like your chicken soup)
1 box Cappello's gluten free pasta (available at Whole Foods) or zucchini noodles

1

 

tablespoon

 herbes de Provence

1

 

teaspoon

 sea salt

1/2

 

teaspoon

 fresh ground pepper
top with a little fresh parsley if you're into garnishes
I tried this recipe both ways but preferred it with the real noodles but if you're doing Whole30, zucchini noodles are the way to go.
Instructions
Line the bottom of your slow cooker with a little olive oil and the chicken breasts. Put the remaining ingredients on top of the chicken breasts and cook on high for 4 hours or on low for 6 hours. I use this slow cooker, btw (currently on sale).
When the soup is ready, use two forks to shred the chicken. If using zucchini noodles, I'd recommend adding those during the last 45 minutes since they cook so quickly and will fall apart otherwise.