What's Inside My Makeup Bag
Earlier this year, I shared some beauty picks from my makeup artist*. But when my friend who is so good at this stuff came over and offered to do my makeup she was all ok show me your stuff and then she was like where's your primer and blush and finishing powder?! ???? Umm…
So she walked me through everything step-by-step and I ordered whatever was missing which felt like everything except foundation although I was almost out and actually had to order that, too. I even replaced my 10+ year old makeup brushes and although a big set was recommended, I opted for ordering 4 brushes because I won't use more than that.
I feel so official now.
Here's what's in my new and very much improved makeup bag.
*when I say "my makeup artist" I'm referring to the person who has done my makeup for 3 photo shoots (for work).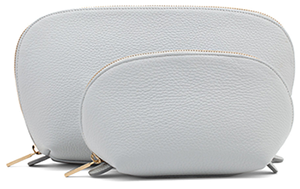 Shop the post