Why I'm Glad We Didn't Elope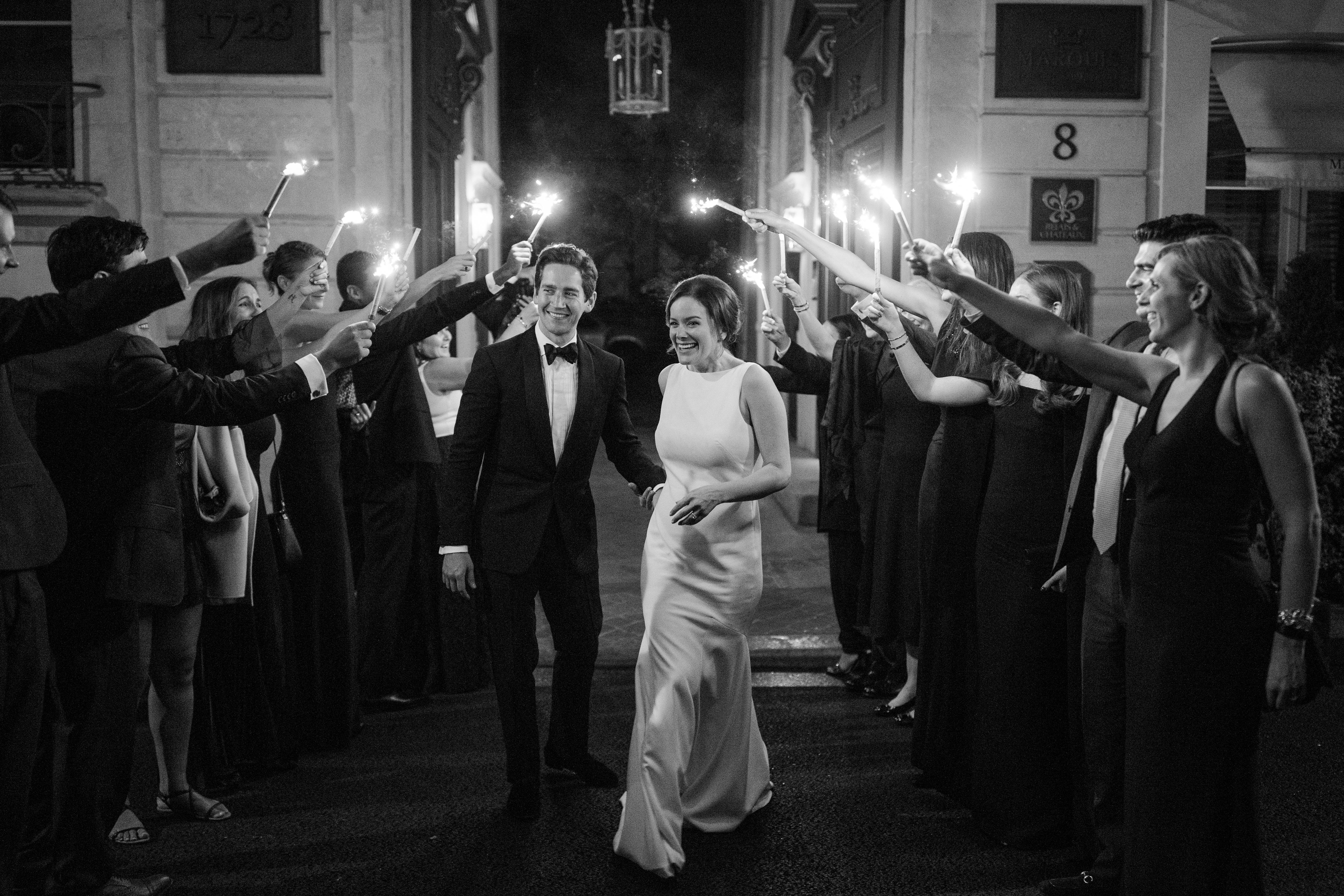 Every time someone told me the wedding planning process would be worth it because our wedding day would be the best day of my life, I was just like "I'm sure it will be great, but it's just a day." They were all at least a little right because our wedding weekend really was the best weekend of our lives.
It was no secret that the wedding planning process wasn't for me and I probably seemed a little (understatement?) negative the past few months. Given my family situation, I always thought I'd elope to make things less painful and difficult. Then I met Conor. As soon as we started talking about marriage, we both knew we wanted Conor's parents and sister to be there with us. They're such a close family – one I'm now so lucky to be a part of – and neither of us would have ever done this without them.
The months leading up to our wedding forced me to face what was missing in my life like close relationships with my own parents, and I did a lot of grieving over that. I let the sadness and anxiety I might feel take over. Then there's the fact that everything was chosen sight unseen and the focus was all on logistics, communicating, and cost. Decision fatigue set in pretty quickly and it was impossible to stay enthusiastic about every small detail. Yes, I wanted the room and table to be pretty, but our society puts way too much pressure on weddings and we didn't want to make that the focus of our relationship for six months. Turning our wedding into a getaway took pressure off of the day being "perfect" and made it more about connecting and spending quality time with everyone who was there.
Once all the decisions were made and we were ready to leave for Europe, all the feelings of sadness faded away. We chose to skip the flower trial, hair and makeup trial, and seeing the venue in person before the wedding because none of it mattered. I turned off my phone for the day to stay as present and in the moment as possible (can't recommend that enough!) and we spent as much time as we could with everyone. That was what made our wedding weekend perfect. It could have rained. I could have freaked out when my dress landed in a puddle. In the end, we lucked out with perfect weather and Billy did an amazing job. The venue and setting felt perfect for us, but having everyone there with us is what mattered most. 
Throughout the weekend, we ran around the city with friends, visited museums, hosted a cocktail party, cruised along the Seine, and went out way too late most nights. From Jessie and Katie crying before the first look to Emilia giving me her earrings to wear on our wedding day, there were so many special moments with everyone. There were a few people that couldn't make the trip from California and Chicago and we really missed them, but we stayed in touch and I felt their love all weekend.
I'll never tell another bride to be that she should enjoy the planning process because I didn't enjoy it and it isn't for everyone. My advice is to focus on your marriage and on celebrating with the people you love most. I wish I had focused more on the positive and less on what was missing. Seeing our loved ones from California, Chicago, Atlanta, Minneapolis, New York, and Dubai all come together in France was magic and that felt perfect. I am so glad we didn't elope and can say without any uncertainty or hesitation that it was all so worth it – that our wedding day really was one of the best days of our lives.
And in case you missed it
Why we got married in Paris
A letter to the bride who doesn't enjoy wedding planning
The wedding traditions we're skipping
If you have any questions or things you want me to cover in the weeks to come, leave those in the comments below!